You know, I'm really starting to wonder if there's ever been a more one-sided bet on the direction of markets.
Over the past couple of weeks, I've seen some speculation about the extent to which certain corners of the "smart" money universe have decreased their exposure. The following chart from JPMorgan is interesting in that regard: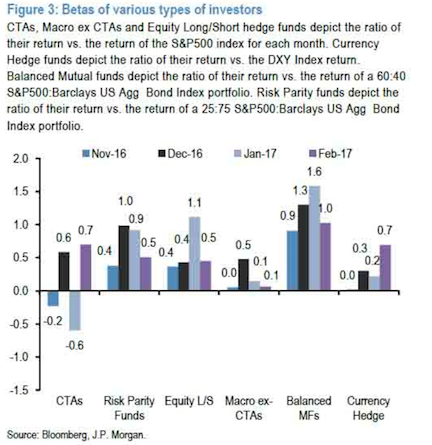 (JPMorgan)
Again, that's interesting, but hardly comforting.
For one thing, the big uptick in CTA beta seems to reinforce the idea that the trend followers are more exposed than ever. The following chart from Goldman appears to confirm that assessment: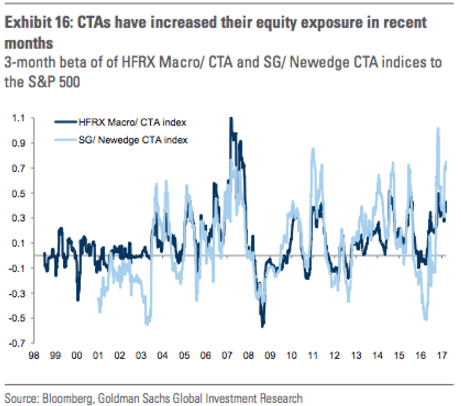 (Goldman)
As far as the falling risk parity beta, you've got to think that still suppressed realized volatility has them overexposed to equities as well - especially considering that up until this week anyway, rates volatility has been, to quote Goldman, "more sticky."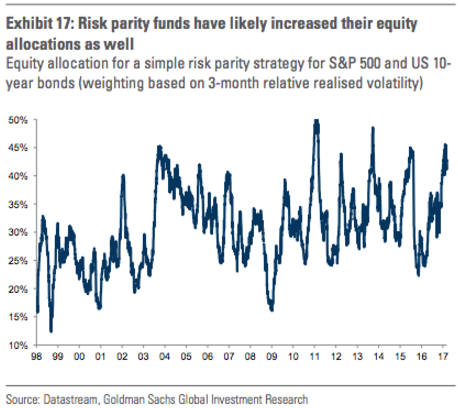 (Goldman)
And you know, I kind of question whether the size of these things hasn't started to make them exceptionally dangerous: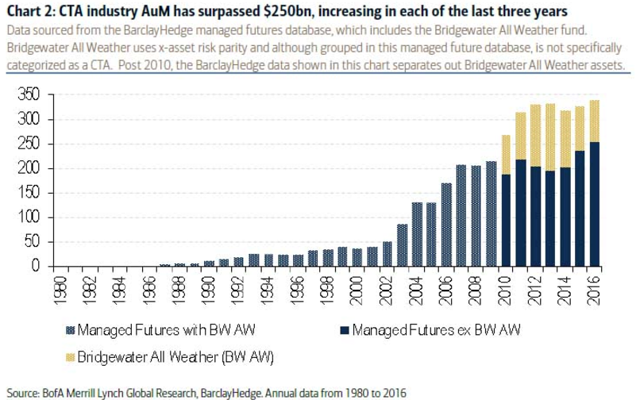 (BofAML)
On the long/short side of the equation, again I'm unconvinced that exposure has been meaningfully trimmed. This is from March 3: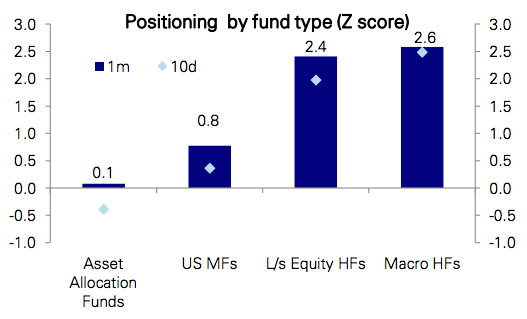 (Deutsche Bank)
This is current: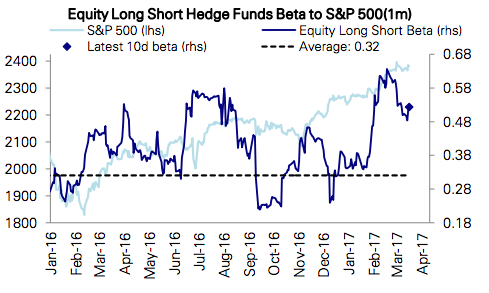 (Deutsche Bank)
And this is from BofAML, out on Friday: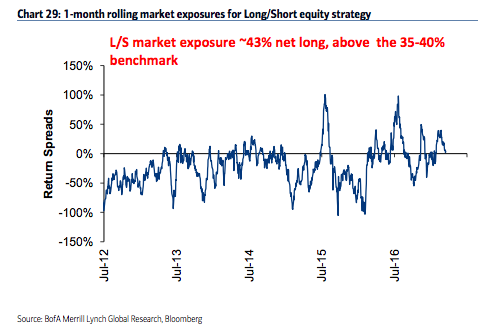 (BofAML)
Finally, panning out a bit, the net spec position in E-Minis (from CFTC positioning data through Tuesday) suggests that the recent shift to net short small caps notwithstanding, a lot of folks are still long the broad market: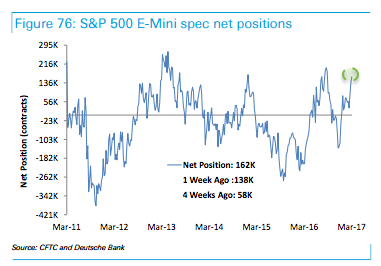 (Deutsche Bank)
Meanwhile, as I detailed Friday evening in "Before And After: About Those 'Consensus' Trades," the spec oil long was trimmed following crude's ~10% collapse last week, but the net position is still... well... still pretty long: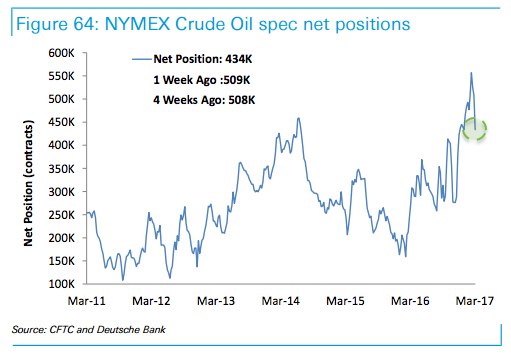 (Deutsche Bank)
Moving to consider Treasurys (NYSEARCA:TLT), we see similarly extreme positioning as the net spec short is still a three-sigma event (i.e. extraordinary versus history):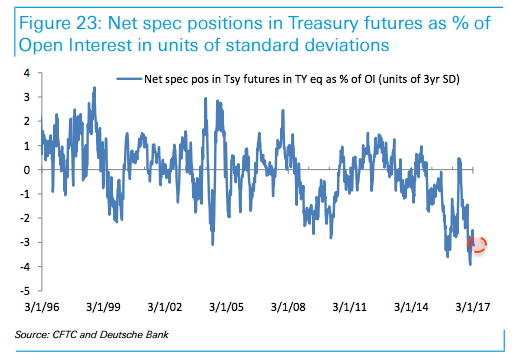 (Deutsche Bank)
To be sure, that's a lot to take in and positioning data can be aggregated, disaggregated, bent, fiddled with, and goal-seeked to make the picture look different, but from where I'm sitting, this looks like a massive one-way bet on the reflation narrative.
That is, a one-sided wager on the notion that global growth and inflation expectations will pick up. That seems at odds with the message being conveyed by central banks (see here for more on that).
Further, what this means for retail investors is that all of these inflows into equity ETFs (NYSEARCA:SPY) are effectively piggybacking on this same trade. As Goldman wrote on Friday evening, "total inflows into equity ETFs equal $66 billion YTD [as] ETF ownership of the corporate equity market is at an all-time high."
Meanwhile, the duration of the current equity rally without a 3%+ pullback is in the 87th percentile versus history and the duration of the rally without a 5%+ drawdown is in the 88th percentile.

(Deutsche Bank)
To reiterate, I guess I wonder if this might have just gone beyond a setup for a large and painful equity drawdown.
This whole thing looks to me like one giant bet on the same underlying narrative. And everyone from the "smartest" of the smart money to the "dumbest" of the dumb money is on the same side of that bet, in one way or another.
Is this a setup for something that could be systemic if things move in the "wrong" direction?
Disclosure: I/we have no positions in any stocks mentioned, and no plans to initiate any positions within the next 72 hours.
I wrote this article myself, and it expresses my own opinions. I am not receiving compensation for it (other than from Seeking Alpha). I have no business relationship with any company whose stock is mentioned in this article.