B&G Foods (NYSE:BGS) is a company I've kept on my radar for years but have largely ignored and stayed away from since I first wrote a couple articles on it way back in 2013. I liked B&G, but preferred other dividend payers which had better organic growth prospects. Also, the dividend yield was less than appealing at the time.
That has changed. B&G still gets its growth from acquiring brand-name grocery store brands, including both staples and snacks. But shares have dropped significantly over what I believe will ultimately be a tempest in a teapot. Have a look at the chart first.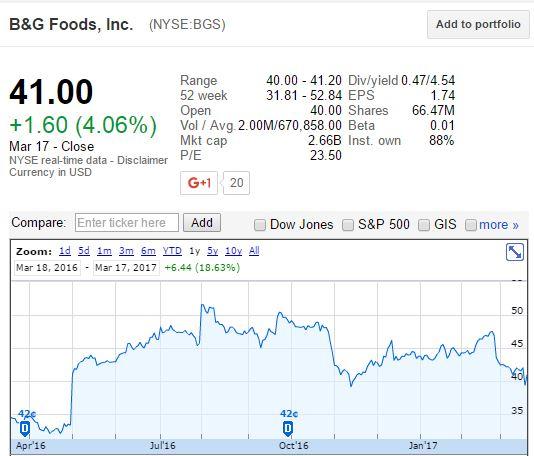 Courtesy of Google Finance.
Shares are considerably down, and part of that latest leg down is due to the abrupt departure of the company's chief financial officer. The timing of this is unfortunate, but B&G is a long-established company that is greater than the sum of its parts, and for that reason, I do not see this departure as a cause for alarm, provided there are no other shoes to drop. There's no reason to believe there will be.
For that reason and others, I believe that B&G Foods is now a solid buy for income-oriented investors. This article looks at B&G Foods' latest quarter, its rather significant recent acquisition, and its prospects for the future, with an emphasis on valuation and the dividend.
A business reliant on acquisitions
To put B&G in a nutshell, this company buys well-known independent brands you see in your grocery store. Often times these brands have products which are a bit outdated and might need some work. B&G goes to work to modernize and turn around these brands, milk the cash flow out of them and then pass a good chunk of that cash flow on to shareholders.
Over the course of 2016 B&G increased its income and net sales by double digits, but all of that and then some was due to acquisitions. Chief among those acquisitions was a purchase of Green Giant brand back in late 2015, for $765 million (the company's overall market cap is $2.66 billion, so that was a big acquisition). Without those acquisitions, base sales for the full year declined 1.6%, with volume declining 0.6% and price declining another 1.1%.
Management expects to see base sales stabilize in 2017, and hopes to do so by introducing new products under the Cream of Wheat and Ortega brands. There will also be a line extension for Pirate's Booty snacks this year. Green Giant brand, which B&G will spend another $75 million on to turn around, is expected to increase its base sales another 5%-6.5%.
I would not be surprised if B&G managed to stabilize its net sales this year, however, I don't think long-term prospects are too great. As management noted in its latest conference call, there is downward pressure in the overall industry, particularly with price competition. Private labels in grocery stores continue to make solid inroads with consumers who are looking for a deal.
B&G does acquisitions and turnarounds very well, and there's no doubt that the company throws off lots of excess cash flow, even after the dividend. This I like. For example, in the last twelve months B&G generated $247 million of free cash flow, and only $101 million of that was paid in dividends. That's a lot of excess cash, with plenty of room for more dividend growth.
A 'buy' for income investors
After the drop in price over the last few months, B&G now yields a solid 4.55%. Over the last ten years B&G has averaged dividend growth of 8.2% per year, and 7.4% compounded. Given the cash flow metrics which I stated above, I see that trend largely continuing, especially if the company continues to make accretive acquisitions, which I believe that it will.
As far as valuation goes, B&G is now in a reasonable territory. B&G now trades at 19.6 times earnings, and while that might seem high at first glance, from an historic perspective it is not. Over the last ten years B&G has averaged 19.2 times earnings, according to data from FAST Graphs, so the stock is right about at its average valuation here. Furthermore, B&G has in fact been trading at or above its average ten-year valuation since late 2011, and so I believe this valuation represents solid support below.
I believe there is plenty of room for capital gain from B&G Foods, but that's not why I'm recommending this stock. I'm recommending it because it does have solid brands which generate excellent cash flow and, at this stock price, offers a very nice dividend yield that is set to grow. Now is a good time to buy B&G Foods.
If you're interested in B&G, feel free to follow me here on Seeking Alpha. I intend on following this stock regularly going forward, and will provide updates as they become material and relevant.
Disclosure: I/we have no positions in any stocks mentioned, and no plans to initiate any positions within the next 72 hours.
I wrote this article myself, and it expresses my own opinions. I am not receiving compensation for it (other than from Seeking Alpha). I have no business relationship with any company whose stock is mentioned in this article.