Introduction
This is the first of a weekly market update for silver, where we will update the key drivers of our silver and related investments like the iShares Silver Trust (NYSEARCA:SLV).
Like many, we view the silver market as fundamentally undervalued in relation to gold; however, we don't recommend that investors pile into silver due to the current high gold to silver ratio. Before a monetary reset occurs (if indeed it happens in our lifetimes), the gold/silver ratio could move in unexpected ways.
Over the last year, silver has had a daily correlation with gold near 80%, and a "beta" to gold of about 1.3. In simple terms - and on average - if gold rises 1%, then silver will tend to rise 1.3%. We do see the gold and silver markets as being inter-related, and hold an assumption that the gold market drives the bus; therefore, it is important to understand the relative strength of both markets before investing in silver.
Our summary for the short-term outlook for gold and silver are below.

Source: Viking Analytics
Our current short-term outlook for gold is favorable, and our outlook for silver is neutral. We will show some summary technical analysis, and provide an update on the COT report below. We touched on the safe haven topic in our gold article.
Technical View
Silver has some work to do to retrace its recent losses in the last several years. The next key upside test will be the 2016 downtrend line.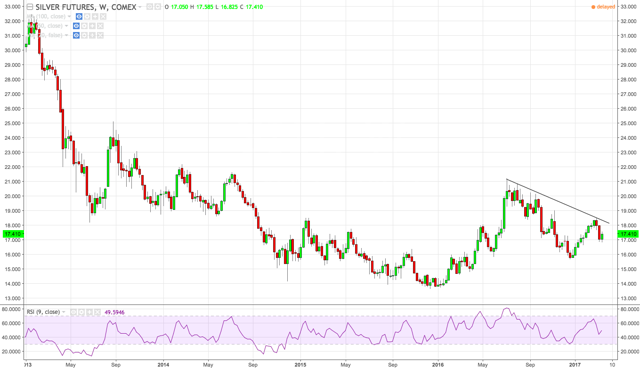 Source: TradingView
On a daily chart, the technical picture looks more favorable than the weekly chart. Silver bulls will want the metal to rise and close above the 50 day MA to clear room for a move back to $18/oz.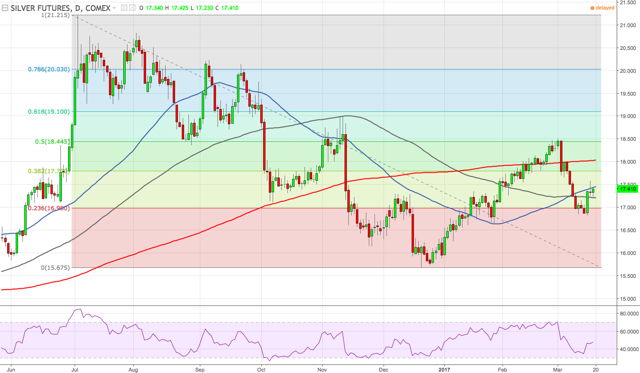 Source: TradingView
Overall, we view the technical picture for silver and SLV as neutral.
Commitment of Traders Report
We wrote an article two weeks ago where we cautioned silver investors to expect volatility. Because of the record level of commercial shorts (and managed money longs) on the COMEX futures market, we felt as though the coiled spring could unleash to the downside. At that time, we purchased puts on SLV to protect our vaulted physical silver and position in the Sprott Silver Physical Trust (NYSEARCA:PSLV). Shortly after our article, silver fell from $18 to $17 per ounce.
While commercial short sellers in gold dramatically reduced their positions this past week, the silver short sellers did not cover nearly as many positions as the gold short sellers. The silver commercial short position remains at very high levels. As many indicate, this could unleash silver to the upside if the shorts are forced to cover. But, if recent history is any guide, the shorts almost always win this battle.

Source: Viking Analytics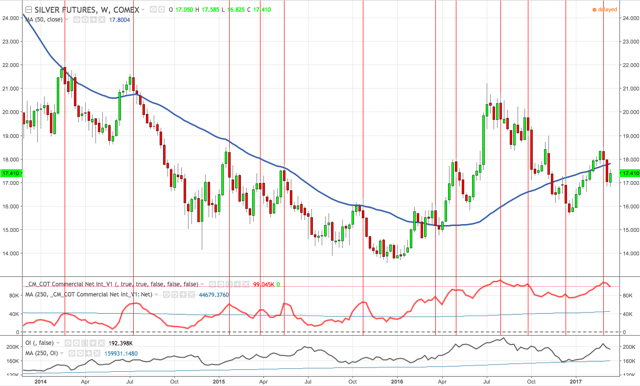 Source: Trading View
The red lines indicate where commercial short interest peaks, followed by significant pull-backs in the price of paper silver. We view the near-record commercial short interest as a cautionary flag at best, and a possible bearish selling signal at worst.
Thanks for any comments below. Follow me on Twitter @vikingking6 for daily and periodic updates.
Disclosure: I/we have no positions in any stocks mentioned, and no plans to initiate any positions within the next 72 hours.
I wrote this article myself, and it expresses my own opinions. I am not receiving compensation for it (other than from Seeking Alpha). I have no business relationship with any company whose stock is mentioned in this article.