Prospect Capital Corp.'s (NASDAQ:PSEC) share price has risen from a low of $5.21 in February 2016 to $9.31 today. The surge in valuation has been largely been fueled by a change in investor sentiment, not by an improvement in the company's fundamentals. As a result, Prospect Capital is a prime candidate for a correction in the high yield market.
In my last piece I penned on Prospect Capital Corp. I said that the business development company was at risk of a correction simply because income investors have chased income vehicles far too high. A lot of high yield income vehicles today are selling for a price close to book value/Net Asset Value, or are even selling for a premium. While some exceptionally well-managed companies deserve to see their share prices exceed their book values/Net Asset Values, a lot of companies don't. As a result, a market correction that resets income and yield expectations is the biggest risk factor for high yield income investors these days.
In fact, I think there are three reasons why Prospect Capital Corp. is at risk of a major correction:
1. Prospect Capital's Valuation Has Soared For Almost A Year Straight...And The BDC Is Now Overvalued
The business development company now sells for one of its highest P/NAV ratios in years. The complete absence of a correction in high yield over the last year makes a correction more and more likely in my opinion. Further, the long term reward-to-risk combination is unfavorable today since income investors pay a high price indeed for Prospect Capital.
Prospect Capital's shares are selling for 97 cents on the dollar, a high price compared to Prospect Capital's most recent history.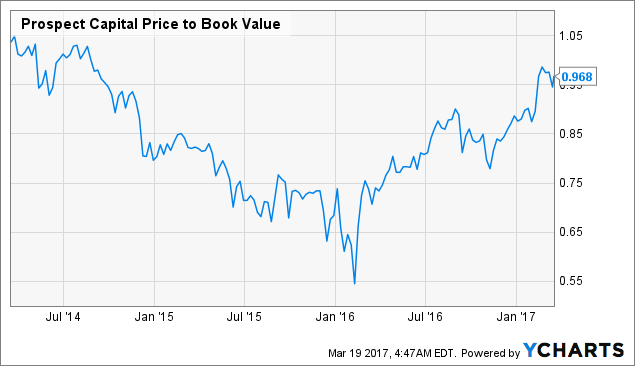 PSEC Price to Book Value data by YCharts
2. Analysts' Target Prices Have Not Trended Up Nearly As Much
A lot of analysts are covering business development companies, and that's especially true for the biggest companies in the sector. Analysts set target prices (i.e. fair value estimates) on the stocks they cover, which are then consolidated by various financial market websites in order to derive a consensus target price.
In the case of Prospect Capital, analysts, on average, see a much lower fair value for the business development company's stock than the current share price would suggest.
The consensus price target for Prospect Capital's shares as of today is just $8.25. This "average" target price indicates about 11.4 percent downside. It is worth mentioning that Prospect Capital's stock has not been upgraded much at all since the company's fundamentals haven't improved either. Put simply, analysts overwhelmingly see a lower fair value, on average, for Prospect Capital's shares than income investors.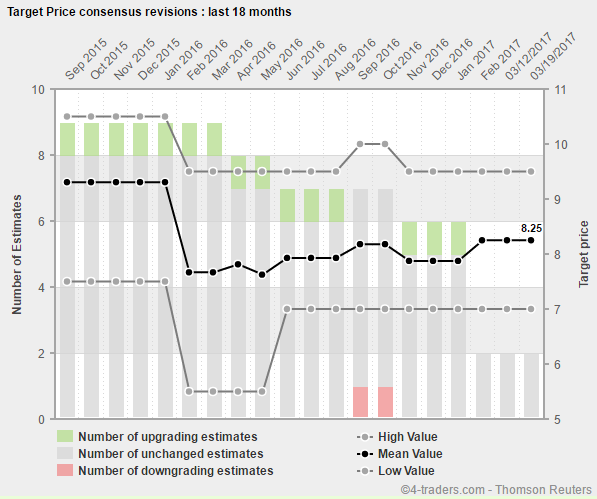 Source: 4-traders.com
3. Sentiment
Remember the BDC sell-off at the beginning of 2016 on the back of the slide in energy prices? Yes, that kind of sell-off can happen again, especially since Prospect Capital's price appreciation has largely been fueled by a reversal in investor sentiment, partly due to the Federal Reserve hiking short term interest rates. Since Prospect Capital's dividend coverage stats have actually deteriorated (I have illustrated this fact in this article over here), the BDC is not on as stable a footing as income investors like to believe. Tread carefully.
Your Takeaway
To sum up: Prospect Capital has one of the largest P/NAV ratios in years. Analysts haven't increased their target prices (or ratings for that matter) as much as one would have hoped in light of a 30 percent surge in valuation over the last year. Lastly, Prospect Capital simply doesn't deserve to sell for a price close to NAV in light of the deteriorating dividend coverage. I wish every income investor the very best in their investment endeavors, of course, but the combination of the three factors presented here simply don't sit right with me. Prospect Capital, purely based on valuation, is a sell.
If you like to read more of my articles, and like to be kept up to date with the companies I cover, I kindly ask you that you scroll to the top of this page and click 'follow'. I am largely investing in dividend paying stocks, but also venture out occasionally and cover special situations that offer appealing reward-to-risk ratios and have potential for significant capital appreciation. Above all, my immediate investment goal is to achieve financial independence.
Disclosure: I/we have no positions in any stocks mentioned, and no plans to initiate any positions within the next 72 hours.
I wrote this article myself, and it expresses my own opinions. I am not receiving compensation for it (other than from Seeking Alpha). I have no business relationship with any company whose stock is mentioned in this article.