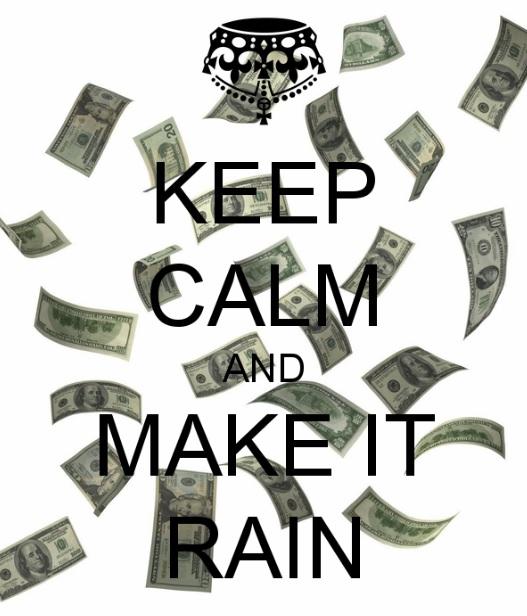 Enterprise Products Partners (NYSE:EPD) and Magellan Midstream Partners (NYSE:MMP) are known as some of the steadiest and highest-quality MLPs you can own, and for good reason.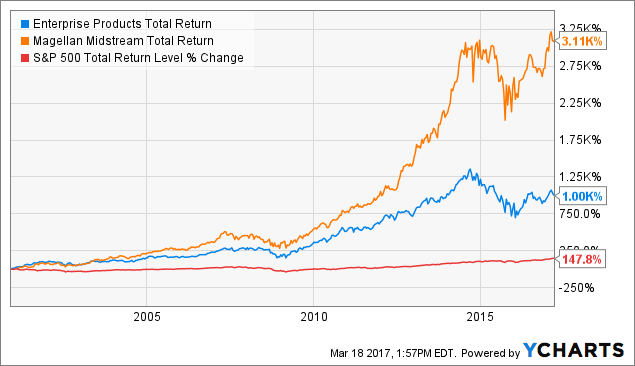 EPD Total Return Price data by YCharts
Both midstream MLPs have done an exceptional job of growing unitholder wealth, no matter the economic, energy price, or interest rate environment.
Let's take a look at just what makes these two MLPs so special and, more importantly, why both represent excellent long-term investments right now despite the market's currently frothy levels.
Enterprise Products Partners: The Old Faithful Of Payout Growth
| | | | |
| --- | --- | --- | --- |
| Metric | 2015 | 2016 | YoY Change |
| Revenue | $27.0 billion | $23.0 billion | -14.8% |
| EBITDA | $5.0 billion | $5.1 billion | 1.5% |
| Distributable Cash Flow | $4.0 billion | $4.1 billion | 2.4% |
| Units Outstanding | 1.964 billion | 2.08 billion | 5.9% |
| DCF/Unit | $2.04 | $1.97 | -3.3% |
| Distribution | $1.51 | $1.59 | 5.3% |
| Distribution Coverage Ratio | 1.35 | 1.21 | -10.4% |
(Sources: 10-K, Morningstar)
The worst oil crash in over 50 years has had a negative impact on Enterprise Products Partners, with low energy prices resulting in a substantial decrease in revenues, mostly due to decreased volumes in its crude oil pipelines.
However, note that the MLP's EBITDA and, most importantly, its distributable cash flow, or DCF (the MLP equivalent of free cash flow), was actually able to grow slightly. This is due to the nature of Enterprise's contracts, most of which are designed to ensure consistent and stable EBITDA margins independent of energy prices.
In fact, had it not been for an unusually high level of new equity issuances in 2016, the MLP would have reported a slight increase in DCF/unit.
However, keep in mind that even that investor dilution was put to good use, specifically $2.2 billion in new projects put into operation in 2016. Better yet, with $6.7 billion in growth projects coming between 2017 and 2019, ($2.25 billion in 2017 alone) Enterprise Products Partners is well positioned to continue delivering moderate, but clock-like, payout growth for the foreseeable future. For example, the MLP just announced its 50th consecutive quarterly distribution increase.
Best of all, with $3.8 billion in currently available liquidity, the company has no lack of capital necessary to cover the next seven to eight quarters of growth investment with minimal need for new equity dilution.
In fact, based on the distribution coverage ratio, or DCR, even if Enterprise didn't put any projects into service, it could still raise the payout for the next two to three years, while maintaining a DCR of 1.1 or above, indicating a highly sustainable long-term distribution.
That gives the MLP plenty of time for energy prices to recover and continue providing a massive long-term (20-30 year) growth runway.
Magellan Midstream Partners: Master Of Specialized Midstream Assets
| | | | |
| --- | --- | --- | --- |
| Metric | 2015 | 2016 | YoY |
| Revenue | $2.189 billion | $2.205 billion | 0.7% |
| EBITDA | $1.133 billion | $1.51 billion | 1.6% |
| Distributable Cash Flow | $942.8 million | $947.5 million | 0.5% |
| Units Outstanding | 227.9 million | 228.1 million | 0.1% |
| DCF/Unit | $4.14 | $4.15 | 0.4% |
| Distribution | $3.01 | $3.32 | 10.3% |
| Distribution Coverage Ratio | 1.37 | 1.25 | -9.0% |
(Sources: 10-K, Morningstar)
Compared to Enterprise and many other large MLPs, Magellan's 2016, while not excellent, still showed the company's impressive ability to grow despite challenging industry conditions.
Specifically, a stable top line growth, along with a token amount of new equity issuances, actually allowed DCF/unit to grow. And while that growth was lackluster on an absolute basis, the MLP's historically high DCR allowed it to once again deliver impressive distribution growth. In fact, management just announced the 59th payout increase since Magellan's 2001 IPO, a 9% bump going into 2017.
This stability in DCF is courtesy of the MLP's toll booth, which has just 13% of operating margins exposed to commodity prices.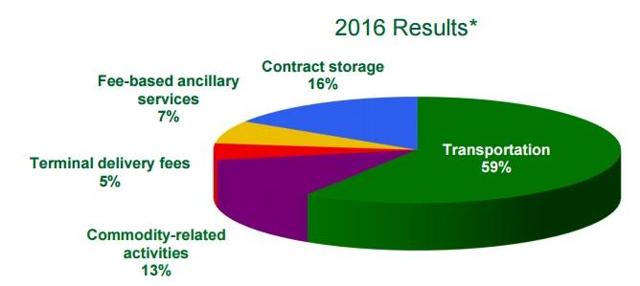 (Source: Magellan Midstream Partners investor presentation)
This most recent distribution increase is above the MLP's guidance of 8% distribution growth in 2017 and 2018, all while maintaining a safe 1.1-1.2 DCR. Why is management so confident about the company's ability to grow DCF despite low energy prices? The answer lies in the aggressive growth backlog, including:
$736 million in projects brought on-line in 2016
$900 million in projects scheduled over 2017 and 2018
$500+ million in potential investments/acquisitions that Magellan is considering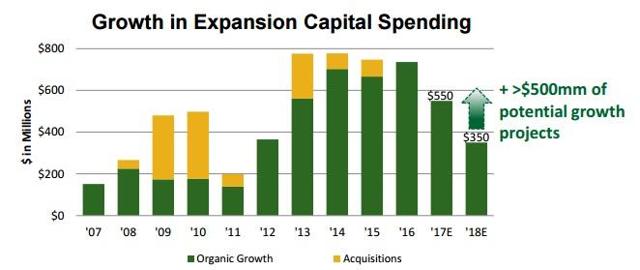 $1.4 billion may not seem like a large growth backlog, especially compared to Enterprise, but keep in mind two things. Magellan has historically kept its growth cards close to its vest. That means not announcing a new project until it has already secured all the long-term, fixed fee contracts needed to ensure highly stable and profitable cash flow.
That's because company management has always been extremely disciplined in its spending, always choosing to only invest in the most profitable projects rather than reaching for growth for its own sake. In fact, that's why Magellan is one of the most profitable MLPs in the industry.
Profitability: Proof Of Superior Business Models
| | | | | | | |
| --- | --- | --- | --- | --- | --- | --- |
| MLP | Operating Margin | Net Margin | DCF Margin | Return On Assets | Return On Equity | Return On Invested Capital |
| Enterprise Products Partners | 15.6% | 10.9% | 17.8% | 5.0% | 11.9% | 7.9% |
| Magellan Midstream Partners | 42.4% | 36.4% | 43.0% | 12.5% | 39.0% | 16.6% |
| Industry Average | 11.9% | 3.0% | NA | 1.0% | 3.5% | NA |
(Source: Morningstar)
As you can see, the profitability of the midstream MLP has taken a beating over the last three years, to the point where most of the industry is barely breaking even.
However, thanks to numerous competitive advantages, both Enterprise and Magellan are flying high when it comes to both profitability, DCF margin, and returns on investor capital.
Part of that is economies of scale, including Enterprise's ability to lower its annual costs by 7% a year throughout the oil crash (and bring in 2016's projects 4% under budget). However, a larger component of these MLPs' superior profitability is the lack of incentive distribution rights, or IDRs.
That's because both MLPs bought out their general partners years ago, which means rather than having to pay their sponsors 50% of each new project's marginal DCF, all that extra cash flow goes to investors.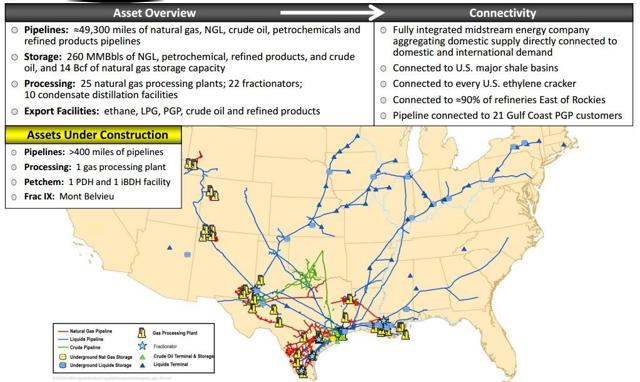 In addition, Enterprise has made great strides to diversify away from more commodity like natural gas pipelines and towards more profitable crude oil and refined product and petrochemical pipelines, processing, and storage assets.
Meanwhile, Magellan Midstream Partners has always been a premium petroleum products pure play. In fact, the company owns the largest premium petrochemical pipeline assets in the country.
That not just allows for safer, more consistent payout growth even during times of economic turmoil, rising interest rates, and crashing energy prices, but it also allows both MLPs to retain more DCF to invest into future growth.
That, in turn, allows them to be less dependent on external capital markets, which means stronger balance sheets, higher credit ratings, and greater access to low-cost debt and equity capital.
Balance Sheets: Conservative Debt Levels Make All The Difference
| | | | | | |
| --- | --- | --- | --- | --- | --- |
| MLP | Debt/EBITDA | EBITDA/Interest | Debt/Capital | Current Ratio | S&P Credit Rating |
| Enterprise Products Partners | 4.64 | 5.20 | 45% | 0.79 | BBB+ |
| Magellan Midstream Partners | 3.55 | 6.90 | 66% | 0.77 | BBB+ |
| Industry Average | 7.03 | NA | 62% | 0.85 | NA |
(Sources: Morningstar, F.A.S.T. Graphs)
A strong balance sheet is essential in a highly capital-intensive industry such as this. And because both Enterprise Products Partners and Magellan Midstream have been highly conservative with debt over time, that has resulted in the two highest credit ratings in the industry.


(Source: Magellan Midstream Partners investor presentation)
Which, in turn, means lower borrowing costs and lower overall costs of capital - a big competitive advantage in a rising rate environment.
That helps to keep profitability high, including sky-high DCF margins that help to ensure some of the safest and most consistently growing distribution track records in the industry.
Payout Profiles: The True Bottom Line For Investors
| | | | | | |
| --- | --- | --- | --- | --- | --- |
| MLP | Yield | 2016 DCR | 10-year Projected Payout Growth Projection | 10-year Potential Annual Total Return | 10-year Potential Risk-Adjusted Total Return |
| Enterprise Products Partners | 6.0% | 1.24 | 5.2% | 11.2% | 12.9% |
| Magellan Midstream Partners | 4.4% | 1.25 | 7.4% | 11.8% | 15.9% |
| S&P 500 | 1.9% | 2.53 | 5.9% | 9.1% | 9.1% |
(Sources: 10-Ks, GuruFocus, F.A.S.T. Graphs, FactSet Research, Multpl.com, Moneychimp.com)
The payout profile of an MLP is the ultimate bottom line for high-yield investors. Not only do we want to see generous current yields, but a strong DCR means not just that the current payout is highly secure, but also more likely to continue growing strongly in the years, and decades to come.
That explains why both Enterprise Products Partners and Magellan Midstream Partners are likely to crush the market's long-term total return of 9.1% CAGR. Just as importantly, because Enterprise and Magellan have below-average volatility, (betas of 0.87 and 0.74 respectively), their risk-adjusted returns are even more superior to what the S&P 500 (NYSEARCA:SPY) is likely to generate going forward.
Of course, those potential total return projections are only as good as management's ability to continue growing, which is where the long growth runways of both MLPs come into play.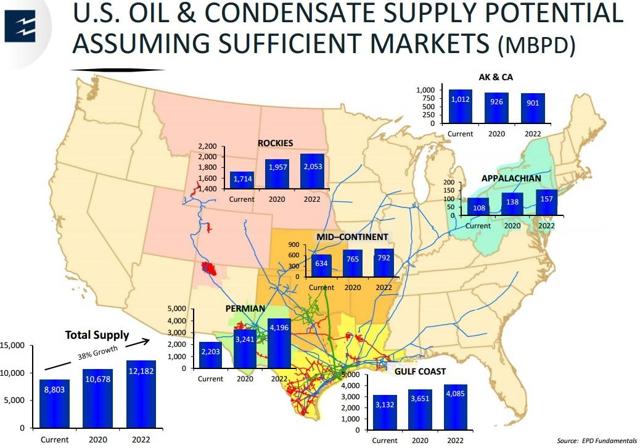 (Source: Enterprise Products Partners investor presentation)
Specifically, America's ongoing fracking boom, which is likely to result in massive increases in oil, natural gas, and natural gas liquids and condensates, should cause demand for both MLPs' high margin infrastructure to not just remain strong, but to boom for many years to come.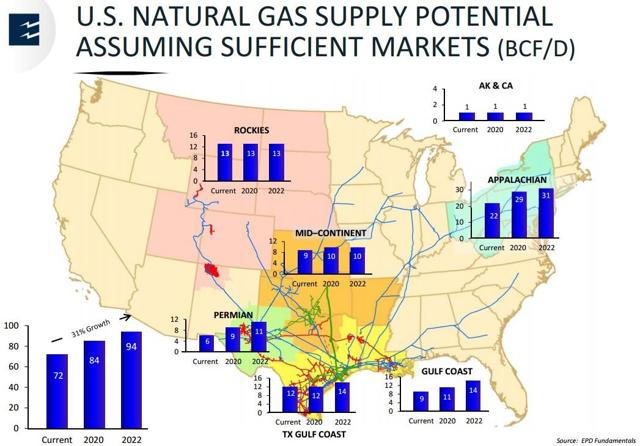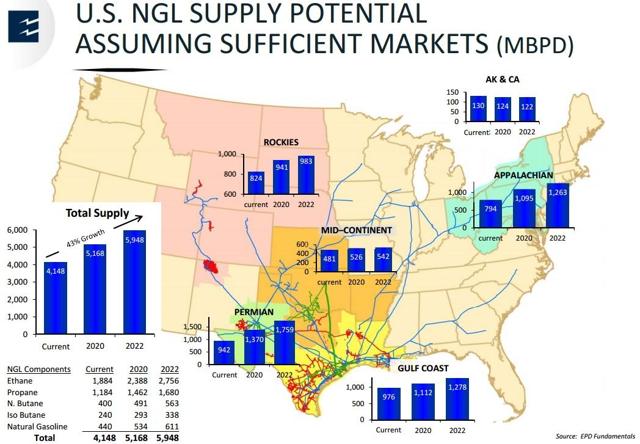 In fact, thanks to the US's prolific shale oil & gas basins, including the Permian Basin's 75 billion barrels of recoverable oil, its energy production is likely to continue rising strongly.
In fact, if the Permian Basin (whose production costs are ridiculously low) were its own nation, it would have the 9th-largest reserves in the world.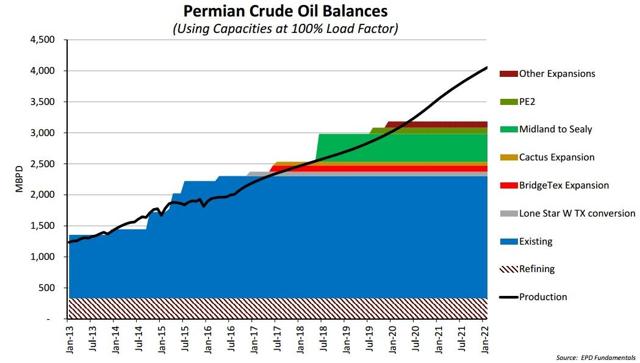 Even more impressive? The Permian Basin has the potential to eventually achieve daily production greater than 5 or even 6 million barrels per day. That's not just more than Iraq's current production, but would also make the Permian potentially the world's 4th-largest oil producer, behind only Saudi Arabia, Russia, and the US itself.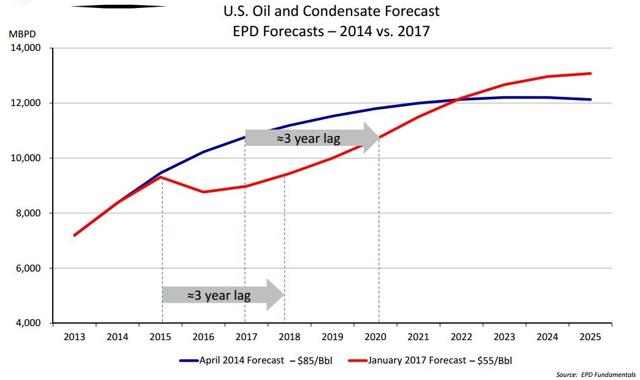 And when we consider not just oil but also exportable condensates, the US is likely to become the world's greatest energy producer in the coming years, with production potentially peaking close to 50% above 2016's levels.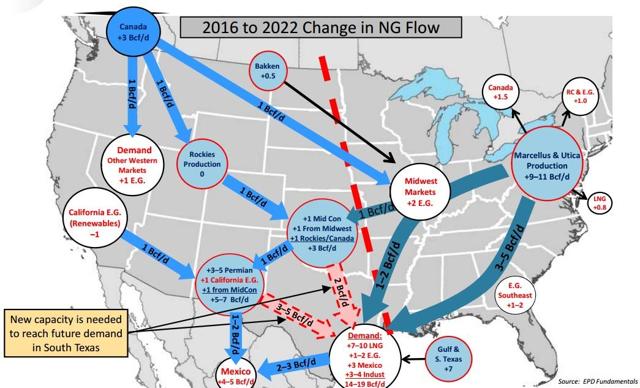 That means fantastic opportunities for both Magellan Midstream Partners and Enterprise Products Partners. This is because as America produces more low-cost energy and petrochemical feedstock, it creates an amazing opportunity for global exports, including oil, natural gas liquids (ethane, butane, propane), and liquefied natural gas (or LNG).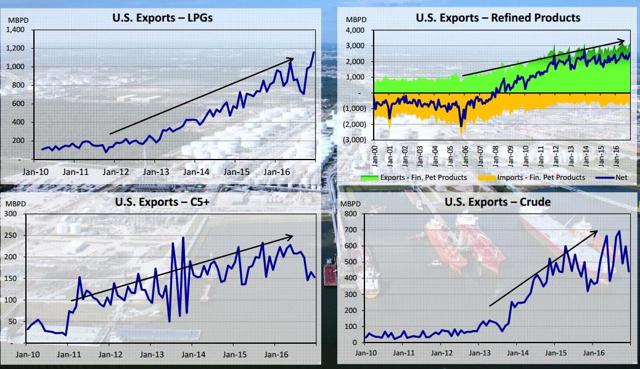 In other words, both Magellan Midstream Partners and Enterprise Products Partners are not just betting their future DCF growth opportunities on supply push (increased production) but also on demand pull, meaning higher and fast-growing end-user demand.
That creates a far more diversified and stable cash flow stream, because customers such as petrochemical makers, utilities, and LNG exporters are eager to sign long-term, fixed-rate contracts to lock in predictable input prices.
Enterprise Products Partners Distribution Growth Record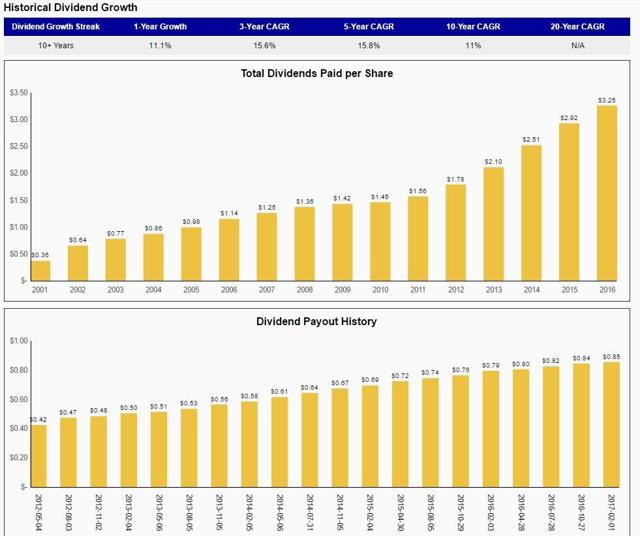 (Magellan Midstream Partners' Distribution Track Record)
Which, in turn, should provide both MLPs with more than sufficient growth runways to continue their epic and unbeatable track record of steady payout growth, which is the basis of their market crushing total returns over time.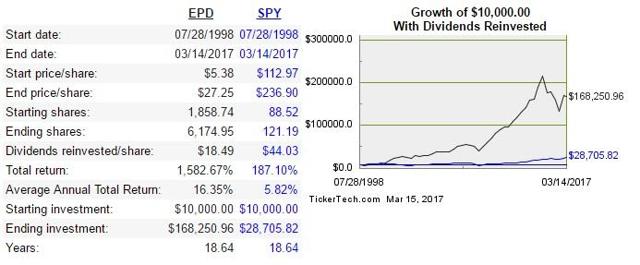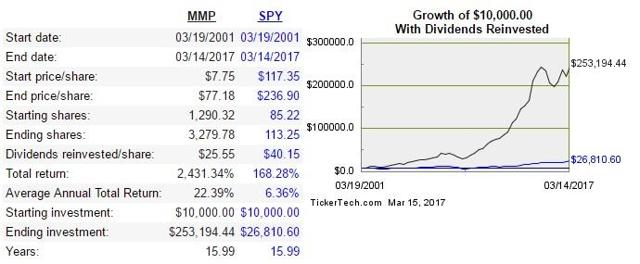 (Source: Dividend Channel.com)
Valuation: Appealing Long-Term Investments In A Very Frothy Market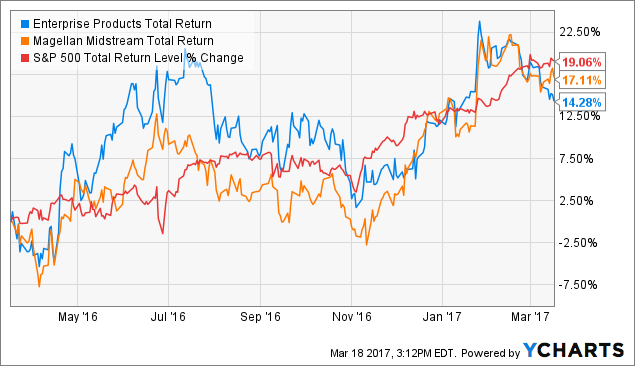 EPD Total Return Price data by YCharts
Thanks to the recent slide in oil prices, both Enterprise Products Partners and Magellan Midstream Partners have underperformed the market over the past year.
| | | | | |
| --- | --- | --- | --- | --- |
| MLP | P/OCF | Historical P/OCF | Yield | 13-year Median Yield |
| Enterprise Products Partners | 13.7 | 10.6 | 6.0% | 5.7% |
| Magellan Midstream Partners | 18.1 | 10.7 | 4.4% | 4.9% |
(Sources: F.A.S.T. Graphs, GuruFocus)
That creates a potentially excellent buying opportunity.
True, on a price/operating cash flow basis, neither stock appears all that cheap (due to commodity-induced lower operating cash flow), at least compared to the historical levels. However, when we look at the more relevant metric - yield - it becomes clear that Enterprise Products Partners is trading at a nice discount to its historical norms.
| | | | | | |
| --- | --- | --- | --- | --- | --- |
| MLP | TTM DCF/Unit | 10-year Expected Growth | Fair Value Estimate | Growth Baked Into Current Unit Price | Margin Of Safety |
| Enterprise Products Partners | $1.97 | 5.2% | $32.74 | 1.7% | 17% |
| Magellan Midstream Partners | $4.15 | 7.4% | $77.20 | 7.5% | -1% |
Sources: 10-Ks, F.A.S.T. Graphs, GuruFocus
And when we take a longer, 20-year look via a discounted cash flow or DCF analysis, it becomes apparent that both MLPs are trading at fair value or better.
That's because Enterprise Products Partners is currently priced for ridiculously low forward growth. That means a very low hurdle to clear. Which, in turn, results in a very nice margin of safety that should ensure strong, market-beating total returns in the coming years and decades.
Meanwhile, while Magellan Midstream Partners is trading at fair value, that doesn't mean today isn't a good time to buy. After all, few MLPs have the kind of quality management that have proven the ability to generate such sensational profitability and consistently strong payout growth over time.
At the very least, Magellan's current unit price makes it a good candidate for investors looking to open an initial position.
Risks To Consider
While I remain highly confident that my Enterprise and Magellan holdings will do well over time, nonetheless, there are a few risks that do concern me.
For one thing, low energy prices have now entered their third year, with no end in sight. That's because despite OPEC's 10% production cut, which has proven highly successful with 90% compliance, the world remains awash with excess oil & gas supply.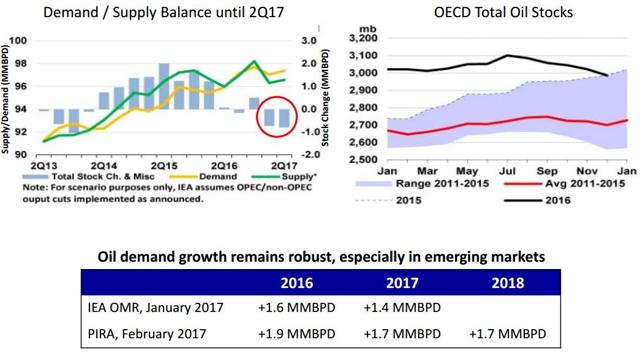 Now granted, that is expected to reverse itself in the second half of this year, assuming that global growth finally comes in as expected.
Then again, years of super-cheap crude have caused many countries and companies to store oil away in case of rising prices. That means it will likely take several more years to work off excess inventories, even if oil demand rises above supply in the coming quarters.
However, in recent months, it's become clear that rising production outside of OPEC might make it harder to decrease global supply excesses. That's because US shale producers have, out of necessity, become massively more efficient when it comes to fracking.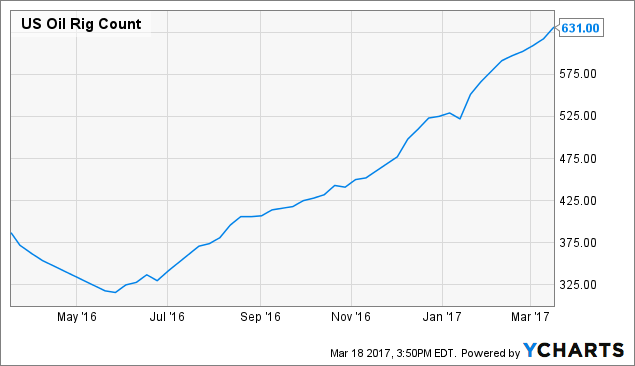 US Oil Rig Count data by YCharts
This means many companies can now achieve profitable production at oil prices as low as $40 or even $30. That also explains why the number of oil rigs operating in the US has been climbing for months, despite crude prices never rising above 50% of their previous 2014 highs. This is because internal rates of return have actually increased to very high levels in all US shale formations.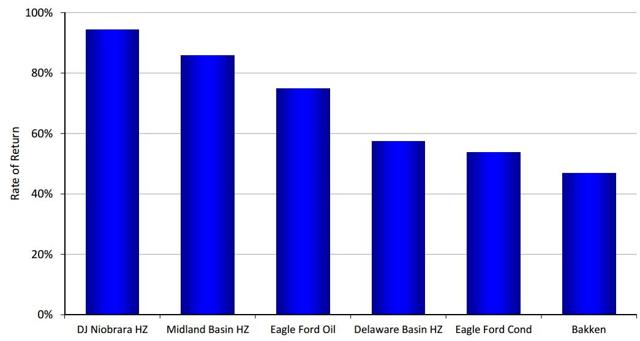 (Based on $55/barrel oil price)
The same is true for natural gas production, which has become so efficient that the breakeven price on most shale formations has declined by 50-66%.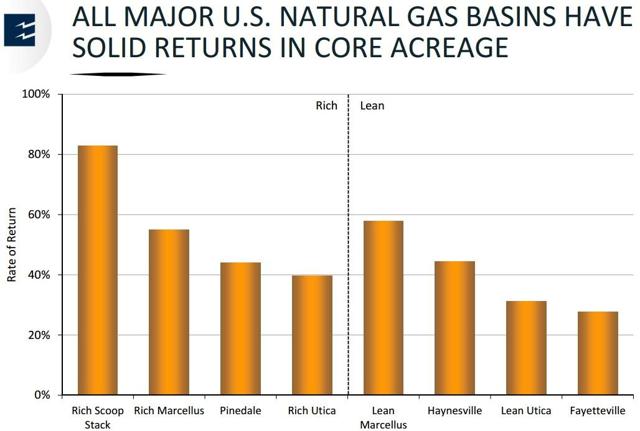 (Assumes $3 per thousand cubic feet of gas)
In fact, the US Energy Information Administration, or EIA, is now forecasting that US oil production is likely to rise, from 2016's 8.9 million barrel per day average to 9.0 million in 2017 and 9.5 million bpd in 2018. The agency is estimating that this will keep a cap on oil prices, with WTI averaging between $53 and $54 per barrel over the next two years.
While this increase in drilling and production is good news for both Magellan and Enterprise in the short term, due to higher demand for their pipelines, it also poses a major medium-term risk. Specifically, of a desperate Saudi Arabia once again throwing open the oil taps in a desperate bid to drown the US shale industry.
After all, the entire reason for the OPEC price war with US shale producers was over Saudi Arabia's dislike of losing market share to higher-cost shale drillers.
However, after over two years of a devastating war for market share, the US shale oil & gas industry remains as vibrant as ever. Meanwhile, Saudi Arabia's agreeing to coordinated OPEC and non-OPEC production cuts is an admission that its strategy has been a failure.
Of course, that doesn't mean the Kingdom isn't still in desperate financial straits, even going so far as to plan an IPO for its state-owned oil company, Saudi Aramco (Private:ARMCO). In fact, the Kingdom just announced that it has recently undone a significant amount of its recent production cuts.
For now, that increased production is to refill domestic oil inventories. However, should US production increase over time and OPEC cuts prove insufficient to raise oil prices to the Saudi's stated preference of $70 per barrel, there is always the risk that the Kingdom could once again throw the taps wide open. That could lead to Saudi production of as much as 12.5 million barrels per day, a 2.5 million bpd increase over current levels.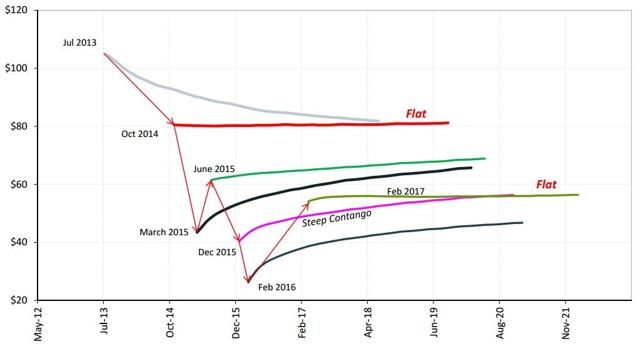 After all, the forward futures markets are now pricing in $55 oil for the next four years - a level that could pose an existential threat to the Saudi economy. This might force the Kingdom to launch one final, desperate, all-out first strike on US shale producers, who have now become the de facto world swing producers.
That could not only send oil prices crashing back down, potentially to retest the 2016 low of $26 per barrel, but could also put many more MLPs into a liquidity trap position - the same kind that forced even blue-chip giants such as Kinder Morgan (NYSE:KMI) to slash distribution back in 2015.
While Enterprise and Magellan's debt levels are far more secure than Kinder's, the fact is that the steady declines in these MLPs' DCRs over the last three years means that even these SWAN (or Sleep Well At Night) stocks can only continue growing their payouts for so long before they risk the long-term sustainability of their distributions.
That's largely because, due to the midstream MLP business model, in which the majority of DCF is paid out to investors (for tax reasons), Enterprise and Magellan are still highly dependent on external capital markets.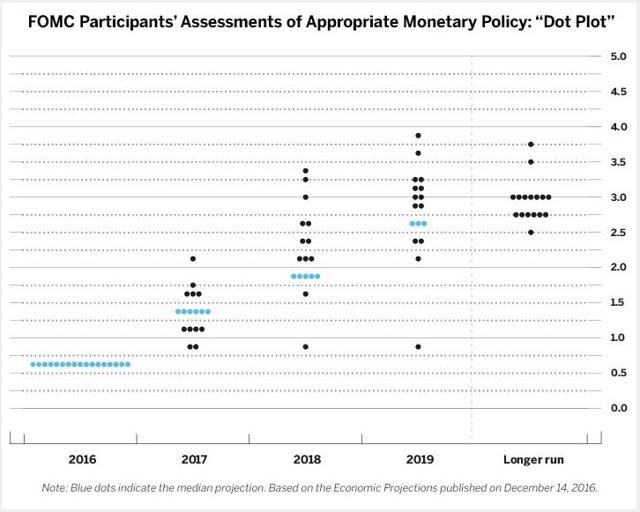 Interest rates set to rise by as much as 2.25% in the coming years, which will raise both their cost of capital and cost of equity. And that means even these legendarily consistent payout growers could eventually succumb to the combination of higher rates and low energy prices.
Bottom Line: Enterprise Products Partners And Magellan Midstream Are Excellent Core Holdings And True SWAN Stocks
Don't get me wrong. I'm not saying all MLPs aren't likely to face some major potential headwinds in the years ahead. However, the key to successful long-term MLP investing, as with all dividend growth stocks, is to be highly selective and stick with the best-in-breed names in the industry.
That's why Enterprise and Magellan, with their exceptional, conservative management teams, strong payout profiles, excellent balance sheets, and industry-leading profitability, represent some of the best high-yield dividend growth stocks you can choose today. That's despite the market sitting at all-time highs and some frightening valuation levels.
Disclosure: I am/we are long EPD, MMP.
I wrote this article myself, and it expresses my own opinions. I am not receiving compensation for it (other than from Seeking Alpha). I have no business relationship with any company whose stock is mentioned in this article.