After losing $853 million out of a $2 billion investment in the leveraged buyout of its predecessor, Warren Buffett is quoted in 2013 as saying "Most of you have never heard of Energy Future Holdings. Consider yourselves lucky; I certainly wish I hadn't." Now investors get a shot at Round 2.
EFH was the re-name of the Texas utility TXU taken private by a $44 billion buyout in 2007. Then natural gas prices collapsed, crushing power markets in TX and sending EFH to bankruptcy court in 2014. After several reorganization plans, the company is coming out of bankruptcy. Keep in mind, the utility never went away and has been operating during the proceedings, service customers and generating power. Some might compare the utility to the Greek mythical Phoenix rising from the ashes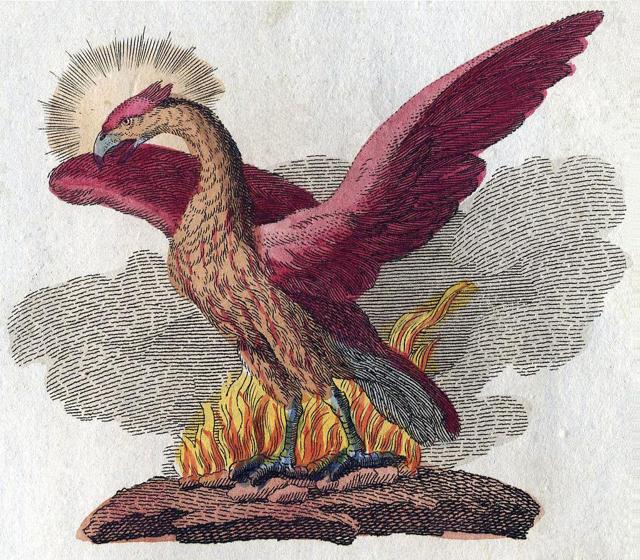 FJ Bertuch (1747-1822) Depiction of Phoenix Rising
Two of the three major utility asset categories, retail electricity distribution and power generation, were reorganized into Vistra Energy (VSTE) with the third category, transmission, well on its way to being sold to NextEra (NYSE:NEE).
TXU Energy is the retail segment of VSTE and services 1.7 million customers from Dallas to Houston and the surrounding areas. 1.5 million are residential customers, making TXU Energy the largest retail provider in Texas with 25% market share. Commercial metering indicates a 17% market share. Luminant is the power generation segment of VSTE and has current capacity of 17,000 MW, 2,300 fueled with nuclear, 8,017 by coal, 6,443 by natural gas, and about 900 by renewable, mainly wind. Luminant is approximately the 16th largest power producer in the US.
Of interest to investors could be the integration of the needs of TXU Energy to purchase power for distribution with the production capacities of Luminant. According to 2015 10-K SEC filings, the Competitive Electricity Segment of EFH, a.k.a. TXU Energy, purchased $2.8 billion in power for resale. Investors should appreciate that while Luminant is technically an independent power producer, intercompany sales could represent a considerable base for the company's power generation.
Much like PJM in the Northeast and eastern Midwest, Texas power markets are coaxed along by the regulatory agency ERCOT, or Energy Reliability Council of Texas. Its major responsibilities are to connect and schedule power generation on its electric grid and to perform financial settlement for the wholesale and retail power markets. One major difference is PJM conducts regulated and rolling 3-year pricing auctions for electricity pricing, while the Texas market is totally deregulated and competitive. Below is a slide from their investor presentation outlining the advantages of being under the thumb of ERCOT vs. PJM. Investors more familiar with PJM should take the time to review this chart as it is quite revealing.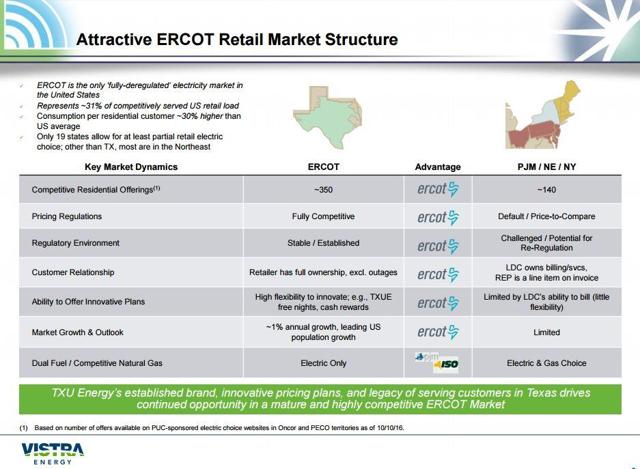 Due to its recent emergence from bankruptcy and short trading history, earnings and dividend estimates are few and far between. I have yet to find any earnings per share estimates for 2017. Management has offered 2017 EBITDA guidance of between $1,350 million and $1,500 million, split 55% TXU Energy and 45% Luminant. Free cash flow for 2017 is forecast at between $745 million and $925 million. This is based on 2017 capital expenditures of a paltry $285 million, incorporating $0 capex for the distribution business.
In an Barron's article published last month titled, Vistra Energy's Promising Next Act penned by Andrew Bary, the author believes there is the potential for a $1.00 dividend in 2017, based on a per share EBITDA of between $1.74 and $2.17. Bary also identified several catalysts for share price appreciations in addition to a dividend, including recognition of the benefits of retail distribution and power generation; strengthening power prices where every $5 in power price increase could relate to $5 in higher share price; listing of shares on the NYSE; and the potential to use its cleaner balance sheet to re-leverage up, becoming an acquirer in the current utility sector consolidation trend.
Speaking of leverage, as part of the failed conglomerate, EFH held almost $40 billion in debt at the time of its bankruptcy filing. Currently, VSTE has debt of $3.8 billion. While the $40 billion number includes the Oncor business worth about $18 billion in a proposed merger, the balance of the crushing debt that could be attributed to what is now VSTE and would be around $22 billion. Regardless, it is obvious that current leverage is much more manageable. VSTE's $3.8 billion in debt includes $1 billion additional from last fall as part of a special dividend to three investment firms that converted their EFH debt to 38% of Vistra's equity. Compared to its peers, Vistra carries current debt levels that should be attractive to investors reviewing their balance sheet.
Last Dec., Moody's issued their credit rating of Ba2 with an outlook of Stable. Their Outlook:
The stable rating outlook reflects management's near-to-medium term focus on optimizing the operating capabilities of its assets and a view that any additional leverage would be accompanied by a commensurate amount of additional cash flow. The stable outlook incorporates a view that the ratio of CFO pre-W/C to debt will remain near the 20% range.
Concerning stock valuation, Bary offers an interesting table comparing VSTE's Enterprise Value/EBITDA with other independent power producers.

With share prices of $16.15, the $1.00 dividend would generate a yield of 6.2%. Some analysts have price targets in the $19 to $20 range, based on the type of comments offered by Bary. For example, also from the Barron's article:
"Vistra is a good operator in a state with a growing economy and rising electricity demand," says Lucy Galbraith, a managing partner at Kindred Capital Advisors, a Rowayton, Conn., investment firm that owns the stock. "The retail business provides an effective hedge for the merchant power operation. It's a compelling combination." She conservatively values the shares at about $19 and says they could go higher with a rise in Texas electric prices.
Management is expected to offer additional insight on March 20 when they announce 2016 operating results. While some investors may term investing in VSTE as "buying a pig in a poke," I think the risk to reward for longer-term investors with an eye towards speculative utility opportunities should take the time to research VSTE before the March 20 earnings announcement. If management offers upbeat forecasts, investors should expect higher interest (translate higher share prices) as more researchers begin to conduct their due diligence. Added information can be found at Vistra website.
A newsletter subscriber, who is employed in the utility sector, alerted me to this opportunity. I would like to thank him as I have taken a starter position in VSTE and will be adding on 1) dips (if any) or 2) strong earnings projections.
Author's Note: Please review disclosure in Author's profile.
Disclosure: I am/we are long VSTE.
I wrote this article myself, and it expresses my own opinions. I am not receiving compensation for it (other than from Seeking Alpha). I have no business relationship with any company whose stock is mentioned in this article.
Editor's Note: This article discusses one or more securities that do not trade on a major U.S. exchange. Please be aware of the risks associated with these stocks.