If you like to gamble, then I suggest that you go down to your local casino and bet on black (or red!) because at least you would then have a near 50% chance of making money. I am not endorsing gambling, but I am not endorsing investing in Chesapeake Energy (NYSE:CHK) either.
It has been a while since I had been strongly bullish on Chesapeake (read Chesapeake Isn't Going Bankrupt). The market-wide panic that made Chesapeake an attractive play during the great "Oil Recession" in early 2016 is now long gone. Instead, the energy market today is filled with hopes and dreams. The funny thing is that I had been bullish as well, up until cracks started to show up in what I thought was a strong pact between producers (read Death By OPEC). Everything looked to be in place for energy stocks as an improving world economy and the production cut led by OPEC pointed to prosperity. Unfortunately, the future is no longer as rosy, and Chesapeake isn't any different.
There Is No Value
Never mind my bearish stance on oil (NYSEARCA:USO) itself, what happens if price just stays the course? We don't have data for the first quarter yet, but we do know that realized prices for oil should be higher than the last quarter. Let's see if the company will make a ton of money at today's prices.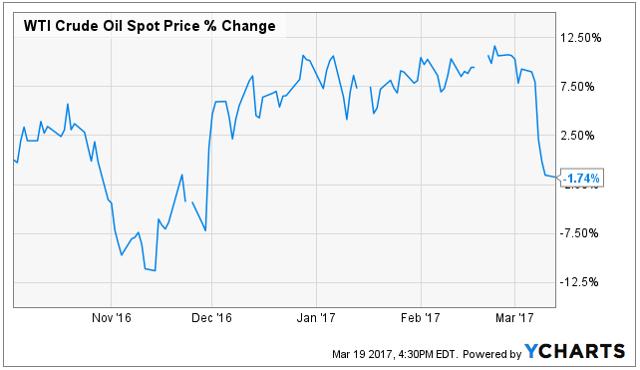 The average WTI price was $49.15/bbl in the fourth quarter. Although first quarter isn't over for two more weeks, average WTI price for the quarter will probably be around $53/bbl. Let's assume that this price will hold for the remainder of 2017 for this exercise. The management guided total liquids production of 53 MMbbl for the year, which is roughly equal to Q4 2016's production on a quarterly basis. This means that we can pretty much use fourth quarter as a guide for 2017. Adding $4/bbl of increase in oil to fourth quarter realized prices, we get an incremental EBITDA of $212 million on an annual basis. Adding that amount to annualized adjusted EBITDA of $1.54 billion (Q4 2016 actual adjusted EBITDA annualized) yields total EBITDA of $1.752 billion. That doesn't look so bad, until we account for the expected capex of $1.7-2.3 billion, excluding capitalized interest. So under a generous scenario, the company will generate $52 million of cash flow (EBITDA - Capex). Clearly, the company's cash flow pales in comparison to the current market cap of $4.7 billion.
Of course, there is a lot of optionality here. How much that optionality is worth is not the topic of this article, but from a value perspective, I don't see how the current stock price justifies the fundamentals. Furthermore, I would like to note that the management made a lot of projections based on $60/bbl oil (see recent presentation), a price that may have been possible had you asked me a month ago, but one that I believe is out of reach in the near future.
Stock Buoyed By Takeover Speculation
Why Chesapeake (or Exxon (NYSE:XOM), or Chevron (NYSE:CVX), read Choosing Between Bad and Worse) is trading at where it is today from a value perspective is anybody's guess. I am merely conjecturing here, but perhaps the stock is still buoyed by takeout rumors. This may have been further perpetuated by a string of insider purchases.
I believe that such beliefs are completely unfounded. The debt load is the most problematic in my view. Yes, the company is chewing off small pieces, but the big picture doesn't change. Pro forma of recent transactions, the company will still have $9 billion on the balance sheet. A debt laden company is not a prime target for potential acquirers, especially one that does not seem to have the ability to pay down said debt due to poor cash flows.
The recent insider purchases (especially those made by Chairman Emeritus Archie Dunham) may have also given investors some false hope. Much like my argument against what was seen as a probable takeover of Valeant (NYSE:VRX), I believe that insiders are not in the business of losing money, so an insider who is underwater on his or her investment will be unlikely to sell at a loss. After viewing past transaction data, I've found that Archie has spent $38.4 million since 2014 on 34 million shares at an average price of $11/share. So unless you know an acquirer that is willing to pay at least a $5 billion premium for a company that has a ton of debt but is almost making nothing under today's commodity environment, then I think you should agree with my assessment. Certainly Archie himself does not have complete control over the company, but given his position of power, it will complicate any potential transaction.
Lastly, I expect CEOs' optimism to be taken down a notch after oil's mini-crash over the past two weeks, further dampening the possibility of a takeover.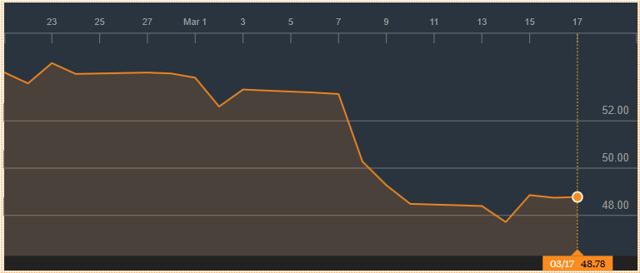 Source: Bloomberg.com
Putting the above together, I don't think anyone has the appetite to buy a company that is highly levered and has what is likely to be an uncooperative board member under a deteriorating industry environment.
Conclusion
From a financial perspective, Chesapeake is not cheap. While the stock has declined significantly from its highs, the current price still does not offer any margin of safety. Furthermore, it is likely that the stock price is supported by dip buyers that may be speculating on a takeover. Should industry dynamics continue to worsen like I expect, this temporary demand for the stock will likely evaporate, pushing the stock down further.
I intend to release a comprehensive spreadsheet for O&G stocks through the Core Value Portfolio in the coming weeks. Click the "Follow" button beside my name on the top of the page to be updated with my latest insights. To learn more about the Core Value Portfolio, whose goal is to compound capital at 20% over the long term, I encourage you to read the introduction to my investment process. Premium subscribers get full access to the Core Value Portfolio.
Disclosure: I/we have no positions in any stocks mentioned, and no plans to initiate any positions within the next 72 hours.
I wrote this article myself, and it expresses my own opinions. I am not receiving compensation for it (other than from Seeking Alpha). I have no business relationship with any company whose stock is mentioned in this article.