Freeport-McMoRan (NYSE:FCX) has been on a downtrend the last thirty days due to prolonged problems at Grasberg, labor problems at their Cerro Verde, and sideways trading in copper prices. Should the problems at Cerro Verde sort themselves out this week, we should see a slightly positive effect in the stock, if any effect at all. The core driver behind a renewed uptrend is going to have to come from cooperation at Grasberg on an advanced timeline, as well as from positive reports surrounding copper fundamentals. The stock, based upon its recent dip, looks like a buy and investors would be well-off by taking a long-term position at the current level.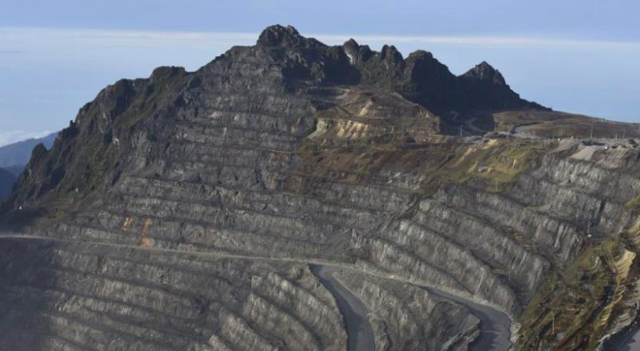 Source: Reuters
More Problems With Mines
I find the position that Freeport is currently in to be quite interesting. First, it's necessary to address the situation in Cerro Verde. We should expect the strike to end there relatively soon and for FCX to see production pick back up. Cerro Verde is coming off of a $4.6 billion expansion in 2016, so it's critical that these labor disputes be resolved immediately for the company, otherwise we will see a continued downtrend in the stock. Right now, it seems as though output is at half and this will be noticeable on the Q1 earnings report, which is disappointing, but if it ends soon, we may stop seeing a decline in the stock.
This Cerro Verde labor dispute really comes on top of the complications at Grasberg that have extended. Thus, it really does make sense why Freeport has gone on a sharp downtrend over the last four weeks. I said last month that the problems at Grasberg, if they were to continue, could really place negative pressure on the stock. Since that time, we've received some interesting updates. First, Indonesia's government is playing hardball with Freeport in that they're looking for a large update to the company's previous contract. Freeport did say they expect some smelting operations to resume this month, but we've yet to receive an update and we're only eleven days away from the close of the quarter.
So, what's at stake here? Essentially a third of Freeport's annual production is at risk of not being exported because of the gridlock with the Indonesian government. This is arguably worse than the Cerro Verde situation, but that situation comes at a bad time considering the company now has a lot to balance. The more defined impact right now is that the company has to put off indefinitely its plans to run a $1 billion expansion of the Grasberg mining complex. While that lowers the capital expenditure budget for the year and notches up free cash flow, it comes at the expense of top and, indirectly, bottom-line growth - not something we want to see from a company's who's primary commodity mined is at the beginning of a price recovery.
The company, now straddling two major problems at two of its top mines, mines that account for nearly 50% of overall assets, will show challenged production on Q1 2017. However, should these problems be resolved by the end of the quarter, the company will be in good shape to close out the first half of the year on an uptrend. A large determinant of that kind of efficacy will be the relative strength or weakness in copper pricing, a commodity whose outlook remains uncertain in the short-term.
Where Is Copper Headed?
I was looking at last month's investor update from the company and they've made some interesting points. Their general thesis is immensely positive and they expect a supply deficit to actually occur at some point. At $3/lb for copper, there seems to be a clear inflection point and somehow, the company believes "supply growth is challenged." I've struggled to find evidence to support this as nearly all of top ten major copper producers around the world have projected increases in annual production. Now, this can naturally be offset by rising Chinese demand, something we've already seen reported for other base metals like iron ore.
There is evidence present in the demand side of the equation, as back in January, Chinese imports of copper hit an all-time high, however I think the market is just waiting on the supply side of the equation to see support as well. Thus, the supposed capacity cuts are going to be key in pushing the price up in the short-term and continuing the trend of lower inventories below the five-year average.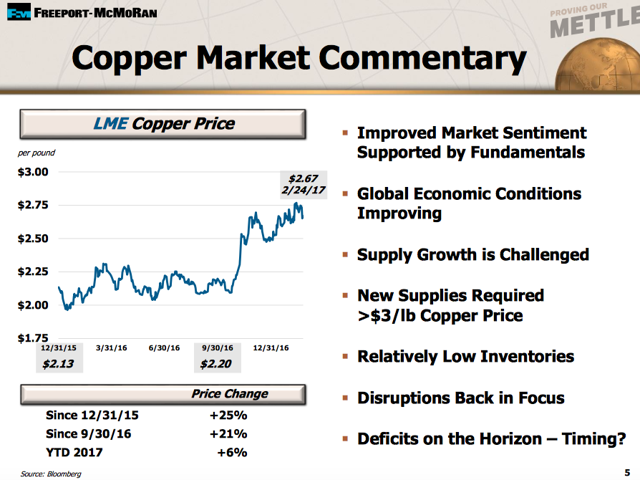 Source: Investor Presentation
The notion of "relatively low inventories" is of large interest to me. Inventories are constantly one of the largest offenders of price and with copper, the situation is no different. At the time of that presentation last month, inventories were relatively low, however' they've just spiked back up towards the twelve-month high.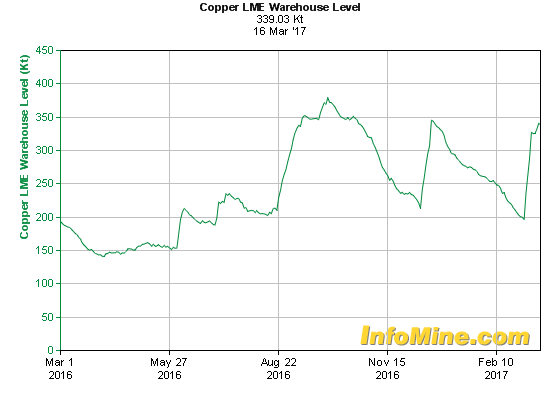 Source: InfoMine
However, from the longer-term perspective, Freeport is actually right. These inventories are historically low, which makes me wonder why copper is so suppressed and continuing to trade sideways. It's likely a confluence of the lack of capacity cuts being reflected in economic reports and expected supply expansions from the top ten global producers. The sooner we can see positive economic data from China, then we will see strength in copper and, subsequently, strength in FCX.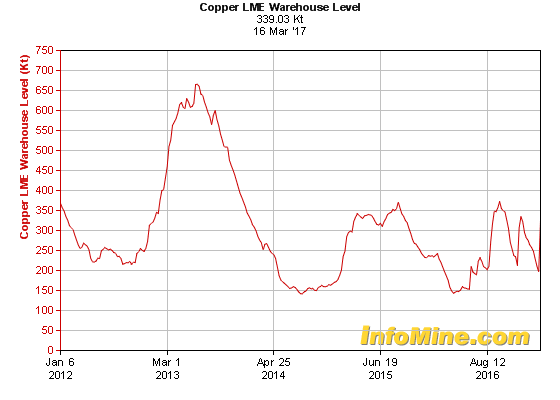 Source: InfoMine
Copper has really had an interesting first quarter of trading. With just about two weeks left in Q1 2017, we're looking at rather sideways trading in copper prices. We're starting to see those moving averages flatten out and prices for the last couple of months. I've found it to be rather interesting that the strike at Cerro Verde and the complications at Grasberg hasn't boosted copper prices, as they look virtually unaffected even though news outlets are saying its provided support. In the short-term, it looks as though $2.80/lb is the key resistance level and a sustained trend above that level would be a strong signal for investors to either be long a copper ETF (CPER, CUPM) or Freeport-McMoRan.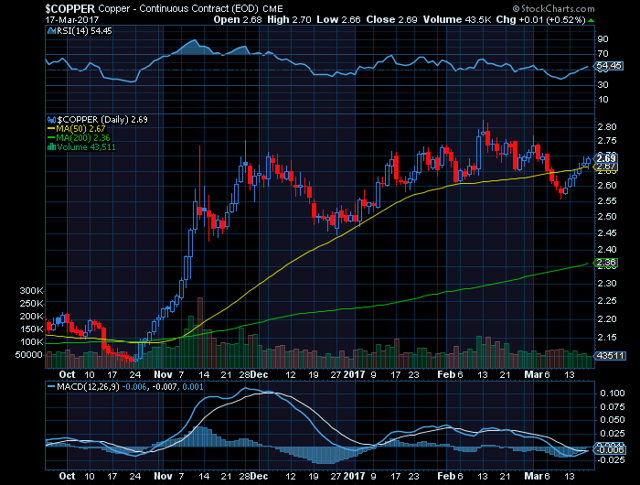 Source: StockCharts
The sideways trading tells me that investors aren't fully convinced yet that the fundamental situation for copper is on a continuous recovery. I say that from the perspective of the last five years, where copper has still only made up about $0.70/lb and has over a $1.30/lb spread to make up over the long-term. That kind of gain over the next five years warrants a doubling or tripling of FCX, depending on the pacing of the stock relative to copper. At the end of the day, this risk/reward scenario is sizeable, but we're only going to get a breakout of the sideways trading with reports of lower supply, higher Chinese demand, and/or lower inventories.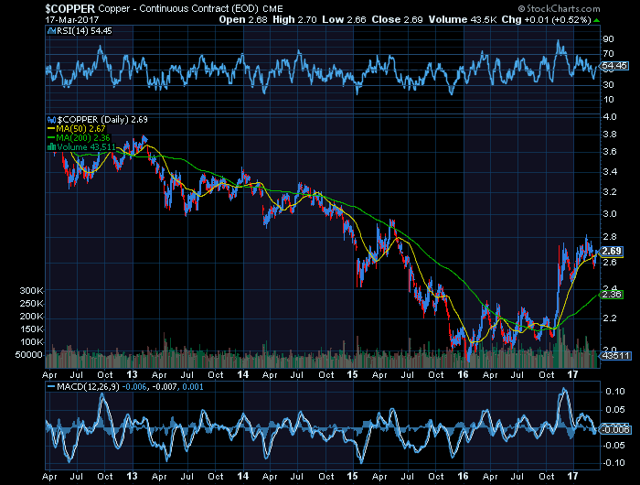 Source: StockCharts
Interestingly enough, FCX has begun to underperform copper and it's highly likely that investors have quite the buying opportunity here. Take a look at the RSI in the below chart, it's been under 40 for the better part of the last thirty days and we're nearly 25% off of the highs reached back in early February. Such a sharp decline naturally has me intrigued that this is an opportunity to go long, especially since we haven't seen the $12 level since early November. Additionally, the stock is in the process of consolidating around its 200 DMA, so if we receive some positive news for copper prices this week, then perhaps we'll see a pop in FCX. Furthermore, if we see some resolve at Grasberg, FCX could also take off.
It largely comes down to China, however, for a positive future direction in copper prices. Copper received some strength when China announced that it was reaffirming its position to cut excessive capacity in the metals industry, notably for copper, steel, and aluminum smelters. This was received as a strong positive for the market, however it failed to ignite an uptrend because it hasn't yet been reflected in trade data. I expect that if we receive several positive reports over the coming months, then its highly likely copper could reach $3/lb by the end of the first half of the year.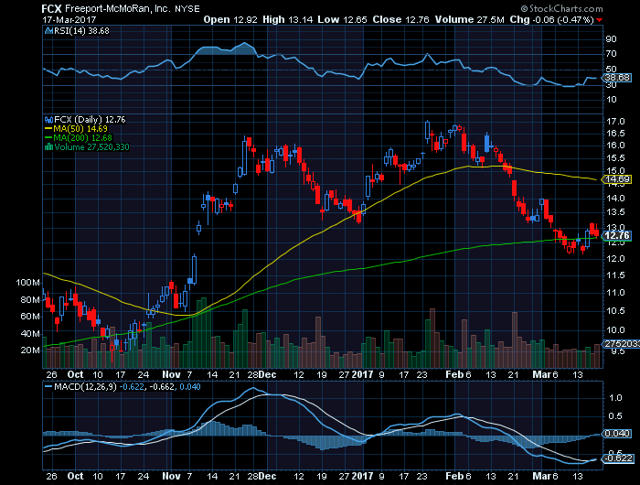 Source: StockCharts
Conclusion
Freeport has a lot on its plate, at the moment. Balancing labor disputes at Cerro Verde and a lack of cooperation from the Indonesian government, Freeport has watched as its stock took a large hit from $17 to just below $13. While I believe this heavy dip creates a window of opportunity for investors to take a low cost long-term position, especially as copper has the support to run higher. If we get some positive trade data out of China before the close of the quarter, I see it highly likely that copper breaches $2.80/lb and FCX makes up a portion of its recent losses.
Disclosure: I/we have no positions in any stocks mentioned, but may initiate a long position in FCX over the next 72 hours.
I wrote this article myself, and it expresses my own opinions. I am not receiving compensation for it (other than from Seeking Alpha). I have no business relationship with any company whose stock is mentioned in this article.