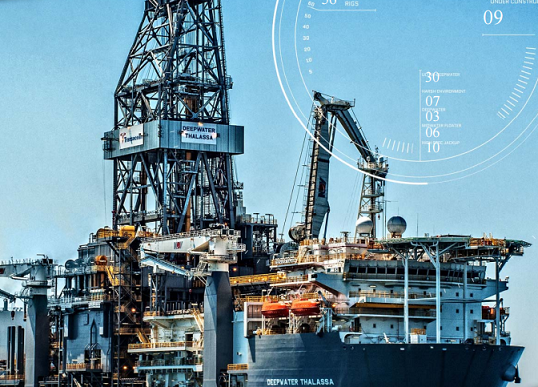 (Source: deepwater.com)
Transocean Ltd. (NYSE:RIG) primarily offers deepwater and harsh environment oil and gas drilling services worldwide. The company owns or has partial ownership interests in 61 mobile offshore drilling units, including 28 ultra-deepwater floaters, 7 harsh environment floaters, 5 deepwater floaters, 11 midwater floaters, and 10 high-specification jackups. As of February, the company has stacked 27 rigs and idled 4 rigs. The cold stacked rigs serve as a company liability as they cost money and are unlikely to reenter the fleet.
RIG's stock price has outperformed the GICS Oil and Gas Drilling subindustry the last few months, including its offshore competitors such as Diamond Offshore Drilling Inc. (NYSE:DO), Ensco PLC (NYSE:ESV), and Rowan Companies plc (NYSE:RDC).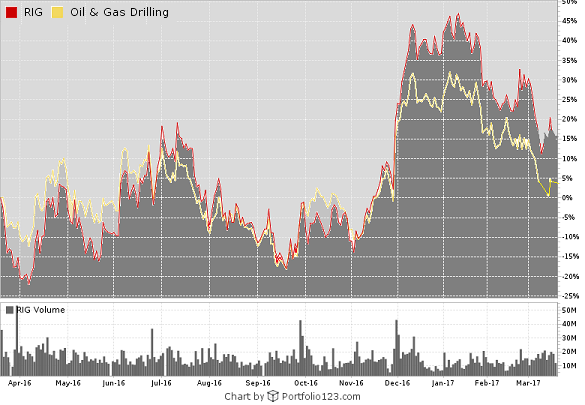 (Source:Portfolio123)
In a world of offshore drilling musical chairs, where companies are scrambling to unload rigs before the music stops, RIG seems to have found a chair to sit on. A recently published report indicates that RIG is considering selling its fleet of 15 shallow-water rigs for $1.2 billion. This would help out their balance sheet tremendously.
It should be noted that RIG filed a patent infringement complaint against Noble Corporation plc (NYSE:NE) in January, an action that could lead to unexpected legal costs.
Also in January, GE Oil & Gas (NYSE:GE) announced they had entered into an agreement with RIG for $180 million to provide condition-based monitoring and maintenance services for pressure control equipment on seven of Transocean's rigs over the next 10 to 12 years.
Company Fundamentals
RIG has managed to maintain positive earnings despite rapidly falling revenues in 2016, accomplished by controlling costs, reduced capital spending, and deferring delivery of seven new builds until 2020.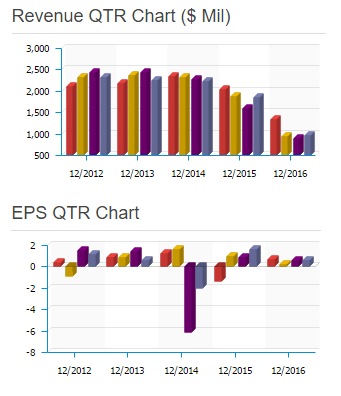 (Source:Portfolio123)
The table below highlights how RIG compares to the GICS Energy Equipment & Services industry aggregate. RIG has better figures for just about every fundamental factor, whether it be valuation, returns, or margin.
Note that the industry includes companies that supply oil and gas equipment and services other than drilling.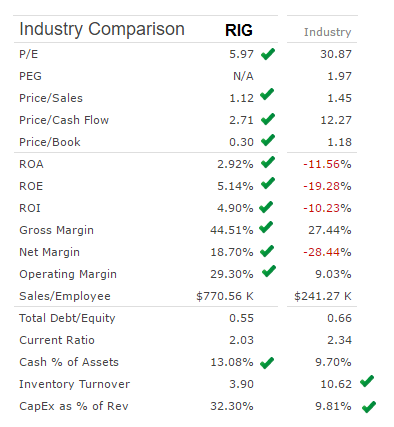 (Source:Portfolio123)
But be aware, as Balance Sheet Explorer observes:
RIG has written down $6 billion since 2014. While the impairments have showed up on the cash flow statement and the income statement, they have been absent on the balance. In other words, the NPPE has remained roughly the same. This is because, according to accounting rules, the assets will be written down on the balance sheet only if the company keeps using the assets. Companies like RIG have simply elected to warm or cold-stack their rigs, effectively allowing them to keep the value of the balance sheet.
The fundamentals should be taken with a grain of salt, or should I say a drop of salt water. They are statistics in a rapidly changing market segment that don't necessarily apply to the future. Analysts expect that RIG will be operating in the red in 2017 as contracts wind down.
Even so, RIG's future appears to be relatively stable given the $11.3 billion backlog and $6.1 billion of liquidity, important factors in a market segment where survival mode will be the norm for offshore oil drillers, at least for the next couple of years.
Analyst Estimates
Sales and EPS have generally beaten analysts' estimates, sometimes by a wide margin. This generally means that the company provides conservative forward guidance. The message here is that investors should not fear large negative surprises come reporting time.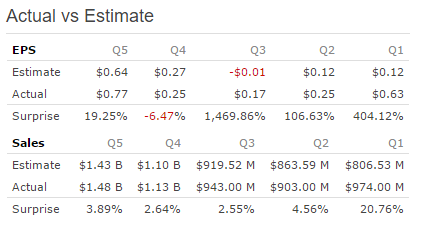 (Source:Portfolio123)
The average recommendation for RIG is 3.5 on a scale of 1 to 5 with 1 being a 'Buy' and 5 being a 'Sell'. The average recommendation has decreased from ~3.9 back in July 2016. The average recommendation of 3.5 is worse than for the company's peers. Both NE and RDC have a recommendation of 2.9.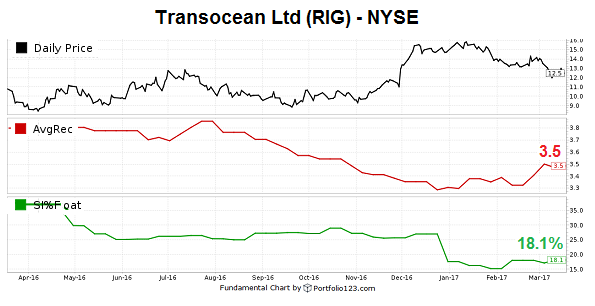 (Source:Portfolio123)
The stock short interest is a huge 18.1% of float. Short interest is a good gauge of future price direction. However, a short squeeze could occur if the stock price spikes up for any reason.
Technicals
The stock price has been in a downward trend since the start of 2017. The stock price is currently $12.47 and if the downward trend continues the price could reach the initial support level of $12 followed by the support level at $10.75.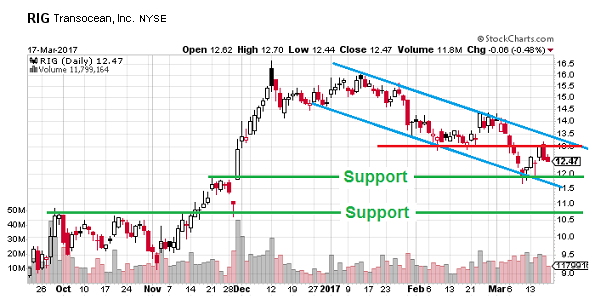 (Source: stockcharts.com)
Investing in Transocean
Investors should avoid RIG until the stock price drops below $12 while keeping an eye on the rumored deal for sale of the shallow-water rigs. If this deal goes through, the stock price will go much higher plus there is the possibility of a short squeeze. Speculators could enter a long position now, but I have to caution readers that the supposed $1.2 billion deal has not been confirmed and may not occur.
Investment Risk
One risk for a long position in RIG is an extended oil bear market, which is a quite distinct possibility. If the price of oil continues lower then some offshore drilling services companies will ultimately go belly-up, and the rest will fall in price either due to fundamentals or in sympathy.
Another risk is that the large backlog is almost entirely dependent on / contracted with Shell (RDS.A, RDS.B), which is big-time concentration risk. If true, RIG's long-term survival appears to be heavily dependent on its relationship with Shell.
Wrap-Up
RIG owns 61 mobile offshore drilling units, with 27 stacked rigs and idled 4 rigs.
RIG fundamentals are superior to the industry aggregate, with better valuation, returns, and margins. As with the rest of the industry, RIG is expected to lose money in 2017.
Sales and EPS have generally beaten analysts' estimates, sometimes by a wide margin. This generally means that the company provides conservative forward guidance.
There is a high level of short interest meaning that speculators are pessimistic about RIG's prospects. Short interest is a good gauge of future price direction.
Given the $11.3 billion backlog and $6.1 billion of liquidity, traders could buy RIG on speculation that sale of shallow-water rigs will go through. Conservative investors should avoid this stock.
Disclosure: I/we have no positions in any stocks mentioned, and no plans to initiate any positions within the next 72 hours.
I wrote this article myself, and it expresses my own opinions. I am not receiving compensation for it (other than from Seeking Alpha). I have no business relationship with any company whose stock is mentioned in this article.