Paying to Relive Childhood Nostalgia: Priceless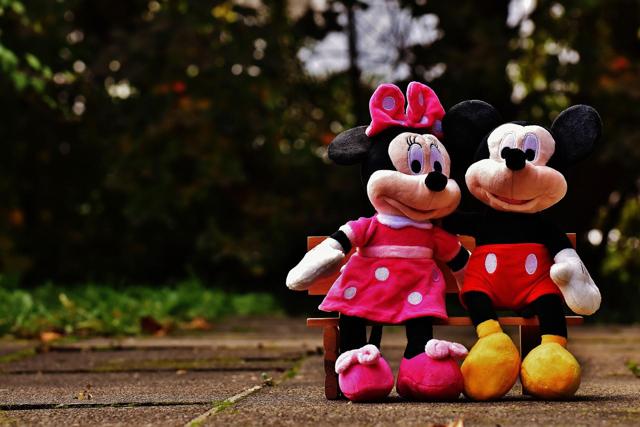 Source: Pixabay
My wife and I went to see the new release of Beauty & the Beast this weekend. Great movie! I never thought I would be admitting that in public. However, I am a bit of Disney (NYSE:DIS) nerd. It was not as good as the original but nothing ever really is, right? Anyway, as I was watching the movie, a thought kept recurring to me: how many times has Disney repackaged and resold this movie since the original release?
The thought was nagging at me. When we got home, I began looking up lists of Disney's box office hits. What I found was a list of all Disney releases going back to the 1930s with associated inflation-adjusted gross numbers. It's a great read if you get a chance to look at it. In the meantime, here are some examples of content that have been recycled, can be built upon, or have potential for future recycling:
| | | | |
| --- | --- | --- | --- |
| Movie | Release | Total Gross | Inflation-Adjusted |
| Star Wars Ep. VII: The Force Awakens | Dec 18, 2015 | $936,662,225 | $936,662,225 |
| Rogue One: A Star Wars Story | Dec 16, 2016 | $530,389,532 | $530,389,532 |
| Cinderella | Feb 15, 1950 | $85,000,000 | $920,608,730 |
| Cinderella | Mar 13, 2015 | $201,151,353 | $201,151,353 |
| Finding Dory | Jun 17, 2016 | $486,295,561 | $486,295,561 |
| Finding Nemo | May 30, 2003 | $380,529,370 | $518,148,559 |
| Freaky Friday | Aug 6, 2003 | $110,222,438 | $154,090,360 |
| Freaky Friday | Jan 21, 1977 | $25,942,000 | $98,067,733 |
| Avengers: Age of Ultron | May 1, 2015 | $459,005,868 | $459,005,868 |
| The Avengers | May 4, 2012 | $623,279,547 | $660,081,224 |
| Captain America: Civil War | May 6, 2016 | $408,084,349 | $408,084,349 |
| Captain America: The Winter Soldier | Apr 4, 2014 | $259,746,958 | $268,013,076 |
| Iron Man 3 | May 3, 2013 | $408,992,272 | $424,084,233 |
| Thor: The Dark World | Nov 8, 2013 | $206,362,140 | $213,962,184 |
| Beauty and the Beast | Nov 13, 1991 | $218,951,625 | $363,017,667 |
| Beauty and the Beast (NYSE:IMAX) | Jan 1, 2002 | $25,487,028 | $36,980,311 |
| Beauty and the Beast | Mar 17, 2017 | TBD | TBD |
Is it not amazing that Cinderella, content that was developed in the 1950s, can be recycled for a profit so many years later? For many of us, we work in professions where we perform a task(s) and are then compensated for said task. How would you like to get compensated again in the present, and future, for tasks you completed in the past? Disney has figured it out and have done a fine job of capitalizing on intergenerational stories.
Furthermore, they will be able to build upon content remakes and sequels such as the Star Wars and Marvel franchises. While Disney is in the midst of a movie groundswell, they will be able to repackage this content again in 30 to 50 years for a new generation. They have created a cash generating cycle that has audiences captured for a lifetime.
Why even mention all of this?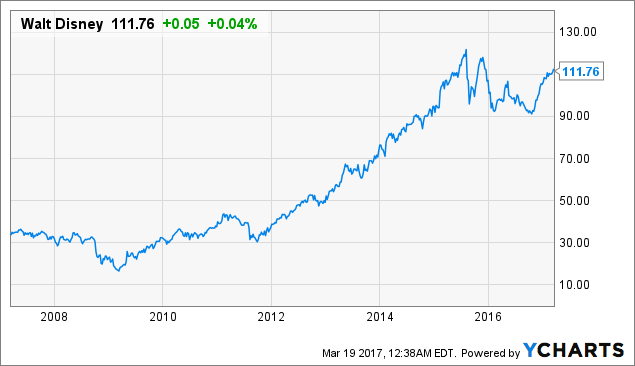 Content recycling can be a very profitable venture, IF the content to be repackaged is quality. This is a key point to note. Disney stock has grown at 12.1% annually for the past 10 years. Much of the content released over the past decade has been repackaged stories from previous generations. I see many investors who chase the highest growth, most innovative and creative companies in the market. The success of these companies relies on being on the forefront of technological advancement. There is absolutely nothing wrong with having that as a strategy in part of your portfolio IF you know what you are doing. However, some of the most successful companies in the world have carved out large moats without having to consistently pioneer creativity. Coca-Cola's (NYSE:KO) unchanged drink recipe and Johnson & Johnson's (NYSE:JNJ) stable of products that include Band-Aid and Tylenol, come to mind.
Disney, to continue the example, develops new, creative content and media all of the time. However, think about the recent box office hits where they did not have to "reinvent the wheel." They took the same story from yesteryear, repackaged the visuals, and sold it to both new and nostalgic generations. Then they have theme parks, licensing agreements with all variety of businesses, etc. where they can slap on Disney trademarks and sell more. It's the same trademarks and brands from decades ago but Disney revives it for a new generation. And the cycle continues.
This is an important concept for investors. These types of companies have less pressure to deliver on innovation to be successful. Management, research and development, and product management enjoy a larger margin of error because they can rely on the successes of prior management teams. It takes the pressure off.
As an investor that wants to identify moats, companies that can recycle their past successes with new and old customers are great businesses to own (albeit if the valuation is correct). Identifying companies that can sell the same products, media, etc. over and over for generations with only slight alterations are going to be great businesses to stuff a portfolio with. Of course, this all needs to align with your investing strategies and objectives. However, I don't think many investors can go wrong buying a stock like Disney at fair value and holding for the rest of their life. It is almost a guarantee that you will profit from the content consumption of this generation, your children's generation, and so on.
*One thing to note: Not all media or content companies have the type of repacking moat that Disney enjoys. At first glance, video game or book publishing companies may seem like they would enjoy this type of repackaging moat. However, the experience that they provide is quite different than Disney. The success of video game companies relies more on constant innovation in how players interact with content rather than a repackaging of a story line. Since books only tell a story in written form, that limits other avenues of presenting the same story unless they get land a movie deal. Hence Disney, which tells stories visually. How stories are told visually can be packaged many different ways and the same story can be told over and over again from different perspectives across multiple generations. Just a thought when thinking about investments.
Disclosure: I am/we are long JNJ.
I wrote this article myself, and it expresses my own opinions. I am not receiving compensation for it (other than from Seeking Alpha). I have no business relationship with any company whose stock is mentioned in this article.