My Ian's Million Fund, "IMF," is a quasi-index fund where I have two main goals. One, beat the S&P 500 over time with my own diversified basket of stocks, while avoiding any ongoing management fees. Two, build a model that my non-investment professional friends can copy. If I didn't have other investments and had $1,000/month to invest, what retirement portfolio would I build to ensure I ended up with a strong solid nest egg? The "IMF" answers that question.
Since I'm not holding my breath waiting for the US market to correct, my timing decisions for added new stocks is mostly based on when foreign stocks look relatively cheap. For March, there was a dip right at the start of the month on many of the names that interested me.
Thus, despite the market not really coming in much, this group was reasonably attractive at the time of purchase, and this basket is now up 1.5% compared to a flat overall market since then. What's in the basket? In all, I purchased 13 stocks for the IMF this month: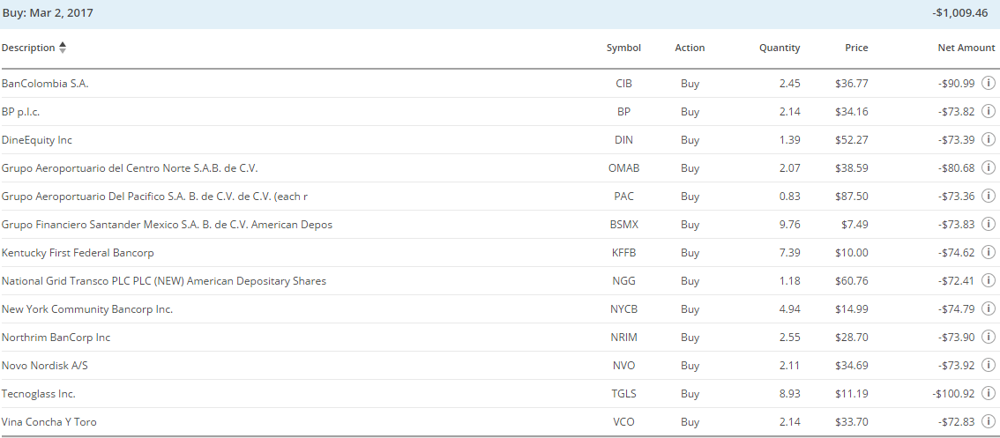 Let's start with Mexico. The IMF's #1 and #3 holdings are Mexican airport operators - Grupo Aeroportuario del Pacifico (NYSE:PAC), and Grupo Aeroportuario del Centro Norte (NASDAQ:OMAB) - respectively. It was tempting to pass on them this month. PAC was at $81 and OMAB at $34 last month after all. So this month's purchase prices of $87 and $38 weren't nearly as good.
That said, in favor of continuing to purchase both companies, they put up good (PAC) and great (OMAB) results this past quarter. OMAB in particular impressed, managing more than 25% earnings growth in dollar terms in 2016, and with acceleratingly good conditions toward the end of the year despite the Trump effect. PAC and OMAB were at $105 and $50 prior to Trump entering the scene.
These stocks aren't dirt cheap like they were in January, but you can still make a good case for adding; they should be going a lot higher. My PAC mid-term price target, for example, is unchanged at $120. Whether you bought at $75 or $90, you'd still make good money. PAC intends to raise its dividend by almost 20% (in dollar terms) for this year compared to last year. If you know of other stocks yielding 5% and raising the dividend at more than a 15% annual rate, let me know in the comments.
I also added to Grupo Financiero Santander Mexico (NYSE:BSMX). As a quality banking franchise with above-average loan book and operations here in Mexico, it continues to be the star performer for the whole Santander group. A huge dividend (it paid almost 50c/share in January on a then-$7 stock) also should bring income investor support once the Trump worries fade. At a 13 forward and trailing PE, this isn't the cheapest bank in the world by any means, but it can support a higher valuation.
Moving south, I added to Bancolombia (NYSE:CIB), which had sold off along with the rest of Colombian stocks over the past month. CIB's earnings were unremarkable and didn't move the needle, leaving the company's stock to trade in line with the Colombian index lately. And between some weakness in oil, uncertainty about Colombia's economic reforms, and the fallout of the Corfi/Aval scandal, Colombia has been heading lower.
None of this is material to Bancolombia in the longer run though. And at 9x earnings and 1.3x book, this is one of the cheapest well-run multinational banks in the world. The yield doesn't hurt matters either.
Also in Colombia, I took advantage of the dip in Tecnoglass (NASDAQ:TGLS) to add to my stake. If you'd like early access to my exhaustive report on the company which we just published, consider joining us at Value Investor's Edge where I debut one or two of my top ideas per month.
Before leaving South America, let's turn to Chile, where I added to my stake in winemaker Concha y Toro (NYSE:VCO). The stock looked likely to rally with the rest of Latin America, but a weak grape harvest stamped out the short-term upside. Regardless, this is still a fairly cheap firm with a decent dividend and that works as a strong inflation hedge/hidden asset play, due to its sharply undervalued vineyards (held on balance sheet at purchase price). Ultimately, this should be a $45 stock over the next couple of years.
My US purchases this month were mostly banks. The well is really running dry on value in the American market. I'd have bought Hormel (NYSE:HRL), except I'm keeping stocks purchased with dividends - as the IMF's current stake has been - separate from stocks purchased with my own contributed capital for accounting reasons.
That left us with the banks and one new purchase. New York Community Bank (NYSE:NYCB) remains an interesting yield play, as the stock seems stuck around the $15 level. Given the bank's exceedingly stable loan book, we should see flat to slightly rising EPS with a 7% earnings yield and a 4.7% dividend from this bond-like stock. While the upside here isn't exciting - maybe to $20 if things go right - this is one of the safest higher yields available in the market.
Kentucky First Federal (NASDAQ:KFFB) continued to offer a 4% yield, though just barely, this month. It's uncertain how long I'll have to hold before the MHC conversion plays out and the stock reprices to its proper level above $15. Could be quite a few years. That said, with a 4% yield, I'm still happy to get paid to wait. I'm not going to chase this stock up much more though if it keeps rallying.
And among our old favorites, Northrim BanCorp (NASDAQ:NRIM) came in enough recently to draw my interest once again:
The thesis laid out here: that the bank is uniquely profitable due to its Alaskan geography and thus deserves more than a 1.1 price/book value ratio still holds true. The stock trades just a tiny bit above where it did back in July, before the Trump bank rally began. Obviously, NRIM was a better buy at $25 than today, but it's still a decent deal compared to the rest of the American market.
And we had one new purchase this month among American stocks. That buy was in DineEquity (NYSE:DIN), owner of the Applebee's and IHOP brands. DineEquity is a classic shareholder return sort of company where management seems intent on sending as much money back to shareholders as possible.
DineEquity primarily rewards shareholders with a massive dividend, rather than share buyback. In either case, it should be assumed that the long-run value of the asset is at best stable, if not slowly falling, since neither company seems intent on doing much investment to grow or revitalize their brands.
Now, a stable to slowly declining asset doesn't sound attractive. However, if your shareholder yield is high enough, the math can still work out well. DineEquity, after the latest drop, was offering a 7.3% dividend in addition to running a modest share buyback. If DineEquity can merely run in place, we should be able to get near 10% total returns going forward.
Now if Applebee's continues to slump further, returns will be a lot lower. However, much of Applebee's problems are probably related to the broad troubles with US restaurants, and that cycle will get better at some point. DIN stock could easily keep dropping in the short run; this is the sort of stock you start with a tiny position and average into over time. However, the plunge is now steep enough to get my attention, particularly given the lack of other better options: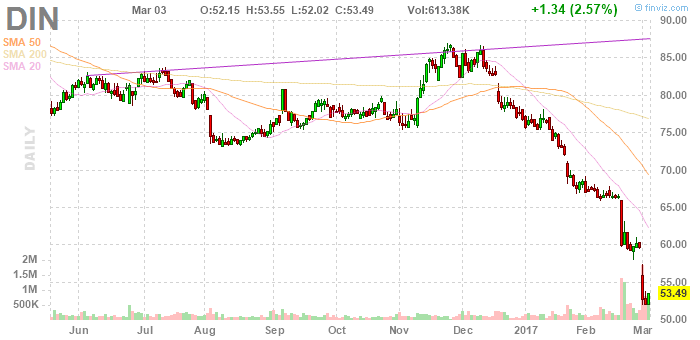 Moving back overseas, I added some European names. Novo Nordisk (NYSE:NVO) remains near 52-week lows. The company has noteworthy near-term problems, but nothing has changed with the long-term thesis.
British utility National Grid (NYSE:NGG) remains a boring, but solid pick. The stock dropped sharply last fall, and as of yet has only modestly recovered. That results in a 5% yield, which you'd be hard-pressed to find from US-based utilities.
Finally, and excitingly for the IMF, we have our first oil major. I've held off on these names for a long time now, since they seem to be pricing in far higher oil prices that we currently have now. Chevron (NYSE:CVX) in particular requires some magical accounting to justify its current price.
BP (NYSE:BP), however, has underperformed the US oil majors for many years now. For a long time, you'd mention that fact and invariably hear "Deepwater Horizon" in response. And that was fair. But the company is almost done with paying its damages for that incident, and yet it continues to underperform. At this point, I'd argue its Britishness is causing the underperformance, in the same way Diageo (NYSE:DEO) stayed cheap due to its HQ location throughout 2016.
Now sure, BP can't cover its (very high) yield at today's Brent oil price, though breakeven isn't that far away. But is Chevron's yield safe at the current oil price either? And as it is, at least BP stock is nearer to its multi-year lows than the rest of the big oil companies. Returns here will be minimal, or negative, if oil stays under $50 over the intermediate term. But at least BP isn't trading up near multi-year highs.
I'm by no means super-bullish on oil in general or BP in particular for 2017. The oil recovery may take a few years to come about. But it will happen, and I want more exposure than I currently have by the time it comes around.
Disclosure: I am/we are long DIN, BP, BSMX, CIB, HRL, KFFB, NGG, NRIM, NVO, NYCB, OMAB, PAC, TGLS, VCO.
I wrote this article myself, and it expresses my own opinions. I am not receiving compensation for it. I have no business relationship with any company whose stock is mentioned in this article.
Additional disclosure: Ian's Insider Corner members had first access to this article and received detailed continuing coverage of these companies.