At present, I officially remain on "Yellow Alert". As a reminder, a "Yellow Alert" is when the markets reach elevated Risk/Reward levels, regardless of fundamental strength (which we currently see in the economy).
Of course, it's much more fun to remain an unfettered bull during a bull market - I picked about a dozen stocks that tripled for Seeking Alpha readers between 2009 and 2013. However, the style of investing I was taught (and now teach) focuses on attacking the low-hanging fruit (in both bull and bear markets).
At times like this, I've learned that it's best to take a cautious stance and wait for the easy money to present itself. Because of this, I currently have shorts and hedges in place to protect most of my long positions, while waiting for a more opportune time to become aggressive again.
Indeed, my last three Yellow/Orange Alerts all provided that opportunity to strike: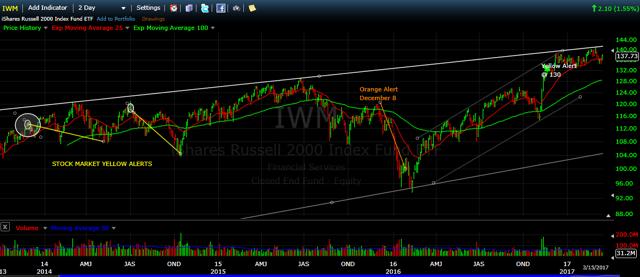 But this approach requires patience. As you can see in the chart of the iShares Russell 2000 Index Fund (NYSEARCA:IWM) above, only two of those Alerts were well-timed.
The well-timed Alerts have something in common. In both cases, the trend had already turned negative. In the first Alert (as well as the most recent/ongoing one), the market had/has not started making lower lows. Back in 2014, it was nearly 5 months before that happened (early December 2013 until late March 2014)... but once it did, the market went down for seven months. The Russell 2000 ultimately fell 14.1% during that episode.
At present, we're still waiting for the trend to turn negative. Because of this, nimble investors can probably profit by continuing to ride the trend. Just remain mindful that an upward trend doesn't validate higher valuations.
Along those lines, investors should take note that billionaire bond king Jeff Gundlach expects a short-term rally in U.S. Treasuries, despite his concerns about a decline to come. On Wednesday, he told CNBC viewers that investors should use the strength in U.S. stocks to take profits.
Specifically, he said, "I am surprised with the relentless nature of equities".
Despite this, Gundlach (and most other sources I respect) believes the economy is healthy and unlikely to turn down in the coming weeks or months. Remember, risk and reward isn't about being optimistic or pessimistic - it's about paying the right price for what you see in the fundamentals.
Luckily, even if you are taking a cautious (or hedged) approach, the market is starting to present attractive ways to win. In my most recent article, "Here's Why The Market Rally Has Left Small Caps Behind", I ended by saying:
"After this week's weak action, we could certainly get a bounce here, but my risk/reward charts are still on alert. So, be careful. Pretty soon, the broader market may give way to selling pressure. Meanwhile, beaten up stocks may finally get a reprieve and rebound from their low levels."
Fast forward to this past week, and you can see that we got both - a bounce in the markets and a reprieve in beaten-up names.
This was to be expected. The Trump administration's aspirations for tax reform have certainly had an effect on investor behavior in the first few months of 2017. However, some of the moves (particularly in 2016's losers) are based on supply and demand, which has been distorted by capital gains expectations.
Specifically, tax-loss selling season has extended beyond 2016. Because capital gains cuts lower the value of tax losses, investors are incentivized to sell losing positions before the tax cuts are enacted.
But this doesn't change the value of the underlying companies. As a result, investors can find big winners amid the rubble of recent tax-loss losers. On top of the move being overdone, it's becoming clear that tax reform may not come until 2018 (due to the time and challenges involved with repealing/replacing Obamacare).
Thus, a reversal could be looming. I'll be presenting my selections as they present themselves via my Instablog, here on Seeking Alpha.
Disclosure: I am/we are short IWM.
I wrote this article myself, and it expresses my own opinions. I am not receiving compensation for it. I have no business relationship with any company whose stock is mentioned in this article.
Additional disclosure: The information in this article is for informational and illustrative purposes only and should not be regarded as investment advice or as a recommendation regarding any particular security or course of action. The opinions expressed in Pipeline Data, LLC publications are the opinions of Mr. Gomes as of the date of publication, and are subject to change without notice and may not be updated. This content may also be published at PipelineDataLLC.com at a prior or later date. All investments carry the risk of loss and the investment strategies discussed by Mr. Gomes entail a high level of risk. Any person considering an investment should perform their own research and consult with an investment professional. Additional trading disclosures can be found in the Important Disclosures section at PipelineDataLLC.com.