Last week Ventas, Inc. (VTR) was downgraded from "neutral" to "sell" by Goldman Sachs; however, other analysts have also recently downgraded the $12.6 billion healthcare REIT.
Mizuho cut Ventas from a "buy" rating to a "neutral" rating and set a $63.00 price target on the stock in a report on Monday, November 21st. Evercore ISI cut Ventas from a "hold" rating to an "underperform" rating in a report on Friday, March 3rd. Zacks Investment Research cut Ventas from a "hold" rating to a "sell" rating in a report on Monday, January 9th.
Three analysts have rated the stock with a sell rating and ten have given a hold rating to the company's stock. The company has a consensus rating of "Hold" and a consensus price target of $62.89
I have not reviewed any of the research reports from the other sell-side analysts, but I thought it would be a good time to take a deeper dive into Ventas to determine whether or not there is any reason to modify my current BUY recommendation.
Also, I'm gearing up for bracketology this week and I'll be providing head-to-head analysis for Ventas and all other healthcare REITs. Consider this article somewhat of a scouting report, as I examine the pros and cons of Ventas as I determine whether or not the company will make it to the Final Four again this year.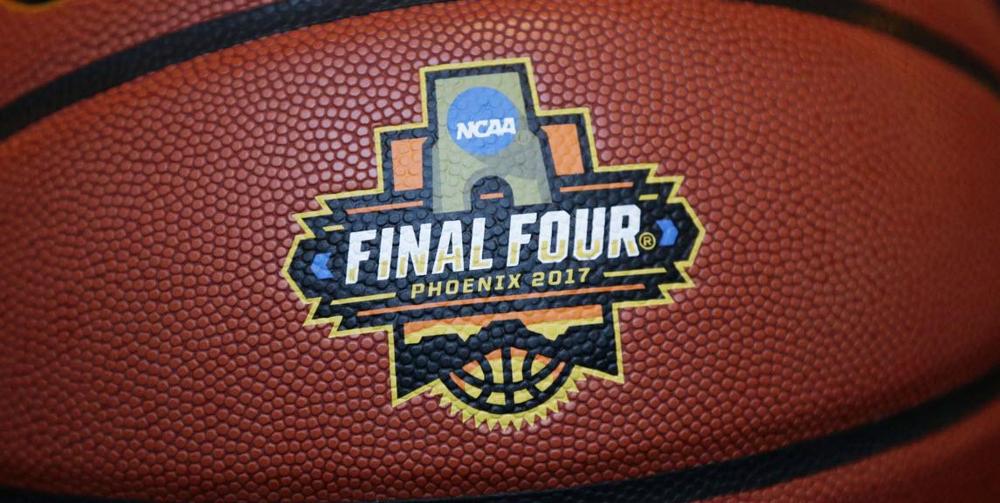 Ventas Inc. - Separating the Wheat from the Chaff
Over the last year or so, Ventas underwent changes by shedding a large number of skilled nursing properties by way of a spin-off into a new REIT called Care Capital Properties (NYSE: CCP). See my recent article HERE.
Although VTR's closest competitors, HCP, Inc. (NYSE: HCP) and Welltower (NYSE: HCN) previously had exposure in skilled nursing, VTR was the first of the "big 3" diversified REITs to successfully bifurcate the risk within the more volatile government pay sector.
By making spinning most of the skilled nursing properties (to CCP) and selling ~$700 million SNF of properties to Kindred (at a very favorable cash rent yield to Ventas of 7%), VTR has made smart divestitures that have allowed the REIT to further differentiate its excellent portfolio mix.
Concerns over structural headwinds in skilled nursing have continued to plague the operators' rent coverage and lead to lower valuations. By selectively exiting the skilled nursing sector, VTR has orchestrated a tactful strategy of focusing on best-in-class operators.
As a result of 2016 activities and the 2015 spin-off of most of the skilled nursing properties, VTR has created an industry-leading differentiated portfolio, highly diversified by asset type, business model and tenant. Specifically, the owned portfolio generates 93% of its revenue from private pay sources.
VTR has essentially removed its riskiest holdings (more volatile) from the balance sheet and replaced them with lower-risk hospitals and life science properties. Arguably, hospitals are exposed to government pay risk, but when was the last time you saw a dark hospital (more on that below).
By partnering with Sam Zell's firm EGI, VTR provides innovative capital solutions to fund acquisitions of acute care hospitals for the Ardent platform. In addition, VTR made or committed to investments of nearly $2 billion, including the accretive $1.5 billion acquisition of a high-quality new life sciences and innovation center portfolio, affiliated with leading universities, academic medical centers and research institutions.
This deal is a winner with great yield approaching 7%, attractive real estate, long-term leases with institutional quality tenants and a leading developer partner in Wexford. It also added an important new channel for growth for Ventas.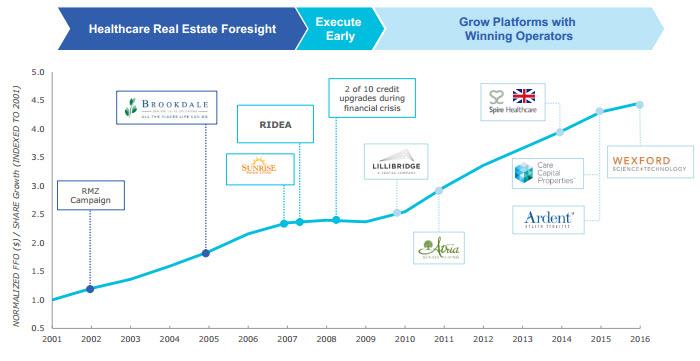 VTR's operating and development partners are the best in their respective businesses. The company's triple-net leases, representing 42% of NOI, have virtually no lease expirations through the end of 2018, and none of the tenants represents more than 10% of NOI. Most importantly, at the end of this year, VTR expects to generate only 1% of NOI from skilled nursing facilities.
VTR's insight to allocate capital wisely in five asset types across the capital structure has provided the company with an undeniable competitive advantage that should allow the company to generate better overall dividend quality.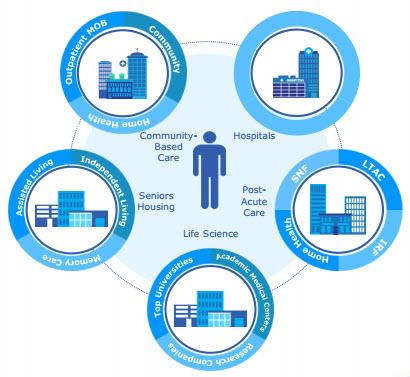 Highly Fragmented Sector
VTR is one of three larger diversified healthcare REITs, here's a snapshot of the peer group:

As noted above, VTR invests across the capital structure in the following 5 asset types: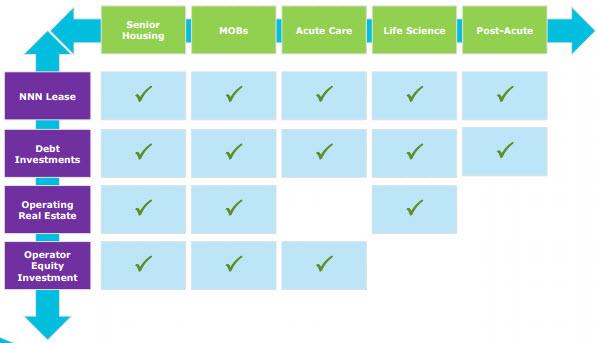 A few days ago, I wrote on Medical Property Trust (MPW), and in that article, I explained that I prefer to own VTR over MPW because I could get access to hospital-based real estate through a better-capitalized REIT. The U.S. healthcare real estate market is large – around $1 Trillion – and care delivery is increasingly interconnected. By consolidating healthcare assets into a securities (REIT) structure, VTR is well-positioned to dominate.
A $1 Trillion Domestic Real Estate Market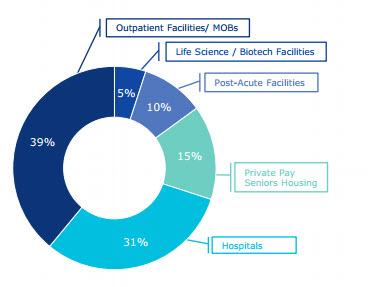 Also, for VTR and all healthcare REITs, there is considerable opportunity. As the chart below illustrates, Healthcare REITs own just 12%-15% of all institutional-quality healthcare properties, much lower than these other REIT property sectors: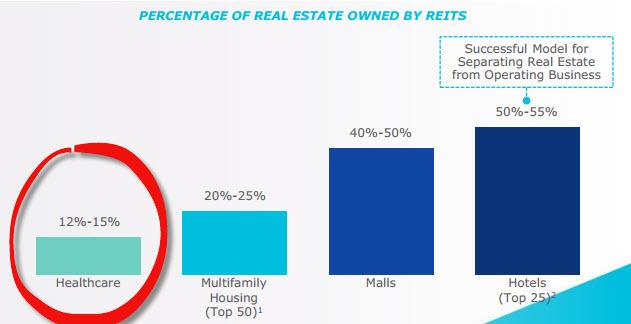 As the consolidation continues, VTR remains in an enviable position to maintain its dominance by using its low cost of capital advantage to gain scale. The chart below illustrates the market share of the Top 10 operators and this suggests that the winners will emerge and these consolidators will need capital partners like VTR.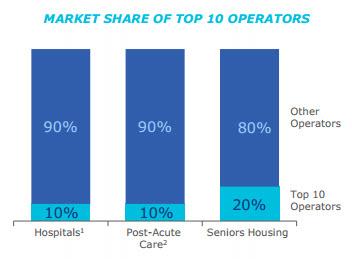 The healthcare sector is especially attractive as spending is expected to grow by 5.8% annually (2014-2024). The demand drivers - large and growing aging population - will provide enhanced spending power. The healthcare sector is huge and because of the fragmented ownership base, the industry is ripe for consolidation. Healthcare real estate underowned by REITs is less than 15% (well below other REIT sectors).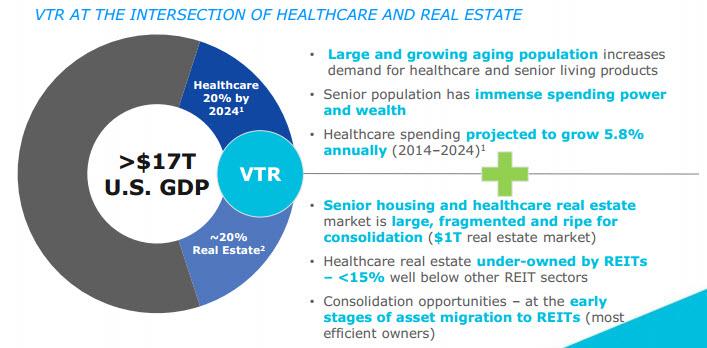 The senior population in the U.S. will grow rapidly, and with it, demand for VTR buildings where essential home, care and comfort are provided to individuals and their families and groundbreaking research is conducted. Senior housing and healthcare providers will work with each other and with managed care companies to limit readmissions and control healthcare costs.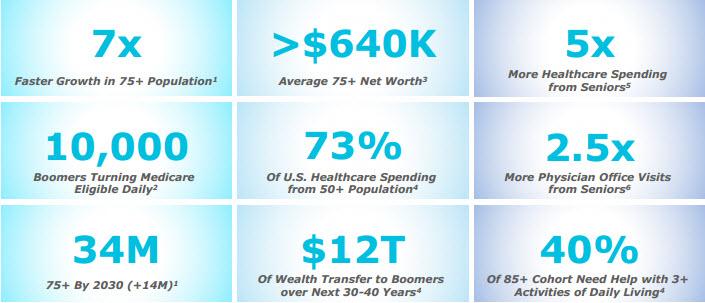 VTR focuses on managing the risk and capturing the opportunities that a changing environment presents, through development of the right strategies, prudent capital allocation and excellent innovation and execution. The VTR advantage can be summed up as follows:

Breaking It All Down
VTS has partnered with key leaders within their respective sub-sectors: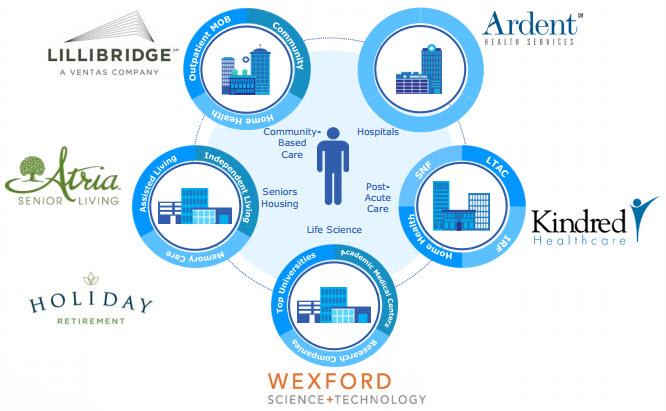 SENIOR LIVING

Within VTR's Senior Housing Portfolio (or SHOP), the company generates around 29% from SHOP and 25% from Net Lease. The senior housing sector has tremendous industry tailwinds due to aging population trends.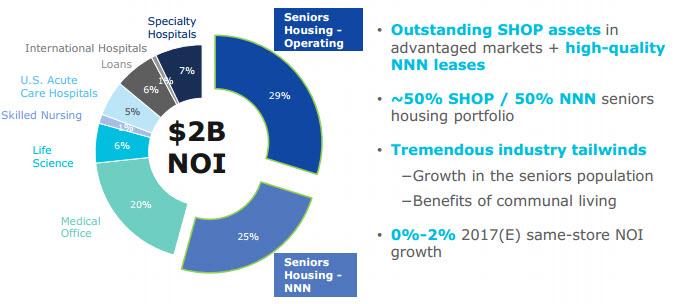 Over 66% of the SHOP NOI is generated in high-barrier-to-entry coastal markets where media home values are 2.2x the national average. In Q4-16, VTR's SHOP occupancy was 70 bps higher than the NIC industry average.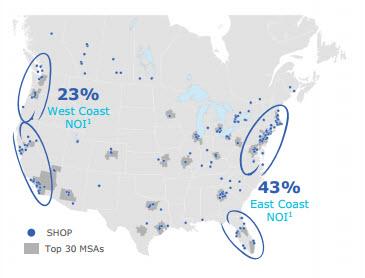 Over 90% of VTR's SHOP revenue is generated from Atria (62%) and Sunrise (32%). Atria's 5-year NOI CAGR is nearly 400 bps better than the industry average.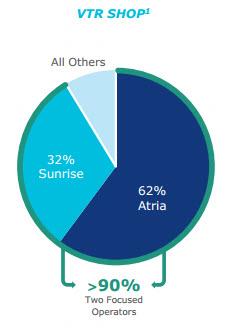 VTR's same-store SHOP cash NOI increased by 2.3% for the full year 2016 and grew over 1% in the fourth quarter, both right in line with the company's expectations.
In both the fourth quarter and full year 2016, REVPOR increased at approximately 4% overall, driven by the high barrier to entry coastal markets (New York, Los Angeles and Boston) where VTR has attractive pricing power. These high-quality infill communities represent 70% of VTR's SHOP NOI, and for the fourth quarter and full year, these communities increased same-store NOI mid-single digits on strong rate and revenue growth.
VTR expects the SHOP portfolio to grow same-store NOI in 2017 in the range of 0% to 2%.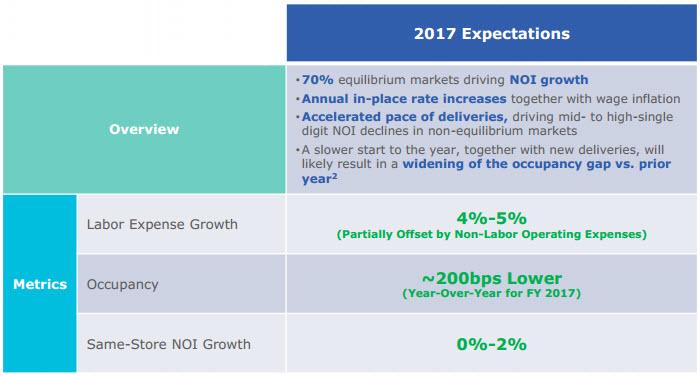 ACUTE CARE

Within VTR's acute care hospital portfolio, the company generates over $100 million of annualized rent or around 5% of NOI. VTR is only investing in the highest quality hospitals. The recent deal with Ardent Care Hospital was, in my opinion, a transformational transaction.
Debra Cafaro, VTR's CEO, had previously worked with billionaire investor Sam Zell, and last year, the two deal-makers structured a $1.75 billion deal that provides broad reaching synergies (Zell's EGI purchased the majority of Ardent's operating company valued at $475 million).
VTR paid $1.4 billion to acquire 10 hospitals leased back to Ardent (2.5% annual rent bumps) at an unlevered cap rate of 7.5%. In addition, VTR funded ($26 million) to own a 9.9% stake in Zell's operating entity.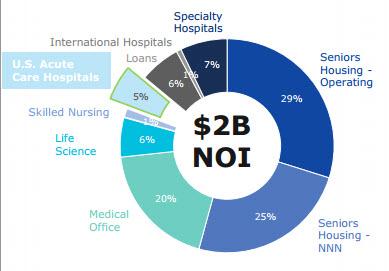 VTR recently completed the secured debt financing of $700 million for its subsidiary Ardent Health Services' acquisition of LHP Hospital Group, Inc. With this transaction, Ardent became the country's second largest private, for-profit hospital operator, with 19 hospitals and related sites of care in six states and $3 billion in annual revenues.

To complete this purchase, VTR provided a five-year LIBOR-based loan. Also, Ardent received a considerable equity contribution from its majority owner, an affiliate of Equity Group Investments. Ventas also contributed equity to maintain its 9.9% equity stake in Ardent.
As evidenced by the chart below, hospitals are shrinking: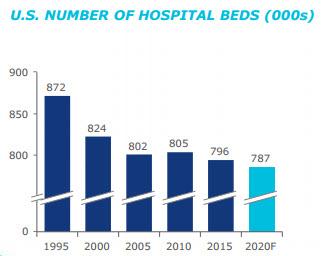 While hospital supply is constrained, utilization is increasing: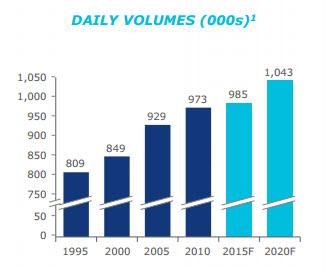 VTR and Ardent are well-positioned to gain considerable market share as the consolidation results in better margins and credit – Ardent-LHP synergies will improve margins:

There are over 5,000 hospitals in the US and many public companies are looking to spin off assets. VTR has the lowest cost of capital (more on that below) in the hospital sector and the company is well-positioned to capitalize on the fragmentation by maintaining a prudent underwriting platform.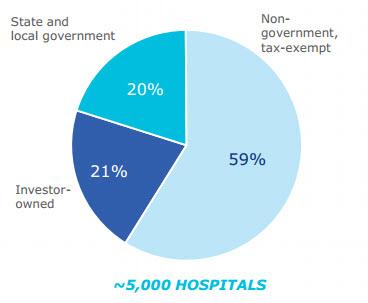 MEDICAL OFFICE BUILDINGS

VTR generates around 19% of NOI from its medical office building (or MOB) portfolio. The company has over 400 hospital relationships and over 96% of the MOBs are located on affiliated or on-campus settings.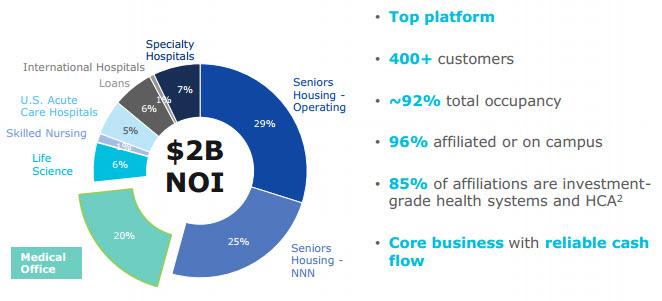 Secular trends make MOB an attractive asset sector due to increased insured population, increasing visits to the doctor offices and increased spending. Here's a snapshot of Lillibridge (VTR's MOB operator) and the company's nationwide MOB footprint: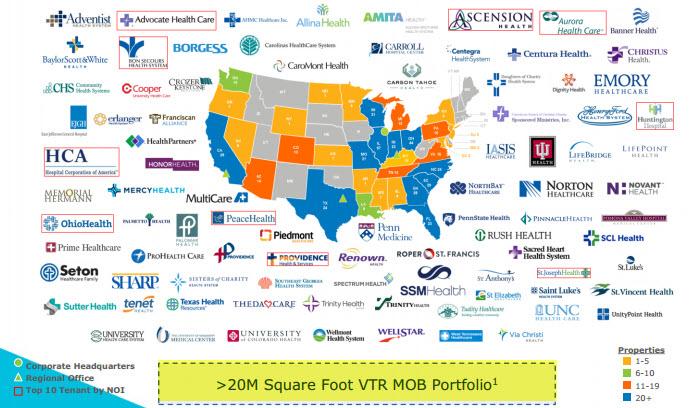 LIFE SCIENCE

VTR recently entered the Life Science sector where the company generates around $100 million in rent (6% of NOI) from high-quality tenants.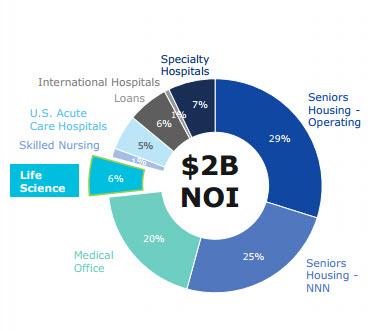 VTR's life science portfolio consists of over 4.1 million square feet of purpose-built real estate with an average age of 6 years. All of the buildings are located on or contiguous to major campuses. Here is a snapshot of VTR's top 10 Life Science tenants: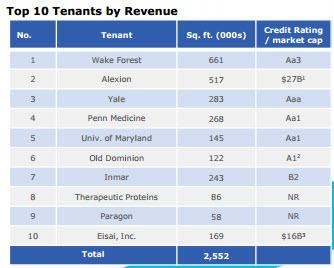 VTR has several new life science buildings underway in the Research Triangle: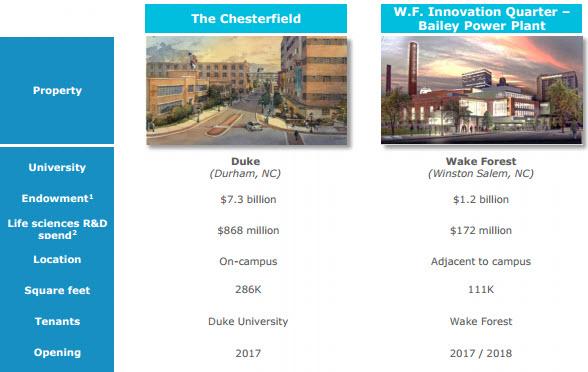 Here is a snapshot of VTR's relationships within these targeted markets: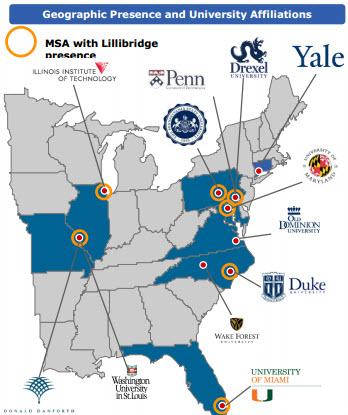 The life science sector is complementary to VTR's hospital business in that both sub-sectors represent highly fragmented categories. Life science represents around $38 billion of total university R&D spend across 100+ universities. VTR is well-positioned to benefit from consolidation.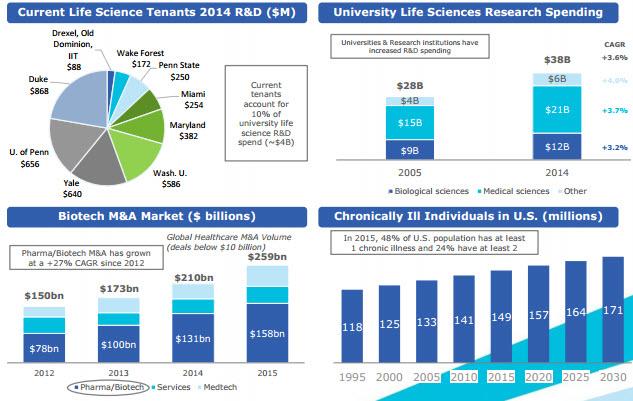 POST-ACUTE CARE
As noted above, VTR will have around 1% invested in skilled nursing as the company has de-emphasized this sub-sector starting with the CCP spin. VTR has around 7% exposure to specialty hospitals.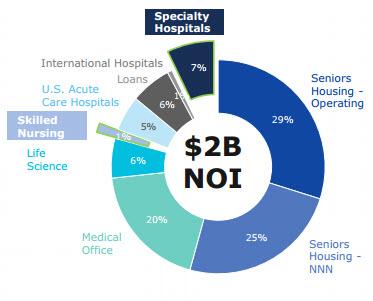 The Kindred sale is scheduled to close by year-end and Kindred expects this transition will have the most impact on asset performance through the first half of 2017, after which the net mitigated impact of criteria begins to ease. During the year, VTR also pruned the Kindred LTAC portfolio and extended leases on remaining LTACs for eight years, while Kindred navigates through the new rules on patient criteria.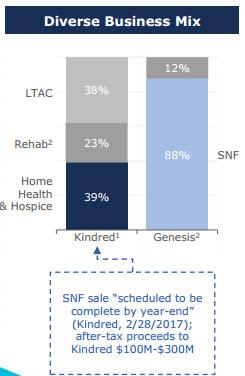 The Balance Sheet
VTR made great strides in enhancing its balance sheet and financial strength in 2016. This was demonstrated by the issuance of $1.3 billion in equity over the course of the year at an average gross price of approximately $70 per share.
The company also raised $850 million of new senior notes, including the most attractive 10-year bond in the company's history with an all-in rate below 3.25%. VTR retired or refinanced approximately $1 billion of in-place debt, yielding approximately 2.3% on a GAAP basis.
This cumulative capital activity during the year further bolstered the balance sheet: At year-end, VTR's net debt to adjusted EBITDA improved to 5.7x, a 0.4x reduction from year-end 2015 leverage of 6.1x. VTR's fixed charge coverage grew to 4.8x; net debt to gross asset value improved by 4% to 38%; and secured debt to total indebtedness was 6%. VTR is rated BBB+ (by S&P) and similar for the other rating agencies.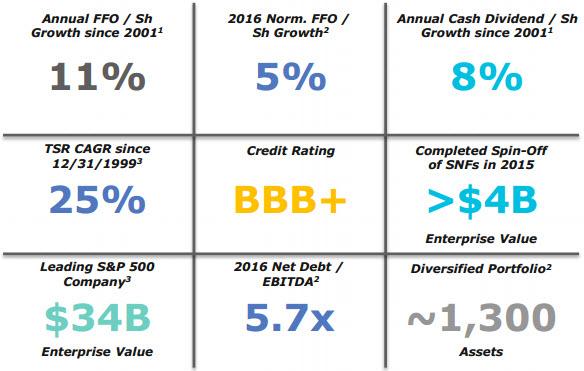 Once again, VTR has proven that it can access capital and be in the right place at the right time. This snapshot below provides a perspective of VTR's differentiated superior metrics: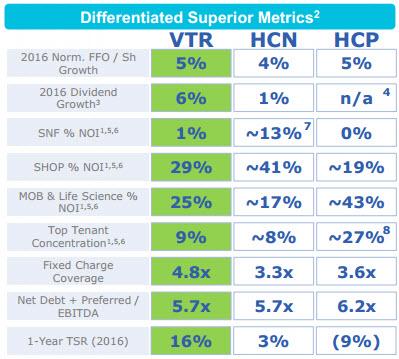 VTR expects to demonstrate continued enterprise strength through ongoing strategic dispositions, by extending debt maturities and through continued investments in its attractive platforms.
Disposition proceeds are expected to be redeployed at approximately the same rate into new 2017 investments approximating $1 billion, principally to scale the life science and acute care platforms, including $700 million in secured debt financing to fund Ardent's acquisition of LHP (referenced above). VTR also expects to invest in future growth through attractive new ground-up life science.
As noted in a recent article, it would not surprise me to see VTR make a run for New Senior (SNR), given the fact that VTR has a relationship in-place with Holiday (SNR's largest tenant) and SNR's weak share price (and cost of capital).
In addition, Duke Realty's (DKE) $3 Billion MOB portfolio, should attract several healthcare REITs. As John Kim at BMO Research wrote,
We believe pricing may be at a low-5% cap rate, 90bps lower than what we were previously using for MOBs. Improving fundamentals and recent transactions support this pricing, although a potential ACA repeal poses a medium-term risk.
Kim went on to say,
we think the portfolio will be sought after by diversified and MOB-focused healthcare REITs – given the quality and a renewed focus on MOBs among the Big Three Healthcare REITs. HCP, Ventas, and Welltower have been actively selling their skilled nursing portfolios, and confirmed MOB is a core asset class.
Ventas has $2.1 billion of current liquidity and an additional $900 million in planned dispositions throughout the year totaling $3.1 billion. According to Kim, "the Big 3 have an average capacity of $3.5 billion vs. the smaller MOB-focused REITs with an average capacity of $731 million."
Kim added, "Healthcare Trust of America (HTA) and Health Care REIT (HR) trade at the lowest implied cap rates of 5.4% and 5.7%, respectively, resulting in a more attractive cost of equity; and all of the REITs may partner with private capital sources to help fund the transaction."
Latest Earnings
VTR's overall same-store cash NOI increased 2.7% for the full-year 2016, right in line with the company's 2.5% to 3% total company same-store guidance range. The fourth quarter same-store NOI growth of 2.9% was also right in line with expectations.
VTR's full-year 2016 normalized FFO totaled $4.13 per fully diluted share, representing a 5% growth on a comparable basis over 2015. This strong year-over-year earnings growth was driven by accretive investments, lower transaction costs, positive property performance, and profits and fees from transactions with borrowers and tenants.
VTR expects normalized FFO per share to range from $4.12 to $4.18 in 2017 and the same-store portfolio to grow cash NOI by 1.5% to 2.5%, with all segments contributing to growth as described above. Here is a snapshot of FFO growth compared with the larger peers:

Ventas paid its shareholders dividends of $2.965 per share in 2016, with an attractive payout ratio. Here's a snapshot of the company's dividend growth rate compared with the larger peers:

Will Ventas, Inc. Make It To The Final Four?
Regardless of Goldman Sachs' downgrade, it's clear that Ventas will make it to the Final Four again this year. Just as Roy Williams is the primary reason that I believe my Tar Heels will make it to the "big dance," Debra Cafaro (VTR's CEO) is an exceptional leader who knows how to effectively manage risk.
Here is how VTR has performed over multiple periods:

Let's take a look at VTR's dividend yield compared with the peer group:

Now let's compare the P/FFO multiple:

VTR expects normalized FFO per share to range from $4.12 to $4.18, and at the midpoint, we are forecasting modest growth in 2017. However, HCN and HCP will be wrestling with dilution with the spin [HCP] and property sales [HCN].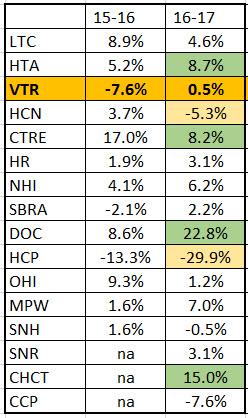 However, VTR is well-capitalized and the company appears to be in better shape to execute on larger deals (i.e. Duke's MOB portfolio or SNR). VTR's strategy of acquiring really high-quality assets, scaling the business, and focusing on execution has always been the primary differentiator. Remember, empire building is what got HCP into so much trouble!
VTR appears to have all of the levers in place to become a top performer, and most certainly be included in the FINAL FOUR. To get a full bracketology report, subscribe to REIT Beat.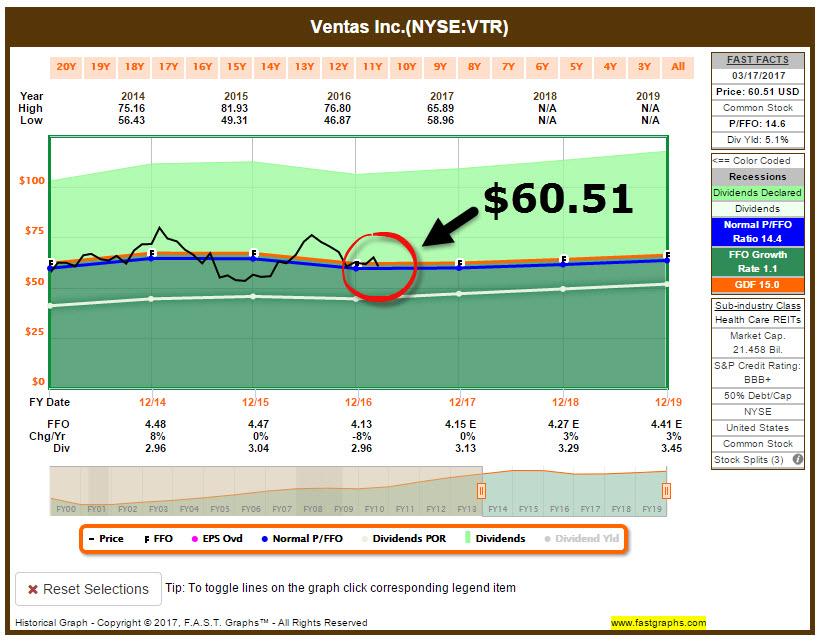 Special thanks to Jussi Askola (follow him HERE) who prepared the Rhino REIT scoring system for determining the overall durability for all of the REITs in the bracketology series. We will be including the Rhino ratings for all iREIT premium members (including spreadsheets) within our enhanced REIT research library. For more information, CLICK HERE.
RHINO RATING FOR VENTAS, INC.

Check out The REIT Beat: If you'd like to get more of my ideas, including early access to my highest-conviction REIT plays, access to Q&As with management teams, weekend REIT reports and more. We'd love to have you on board, so have a look.
Author Note: Brad Thomas is a Wall Street writer and that means he is not always right with his predictions or recommendations. That also applies to his grammar. Please excuse any typos, and be assured that he will do his best to correct any errors, if they are overlooked.
Finally, this article is free, and the sole purpose for writing it is to assist with research, while also providing a forum for second-level thinking. If you have not followed him, please take five seconds and click his name above (top of the page).
Sources: FAST Graphs and VTR Investor Presentation.
Peer Group: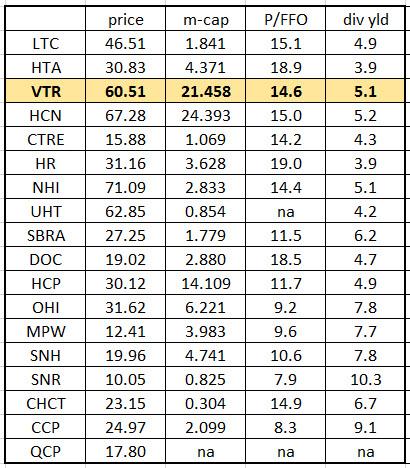 Disclosure: I am/we are long APTS, ARI, BXMT, CONE, CORR, CCP, CCI, CHCT, CLDT, CUBE, DLR, DOC, EXR, FPI, GPT, HTA, HASI, KIM, LADR, LTC, LXP, O, OHI, QTS, ROIC, STWD, SNR, WPC,.
I wrote this article myself, and it expresses my own opinions. I am not receiving compensation for it (other than from Seeking Alpha). I have no business relationship with any company whose stock is mentioned in this article.