This post was written by Hamish Kumar for Integer Investments.
INVESTMENT THESIS
Williams-Sonoma's (NYSE:WSM) lack of competitive advantage has resulted in sluggish results over FY2016. Looking forward, the company's brand power isn't strong enough to compete in the dynamic retail environment it operates in.
WHAT DO THEY DO?
Williams-Sonoma, Inc. operates as a multi-channel specialty retailer of various products for home. It operates through two segments, E-commerce and Retail. Williams-Sonoma operates under several brands, described below.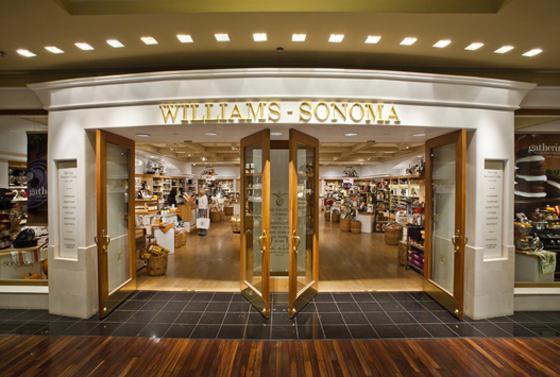 Williams-Sonoma: A specialty retailer of high-quality products for the kitchen and home, the brand seeks to provide world-class service and an engaging customer experience.
Pottery Barn: Pottery Barn is a multi-channel home furnishings retailer. Pottery Barn products include furniture, bedding, bathroom accessories, rugs, curtains, lighting, tabletop, outdoor and decorative accessories.
Pottery Barn Kids: Similar to Pottery Barn, Pottery Barn Kids is a multi-channel home furnishings retailer specific to kids.
West Elm: Mixing clean lines, natural materials and handcrafted collections from the U.S. and around the world, West Elm creates unique, affordable designs for modern living. From its commitment to Fair Trade Certified, local and handcrafted products to its community-driven in-store events and collaborations, to its role as part of an active community on social media, everything West Elm does is designed to make an impact.
PBteen: PBteen is the first home concept to focus exclusively on the teen market. The brand offers a complete line of furniture, bedding, lighting, decorative accents and more for teen bedrooms, dorm rooms, study spaces and lounges.
Rejuvenation: Rejuvenation, founded in 1977 with a passion for old buildings, vintage lighting and house parts and great design, was acquired by Williams-Sonoma, Inc. in 2011. With manufacturing facilities in Portland, Oregon, Rejuvenation offers a wide assortment of high-quality lighting, hardware, furniture and home décor inspired by history, designed for today.
Mark and Graham: Launched in late 2012, Mark and Graham is designed to be a premier destination for personalized gift buying. The brand's product lines include women's and men's accessories, small leather goods, jewelry, key item apparel, paper, entertaining and bar, home décor and seasonal items.
Approximately 51% of revenue is made through their e-commerce division, and the remainder through brick and mortar stores.
RECENT PERFORMANCE
Williams-Sonoma's FY 2016 earnings release has recently been reported. The company has had mixed results for the year, with net revenue increasing 2.2% and operating as a % of revenue decreasing from 9.7% to 9.3%. This was as a result of increased SG&A expenses and decreased gross margin. Williams-Sonoma is considered a growth company, with net profits increasing by 31% from 2011 to 2015. EPS also increased from $2.22 to $3.37 over the same period. Therefore, investors have viewed these recent results as a potential turning point to WSM's strong growth over the last few years.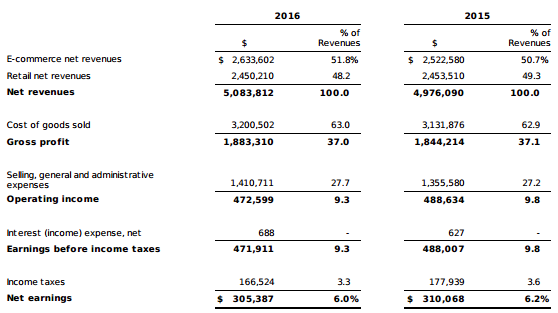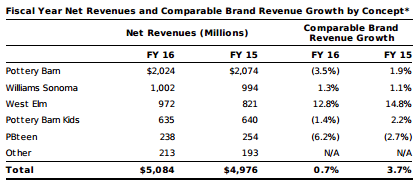 As we can see, SG&A significantly increased over the last year. We don't see this as too much of a risk in terms of a runaway cost, or poor efficiency. This is because in accordance to the earnings call transcript (can be found here), SG&A contained a one-off expense amounting to $13 million. This was due to reorganization charges related to the reduction of head count, primarily in the corporate functions.
However, our biggest concern regarding WSM is their Pottery Brand division. With negative same store sales growth, and decreased net revenue generated from this sector, concerns involve the inability of management to turn this around.
Here is what management had to say about it:
In Pottery Barn although we are not satisfied with the comps, we did see a sequential improvement from the prior quarter in several key categories. There was a good response to our holiday decorating and gifting strategies with high sell through on our grab and go gift assortment.

And we initiated an intensive brand diagnostic that included extensive customer feedback on our value equation. This work highlighted clear opportunities for the brand and we have developed a quarter-by-quarter roadmap of initiatives to implement across all areas of the business. Because we began some of this work in early 2016, we are already able to assess initial results in a perfectly build upon them. We are seeing some positive trends particularly in decorative accessories and we are chasing some strong furniture instructions.

Our spring marketing reflects our brand work to bring inspiration home with more casual assortments lifestyle photography and storytelling. We're also investing in digital advertising strategy to drive new customer acquisition and brand reconsideration. We believe a focus on improving our value equation across all categories making decorating and entertaining easy and offering a diversity of looks to attract new customers will drive growth.
| | | | | | |
| --- | --- | --- | --- | --- | --- |
| Company | Weighting | EV ($m) | EBITDA ($m) | EV/EBITDA | P/E Ratio |
| Williams-Sonoma | - | 4060 | 646 | 6.29 | 14.46 |
| Bed Bath & Beyond | 33.3% | 6982 | 1499 | 4.66 | 8.55 |
| Pier 1 Imports | 33.3% | 726 | 105 | 6.93 | 26.07 |
| La-Z-Boy | 33.3% | 1268 | 152 | 8.35 | 17.39 |
| Implied Value | | | | 6.65 | 17.34 |
| Implied Undervaluation | | | | 5.7% | -19.9% |
Although Williams-Sonoma has addressed this issue with growth strategies, these are only strategies and not results. It also seems as though strategies have been reactive, instead of proactive in managing this risk. There are no fundamental changes to Pottery Barn's strategy, instead mainly altering product offerings. The question is also whether decreased sales from this brand are due to some underlying fundamental e.g. increased competition, industry shifts, demographics, or the customer's value for high-quality furnishings. Management has disregarded all of these potentials so far. Could this be due to a lack of awareness of the company's competitive environment? Yes, Pottery Barn has decreased the size of many of its furnishings for smaller homes, but I feel that this doesn't address the issue. We may see Pottery Barn to continue on the decline, as they have no branding power to deter customers away from competitors. This is our biggest issue.
There was also a management change for the Pottery Barn division in 2016. Sandra Stangl, President of the Pottery Barn brand decided to resign. Her replacement was Martha Benson, the previous executive VP. Martha joined Williams-Sonoma in 2011 and successfully led the acquisition growth strategies for both Rejuvenation and Mark and Graham. Although management hasn't indicated that this disruption was a contributing factor to this division's softer performance, it very well could have been.
OTHER KEY RISKS
We have identified several other key risks relating to Williams-Sonoma. These are indicated below.
Due to the high-end products that Williams-Sonoma stocks, consumers require discretionary income to purchase their goods. Any decline in general economic activity could significantly decrease discretionary income, and in turn reduce spending on Williams-Sonoma products.
Can Williams-Sonoma compete against the likes of Amazon.com (NASDAQ:AMZN)? So far, we've seen strong performance from Williams-Sonoma's e-commerce sector, but it will be interesting to see what the future holds for this business against a very powerful online giant. Amazon also provides quality competing products at a cheaper price.
Williams-Sonoma mentioned that Pottery Barn released weak figures due to a poor product mix. However, with a strong brand with customer loyalty, they wouldn't have had this issue, regardless of the range. This demonstrates that Williams-Sonoma has no competitive advantage, and customers are drawn to just the best products. Therefore, if Pottery Barn can't deliver on this on a regular and consistent basis, this division may heavily suffer.
VALUATION
We have done a simple multiples analysis to value Williams-Sonoma. We used an EV/EBITDA metric to value the business. We used EV to strip out any capital structure differences. We also used EBITDA because some comparable companies lease their property. Therefore, EBIT wouldn't be a good indicator as a metric.
Using the EV/EBITDA multiple, we see that Williams-Sonoma is reasonably valued.
OUR VIEW
We believe that the risks associated with purchasing WSM outweigh the potential benefits. In fairness, the 2016 earnings results weren't terrible. It is just that after reviewing the recent results, we simply believe that the business isn't qualitatively strong enough to warrant an investment. Many cracks have started to appear in regards to Pottery Barn, and we believe that it will be a difficult fix (if it is fixable). We are also not convinced by management's strategy, providing no significant growth prospects for the business. Management has provided soft earnings guidance for 2017, so we'd rather be on the sideline for now.
As always, thank you for reading. If you wish to follow our future articles, just click the "Follow" button next to our name at the top. If you would like us to cover a company, please let us know in the comments. For information about Integer Investments, visit our website. Thank you for reading.
Disclosure: I/we have no positions in any stocks mentioned, and no plans to initiate any positions within the next 72 hours.
I wrote this article myself, and it expresses my own opinions. I am not receiving compensation for it (other than from Seeking Alpha). I have no business relationship with any company whose stock is mentioned in this article.