There are a couple of factors which make a potential long-term investment feel that bit more secure. One is a very long history of trading and the other is a well known brand name. FTSE 100 constituent Whitbread (OTCPK:WTBCY)(OTCPK:WTBCF) manages to tick both of those boxes.
Even though the name harks back to its days as a brewer it owns two of the most well liked brands in the United Kingdom: Premier Inn and Costa Coffee. For those unfamiliar with the UK retail landscape the former is a market leading budget hotel chain and the latter dominates the domestic coffee shop market ahead of US behemoth Starbucks (NASDAQ:SBUX). As it stands Premier Inn & Restaurants generates just under 65% of group revenue with Costa bringing in the difference.
Finally, the business has, in one form or another, been around since the mid-eighteenth century, and has been a publicly traded stock for the past seventy years. So far so good.
If the current brands and historical pedigree wasn't enough then consider that in addition Whitbread's shareholders have seen the business fire on all cylinders over the past few years. Since 2011 sales have grown at around 13% per annum and earnings per share by around 15% per annum. Net profit margins are comfortably above 10% and the stock has posted total returns of around 17.5% a year since the start of the decade. For dividend growth investors the company has also managed to increase its per share distribution at a compound annual rate of 12.2% since 2008.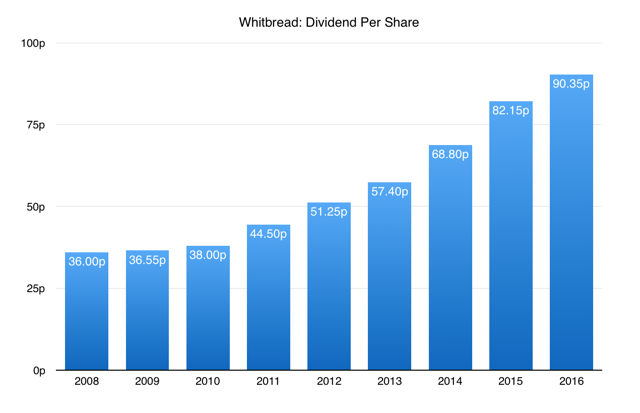 Despite the solid operating performance the stock has had a tough time of it recently. Having reached just under £55 per share at this point in 2015 the shares are now changing hands for around £39 each; the driving force of which has been a pronounced contraction in Whitbread's valuation multiple.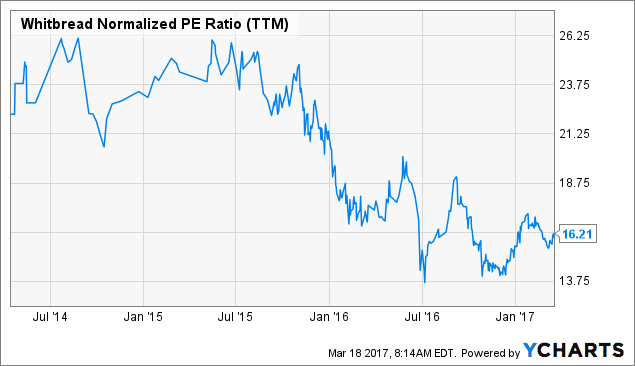 WTBCY Normalized PE Ratio (NYSE:TTM) data by YCharts
It looks rather unfair at first glance given the growth, however it pretty much just brings the stock back in line with its long-term historical average. Even though Premier Inn and Costa Coffee are some of the most popular consumers brands in the UK expanding the underlying business is a fairly capex heavy process. In addition, although a healthily profitable enterprise with average five-year returns on invested capital in the double digits, it doesn't quite come close to hitting the levels of say Starbucks or InterContinental Hotels Group (NYSE:IHG).
Finally, it's probably not a bad idea to allow yourself a decent margin of error here. The historical growth is great, but when you're building new hotels and setting up coffee shops there's a limit to how long it will persist when virtually all of the profits are generated at home in the UK.
Signs Of Slowing Growth At Premier Inn
Whilst the stock's performance has undoubtedly been disappointing for anyone buying back in 2015 a reversion to the historical mean can create a good entry point for prospective investors, even when underlying growth shows signs of slowing down.
The most recent set of figures to come out was the third quarter sales update released in January (bear in mind that Whitbread's financial year ends in March) showing total sales growth of 8.6% for the three months ended December 1st. Total sales growth at Premier Inn & Restaurants came in at 6.3% for the quarter whilst the comparable figure at Costa was 12.5%. Total like-for-like sales growth across the entire group was 1.7%.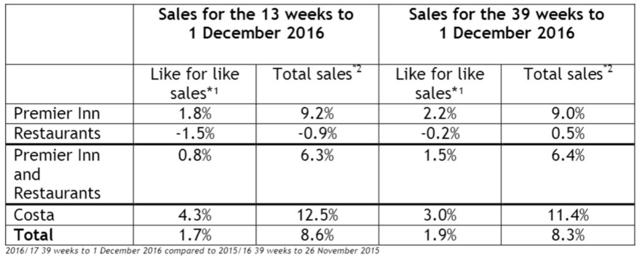 What might be of slight concern to shareholders will be the softening performance of Premier Inn. Like-for-like sales growth was still positive at 1.8%, however total revenue per available room (revpar) was down 1.8%. In London like-for-like revpar was down a concerning 6%. With the capital obviously being the country's major hub for business management have laid a chunk of the blame on the continuing uncertainty surrounding Britain's exit from the European Union.
Whatever the underlying reason the slowing growth has naturally called into question the company's growth strategy going forward. As it stands there are approximately 66,000 Premier Inn rooms across the country, and the company has maintained its target of increasing this to 85,000 by the end of the decade. That might perhaps be on the ambitious side of things but given how popular the brand is and the fact it is still under 10% of the total UK hotel market there's still room for growth.
In addition there's probably a good case for moving towards a franchising model in the future; a move which would boost underlying cashflow and lead to a higher valuation at the same time as is the case with InterContinental Hotels.
Over at Costa the situation is slightly more positive with like-for-like sales growth coming in at a solid 4.3%. Total system sales were up 10.4% on a constant currency basis to £1.32 billion and the company are targeting £2.5 billion by 2020. Costa growing its slice of the total Whitbread earnings pie is a good sign for shareholders considering that returns on capital for Costa are around 20% on a lease-adjusted basis.
A Good Entry Point For The Long Haul
Whitbread's stock has undoubtedly been hit by fears that growth in the core business is now slowing down; something which is inevitable when you consider that over the past five years the company has grown revenues by 13% per annum and earnings per share and the dividend by 15% per annum. Even more so for a business that remains focused on the domestic UK market.
That said, the shares are now at 16x estimated 2017 earnings rather than the 26-27x earnings they were back in 2017. A lower value multiple leads to more headroom for prospective investors with respect to growth, and finding a publicly traded UK company trading at a reasonable valuation is not so easy these days judging by the valuation of the FTSE 350. To find one with the caliber of brands that Whitbread has is even harder. Throw in a 2.3% trailing twelve month dividend yield and it doesn't take all that much by way of organic growth to be in a position to generate solid long-term returns in an otherwise overvalued market.
Disclosure: I am/we are long WTBCF.
I wrote this article myself, and it expresses my own opinions. I am not receiving compensation for it (other than from Seeking Alpha). I have no business relationship with any company whose stock is mentioned in this article.
Editor's Note: This article discusses one or more securities that do not trade on a major U.S. exchange. Please be aware of the risks associated with these stocks.