What's been impressive about Cato Corporation (NYSE:CATO) over the years has been its consistency. As I've noted many times in the past, Cato's model - selling discount fashions in strip mall locations - would seem to be one of the more difficult in retail. Yet the company has managed to keep sales and earnings relatively stable, if unspectacular. And it seemed to avoid those quarters that occur in retail from time to time where assortments miss and/or traffic falls off.
That's changed of late, however. Traffic began falling sharply in 2016, and, per CEO John Cato in the Q4 earnings release, "several mistakes in our merchandise assortment" further pressured sales. As a result, comps have fallen off a cliff: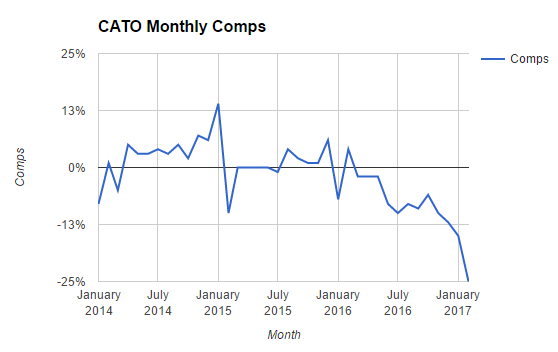 Source: Author from Cato press releases; March/April figures averaged to mitigate impact of Easter shifts
From an earnings standpoint, the news doesn't appear that bad, however. Full-year EPS of $1.72 was down just 28% year over year. The company is guiding for an increase in pre-tax income in FY17 (ending January 2018), and there might be a turnaround narrative at play. The company won't face easy comps until the summer, and there's clearly room to improve on the assortment and other errors that plagued FY16. And with the stock trading at just 7.3x trailing EPS plus its $9.31 per share in cash, CATO certainly looks cheap enough.
I still don't think CATO is a buy yet, however - or close. Online competition is an issue beyond the company's self-inflicted wounds, as John Cato has admitted, and Cato as a company has basically no online business (2% of FY15 revenue). The $1.72 figure is based on a 4% effective tax rate; that figure is guided to rise to 24.5% in FY16, but needs to normalize at some point beyond that. And full-year guidance looks awfully aggressive. A 6% yield and cash equal to 42% of the company's market cap might provide some downside protection - for now. But I still think CATO can, and will, get cheaper.
The Tax Question
It's not clear exactly how Cato paid a sub-4% tax rate in 2016. The most recent 10-Q cited a $6.0 million benefit from "continuing foreign and domestic tax initiatives," including the PATH Act and early adoption of share-based accounting changes. That benefit alone reduced the effective tax rate by 12 points - but doesn't explain even half of the difference between the reported and statutory rates. Cato's historical effective income tax rates ranged from 32.6% to 37.7% between 2008 and 2015, and are guided to 24.5% in 2017.
Clearly, FY16 was an outlier - and a material one at that. And it hides just how poor FY16 was. Pre-tax income declined by more than half for the full year. And that includes a decent Q1 - Cato's most important quarter. From Q2 to Q4, pre-tax income went from $51 million in FY15 to a loss of $1 million in FY16. EBITDA margins compressed 490 bps to 5.9% after spending six years in the 10-11% range.
Cato does think FY17 will be better, with guidance in the Q4 release projecting an increase in pre-tax income next year. But a more normalized - albeit not normal - tax rate will offset some of that growth. At the same pre-tax income, FY17 EPS would be $1.39, down 22% year over year. With Cato still guiding for lower net income, that suggests an EPS projection of $1.40-$1.70 or so. (Cato did not give specific guidance for the year for the first time in at least a decade.) And that moves CATO's forward multiple closer to 8-9x.
But looking forward, Cato still likely will see tax pressure in FY18. A normalized 35% rate would put FY16 EPS at $1.20 - and CATO's EV/E multiple back into the double digits. So when valuing Cato, the impact of taxes needs to be taken into account; it's likely that the tax rate will be an impediment to growth not just this year, but next year.
Sales And Guidance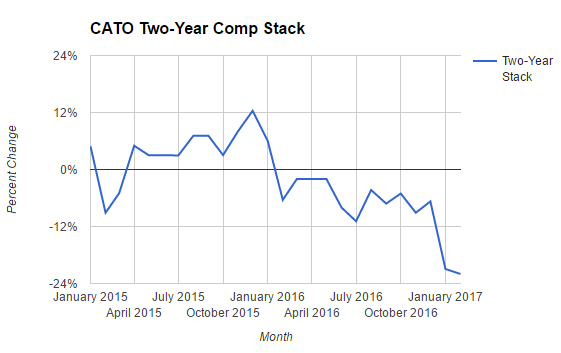 Source: Author from Cato press releases; March/April figures averaged to mitigate impact of Easter shifts
Looking at Cato's two-year stacks better shows the marked change in trajectory that took place in FY16. Again, Q1 numbers weren't that bad: EPS actually increased year over year. But Cato did have tax help as well as a $2.4 million benefit from changing accounting relative to gift cards. It was in Q2 and Q3 that the trend changed, before the disastrous past few months: same-store sales declined 10% in November, 12% in December, 15% in January, and a stunning 25% in February.
On a both a one- and two-year basis, the easier comparisons don't come until June. And that makes Cato's full-year guidance appear very aggressive. Fully 30% of FY16 revenue was generated in the first quarter, but with the company not seeing a rebound in March, even a stronger April benefiting from a later Easter seems likely to put same-store sales in the negative high-single digits. Given that 30% of Q1 revenue traditionally falls in February, even a flat March/April still would imply Q1 comps of -7.5%.
Meanwhile, Cato is guiding for full-year same-store sales to fall only narrowly, in the "negative low-single digits." That in turn implies that Cato most likely is expecting a flat or even positive Q2-Q4. That's even though the comp trend hasn't been reversed, and even though the merchandise errors haven't been completely worked through.
Not only are sales guided flat, but it would appear that income post-Q1 is guided up rather sharply, if it's enough to reverse a likely big plunge in the first quarter. That, in turn, implies not only some level of gross margin expansion but a cut in SG&A. That's even though Cato already appears to have very low pay and predominantly part-time positions.
My sense toward Cato for some time is that it's simply running out of levers to pull. It's been very aggressive on the tax front. SG&A was kept flat in FY15 before climbing 5% in FY16, at the same time other retailers and consumer-facing businesses ranging from Wal-Mart (NYSE:WMT) to TJX Companies (NYSE:TJX) to McDonald's (NYSE:MCD) have had to increase wages. It took a breakage income benefit in Q1 FY16. I'm not sure what's left to do - and I can't help but wonder if the bill for some of those moves isn't coming due at some point, if it's not already.
Valuation
I have shorted CATO during its decline, but I don't know that a short makes a whole lot of sense at this point. The stock does look cheap, and will screen well for at least a couple of more quarters. $9+ per share in cash and a 6% dividend yield have enticed investors into retailers elsewhere, though for stocks like Guess? (NYSE:GES) and Stage Stores (NYSE:SSI) support generally hasn't held of late. But there's also a clear "better short elsewhere" case in retail more generally, and CATO's balance sheet in particular seems to limit downside.
That said, I'm not sure I'd be interested in CATO at anything but an almost absurd price. Online competition almost certainly is an issue at the moment, and one that shouldn't be expected to go away. Same-store sales trends weren't terribly strong even before last year: the five-year stack heading into FY16 was -4% or so. At a certain point, trying to leverage even ~flat comps is going to fail, and earnings will decline. From that standpoint, nothing but a single-digit multiple really looks all that attractive - and we're not there yet, at least on a tax-normalized basis.
There's more going on here than just a few assortment misses - and that substantially undercuts the bull case for CATO. There's no doubt some room to improve assortment and operations. But there's also corresponding pressures going forward from online competition, normalizing tax rates, and wage inflation. Cato has done a better job than most retailers over the past few years, and I don't think the missteps of FY16 change that argument all that much. The problem looking forward is that there's not much else to do to keep the business from declining.
Disclosure: I/we have no positions in any stocks mentioned, and no plans to initiate any positions within the next 72 hours.
I wrote this article myself, and it expresses my own opinions. I am not receiving compensation for it (other than from Seeking Alpha). I have no business relationship with any company whose stock is mentioned in this article.