Introduction
Oil has been all over the place over the past few years, and is truly a "roller-coaster" commodity with all its price movements and sentiment fears. This is how the price chart has changed for the United States Oil Fund (USO) over just the past few months: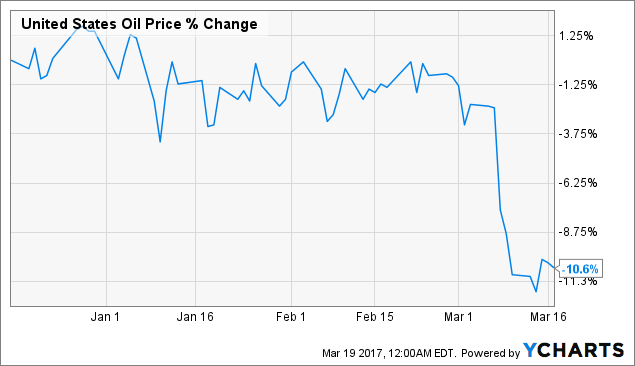 USO data by YCharts
That chart has an obvious drop come March, and I don't think that it will bounce back up to previous levels, at least not quickly.
Rig Counts on the Rise
Last week, the weekly Baker Hughes survey showed that the United States rig count increased by 21, with a total now sitting at about 789. These rises have been common, as rig counts in the United States have now grown for 9 straight weeks. Specifically, active rig counts increased by 14 to set the total at 631. Oil rigs are now up 244 from last year's 387, showing that domestic drillers are finally finding value in the current market.
OPEC and Demand Struggles
OPEC has worked hard to fight rising supply and diminishing demand by capping output, something that was very difficult to agree on considering it involved Iran, a country that is finally able to enter the global market again after previous sanctions were lifted. They hoped that demand would start to more closely match supply, but a report from the IEA has dented such hopes. Demand is now predicted to drop to 1.4M barrels per day in 2017, down from 2016's 1.6 barrels per day figure. Most of this is due to the already saturated market, but as I mentioned in my previous article on oil, I mentioned that both China and India seem invested in a decrease of oil spend for their respective stockpile reserves over the coming years. This sent oil down, and there's a chance that this news has not fully been factored into oil's current price.
Just last week, the US Oil Fund(NYSEARCA:USO) dipped even lower after conflicting reports came out, focusing on Saudi Arabia's output. One report claimed that production increased in the country, while the other report said that it actually decreased. However it is worth noting that US inventories finally registered a decrease, signaling either increased demand or weaker supply than originally anticipated. While this helps right now, I don't predict this trend to continue. US production is already up 150,000 bpd from the beginning of 2017, and this increase has seen in ATB Financial's report that they do not anticipate any major increase in oil price for 2017. What's even more concerning is that Norway just announced that it will nominate a record number of blocks in the Barents sea for oil and gas exploration. The country is already a top producer of black gold, and is shunning environmentalists concerns as they look to further solidify their position in the industry. While this exploration is far from material (still needs to be officially approved by the Oil and Energy Ministry following meetings with regulators and environmentalists), it shows that there is skin in the game.
The Long-ish Term Case
If you were to tell me that you think oil will be at a much higher price five years down the line than it is now, I would absolutely agree with you. I think an investment in USO for the next few years will bring strong returns. Major expenditures for oil projects have all but stopped. Countries are recognizing that the future in energy doesn't lie in oil, but in more sustainable and environmentally-friendly sources. While kinks are still being worked out, I think that federal subsidies will drastically increase down the line for the development of green energy. This is further down the line than just 5 years, however, so I believe that oil can be a very strong investment past 2017, until the fundamentals materially change in the 2020s.
Disclosure: I/we have no positions in any stocks mentioned, and no plans to initiate any positions within the next 72 hours.
I wrote this article myself, and it expresses my own opinions. I am not receiving compensation for it (other than from Seeking Alpha). I have no business relationship with any company whose stock is mentioned in this article.