Care Capital Properties, Inc. (NYSE:CCP) continues to look like a good deal for income investors. The healthcare REIT makes a lot of money from its portfolio of healthcare facilities, and easily overearns its high dividend with FFO, while also leaving enough money in the bank for investments in its property portfolio. The healthcare REIT is reasonably cheap, and an investment in Care Capital Properties throws off a very good 9 percent yield.
Supply and demand dynamics support an investment in healthcare real estate investment trusts. More and more people reach a high age, making senior-related healthcare facilities compelling from an investment point of view.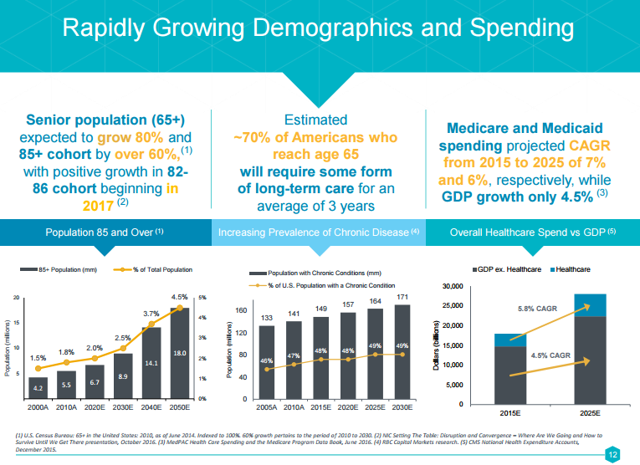 Source: Care Capital Properties
Care Capital Properties has a diverse portfolio of 345 skilled nursing and healthcare related facilities in 36 states, and the company has made acquisitions a central tenet of its growth strategy. While Care Capital Properties can be considered a growth as well as an income investment, the healthcare REIT's shares are far from being overpriced considering what the company brings to the table.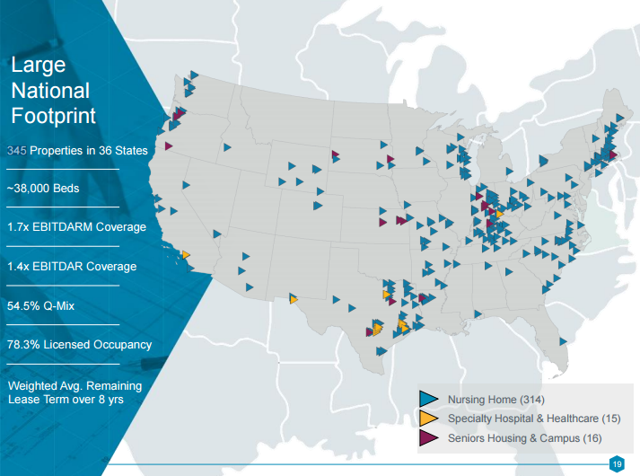 Source: Care Capital Properties
Growth Through Acquisitions
Leveraging operator relationships and recycling capital are key to Care Capital Properties' future growth. Fortunately, the REIT can draw from a deep pool of existing operator relationships that make portfolio expansion much smoother.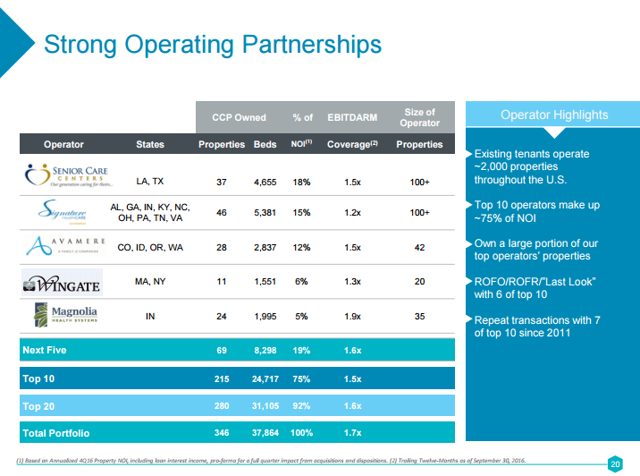 Source: Care Capital Properties
Care Capital Properties builds its portfolio through efficient capital recycling, i.e. acquiring properties that have the potential to increase the REIT's capital efficiency, and selling assets that are deemed non-core.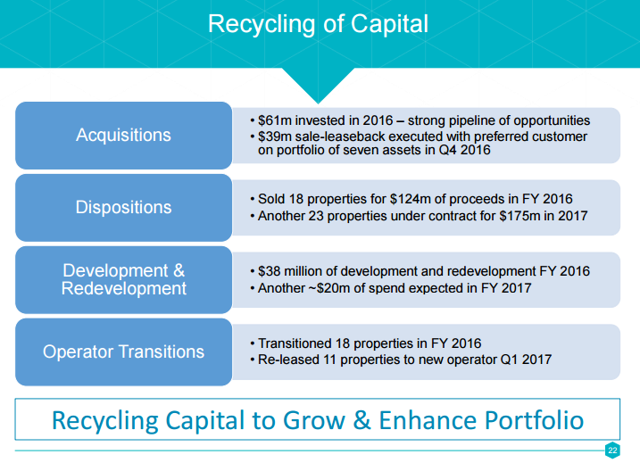 Source: Care Capital Properties
What Care Capital Brings To The Table: Excellent Dividend Coverage For A 9% Yielder
When you see Care Capital Properties' 9 percent yield, you would think that the healthcare REIT has a high risk dividend. But this isn't the case at all.
Care Capital Properties earned an average of $0.79/share in the last six quarters in terms of normalized funds from operations. This was 39 percent more than what the healthcare REIT needed to earn in order to cover its dividend. In other words, Care Capital Properties' dividend, as of today, is very safe and backed by sufficient cash flow from the REIT's properties.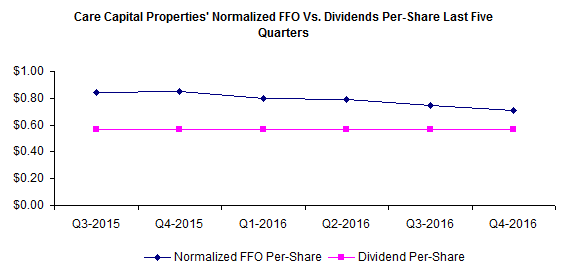 Source: Achilles Research
Another way to look at things is the company's normalized FFO payout ratio which has increased in the last six quarters, Yes, but still averaged only 72 percent, leaving enough headroom for investments in the REIT's real estate portfolio.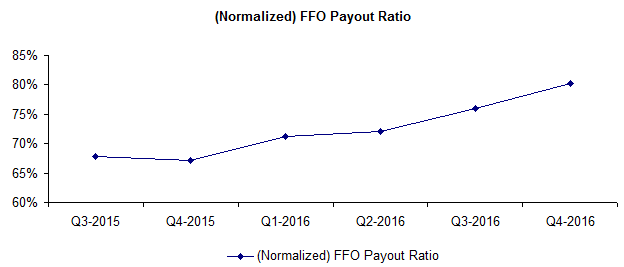 Source: Achilles Research
Very Reasonably Valued
Care Capital Properties' shares are relatively cheap, considering that the REIT pays a 9 percent yield, and has solid dividend coverage. Based on Care Capital Properties' 4th quarter earnings, the REIT's shares change hands for ~8.8x Q4-16 run-rate normalized FFO.
The healthcare REIT also guided for its normalized FFO to clock in somewhere between $2.80-$2.90 for 2017. Therefore, shares go for ~8.8x 2017e normalized FFO as well.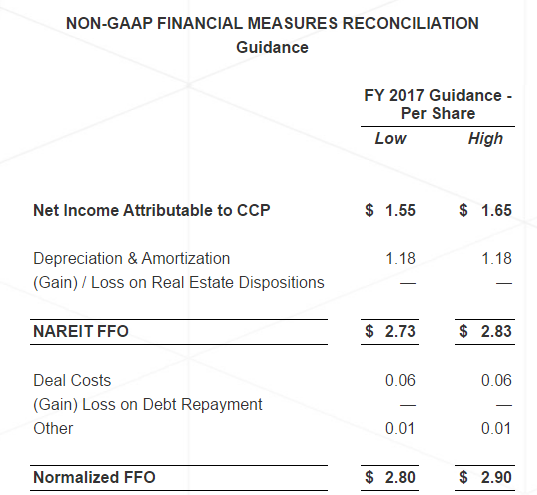 Source: Care Capital Properties
Your Takeaway
There is a lot to like about Care Capital Properties. The healthcare REIT is determined to continue to grow its investment portfolio with value enhancing acquisitions and leveraging its operator relationships, and the company has no problems whatsoever covering its dividend with normalized funds from operations. Care Capital Properties is also very reasonably valued considering that investors get access to a 9 percent dividend. Buy for income and capital appreciation.
If you like to read more of my articles, and like to be kept up to date with the companies I cover, I kindly ask you that you scroll to the top of this page and click 'follow'. I am largely investing in dividend paying stocks, but also venture out occasionally and cover special situations that offer appealing reward-to-risk ratios and have potential for significant capital appreciation. Above all, my immediate investment goal is to achieve financial independence.
Disclosure: I/we have no positions in any stocks mentioned, and no plans to initiate any positions within the next 72 hours.
I wrote this article myself, and it expresses my own opinions. I am not receiving compensation for it (other than from Seeking Alpha). I have no business relationship with any company whose stock is mentioned in this article.