Chesapeake Energy (NYSE: CHK) has hit an extremely low reading of 12.14 on the Money Flow Index even as the stock closed the previous week in green, gaining approximately 2.71 percent. This reading represents dangerously oversold conditions in Chesapeake, but I believe that investors should not blindly trust this widely-watched technical indicator and pour in their dollars. This oversold reading could easily be a trap and investors should not fall for it.

Markets participants, investors and traders alike, often look for oversold conditions on the weekly and the monthly price charts to mark their entry points. Since these charts generally represent long-term trends, oversold readings are considered synonymous with good entry levels for long-term investment. But, experience has taught me that every stock reacts in its own manner and one should understand that before making an investment decision. For Chesapeake, the dangerously oversold MFI readings have not provided meaningful returns but instead have failed miserably in preventing further losses. To put it simply: CHK has historically failed to attract buyers even at extremely low MFI values.
Note: Daily charts are best used for short-term trading only.
The 10-year weekly CHK price chart below has been marked to show the four events (including the current one) when the stock has slumped to abnormally low MFI values i.e. closer to 10. The first event occurred during the financial crisis of 2008 when the stock crashed from a peak of $69.99 to a low of $11.34 in a matter of months. Following this crash of biblical proportions, the stock's weekly MFI slumped below 10. Investors who bought CHK near the MFI lows saw hefty returns of more than 100 percent as the stock quickly raced to $25.49. By this time, investors who did not book profits had become complacent that a turnaround was in effect but to their utter dismay and disbelief, the stock crashed to a new recession low of $9.31 even as the MFI remained stable. The stock stabilized only when the broader market began its recovery.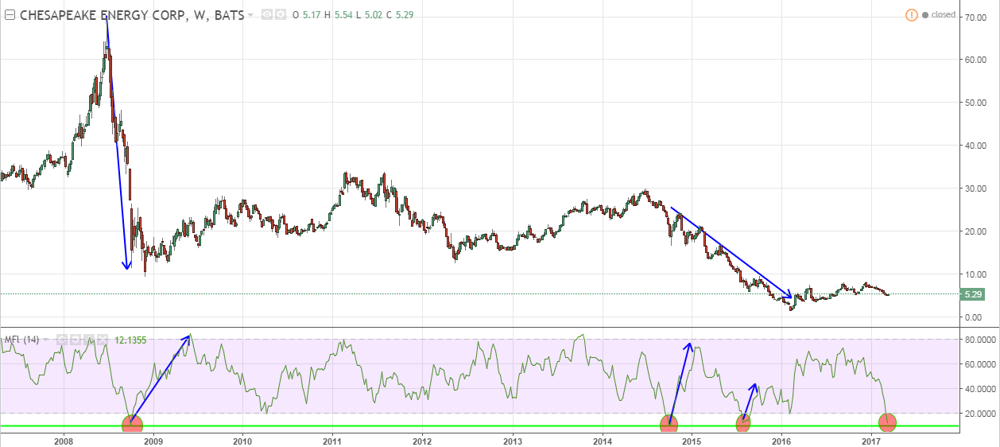 Source: TradingView
On the other two occasions – in 2014 and 2015 – when the MFI dropped to grossly oversold readings, the stock received small relief rallies only to be sold on by the investors. These occurred during one of the worst crashes in the energy sector. The stock dropped from $25 to a low of $1.50 last year.
So, oversold readings on the Money Flow Index are not reliable indicators for a reversal in the stock price. This is primarily because the indicator is mostly directional in nature and will continue to get depressed unless the price stabilizes or reverses. It is best used to look out for divergences, but unfortunately, very few participants use it that way.
It has thus been well established that the current MFI value should not be solely used to create an investment in CHK.
At this moment, it is worth noting that the situation now is not as bad as it was during the financial meltdown and the oil crash. This leaves room for CHK to rise going ahead and hit $7-$8 in 2017. It will have to face a stiff resistance zone and hold its ground. Let us take a look at how the technical picture is shaping up.
The weekly CHK price chart shows that the stock has taken support from the 50 percent Fibonacci retracement level of $4.85. The reason why I used this indicator is because the stock has decisively pierced the one-year uptrend and is looking for support. The 50 percent and the 61.8 percent Fibonacci retracements normally act as good reversal points. The chart also reveals that the stock will face resistance near $6.40 and $6.20 from the two sloping trendlines.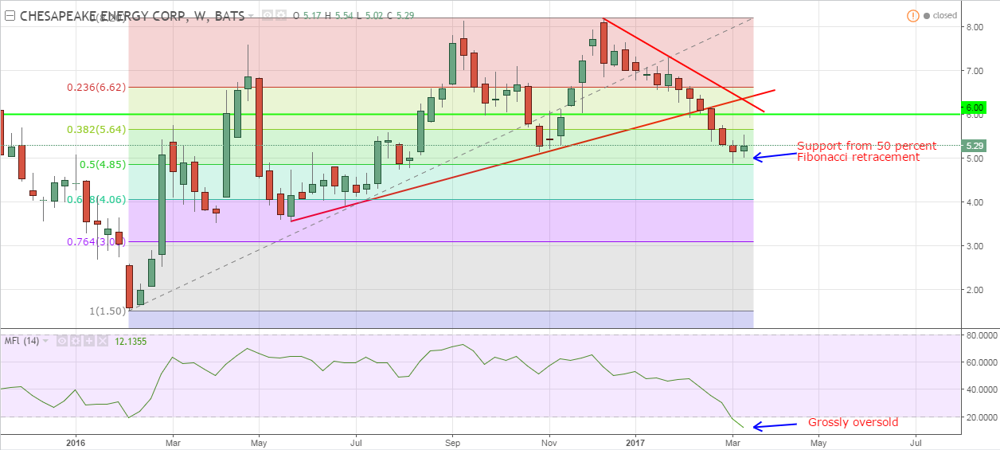 Source: TradingView
Another key level for CHK is $6. This level has been repeatedly respected by the market, both as a support and as a resistance. Since $6 last acted as the support before the stock broke down, this is now expected to be a roadblock according to the change in polarity principle. The 200-day simple moving average also provides additional hindrance at $5.99. The 50-day SMA currently stands at $6.18. Take a look at the daily price chart submitted here.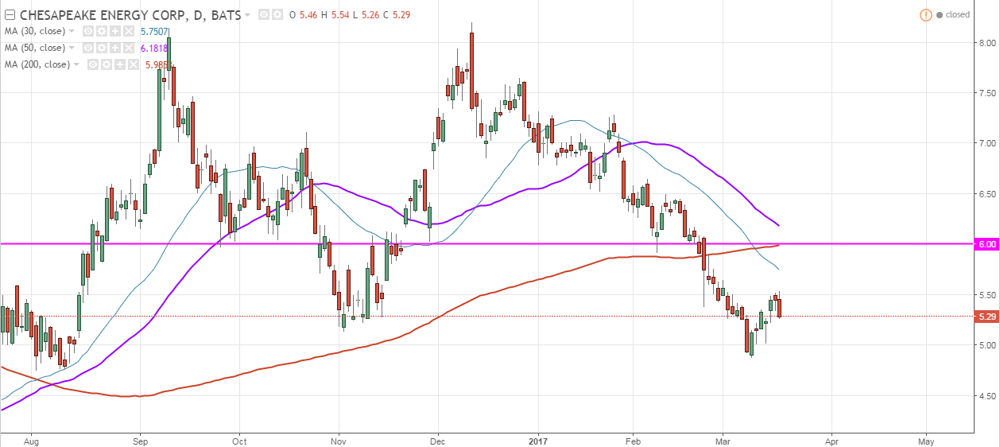 Source: TradingView
Broadly, we are looking at a big resistance zone of $6.00-$6.40 for CHK. After this zone has been decisively crossed, investors can expect continued gains in the stock. Below this, the stock could continue to languish in a sideways consolidation zone.
Chesapeake's upward trajectory might not be as smooth as many are expecting since the short-sellers are making a strong comeback. Shorts have shorted more than 30 million shares since the beginning of this year, causing a sharp drop in the stock price. If the pessimism stays or increases, CHK could extend its stay at the current levels.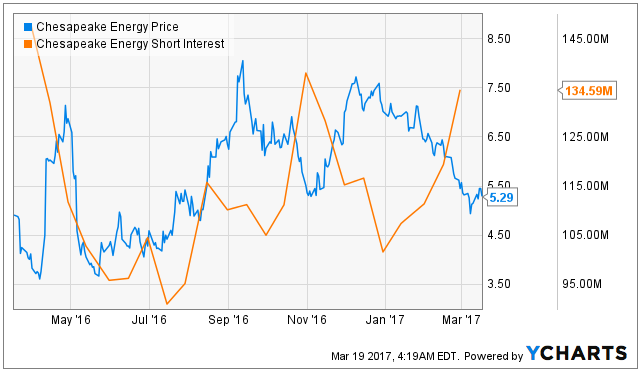 Conclusion
Chesapeake Energy has hit grossly oversold levels on the weekly Money Flow Index. Normally considered as good entry levels, these abnormally low MFI readings have (historically) failed to provide sustainable rebounds. These readings have acted as the perfect traps for the uninformed investors, bringing them huge losses. So, CHK should not be bought now solely because the MFI is near record lows.
CHK's upward journey will not be a cakewalk since the shorts have been piling on bearish bets relentlessly since the beginning of the year. The stock also faces a broad resistance zone of $6.00-$6.40 at this time. If it can quickly cross this, then we can expect sustained gains, otherwise, the stock will extend its stay in a sideways consolidation.
Note: I cover several stocks in different sectors as well as the S&P 500, crude oil, gold and silver, U.S. dollar, etc. So, if you liked this update and would like to read more of such informative articles, please consider hitting the "Follow" button above. Thank you for reading.
Disclosure: I/we have no positions in any stocks mentioned, and no plans to initiate any positions within the next 72 hours.
I wrote this article myself, and it expresses my own opinions. I am not receiving compensation for it. I have no business relationship with any company whose stock is mentioned in this article.
Additional disclosure: Investors are always advised to finish their due-diligence before making an investment decision.