The key to trading in 2017 is that once you make money, keep it. Exercise iron risk control, and don't take marginal trades. You are trying to make yourself rich, not your broker.
Don't do stupid things either, like selling short naked deep out-of-the-money put options which I know 99% of the newsletters out there recommend for easy money.
The people who first subscribed to the Mad Hedge Fund Trader a year ago certainly are happy. After this week's frantic trading activity, the trailing one-year return for the Trade Alert service is a staggering 44.86%. That's the highest it's ever been.
Those who bought in three months ago are sitting pretty as well, with gains since the November 8th election coming in at a blistering 22.98%.
Since the beginning of 2017, some 18 out of 20 Trade Alerts have been profitable, bringing in 20.00%. That is a good year, even though we are only 11 weeks into the New Year.
It was all enough to prompt me to cash in on my position in NVIDIA (NASDAQ:NVDA), which has been a wellspring of profits since I put out my major report on artificial intelligence on November 2nd.
With AI now driving almost every sector in the US economy (yes, even tractors now harvest crops autonomously driven by Satellite GPS AI algorithms), I'll be back in NVDA sooner rather than later.
After a very boring month, trading opportunities have suddenly stated to open up, and I have been pouncing on them like a mountain lion in heat.
The name of the game these days in equities is to play the rapid sector rotation.
I call this "Trading devoid of the thought process". Just focus on a handful of good industries (technology, banks), then buy what's down and sell what's up. The changes can come daily.
You already know about my longs in NVIDIA, Palo Alto Networks, (NYSE:PANW), Goldman Sachs (NYSE:GS), and the S&P 500 (NYSEARCA:SPY).
Given that I think we are now eight months into the Great Bond Bear Market, my long in Treasury bonds (NYSEARCA:TLT) surprised subscribers.
However, this had more to do with the technicals in the market. Namely, we have just seen a five point drop, and everyone and their brother was already short.
It turned out that Janet delivered only a 25 basis point hike, instead of the feared 50, so the downside was burned out.
Remember, this is just a trade. Take the last three Consumer Price Index reports, and they annualize to a 3% inflation rate, nearly a decade high. Bonds hate inflation.
I have to confess that oil is getting very tempting down here, with the United States Oil Fund (NYSEARCA:USO) at $10.00. One more puke out and I'm in, or buying Exxon (NYSE:XOM) or Occidental Petroleum (NYSE:OXY).
I am skipping precious metals for now, as they are now totally tied to the bond market, and I already have a position there.
As for foreign currencies (NYSEARCA:FXE), (NYSEARCA:FXY), they have been dead as a doornail, with ranges too narrow to trade, and liquidity in the options market awful.
There is nothing earth shaking on the earnings front in the coming week, with Nike (NYSE:NKE), FedEx (NYSE:FDX), and GameStop (NYSE:GME) reporting.
So, look for another week of narrow range trading on light volume waiting for Washington to do something. Did I mention that we are perfectly positioned for such a market?
On Monday, March 20th, at 8:30 AM EST Chicago Fed governor Charles Evens speaks. That will be anticlimactic, since the last Fed move is so recent.
On Tuesday, March 21st at 8:30 AM EST, we receive the 2016 Q4 Current Account, which is usually a real yawn.
On Wednesday, March 22nd, at 10:00 AM EST, we get Existing Home Sales for February. My bet is that we will see further confirmation of a hot market.
The weekly Energy Information Agency Petroleum Status Report is out at 10:30 AM EST.
On Thursday, March 23rd, at 8:00 AM EST, Janet Yellen will be speaking in the wake of her move to raise interest rates 25 basis points last week. Questioners will, no doubt, be teasing her on the timing of the next hike.
We also learn the Weekly Jobless Claims at 8:30 AM EST, as well as February New Homes Sales at 10:00 AM EST, which recently have been on a tear.
On Friday, March 24th at 8:30 AM EST, we learn the Durable Goods Orders for February.
Wrapping up the week at 1:00 PM EST, is the Baker-Hughes Rig Count, which has been up for most of the last year, boding ill for oil prices.
Good luck and good trading.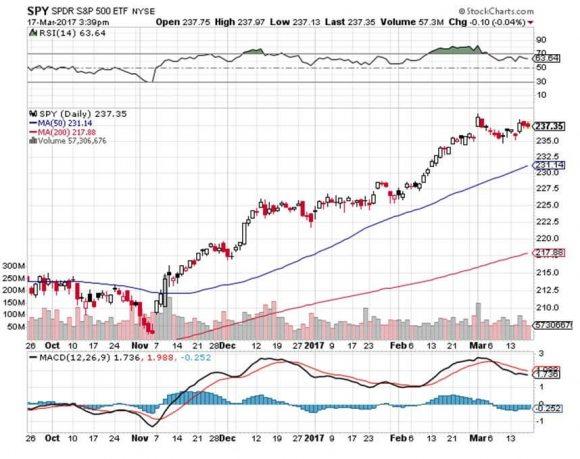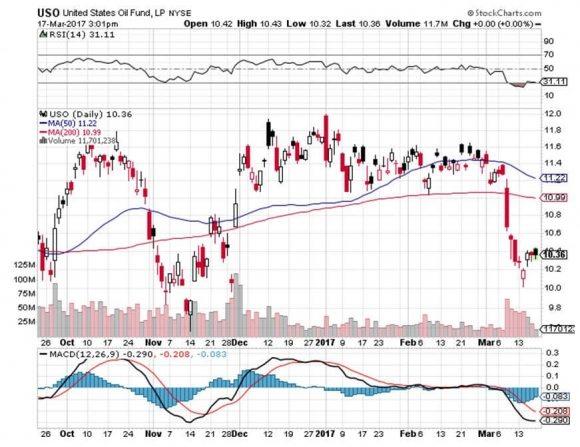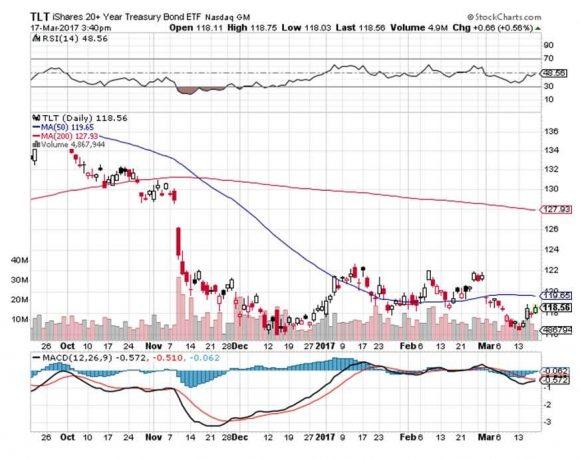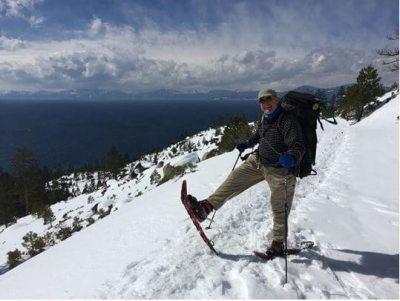 If you'd like to receive ALL THE CURRENT CONTENT from The Mad Hedge Fund Trader in your inbox every day premarket and PROPRIETARY TEXTED Trade Alerts which have averaged 37.49% annually since inception (11/29/10), subscribe through Seeking Alpha Premium Authors* @https://seekingalpha.com/account/research/subscribe?slug=the-mad-hedge-fund-trader
*Value-Added Investment Services From Top SA Contributors
Disclosure: I/we have no positions in any stocks mentioned, and no plans to initiate any positions within the next 72 hours.
I wrote this article myself, and it expresses my own opinions. I am not receiving compensation for it. I have no business relationship with any company whose stock is mentioned in this article.