Manning & Napier (NYSE: MN) may not be the sort of top tier investment management company that springs immediately to mind for most investors. The company has had a strong history since its founding in 1970, and now manages tens of billions of dollars in assets.
It's also a company that's fallen dramatically out of favor in recent months. Declining revenues, declining assets under management, and earlier this month, its dividend was cut in half. You can imagine the impact on the stock price (or you can view this chart).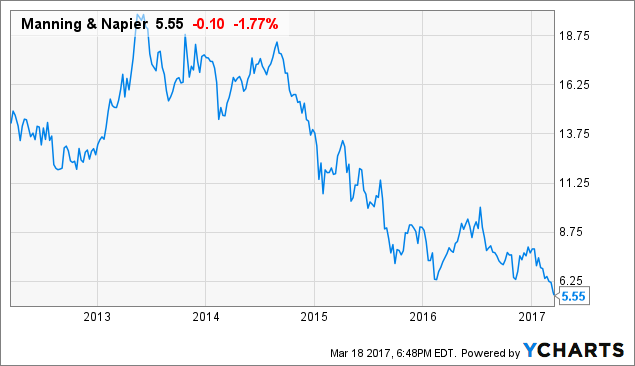 The problem
Manning & Napier has had good success with the performance of its portfolio of managed investment options, but the rising interest in more passive investment on market indices, particularly among institutional investors, has cost them some big customers, and led to a steady decline in assets under management.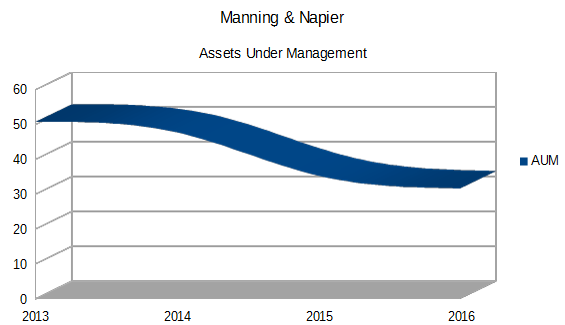 The honest reality is that Manning & Napier can't do anything about the shift in market appetite for their products. The hope, however, is that so long as they continue to churn out solid results for the substantial customers they retain, they will eventually come back into fashion.
When market indices are flourishing, it's going to be bad news for Manning & Napier. When the indices aren't doing so well, however, they remain a real player in the more actively managed portfolios.
The silver lining
Manning & Napier went from $50.8 billion in assets under management to just $31.7 billion in just four years. In the process, service revenue has also been on the decline. That isn't necessarily going straight to the bottom line, however.
| | | | | |
| --- | --- | --- | --- | --- |
| | 2013 | 2014 | 2015 | 2016 |
| Revenue | $376 mn | $397 mn | $318 mn | $249 mn |
| Operating Income | $84.8 mn | $134.5 mn | $128.5 mn | $89.2 mn |
| Operating Margin | 22.5% | 33.9% | 40.4% | 35.8% |
| Net Income | $2.6 mn | $9.3 mn | $13.2 mn | $9.2 mn |
| Net Margin | 0.7% | 2.3% | 4.1% | 3.7% |
| Diluted EPS | $0.19 | $0.67 | $0.90 | $0.62 |
As you can see, operating margins have strongly improved in the past couple of years. This means that, incredibly, Manning & Napier's year with its highest amount of assets under management, 2013, was also a lot less profitable for them than those which followed.
Analyst estimates for the next two years are expecting a similar trend, with revenue continuing to decline, albeit at a slower rate, but while earnings remain strong, and its current dividend payout ratio remaining very sustainable.
Speaking of the dividend
Just last week, Manning & Napier slashed their dividend in half, from 16 cents a quarter to just 8 cents. No one likes to see their dividend go down, but a right-sizing of the dividend was inevitable as its business shrinks.
The amount the stock price has been hammered in the last couple of years, however, dwarfs what just happened to the dividend, and at 32 cents per year, we're looking at a 5.76% yield, still a healthy yield for the company, and one which seems sustainable for the foreseeable future.
A healthy balance sheet
The shrinking share price has also been a very good thing for the price/book ratio. A virtually debt-free company, Manning & Napier has a nice-sized warchest of cash and equivalents, as well as other securities. At the current price, the price/book ratio is 0.62.
Of course, not all book values are created equal, but Manning & Napier's is one of the most robust collections of assets, with only a very small amount of goodwill on the books, and much of the rest cash and other very desirable assets.
Indeed, the company's cash and equivalents line alone is $100.8 million, which amounts to about $6.73 a share, meaning we can actually buy the company at these levels for a decent discount to the physical cash it holds, which is above and beyond its very limited liabilities.
Conclusion
While Manning & Napier is no sort of growth investment play, the level to which the share price has been trashed has created a nice value play for those of us who like to bottom fish. That's not to say that market pessimism won't continue to drive the company down in the near term, but it is a rare thing that I've ever regretted buying a profitable company at a discount to its cash on hand.
There is no straightforward catalyst for a big rebound on the horizon, but this is a nice value investment, a respectable income play, and the sort of stock that might fit quite comfortable in your portfolio for a few years, collecting dividends and waiting for market sentiment to improve.
Disclosure: I/we have no positions in any stocks mentioned, but may initiate a long position in MN over the next 72 hours.
I wrote this article myself, and it expresses my own opinions. I am not receiving compensation for it (other than from Seeking Alpha). I have no business relationship with any company whose stock is mentioned in this article.
Editor's Note: This article covers one or more stocks trading at less than $1 per share and/or with less than a $100 million market cap. Please be aware of the risks associated with these stocks.