Fannie Mae (OTCQB:FNMA) and Freddie Mac (OTCQB:FMCC) are two companies that are privately owned, but are run by a government agency that has handed all their money over to another government agency for nearly a decade. The agency that has been set to regulate Fannie and Freddie is the Federal Housing Finance Agency (FHFA). On Friday, the DOJ went after the CFPB in an Amicus Brief:

FHFA is structured similar to the CFPB. It's worth noting that Chad R. Readler is defending FHFA while simultaneously attacking the CFPB for what are in effect the same claims.
Investment Thesis: Companies that make money are not usually forced out of business and the incoming administration is rapidly approaching its first crossroads where it must show its hand. The sweep is scheduled for later this month, and in the middle of next month, investors get to learn if Trump's administration is going to continue Obama's tactics of making plaintiffs fight tooth and nail to get access to discovery documents that have been withheld. More recently, the DOJ has charted a new course, and in a recent Amicus Brief has suggested that the CFPB was improperly structured. FHFA is structured the same way and plaintiffs in the Collins lawsuit are saying that is a reason to vacate the sweep. The Collins motion becomes fully briefed Monday and a ruling can be expected in ~3 months. If the net worth sweep is stopped by law or by the administration, my preferred shares will likely soar in value as the market would begin anticipating a conservatorship that ends via recapitalization instead of decapitation.
Collins: The DOJ Went Against CFPB
On Monday, March 20, the Plaintiff Motion For Summary Judgment On Their Constitutional Claim gets fully briefed. This is Count IV which seeks to vacate the Net Worth Sweep: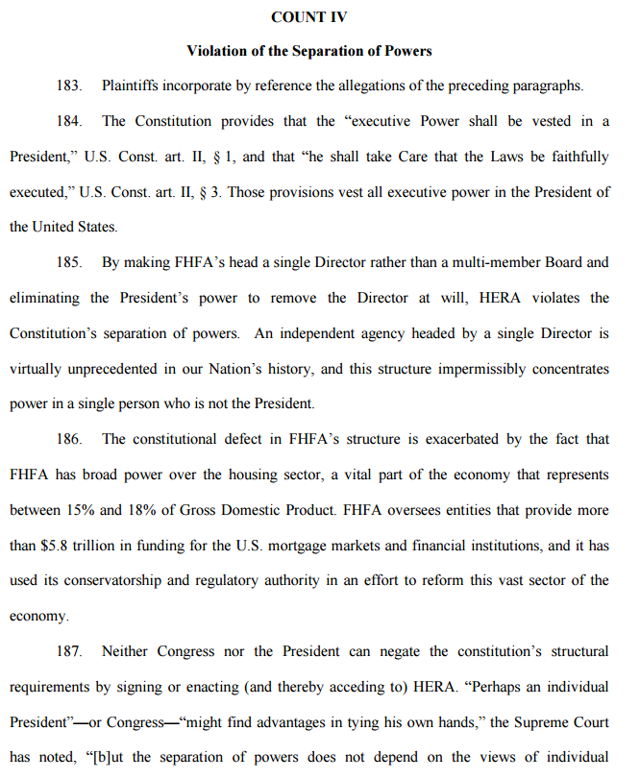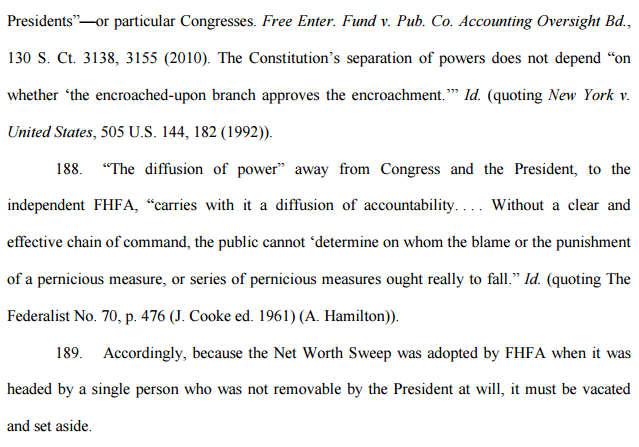 The plaintiffs here are effectively making the same argument that the DOJ made against the CFPB in their Amicus Brief filed Friday. In the Perry Capital ruling, the judges went out of their way to not address the constitutional issues saying that in effect these issues were not raised:

Well that may have been true in the Perry lawsuit, but the Collins lawsuit is now off to the races with that argument, and once it becomes fully briefed on Monday, we wait for a ruling.
New York Times Lighting It Up
Gretchen Morgenson at the New York Times has suggested that Trump may allow Fannie and Freddie to keep their capital: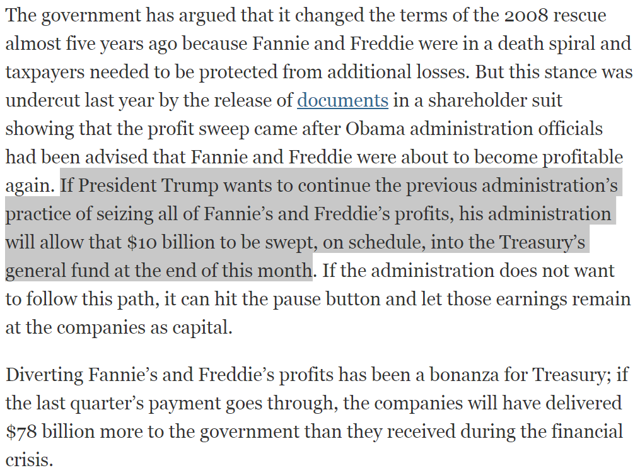 Gretchen called Treasury and the DOJ, but didn't call FHFA. Investors have long argued that Melvin Watt could on his own power stop the net worth sweep. Right now, there are no capital requirements for Fannie Mae and Freddie Mac. I may be wrong, but I don't see why those wouldn't return to stop the sweep if that's what they're going to do this month.
With regards to receivership, I'm not sure how that would even be on the table later this year. My understanding is that if you are trying to zero out shareholders, you need to spin off Fannie and Freddie operations before they are placed into receivership in order to not wind them down and cause the mortgage market to lock up. I don't think that the government is anywhere close to being ready to spinning off the operational assets into new vehicles. There doesn't therefore appear to be a mechanism to maintain mortgage market liquidity and shutter the GSEs this year anyway. The CSS/CSP would need to be fully functional and they'd have to have the baby catchers in place to catch the new, perhaps merged company or government agency. Instead, words by Mnuchin, Cohn, Calabria, and Watt would make one believe that is simply not on the table.
David Fiderer's Timeless Thoughts
David Fiderer proposes the application of common sense to understand what is going on:

David Fiderer operates from the frame of reference that cash dividends during conservatorship are illegal. That argument hasn't been battled in court and is perhaps one of the reasons Perry was able to rule the way that it did.
Around 11,292 Documents Remain In Flux
Judge Sweeney is overseeing discovery in the Federal Court of Claims and thousands of documents have been produced. These documents may contain the answers plaintiffs have been looking for to support their case. Sessions recently asked more Obama-era attorneys to resign.
This may mean that the attorneys who have been fighting the release of these documents to plaintiff attorneys may be replaced by attorneys who are less resistant to the truth behind them seeing the light of day.
Summary and Conclusion
I own 4050 shares of FMCCH, 23088 shares of FMCCP, 7370 shares of FMCCT, 1341 shares of FMCKO, 13185 shares of FMCKP, 12788 shares of FNMFN, and 5 shares of FNMFO.
The problem is one of timing. The ball is in the administration's court and they get to call all the shots for now. If the lawsuits have merit, especially the Collins case, the time where investors will begin prevailing legally may be in time for not this month's net worth sweep, but perhaps the next one if there is one this month. Urban Institute has proposed a host of future alternatives. It's a false choice when alternatives that simply are not possible are proposed as the only options to choose from for a solution when the best solution is a few minor tweaks away. Jim Millstein said similar things about the GSEs at 3:25:
It really may be the only practical alternative is to recapitalize them, reregulate them...and then reprivatize them.
Josh Rosner seems really confident the current administration knows what they're doing as well. We know that housing reform is a priority for Mnuchin. It will be interesting to see how quickly things start changing. My bet is this month if the administration is going to stop it, after which I figure that there's a good shot there could be a Collins constitutionality ruling around June.
Disclosure: I am/we are long FMCCH, FMCCP, FMCCT, FMCKO, FMCKP, FNMFN, FNMFO.
I wrote this article myself, and it expresses my own opinions. I am not receiving compensation for it (other than from Seeking Alpha). I have no business relationship with any company whose stock is mentioned in this article.
Editor's Note: This article discusses one or more securities that do not trade on a major U.S. exchange. Please be aware of the risks associated with these stocks.