Contrary to fears that US oil inventories would continue rising, we have recently seen a drop not only with crude but also many types of petroleum products. Add to this the fact that the rig count, as calculated by Baker Hughes (BHI) has continued to make interesting moves and I believe there's a lot of information that has come out recently that investors should know about. In what follows, I will cover this data and give my thoughts on not only for what it means for the oil market as a whole but also what it should mean for investors in companies like Whiting Petroleum (NYSE:WLL), Chesapeake Energy Corp. (NYSE:CHK), Approach Resources (NASDAQ:AREX), and Legacy Reserves (NASDAQ:LGCY), as well as for the United States Oil ETF (NYSEARCA:USO) and other oil-related ETFs moving forward.
Stocks fell nicely
According to the EIA, crude oil stocks over the past week have dropped modestly, falling by 0.2 million barrels from 528.4 million barrels to 528.2 million. This drop really isn't material and it happens to be smaller than the 0.5 million barrel decline that the API (American Petroleum Institute) estimated a day earlier. However, what is noteworthy is that the decline stands in stark constrast to the 3.1 million barrel build analysts had been expecting for the week. In the graph below, you can see the trend that crude stocks have taken over the past 52 weeks.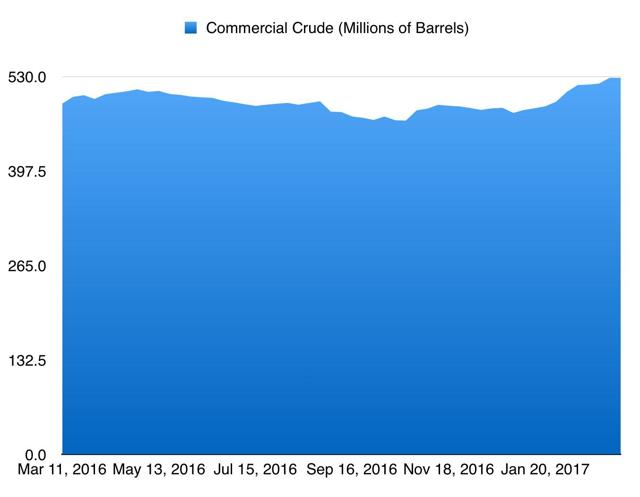 *Created by Author
Fortunately, crude stocks weren't the only category to see a decrease. Take, for instance, distillate fuel, which reported a decline of 4.2 million barrels to 157.3 million. Almost as large was the drop in motor gasoline inventories, with stocks falling 3 million barrels to 246.3 million. Meanwhile, kerosene-type jet fuel stocks dropped 2.1 million barrels to 42.1 million. Smaller decreases came from propane/propylene, with stocks dipping 0.7 million barrels to 44.5 million, residual fuel, which dropped 0.4 million barrels to 39.1 million, and fuel ethanol stocks dipping just 0.1 million barrels to 22.8 million.
Interestingly, we only saw one category report an increase for the week. If the EIA's estimates are correct, the "Other" category of petroleum products (so everything else that's too small to be tracked individually) managed to report an uptick of 3 million barrels, rising from 255.8 million barrels to 258.8 million. However, due to strong decreases from the other categories, total crude plus petroleum product stocks for the week came in at 1.339 billion barrels, a rather hefty 7.8 million barrel drop compared to the 1.3468 billion barrels seen a week earlier.
Persistent trends with production and demand
While the inventory data was particularly positive for the week, the same cannot be said of production. If the EIA's estimates are accurate, total domestic crude production for the week came out to 9.109 million barrels per day. This represents an increase over the 9.088 million barrels per day seen a week earlier and happens to be the fourth week in a row for production coming in above 9 million barrels per day. In the graph below, you can see the trend that stocks have taken over the past year.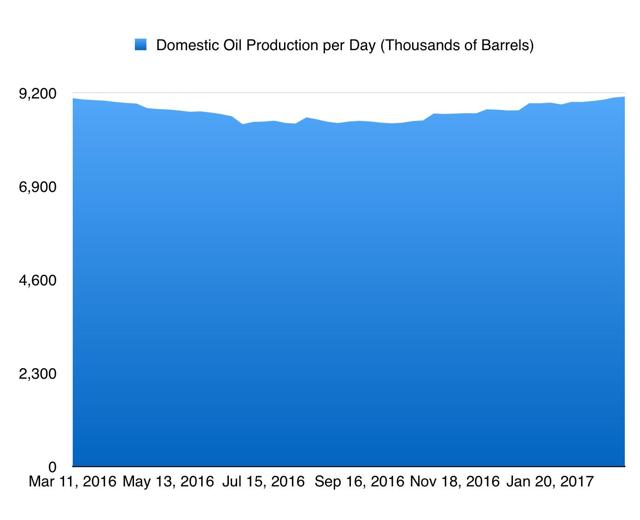 *Created by Author
Another bearish piece of news is that, sadly, domestic motor gasoline demand is still weak. According to the EIA, demand for the week came out to 9.254 million barrels per day, which happens to be lower than the 9.458 million barrels per day seen the same time last year. Using the four-week average, demand sits at 8.968 million barrels per day, a year-over-year decline of 4.5%. Despite this trouble, however, we can still rejoice in the fact that distillate fuel demand is still strong. Based on the numbers provided, the four-week average demand for distillate fuel has been 4.151 million barrels per day, 13.4% above the 3.661 million barrels per day seen a year earlier.
The rig count was mixed again
During the week, from a US oil rig perspective, we saw more bearish data come into play. According to Baker Hughes, the oil rig count in the US managed to pop higher by 14 units, climbing to 631 in operation. This is materially larger than the 387 units in operation the same time last year. In Canada, where fluctuations are more seasonal in nature, the rig count dropped by a whopping 31 units down to 149. This is bullish in and of itself but, compared to the 12 units seen a year earlier, is still negative on the whole.
Something's happening with production
Every week, I write about something in my weekly report that I normally wouldn't talk about as part of my general market overview. This week, I've decided, after ignoring it last week, to focus on something that could have bearish implications for investors if the trend continues to an extra degree. Take, for instance, a look at the graph below.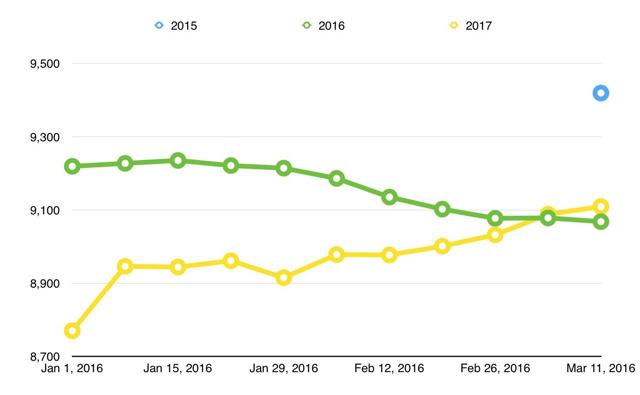 *Created by Author
In that graph, you can see what the first 11 weeks have looked like for domestic oil production for the US for 2016 as well as 2017. As the rig count has increased meaningfully, production has finally started to catch up and, just a couple of weeks ago, output surpassed where it was a year earlier. With the most recent data in play, production is now up year-over-year for the second week in a row, to 9.109 million barrels per day compared to the 9.068 million barrels per day seen in 2016. Now, you may be curious about the blue dot in the top right corner of the graph. That is the spot where production stood in 2015 (9.419 million barrels per day).
This shows that we are still lower than we were in 2015 but, yes, we are seeing production swing higher again and that's probably unavoidable. Having said that, this does not mean that everything is now bearish in the oil patch. In a recent article of mine, I made the case that oil demand this year will likely be higher than forecasted by certain groups. If I am correct, rising production isn't necessarily a problem. What is a problem is if that output climbs so high that demand isn't able to offset it. If I am incorrect and demand for motor gasoline stays weak throughout the rest of this year and/or if other products see a downturn (like distillate fuel) in demand, then my thoughts on the matter could change.
Takeaway
Based on all of the numbers provided by the EIA, it's clear we are still dealing with a mixed bag. However, even though US production is growing, the fact that stocks are falling again, combined with the impressive distillate fuel demand, suggests that matters are still more bullish than bearish. That does not, however, mean that we shouldn't continue to pay attention to production and motor gasoline demand. If those numbers continue to worsen, especially the former, we could see some trouble ahead.
Disclosure: I am/we are long WLL, AREX, LGCY.
I wrote this article myself, and it expresses my own opinions. I am not receiving compensation for it (other than from Seeking Alpha). I have no business relationship with any company whose stock is mentioned in this article.
Additional disclosure: I own LGCYO and LGCY
Editor's Note: This article covers one or more stocks trading at less than $1 per share and/or with less than a $100 million market cap. Please be aware of the risks associated with these stocks.