According to Jan Hatzius, chief economist at Goldman Sachs, "Our financial conditions index eased by an estimated 14 basis points on the day - about 2.3 standard deviations and the equivalent of almost one full cut in the funds rate -- and is now considerably easier than in early December, despite two funds rate hikes in the meantime''.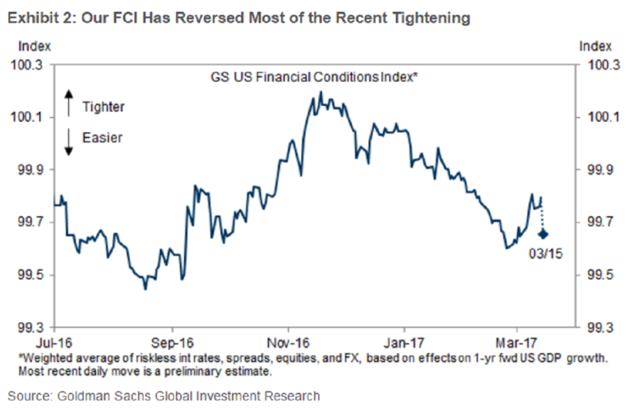 According to NY Fed President William Dudley in 2016, "If financial market conditions do not tighten much in response to higher short-term interest rates, we might have to move more quickly". As can be seen in the chart below on March 15th coinciding with the release of the FOMC statement, there was a sharp drop in the U.S. dollar (NYSEARCA:USDU) (NYSEARCA:UUP) index.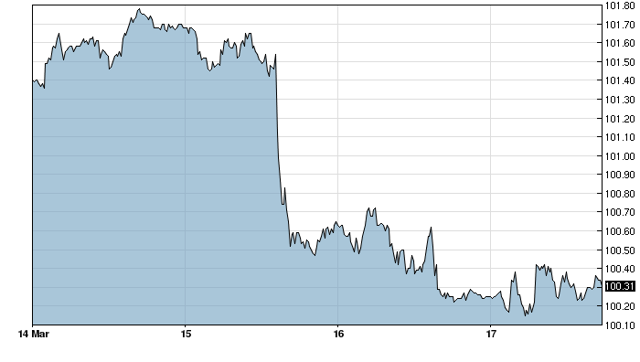 Source:kitco.com
Bond yields (NYSEARCA:TLT) (NYSEARCA:TMV) (NYSEARCA:TTT) (NYSEARCA:TBT) also declined on Wednesday right after the FOMC statement was released. This is precisely the opposite expected response. If the Fed was concerned about inflation exceeding the 2% target rate before the March rate increase, they are likely more so now.
New language was added to the FOMC statement regarding the inflation target being symmetric. "Symmetric" inflation targeting means inflation above target rate is equally concerning as inflation below target rate. I believe the market read into this as a dovish signal, but in my opinion it is a neutral signal or slightly hawkish.
Federal Reserve speakers are out in full force next week. Charles Evans speaks twice on Monday. Mester, George and Rosengren speak on Tuesday. The highlight of the week is Yellen on Thursday. Kashkari, the only dissenter, who actually wanted to formulate a balance sheet plan before moving on with further rate increases also speaks on Thursday, as does Robert Kaplan. On Friday, there is Evans again, Bullard and John Williams. The message is going to be clear. Expect more rate increases, sooner rather than later, especially because financial conditions did not respond appropriately.
At the post-meeting press conference, Fed chair Yellen specifically noted the resilience of the U.S. economy and it's ability to withstand shocks. The importance of this comment should not be understated. Even if China economic and financial concerns heighten while oil prices decline (both of which I expect), the Fed will likely stay on the current tightening path. It was a rather hawkish statement from Yellen that was largely ignored by the market. The Fed may very well know Chinese economic conditions are likely to deteriorate and this gives insight into the Fed's reaction function to a Chinese hard-landing scenario as well as another oil price shock. The Fed will likely look through potential oil price declines and continue to view it as "transitory" in Fed speak.
My view on oil prices is a near term pull back to the $30 to $40 range, followed by significant prices increases over the long term. I expect oil (NYSEARCA:USO) (NYSEARCA:XLE) (NYSE:REN) (NYSEMKT:LNG) to fall near term. The reasons are increasing U.S. production and climbing rig counts on the supply side. On the demand side, I expect China which is a major demand center to go through an economic and financial hard-landing scenario. For further reading on my China hypothesis refer to the article Preparing For A China Economic Shock. In the long term, lack of oil production investment and accelerating demand and global economic growth will lead to shortages pushing oil prices higher in the long run. As shown in the chart below though, oil inventories are still very high and there is no shortage to drive prices substantially higher for now.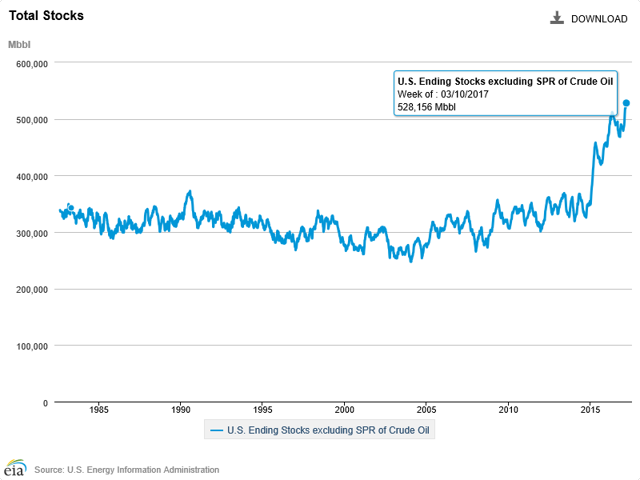 I am very optimistic on the U.S. economy and a believer in its ability to absorb shocks and continue to grow. I believe the Fed is completely correct for beginning to tighten policy despite potential headwinds in emerging markets. Household debt to GDP has fallen. Net worth is at an all time high. Debt service payments as a percent of income are at a historical low. This bodes well for continued expansion of private sector and household credit. Various measures of private sector credit growth are above 2007 levels. The importance of credit growth on an economy is further discussed in the linked article here.

here




Credit is on an upward trajectory. The Fed is beginning to tighten policy partially to cool off credit growth. After all, the Federal Reserve is a central bank. Shouldn't the emphasis be on regulating rates of credit growth? Industrial production, auto sales, retail sales, business investment, home prices, stock prices (NYSEARCA:SPY) and many other indicators are above or approaching 2007 levels. Recent U.S. economic data has not disappointed at all and the recovery since the financial crisis is significant.






There is also a high likelihood of future expansionary fiscal policy and wider government deficits. The U.S. will attract capital inflows with lower corporate taxes, political and legal stability, less regulation and an improving domestic economy.
The market is more dovish than the Fed and underestimating the pace of future rate increases. According to Fed Fund futures and CME Group, there is only a 54% chance of a June hike and a 58% chance of the Fed meeting or exceeding its 2017 three rate hike forecast. Given the fact that financial conditions are substantially easier since December 2016 despite seeing two rate hikes, it supports the Fed moving quicker than currently discounted by the market. If the Fed were to undershoot market based interest rate expectations, financial conditions would only loosen further, in effect the opposite of the Fed's intent to tighten.
Disclosure: I am/we are short REN, LNG.
I wrote this article myself, and it expresses my own opinions. I am not receiving compensation for it (other than from Seeking Alpha). I have no business relationship with any company whose stock is mentioned in this article.
Additional disclosure: Put options.