A couple of weeks ago, I published an article on Pandora (NYSE:P) explaining why the internet radio provider seems to be approaching a pivotal moment in its nearly six years of existence as a public company.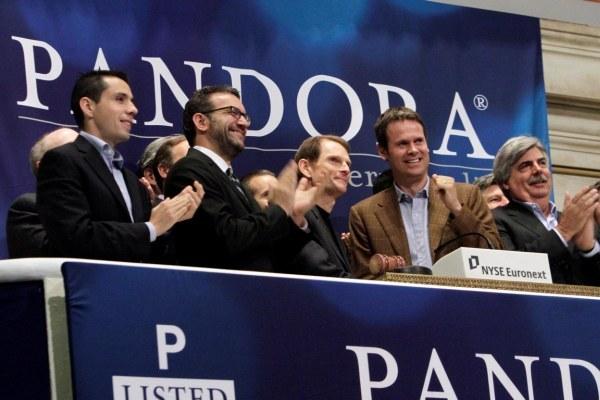 Credit: csmonitor.com
Pandora may succeed at executing on its aggressive 2020 plans, build a premium service from zero to 11 million users in three years, improve ARPU across the board, and generate $600 million in adjusted op profits within four years. The company seems to have the roadmap to success very well laid out - although I expect that walking the walk will be much harder than talking the talk.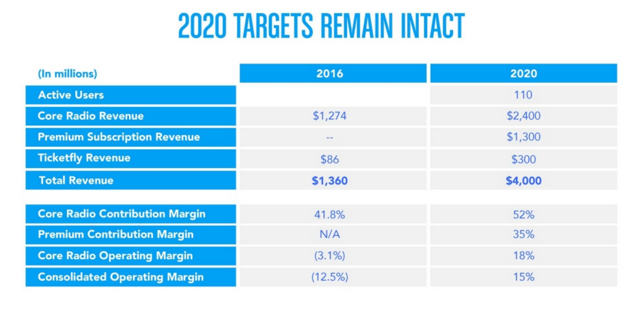 Source: Pandora's October 2016 Analyst Day presentation
If management is able to deliver on this plan, I estimate that the stock could be worth about $20 by 2020 at least, reflecting $1 in adjusted EPS valued at 20x earnings.
Alternatively, Pandora could be acquired at a premium, a move that I have suggested might make sense to a company like Apple (NASDAQ:AAPL) or perhaps Sirius XM (NASDAQ:SIRI). Although Pandora's CEO Tim Westergren has recently stated that the company is not for sale, I believe the right bid could very well make him change his mind.
Under either scenario, Pandora could be worth anywhere between $15/share (in the case of an acquisition at a 30% premium) and $20/share within the next 36-48 months.
But the potential upside would not come without significant risks. In a scenario where neither of the above materializes, I believe the stock could drop sharply. Without either strong, profitable growth or a potential bidder, Pandora shares could trade in the high- to mid-single digits by 2020, at best. What I find least likely, over the next few years, is that the stock remains valued near current levels, at around $11 to $12 per share.
Considering what I perceive to be the binary nature of an investment in P (i.e. a significant chance of either sizable losses or sizable gains), I suggest investors approach the stock with caution.
One way to do so would be to open a long position on P today, betting that management will do its job as outlined, while protecting the downside with put options.
The table below illustrates a 100-share trade at $11.48/share, coupled with a collar strategy designed to limit the downside exposure. The protective put with a strike price of $12 currently costs $2.30 for a January 2018 contract.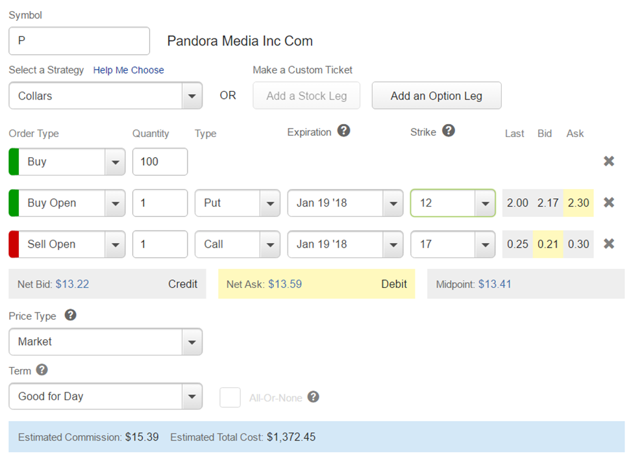 Source: E-Trade
As an alternative to help finance the costs associated with the trade, I would consider selling covered calls with a $17 strike and matching expiration date, for a premium of $0.21 per share. Although P could reach higher in the next 3 years, I doubt that the stock would be valued above $17 in such a short period of time.
Using the strategy above, each "protected" share of Pandora would cost $13.59, on par with the stock's price on February 17th of this year, shortly after the company's most recent earnings release. The chart below illustrates the potential gain or loss on a 100-share trade.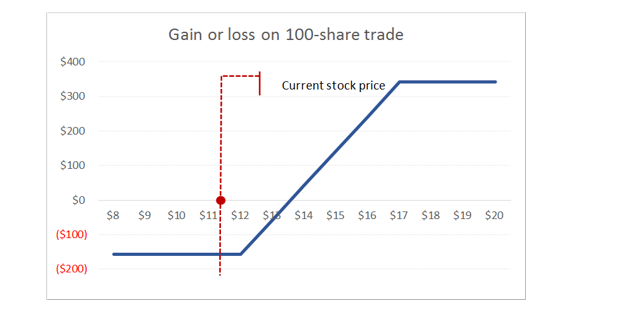 Source: DM Martins Research
The maximum drawdown from this strategy would be $157, or about 11% over the next 10 months, while the maximum gain would be $343, or about 25%.
By January 2018, I believe investors will have a much clearer idea about whether (1) Pandora is on track to reach $600 million in adjusted op profits in 2020 and, as a result, a stock price of about $20/share; or (2) likely to be acquired and, as a consequence, being valued at an estimated $15/share. If not, the position above would generate losses no greater than 11%. And if so, possible gains of 20% or more could be expected.
I don't believe the strategy is ideal for those who are decisively skeptical about Pandora's prospects - they are better served by staying away from the stock altogether. But for investors who believe the company could very well deliver results by 2020, the strategy might be a good way to capture most of the upside over the next 10 months while minimizing the damage, should management fail.
Note from the author: follow me as I build a risk-diversified portfolio designed and back-tested to generate market-like returns with lower risk. I call it the Storm-Resistant Growth portfolio. The very early results have already exceeded my expectations. Take advantage of the 14-day free trial, and get immediate access to the content and the community.
Disclosure: I/we have no positions in any stocks mentioned, but may initiate a long position in P over the next 72 hours.
I wrote this article myself, and it expresses my own opinions. I am not receiving compensation for it (other than from Seeking Alpha). I have no business relationship with any company whose stock is mentioned in this article.