The Fed's decision calculus, reaction functions, reflexivity - it's all so complicated.
Which is why on Friday, when outlining the two competing narratives about how the FOMC views the market's reaction to Wednesday's hike, I fell squarely on the side of common sense. Here's what I said:
If I had to fall on one side or the other, I think the common sense take that Edwards and Kolanovic seem to be advocating is a more accurate description of how the Fed is thinking about things.

That is, the committee probably didn't want to come across as so dovish that they effectively turned a hike into a cut (as Goldman says they did), but when it came right down to it, they were willing to chance that outcome if it meant preserving the bid for risk assets.
If you missed it, below find the excerpts from Edwards and Kolanovic to which I was referring.
Edwards:
One reason why the market doesn't believe the Fed dots is that investors cannot conceive of Fed tightening to the point that it causes the stock market any serious damage. Time and time again over both this and previous cycles the Fed has backed off rate hikes as soon as the going got tough.
Kolanovic:
Early this month, the Fed surprised the market by telegraphing a March hike. At the time, investors started speculating whether this was a sudden hawkish turn, or even a politically motivated decision. We think it might have been the move of a prudent monetary Dove. Hiking in March, gives the Fed the option to skip June should there be market turmoil (e.g. related to French elections).
Needless to say, I would have been predisposed to go with those two interpretations regardless of my penchant for preferring common sense assessments to overinterpretation and irrespective of the fact that there's a certain elegance in simplicity. That is, we're talking about Albert Edwards and Marko Kolanovic here. Those two names carry quite a bit of weight with those of us who are inclined to take a cynical view of markets and enjoy speculating about the extent to which programmatic buying/selling and systematic strategies are increasingly hijacking price action, respectively.
In the post linked above, I also cited Deutsche Bank's Aleksandar Kocic. Specifically, I used Kocic's "fourth wall" analogy to set the stage for my lengthy discussion of Fed-market reflexivity.
Regular readers will recall that Kocic is one of my favorite strategists. You'll also recall that that's an objective assessment based on my reading of his work. I don't know Kocic and have no idea how the rest of the Street views his work, although the fact that he still has a job seems to indicate that the powers that be value his point of view.
Well somehow, I missed Kocic's pre-Fed read, but that actually works out great because looking back on it, not only does it seem pretty prescient, but it also supports my take on how the committee likely views the market's response. Here's what Kocic said last Sunday (my highlights):
10s above 3% would require a passage of aggressive economic agenda. However, it is becoming increasingly clear that political headwinds for such an outcome remain strong and the conditions for this to materialize are likely to take more time than initially anticipated and currently priced in by the market. All along, the effectiveness and, ultimately, success of the stimulus has been (at least implicitly) predicated on having an initial period of accommodative Fed. The market started the year by pricing in this lead/lag dynamics. However, in the last weeks this pace differential appears to be undergoing a reversal, or is threatening to, with political headwinds, on one side, slowing down the arrival of fiscal stimulus while, on the other, the Fed rhetoric continues to indicate an intention to hike in March. So, the Fed is moving too early, and the stimulus is arriving with a delay. These developments are threatening to tighten the financial conditions and prevent demand shock to take place and, therefore, interfere or potentially even sabotage the upside that the stimulus could potentially produce. The logic of early Fed hikes would be that the economy appears already strong with labor market near full-employment, inflation showing signs of life and stock market continuing to break new highs week after week. Assuming the Fed hikes in March, we see a case for it to be one-and-done (for now) with two logical paths from that point.

ONE) To do nothing slowly, Fed must do something quickly. By doing only one hike and making a deliberate pause after that could be rationalized by the fact that at that level the Fed is comfortable being (slightly) behind the curve. This would correspond to a dovish hike, i.e. the Fed would remain accommodative allowing for the political obstacles to clear and fiscal stimulus to develop traction without further strengthening USD and tightening financial conditions. There is no revision of the terminal rate and 2018 dots.
Now think back to what Kolanovic said after the Fed meeting:
We think it might have been the move of a prudent monetary Dove. Hiking in March, gives the Fed the option to skip June should there be market turmoil.
See what I mean about Kocic being prescient?
But there's something else interesting here. Note what Kocic says about the interplay between the Fed and the Trump administration.
I've been saying for months that one of the main risks to the reflation narrative and, by extension, to the market, is that Trump is seemingly (and this may not be entirely his fault) front-loading the controversy (e.g. immigration reform, etc.) while relegating tax reform and stimulus to the backburner. Again, that's probably not all his fault (he needs Congress on taxes and stimulus), but that doesn't make it any less true.
Meanwhile, excitement around those same delayed policies has driven stocks (NYSEARCA:SPY) inexorably higher (the market is already pricing in tax reform and stimulus) thus loosening financial conditions and putting the Fed in a position where they pretty much had to pull the trigger.
But they needed to be careful. Because they know as well as everyone else does that while the market may have already priced in the growth-friendly parts of Trump's agenda, those policies aren't anywhere near being implemented. Thus, Yellen needed to pull off a hike that was viewed by markets as dovish in order to avoid creating a situation where, as Kocic puts it, "the Fed is moving too early, and the stimulus is arriving with a delay."
That brings us to one final point from Kolanovic. To wit (my highlights):
In addition to the Fed put, there is another driving force that can backstop a market selloff - we call it the 'Trump Put'. Over the past weeks, the President has taken some pride and ownership in the rising US equity market. The market rally in the aftermath of the President's address to Congress (March 1st), shows that it doesn't take much to awaken the animal spirits of domestic investors. In the case of market weakness, there are a number of proposals and measures (such as Infrastructure, Deregulation, Tax Reform, Repatriation) that Trump could discuss and near-term back-stop the market.
But for the "Trump Put" to be maximally effective, it needs to be credible. That is, the further away from tax reform and fiscal stimulus we are, the less credible is the jawboning. So it would appear that the FOMC is trying to preserve the "Fed Put" just long enough to get us closer to a point in time when the "Trump Put" can become more credible.
That's your narrative right there, folks. That's as "correct" an interpretation of the March hike as you're going to find.
Meanwhile, you'd better hope this works because as the following chart shows, we're now in the 91st percentile versus history when it comes to trading days since a 3%+ drawdown: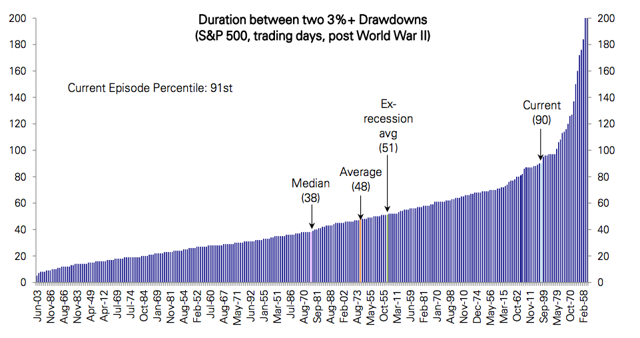 (Deutsche Bank)
Oh, and the buyback bid may be about to go into hibernation for a spell, because as Deutsche Bank wrote on Sunday, "heading into the Q1 earnings season, the pace of buybacks will slow as an increasing number of companies enter earnings blackout periods starting this week."
Which means, dear retail investor, that it's all up to you to keep the 2017 "flow show" going...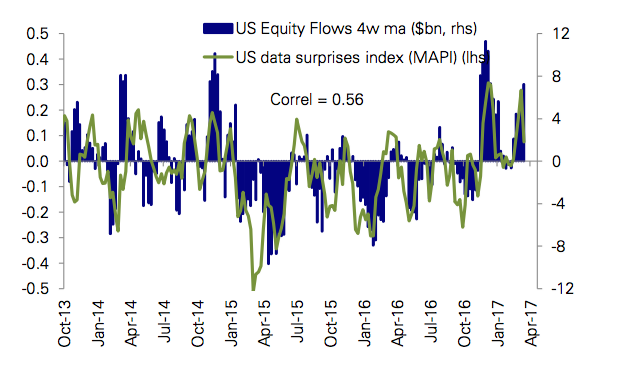 (Deutsche Bank)
Disclosure: I/we have no positions in any stocks mentioned, and no plans to initiate any positions within the next 72 hours.
I wrote this article myself, and it expresses my own opinions. I am not receiving compensation for it (other than from Seeking Alpha). I have no business relationship with any company whose stock is mentioned in this article.