If I could choose just one sector to invest in for the next 30 years, the consumer staples would be high on that list. Consumer staple companies are great because the products are naturally consumed over time leading to repeat sales. They also offer inflation protection over the long run.
General Mills (NYSE:GIS) has long been a staple in kitchens around the world. Some of the brands in their portfolio include Cheerios, Pillsbury, Green Giant, Yoplait, Nature Valley and many more. Over the years General Mills has grown into a company with a global reach generating around 40% of annual sales outside of the United States.
Dividend History
My primary investment focus is on dividend paying AND growing investments. I like capital gains, but I love getting cold, hard cash deposited to my account every month. As such, a company's dividend history is one of my first stops when analyzing a potential investment. Companies don't reach decades long dividend growth streaks on accident, rather it takes the combination of a defensible business model and a management that is committed to returning excess cash to shareholders.
According the CCC list, that David Fish so graciously updates and shares with everyone, General Mills is a Dividend Contender with 13 consecutive years of rising dividends. The following chart shows General Mills' dividend payouts since 1993. A full screen interactive version of the chart can be found here.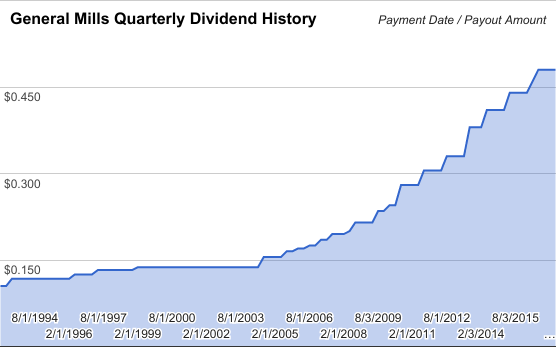 *Image Source: Author / Data Source: General Mills' Investor Relations
General Mills' dividend history isn't the cleanest that I've seen with periods of no dividend growth as well as an inconsistent increase schedule. However, the important thing in the chart is that the dividend has never been reduced. Not once.
It's easy to see from the chart that General Mills has grown their dividend payment; however, what's important is the dividend growth rate. If your goal is to use dividends to fund your lifestyle you want to make sure that dividend growth is at least matching the rate of inflation so you can maintain your purchasing power.
The following table shows the annual dividend, based on the calendar year, and the rolling 1-year, 3-year, 5-year and 10-year dividend growth rates from General Mills. A full screen interactive chart of the following table can be found here.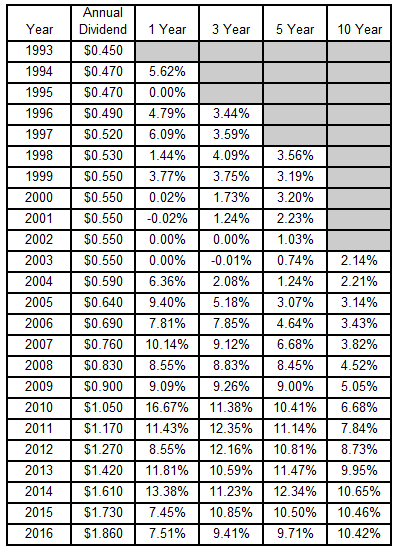 *Image Source: Author / Data Source: General Mills' Investor Relations
Quantitative Quality
If the dividend history checks out then my next step is to examine the cash flows in order to home in on a quality company. The cash flow statement is more transparent than the income statement and lets you know exactly how cash comes in and out of a business.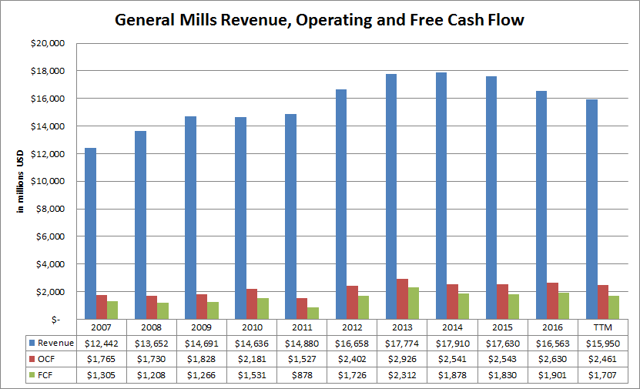 *Image Source: Author / Data Source: General Mills' SEC filings
General Mills has struggle to grow consistently grow revenues over the last decade. Since revenues peaked in 2014 they've declined every year since and the TTM period is signaling further declines. Despite the recent struggles, General Mills still managed to grow revenues by 33% from 2007 through 2016 or 3.2% per year.
Both operating and free cash flow have grown faster than revenues over the same time period meaning that General Mills is able to generate keep more of every dollar in revenue they bring in. Operating cash flow grew by 49% over the same period or 4.5% per year while free cash flow grew by 46% or 4.3% per year.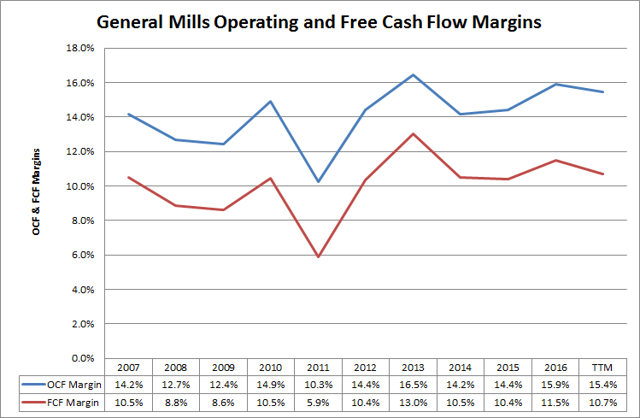 *Image Source: Author / Data Source: General Mills' SEC filings
One way to examine the profitability of a company is to use the cash flow margins. The cash flow margins are the amount of cash flow that a company generates per dollar of revenue the company brings in.
From above we saw that operating cash flow grew faster than revenue meaning that General Mills' operating cash flow margin had increased. General Mills' operating cash flow margin grew from 14.2% in 2007 to 15.9% in 2016, although the TTM period is showing a decline which is something to keep an eye on. Likewise, free cash flow margin has improved from a rather paltry 10.5% level in 2007 to 11.5% for 2016.
I like to see a free cash flow margin consistently above 10% as a sign of a very profitable enterprise. General Mills check this box off on my qualitative analysis.
Another way to view profitability is the free cash flow returns on both equity and invested capital. This is the excess cash that a company generates above and beyond that needed to maintain and grow the business for every dollar invested in the business. Coincidentally it's also the amount of cash that one could expect to receive if you owned the entire business. Ideally I want to see both of these over 10%.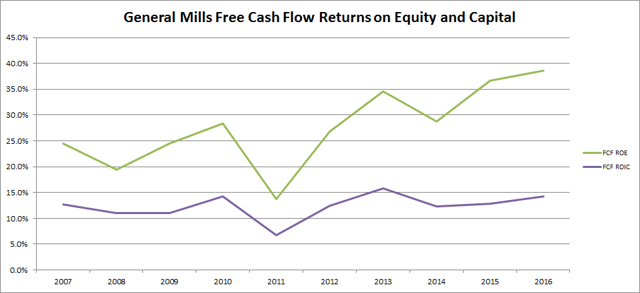 *Image Source: Author / Data Source: General Mills' SEC filings
Since General Mills' free cash flow has been increasing we see the free cash flow return on equity rising as well. However; a rise from ~25% to ~38% can't be accounted for by General Mills' free cash flow growth so a deeper look is necessary.
When we examine the balance sheet we see that General Mills' equity level has declined by just over 7% over the same period. The formula for FCF return on equity is FCF / Equity so a declining denominator leads to an increase ROE. As a shareholder that's not how you want to see the companies you own achieve higher ROE's.
Due to equity levels falling and debt levels rising, General Mills' balance sheet has deteriorated over time. In 2007 total debt accounted for 48% of the capital structure of the business compared to 63% for 2016.
For companies with a changing capital structure the free cash flow return on capital is a better measure of the profitability of the company. General Mills' FCF ROIC has still trended slightly higher from 12.7% in 2007 to 14.2% in 2016 and has remained above 10% for every year except 2011.
The best companies in the world generate excess cash above and beyond what is needed to maintain and grow the business. That's exactly what free cash flow is. The surplus cash can then be used to improve the balance sheet, invest in other grow ventures, acquire businesses, repurchase shares or pay a dividend to shareholders. In order to understand how General Mills uses its free cash flow, I look at 3 variations of the metric.
Free Cash Flow (NYSE:FCF) - The traditional calculation of operating cash flow less capital expenditures.
Free Cash Flow after Dividend ( FCFaD ) - FCF less total cash dividend payments.
Free Cash Flow after Dividend and Buybacks ( FCFaDB ) - FCFaD less net cash used on share repurchases.
These 3 variations allow me to see how General Mills allocates its excess cash flow and whether the company can internally fund the entire capital allocation process. Ideally companies will maintain positive FCFaDB since that would mean the business organically generates more cash than the company can use.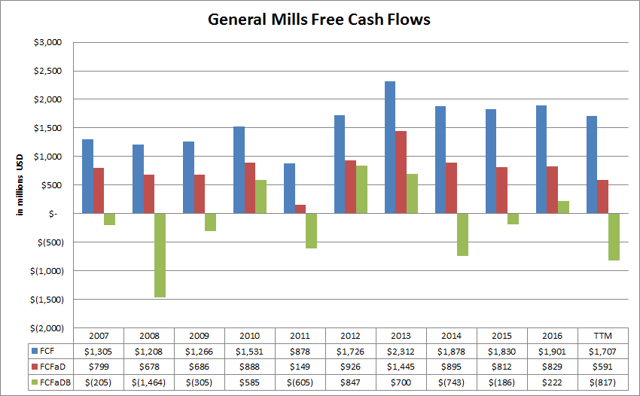 *Image Source: Author / Data Source: General Mills' SEC filings
Traditional free cash flow has been strong and with a general uptrend over time. That excess cash means that General Mills can move down the capital allocation chain with internally generated cash flow.
After paying and growing their dividend payment over time, General Mills has still maintained a positive FCFaD with ample coverage. The FCF payout ratio averaged 50.2% from 2007 to 2016 although it has increased to 65.4% for the TTM period. Positive FCFaD means there is room for General Mills to grow the dividend in the future as well as implement a share repurchase plan.
General Mills' FCFaDB is a bit uninspiring with negative FCFaDB in 6 of the last 10 years as well as the TTM period. Cumulatively, General Mills has spent $1.153 B more cash on share repurchases than the company had available from its operations. That partially explains the reason that long term debt has increased by $3.840 B over the same time.
The debt fueled share repurchases will have to come to an end barring a massive increase in General Mills' cash flow. Although management can still afford, based on the average of the last 3 years FCFaD, to repurchase ~$850 M in shares each year without having to access the capital markets.
What About The Valuation?
General Mills has long been a staple in the pantry as well as investors' portfolio's; however, no investment a buy at any valuation. One method that I like to use to determine whether an investment is a purchase candidate is the minimum acceptable rate of return analysis. This requires estimating the future earnings and dividends for a company, applying reasonable future valuations and determining if the return meets your minimum threshold.
On average, analysts expect General Mills to have earnings per share of $3.06 for the current fiscal year ending in May, $3.30 for the following fiscal year and to grow earnings over the next 5 years by 6.41% per year. I then assumed the following 5 year period would see earnings growth of 3.5% per year.
The annual dividend payment for the current fiscal year will be $1.92. Based on the mean earnings estimate the payout ratio would be 63% for the current fiscal year. I've assumed that General Mills will grow dividends at the same rate as earnings in order to maintain a constant payout ratio.
Assuming no major changes to the underlying business, the valuation should remain in a fairly steady range. As you can see in the following chart, General Mills' normalized P/E ratio has been on the rise over the last 10 years and is sitting near its highest levels. The long term average appears to be centered around the 17-18x level. Based on General Mills' growth profile my fair P/E valuation is slightly under 18x.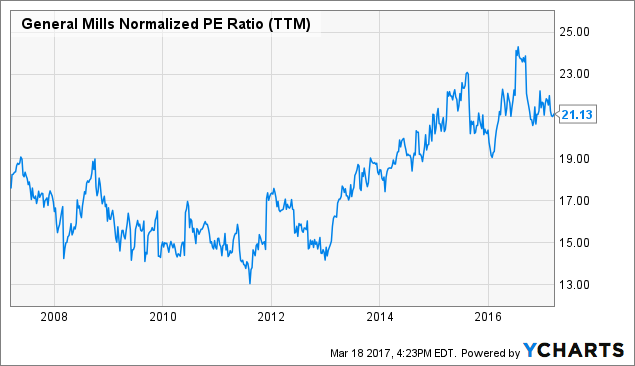 GIS Normalized PE Ratio (NYSE:TTM) data by YCharts
The following table shows the potential annualized returns that General Mills could generate with a purchase on March 20 at the current price of $60.66. Returns are calculated as internal rates of return through the end of calendar 2022 and calendar 2027 and include dividend payments.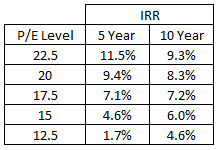 *Image Source: Author
Assuming that General Mills' earnings growth comes in around the levels forecast here, investors' return expectations are uninspiring. That's not to say that General Mills doesn't belong in portfolios because there's a lot to be said about a strong and steady company. However, annualized returns, including a current dividend yield of 3.16%, would account for nearly 50% of the returns if the valuation reverts back to the mean around 17.5x. That's due to the lofty current valuation and rather meager forecast growth.
Conclusion
General Mills' is one of the most successful companies in the history of the United States and their 100+ year dividend payment history is proof of that. Few companies have been around in some form for that long, let alone paid dividends. It's a high quality company that deserves a spot in your portfolio largely due to it's steady and consistent nature as well as their global reach to a rising consumer class.
Investors at today's prices shouldn't expect to see much capital appreciation from an investment in General Mills, although I doubt that is the primary reason to invest there. The reason you invest in General Mills is because you know that no matter what the next recession/global financial calamity, General Mills will still be standing on the other side.
In my opinion today's valuations are a fair price for those that are in or closer to retirement and drawing on their dividends. For younger investors there is a time to invest in General Mills, but now is not it. I personally wouldn't be interested in adding to my position until the share price declines to the low $50's or upper $40's. At that price the current yield would rise to 3.97% and the return expectations would be 10% per year with a future valuation in the 17.5x range.
Disclosure: I am/we are long GIS.
I wrote this article myself, and it expresses my own opinions. I am not receiving compensation for it (other than from Seeking Alpha). I have no business relationship with any company whose stock is mentioned in this article.
Additional disclosure: I am not a financial professional. Please consult an investment advisor and do your own due diligence prior to investing. Investing involves risks. All thoughts/ideas presented in this article are the opinions of the author and should not be taken as investment advice.