Thesis
Boring industries and small-capitalization stocks are two things that are very rarely found together. If you search the ranks of the hottest or most promising small-cap stocks, you will find mostly technology and biotech.
So, when I stumbled upon Fuling Global (NASDAQ:FORK), a Chinese manufacturer of plastic cutlery, plates, cups, straws, and similar products, the valuation and growth rate made me both suspicious and excited at first glance.
Upon more investigation, I really liked the company and felt the market was underpricing the risks inherent in the company. Let's take a look at what I found.
Company Overview

As mentioned, Fuling Global is a manufacturer and distributor of plastic products primarily serving the fast food and quick service restaurant segment. The company has some global diversification, with exposure to Europe and China, but the US is 90% of its revenue.
This is the type of industry many great investors have told us we should be investing in, but many of us still love chasing tech stocks or other overpriced "junk" like Snap (NYSE:SNAP).
The great Peter Lynch, in his book One Up On Wall Street, said some of the best businesses are in dull industries that analysts and money managers dislike, such as rock pits, funeral home services, and emptying grease traps from restaurants and gas stations.
Fuling Global has production facilities in China and the US. Since it is a small, relatively unknown Chinese company, I took the extra step to Google Earth its US factory and to see if it actually exists. I would never need to do this with a 3M (NYSE:MMM) or GE (NYSE:GE) facility, but it can't hurt and takes no time at all.
Here's what it looks like.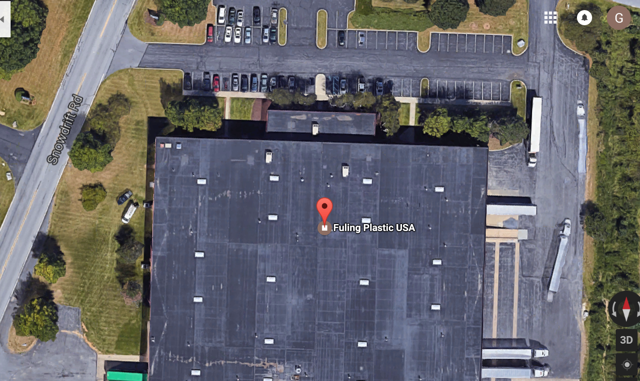 As far as I can tell, everything looks normal. Fuling Plastic USA is one of the company's subsidiaries and is listed in its 10-K. It looks like a real factory with cars parked and trucks coming and going, but that is about all you can see.
Product-wise, it is focused mostly on silverware and packaging. Its customer list is very impressive for a small company. Among the big QSR brands the company supplies are Subway, Burger King (NYSE:QSR), and more. Another top client is Wal-Mart (NYSE:WMT).
Many of these brands use Fuling for part of their needs or for only certain products, as can be seen below. This gives the company an opportunity to expand its existing customer relations to drive more revenue.

(Source: Fuling 2016 10-K)
Clearly, the big one missing is McDonald's(NYSE:MCD), which may be the sixth of the top six largest fast food restaurants chains the company mentions above.
Fuling lists in its 2016 10-K that its primary major competitors in the US are Dart Corporation, maker of the famous Solo cups, Reynolds Group/Pactiv, and Georgia-Pacific.
All three of these companies are privately held, and therefore, difficult to get information on. Many also have a variety of other businesses and are not solely focused on QSR plastic and dinnerware needs like Fuling is. Georgia-Pacific, for example, makes napkins, towels, soap dispensers, and other items for its food service customers, in addition to cutlery and cups as well as building supplies and paper products not related to restaurants.
Fuling may not yet have the scale and scope to supply McDonald's yet, but the potential still exists to nab other very large customers or at least part of their business, such as McDonald's Chinese operations.
Fuling seems like a small company, but is already one of the world leaders in terms of cutlery, cups, and straws for QSR chains. Its competitive advantages are that it has a number of patents for its products, including a strong presence in the area of environmentally friendly products.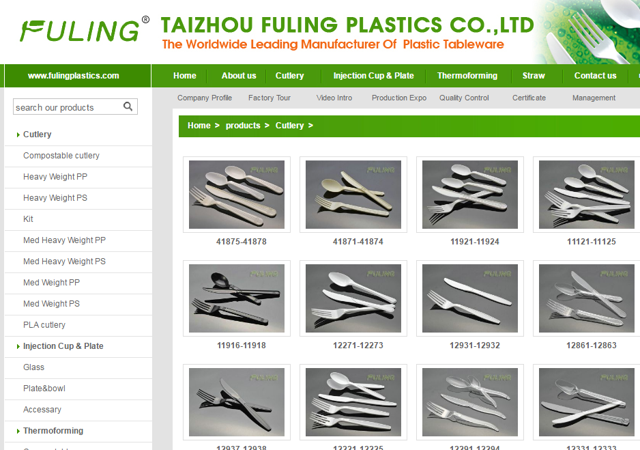 The company also has a unique combination of US and Chinese production which can help it move quickly to meet market demand with its US factory, but also be a low-cost producer.
Lastly, Fuling has a clear focus on technology and innovation, which can be seen by its increased R&D spending to create new environmentally friendly products, and it has also updated its factories to remain cutting-edge. The company cites that it spent $10 million on R&D from 2012 to 2016. That is 21% of the current market cap over 4 years.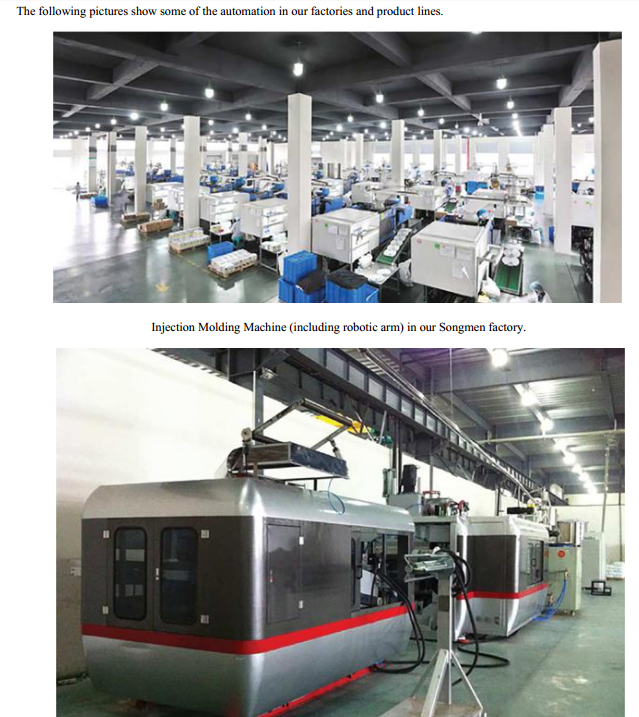 Positives
Chief among the positives and catalysts for Fuling is revenue growth. The company just released Q4 and full-year 2016 results today, so we now have some good year-over-year numbers to look at.
On a Q4 to Q4 comparison basis, revenue grew 37.1%, from $23.1 million to $31.8 million.
Total Sales Volume increased 40.6% in the quarter.
Year-over-year growth was strong, but slower at 14.9%.
The story gets a little more murky when you dive further down the income statement. Fuling's operating income was down slightly year over year, while net income was roughly flat at a 1% decline.
A positive that I was looking for and found in this quarter's materials was a comment on improved pricing.
It is a common misconception that many companies which produce an oil-based product or count crude oil or its derivatives as one of their key raw materials make gangbuster profits when crude crashed as it did a few years ago.
In reality, the oil decline hurt Fuling's pricing substantially as many of its customers actually demanded lower prices; in fact, new business was brought in at a lower pricing rate. These price declines can overshadow any raw material savings it sees.
This quarter, the company commented that gross margin shrank due to rising oil prices, which resulted in higher raw material costs. Along with that, Fuling indicated it may take a quarter or two to raise prices to compensate, or at least that is typically how long it takes.
Look for gross margins to recover going forward if crude remains in a stabilized range and Fuling can push through some modest price increases to catch up with its increased raw material costs.
That being said, despite a 1.8% decline in gross margin year over year, gross profit increased 6.7%.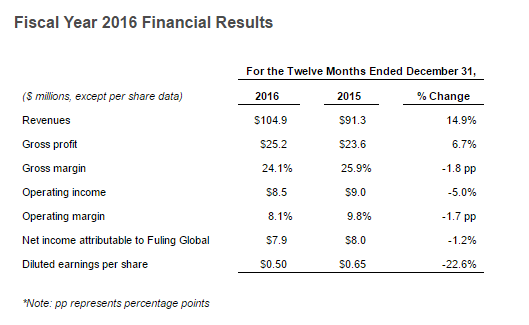 (Source: Fuling Global Q4 release)
Looking deeper into the income statement, we can see that the EPS decline was chiefly due to a $2 million foreign currency hit and also a $3 million increase in outstanding shares.
The share count increase is solely due to Fuling's IPO, which gave the company much-needed capital to expand its factories both here in the US and for its ongoing construction of a fourth factory in China.
Management noted in the press release today that the company:
"couldn't produce enough to meet growing demand for our products in recent months due to capacity constraint, our new fourth factory in China is well underway with its construction to be completed by end of this month and production to commence in April."

(Source: Fuling IR)
That is a very bullish statement and makes me feel confident that Fuling is expanding because demand dictates it, and that the company is not building new production hoping it can sell it.
Risks
Every company has risks, and Fuling Global is no different. A major short-term risk is that should oil continue to edge back down, it could prevent Fuling from raising prices and might force the company back into a tough environment that it faced a few quarters ago with oil in the $20s and $30s. This depends on factors the company can in no way control, such as OPEC compliance and US production.
The next risks are related to investing in a company of this size. At a current market cap of $48.77 million, Fuling Global is not small in terms of businesses generally, but in terms of public companies, it is incredibly miniscule. No institutions own the stock, and there is no analyst coverage. This can be a good opportunity for alpha or a very bad thing, depending on your perspective.
Fuling does not hold a conference call, and there are very little news or events surrounding the company outside of its quarterly filings.
The next risk is related to its structure and the fact that it is a Chinese company.
The Chinese reverse merger scams and other wacky schemes have calmed down, thankfully, but Chinese companies still retain a reputation as opaque, unreliable, and almost uninvestable. Many investors know that China is a much different social, economic, and political landscape than the US.
Fuling also has a less than straightforward structure. I mentioned above that it is a Chinese company, because essentially it is, but technically, the publicly traded entity is in the Cayman Islands.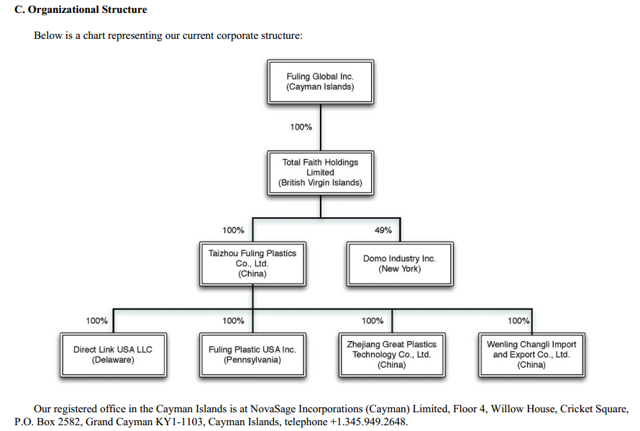 (Source: Fuling 2016 10-K)
I am by no means an international business structure expert, and can merely assume the company chose such a structure due to regulations in some country or another. I know there are rules about foreign ownership of Chinese companies and the limits therein, so that may be why the listed company is technically in the Caymans.
Throughout the filings, you might also find mentions of various other entities that some directors, management, or their family own shares through. These can be intimidating, but if the 10-K information is to be believed, management still owns over half the company.

(Source: Fuling 2016 10-K)
I consider this a very strong ownership percentage, especially comparing it to companies generally. I see many large and small companies with insider ownership under 10%. This could be a risk, again, depending on your perspective, as multiple insiders dumping simultaneously could drive the stock down without any retail investors knowing what is going on given the lack of attention paid to the company.
The stock's liquidity is also very low as a result of all these factors combined. My broker has the 90-day average daily volume at just 13,300 shares.
Valuation
Fuling Global trades at $3.10 at the time of writing. Against $.50 of earnings, the company has a P/E of 6.2. I hardly need to tell most readers that the S&P 500 (NYSEARCA:SPY) is up above 20 at this moment using past earnings, and a few points lower if using forward earnings.
When I first researched and started purchasing the stock, it traded at $2.55. At that level, the company's market cap was less than its current assets on the balance sheet.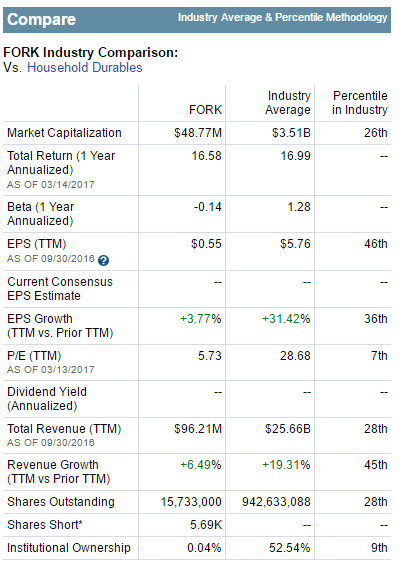 Fuling Global has substantial liabilities, so it was not less than book value or anything like that, but still a valuation metric that I hardly see in any company I examine.
The current valuation still seems compelling given its clear growth trajectory and revenue strength. This trajectory is due to factory expansion completing in the next fiscal year, which will continue to drive sales higher and meet the demand that management said exists but the company could not fulfill.
Net income declining year over year may spook some investors, but I can clearly see how in the near future net income will move in step with revenue as certain charges like increased taxes, spending on new facilities and production ramp-up, and the like will even out over time.
At the end of the day, if Fuling Global cannot sell as much product as its customers demand, as long as its pricing remains firm so that margins hold up, it is easy to see profit increasing upwards alongside revenue.
Whether you think the stock should be three times as cheap as the S&P 500 given the company's size, structure, and short history is debatable, but personally, I am comfortable with the risks given the very cheap valuation.
It is hard to say what level the company should trade at. I think what is clear, however, is that lack of institutional ownership and coverage has allowed the stock to float along with perhaps inaccurate pricing - a rare thing to see in today's hyper-efficient markets.
Conclusion
Fuling is clearly a risky stock, but growth stocks are rarely priced like a no-growth, 100-year-old business that has seen better days.
A rock-bottom valuation, boring and low-tech innovation industry, low institutional ownership, and 14% revenue growth rate with a clear growth path and with a new factory under construction, Fuling has many elements for a possible small-cap winner.
This article is part of Seeking Alpha PRO. PRO members receive exclusive access to Seeking Alpha's best ideas and professional tools to fully leverage the platform.
Disclosure: I am/we are long FORK, MMM.
I wrote this article myself, and it expresses my own opinions. I am not receiving compensation for it (other than from Seeking Alpha). I have no business relationship with any company whose stock is mentioned in this article.
Editor's Note: This article covers one or more stocks trading at less than $1 per share and/or with less than a $100 million market cap. Please be aware of the risks associated with these stocks.