This is an update to my February 22, 2017 SA article, "Ackman Investment Performance Still Horrible – Pershing Square at Risk," published on the SA PSHZF board.
The Numbers: It's ALWAYS About the Numbers
The sine qua nom of professional money management is investment performance. Excellent performance is professional money managers' manufactured product; if the product is not significantly above an individual manager's benchmark, there is simply no reason for that money manager to have clients or to exist as a business.
Current and prospective Limited Partners only care about investment performance numbers. They hire or stay with a money manager – especially a high-priced hedge fund manager – because they believe the money manager will produce investment returns that surpass his benchmark. In Ackman's case, his acknowledged benchmark is the S&P 500.
Professional institutional investors understand market and manager cycles and are usually willing to give their managers some leeway. The least patient will give managers two years to do their thing and the most patient will allow five years, but the typical institutional client expects his managers to outperform in every 3 or 4-year cycle. In Ackman's case, there is no negative adjective strong enough to describe his investment performance over the last 4 plus years. And, just as you thought things couldn't get worse – they did.
Using Pershing Square Holdings (OTCPK:PSHZF) publicly reported numbers as a proxy for all his funds, here are the numbers. If you are an Ackman client, or a consultant who recommended Ackman, read 'em and weep…
Average Annual Compound Return
4 Years, Ending Dec 30, 2016
S&P 500 + 14.3%
Ackman + 1.4%
2017, Year to Date, Through March 14 (most recent PSHZF public NAV report)
S&P 500 + 5.7%
Ackman - 2.1%
Ackman's Performance vs. S&P 500 Benchmark
4 Years, Compounded: (12.9)% PER YEAR
Year-to Date, 2017: (7.8)%
There's not a lot more to say about his numbers. They speak for themselves.
Ackman is Raising Lots of Cash
Unless you've been on a desert island with no communications you know that Bill Ackman finally sold out of Valeant (NYSE:VRX). It was clearly a distress sale. Reportedly, his sale price was in the $11-$12 range. His sale is against an average purchase price just under $200, and the sale price was at a decade-long low.
Even though VRX is possibly one of the all-time worst investments by a major hedge fund (in the same category as Enron) and even though Ackman has been defending the company and the stock repeatedly for a couple of years, and even though the only real way to describe his investment in VRX is absolute failure, Ackman can't avoid letting his arrogance show through. His Press Release announcing the VRX sale is nearly 100% focused on what he believes he accomplished for the company.
He says he was responsible for "…important steps to stabilize Valeant and position it for the future," and then he lists those accomplishments. Does he truly believe that anyone anywhere cares about what he says are the great things he says he did for the company? He managed to lose what some reports put at $4 BILLION of clients' money on the trade. Does he really think he has a single client who cares about anything except how he managed to make their money evaporate?
Other sales in the past year include (in no particular order) Canadian Pacific (CP), Zoetis (ZTS), part of Mondelez (MDLZ), part of Air Products (APD) and part of Platform Specialty Products (PAH). Recently, he filed to sell his Chipotle Mexican Grill (CMG), but at the same time, he said he had no current plan to sell.
Ackman had a logical reason he sold his various positions. He sold CP to harvest huge gains. He sold half his MDLZ because he said it was an outsize position and he needed to sell it to balance his portfolio. (A note to that one is that MDLZ did not become an outsize position because it had done so well – in fact it's been a significant underperformer since he bought it – but rather because the bulk of the rest of his portfolio went down when MDLZ stayed more or less flat).
He said he sold APD because Pershing Square V, a special purpose fund specifically launched to buy only APD, was nearing the end of its pre-determined life span. I can't find anything where he publicly said why he sold ZTS, except we know it was an activist investment that basically went nowhere. In his January 2016 update letter, Ackman acknowledged he had made a big mistake buying PAH, so it was no surprise when he unloaded some of it in Q4:2016.
He said he sold VRX to recognize tax losses for his domestic taxable limited partners. That sounded especially strange to me. The vast bulk of his clients are tax-exempt institutions who are not subject to taxes on realized gains and don't benefit from tax write-offs for realized losses. Plus, who does tax-loss selling in March vs. sometime in Q4?
Over the last couple of years, until he sold VRX last week, he was busy selling some or all of his biggest winners while he was holding onto his two most visible losers – VRX and his HLF short. Conventional portfolio management wisdom has always been to sell your losers and let your profits run. For the most part, Ackman has been doing the opposite.
WHY is Ackman Raising Cash?
The positive view of these sales is that Ackman is raising cash to buy a large stake in his next target company. He says he's already made a small investment in that yet-to-be-disclosed stock.
The negative view of these sales is that Ackman needs cash to pay redeeming limited partners. I believe that is what's happening.
As I detailed in my previous report, I believe Pershing Square is imploding. I also presented an analysis of my beliefs about the size of his undisclosed recent redemptions and a forecast of future redemptions. If my estimates and forecasts for Pershing Square redemptions are even close to correct, Ackman clearly needs the cash to pay redeeming shareholders.
And, it is important to note that he is very unlikely to have 100% of the proceeds of those sales available to pay departing limited partners. That's because 40-50% of the overall positions he sold would have been in PSHZF, and the cash in the closed-end PSHZF can't be used to pay redemptions in his domestic portfolios.
Now, it's possible that Ackman sold a disproportionate number of shares in his domestic portfolios vs. PSHZ to have a larger proportion of his cash available for domestic redemptions, but that possibility is unlikely, as the offering documents for PSHZF require him to closely match his domestic funds' positions. Having said that, if he is, in fact, just building cash to make another large investment, he would be using the cash in domestic portfolios as well as PSHZF to do that.
Ackman's Marital Situation – and Why it Matters
As anyone who reads the gossip columns in NY knows, Ackman is in the middle of a very messy divorce with his wife of more than 20 years. There is apparently no pre-nup, both have hired high-priced powerful lawyers and there is a lot of money, real estate and other assets at stake. Some speculations put Ackman's fortune at $1.6 billion. If his wife wants half, there is no pre-nup that says otherwise.
In all the years I've read high-end investment research, I can't remember ever reading speculation about why an individual's marital problems might affect an investment. Normally, Ackman's marital situation wouldn't be part of an analysis of Pershing Square. But, there is nothing "normal" about Ackman or Pershing Square.
Pershing Square is Ackman and Ackman is Pershing Square. Anything that distracts Ackman will have a significant negative impact on his ability to do his job as sole portfolio manager, primary client relationship person and owner of Pershing Square with the responsibility to do whatever needs to be done to fix investment performance and save his company.
So, I'm going to list a few of the known facts about Ackman's personal situation to show how his divorce battle will almost certainly be an overwhelming time sink. First, both spouses hired high-powered attorneys. There is no pre-nup and it's hard to believe that Ackman will willingly say, "Just take half" or that his wife will settle for some much smaller number than half. By all reports, Ackman's $1.6 billion is spread out over an amazing array of illiquid assets, including some of the most expensive real estate in the world – reportedly, he owns some of NY's most expensive residential real estate that he doesn't even occupy.
The bulk of his liquid assets are reportedly in his own Pershing Square funds, and he is under contract not to take the money out. The forensic accounting alone will cost millions and take an enormous amount of time to sort out. The situation will be a huge drain on his relationship with his children. The situation will take an enormous amount of Ackman's time and maybe even more of his emotional energy.
I want to add a personal note to this. Divorce is horrible and it is no fun and I take no pleasure out of doing any research on or writing about it. I write about it only because Ackman has almost no supporting cast when it comes to making every single decision about his stocks or his company. When times are tough, as they are now, he's the only one who can try to turn around his investment performance and save his company. Even for a Superman like Ackman, that is more than a full time job and any distraction reduces the odds he'll succeed.
The Lawsuit – Allergan Shareholders vs. Valeant and Pershing Square
Pershing Square is co-defendant in a lawsuit that is a potentially huge liability. Allergan (NYSE:AGN) shareholders are suing Valeant, Pershing Square and Bill Ackman personally. Here are the allegations...
"In a company press release, Allergan says it decided to file the lawsuit in order to ensure that all of its stockholders have the opportunity to make decisions regarding their investment in the company based on compliant, full and fair disclosures, and to ensure that any stockholders voting on corporate matters acquired their shares in accordance with the law.

Specifically, the complaint alleges that between February 2014 and April 2014, Pershing Square purchased Allergan stock and securities then valued at over $3.2 billion from unknowing stockholders while fully aware of Valeant's nonpublic takeover intentions, thereby securing for itself and depriving the selling stockholders of value appreciation worth approximately $1.2 billion upon Valeant's announcement of its initial offer on April 22, 2014."
Last week a California judge allowed the suit to go forward and certified it as a class action. Ackman and Valeant are taking the suit seriously enough that they entered a legal defense agreement. Last month Pershing Square and Valeant agreed to split $10 million in legal costs. Also as part of the agreement, Valeant agreed to pay 60 percent of any settlement, and Pershing Square agreed to pay 40%. What's interesting is I can't find any disclosure that defines whether it will be Ackman's clients, Pershing Square or Ackman personally that ends up being responsible for the money.
It is also not clear whether any part of the potential liability is covered by D&O or other insurance. If you've ever been around litigation, it is easy to speculate that there is likely to be even more litigation, this time intra-mural lawsuits with Ackman, Pershing Square, Ackman's clients and the insurance companies all fighting to see which parties have to actually foot the legal bills and any settlements.
What Does it All Mean for Ackman's Stocks?
Caveats:
Other than HLF, I do not follow nor do I have analytical opinions on the stocks in Ackman's portfolio. I am now highly confident that his domestic funds will close at year-end or sooner. Although technically he's not required to close PSHZF, I believe he will close that, too. The commentary that follows is based on the proposition that my analysis is correct, Ackman will continue to be forced into raising cash to pay redemptions and it might be possible to either make money directly or hedge other holdings by trading against him. If you disagree with any of that, the following will not likely be useful.
Ackman's January 2016 Annual Shareholders Letter had several pages of excuses for his 2015 performance. One especially interesting section of that was titled, "The Pershing Square Correlation." I quoted that section, in its entirety, in my previous PSHZF article and you can find it on Pershing Square Holdings' website.
Among Ackman's excuses for bad performance, he blamed other hedge funds trading against his stocks, Pershing Square "followers" getting out ahead of him or index funds that don't recognize the values he sees in his stocks. I think all of that is right, and now that Ackman and Pershing Square are in even worse shape, I think the impact of the factors he listed will be bigger.
Here is some data about Ackman's stocks that might help in creating a shopping list of stocks to use to trade against him. Let's call it the "Anti-Ackman Portfolio."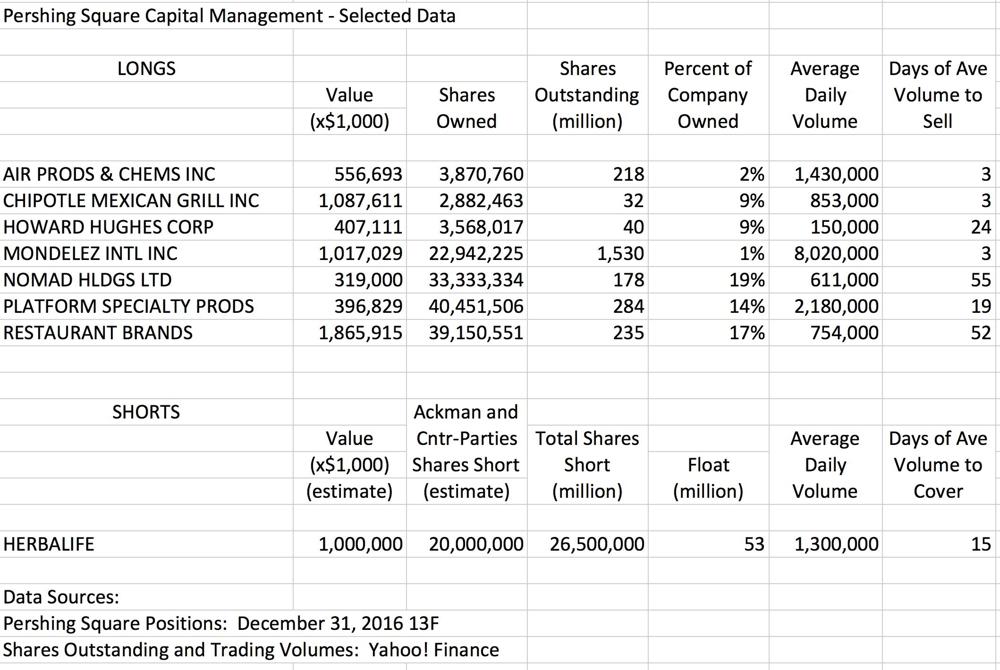 Using the Data to Create an Anti-Ackman Portfolio
The place to start is the last column, Days of Average Volume to Sell All or Days of Average Volume to Cover. That gives an indication of how difficult it will be for Ackman to sell a particular stock. The larger the number, the less liquidity he has compared to the size of his position.
By that measure, if he chooses to do it, he has plenty of liquidity to sell more or less his entire position with no trouble in APD, CMG and MDLZ.
I was startled to see Restaurant Brands (QSR) at the top of the shopping list for an Anti-Ackman portfolio. QSR is Ackman's largest position, at around 1/3 of his total portfolio. He has a huge unrealized profit in the stock. Its market cap is over $12 billion. Ackman's problem is that his position is about $2 billion but the stock trades less $50 million a day. The stock has very little liquidity and if Ackman should choose or be forced to sell, he will have a hard time. His position is more than 50 days volume.
Nomad (NOMD) is an interesting target for the shopping list for an A-A Portfolio. It's a small position for Ackman at only $400 million at year-end and it will take 55 days of volume to sell his entire position. And, Ackman already sold a small piece in the 4th quarter. Trading volumes are usually very low. On the other hand (there is always "another hand" in the stock market!), the stock had exceptionally high volume over the four days from Nov 29 and Dec 2, 2016 when an aggregate of 22 million shares traded right at the stock's interim low of $9.
Howard Hughes (HHC) is another interesting target. Ackman owns 24 trading days of the stock and the average volume doesn't vary that much. He has huge long-term profits in the stock, but at the current market, it is only about a $425 million position. In the pre-2013 era, it was a meaningful position, but as Ackman added massive numbers of new clients and AUM in 2013 and 2014, he didn't increase his HHC position, so it has a much smaller impact now. It's probably just as well; the stock peaked in late 2014 and early 2015 just under $160 and is now $119. Ackman might want to sell HHC, but it will not be an easy out.
Ackman sold a small part of his Platform Specialty (PAH) position in Q4:2016. In his January 2016 Annual Investor Letter, Ackman referred to PAH by saying, "Our most glaring, albeit small, unforced error was buying additional stock in Platform Specialty Products at $25 per share…"
PAH was horrible for most of 2016, but, after bouncing off a $7 low in October 2016, it has subsequently nearly doubled to $13, although still down about 50% from his most recent purchase. He still owns 19 trading days of the stock. The "on the other hand" here is that the stock has been in a powerful bull move since October. But it would definitely be on a shopping list for an Anti-Ackman trade.
Because I know more about Herbalife (HLF) than I know about Ackman's other stocks, I'll expand on the commentary here. First, a little gallows humor... Ackman almost got it right on his HLF and VRX trades; the problem is he got his BUY and SELL SHORT tickets mixed up.
HLF could be the best or worst of stocks in an Anti-Ackman Portfolio. Ackman doesn't have to report his position, but there are some clues. His January 2017 Annual Investor Letter says his position is about 9% of the $11 billion portfolio, or about $1 billion. It's a fair guess that between his direct holdings and various counterparties, his short position is about 20 million of the 26 million shares sold short. Reports say his average realization is now around $30.
Presumably that takes into account what is at least $100 million and possibly much more than he has spent both trying to put the company out of business as well as losing premiums from options he is continuing to roll over. With his average realization reportedly about $30 and the current price of about $55, he has probably lost about $1/2 Billion of his clients' money on HLF. Behind Valeant, it has been his worst and most visible stock over the past couple of years.
HLF may or may not be a good candidate for an A-A shopping list. The stock trades at a large volume for the size of its market cap. At about 1.3 million shares/day, in theory, Ackman's short is 15 days of trading. The total short interest ratio is 20 days. The potential problem for Ackman is the stock's ownership structure. Icahn and insiders together own about 35% of the shares and index funds own another 5%. And large institutions own the bulk of the share balance.
Reported ownership is over 100% of shares outstanding, reflecting the huge short position. In other words, although the volume seems to be there for Ackman to get liquidity if he wants it, the reality is that if there was even a whisper he was trying to cover, he and his counterparties and any other non-Ackman shorts would find it extremely difficult to find the borrowed shares they'd need to return, except at much higher prices. And, of course, there are no secrets on Wall Street, especially when it comes to Ackman. Those are the classic conditions for a massive short squeeze.
Ever since Ackman first launched his attack on HLF with the promise the stock would go to zero, there have been at least a dozen different themes about why the stock would be a great short. The latest is that the FTC's recent action will be fully implemented in May and subsequently the company's sales, earnings and other fundamentals will fall apart and the stock will collapse.
They may be right. The other element of the HLF short case is the shorts on this board believe Icahn is or will be under more pressure to sell than Ackman will be to buy. This article is about the technical factors that might affect the stock going forward. If you believe the shorts' fundamental case, the technical factors might not matter.
My own belief is that time is running out on Ackman, the market knows it and the shorts' strongest hopes and beliefs will not come to pass. I think it is a perfect candidate to be part of a shopping list for an Anti-Ackman portfolio. As always, make your own judgments.
Ackman's Current Circumstances – in Summary
So, here is Ackman's current situation. Pershing Square is on the ropes, and as I've now said many times, I am almost sure it won't survive. Excellent investment performance is the only reason any professional money manager has for being in business, and Ackman's is horrible in the long run and is getting worse in the short run. Ackman has a personal issue that will be almost all consuming personally and emotionally.
He is the defendant in a corporate class action lawsuit with potentially huge negative ramifications. He might end up in one or more intra-mural lawsuits fighting about who actually pays the Allergan lawsuit defense and settlement bills.
How does he spend his days in 2017? It is likely his clients are calling him constantly, complaining about performance and wondering what he is going to do about it. He is almost certainly dealing with large and growing redemptions and will need to travel all over the country to try to save clients from defecting. He will have a gazillion meetings: board meetings, investment meetings, corporate strategy meetings, meetings with colleagues about the future of the firm, client meetings, what will seem to be an unending string of meetings with lawyers on at least two and maybe more separate issues and a phalanx of other meetings.
Will he still do press interviews? He will be trying to spend as much time with his family as he possibly can. He will be spending so much time and huge amounts of money defending his assets in his divorce, defending his actions in the Allergan shareholder class action and possibly litigating with his clients and insurance companies that he will wish he had never heard the word "Lawyer." Any "Bill time" – his tennis, travel, charity dinners, etc. – has probably already disappeared.
Ackman's circumstances are not good signs for his limited partner investors who depend on him to be a full time portfolio manager, which, in the best of times, pretty much takes 100% focus. And they are not good signs for his colleagues who depend on him to save the firm and their jobs. I'm sure that if any of them could leave to join another hedge fund, they would. But, it is awfully hard to move when you are personally tarnished with one of the worst investment records in the industry.
2017 will not be a good year for Bill Ackman.
Disclosure: I am/we are long HLF.
I wrote this article myself, and it expresses my own opinions. I am not receiving compensation for it (other than from Seeking Alpha). I have no business relationship with any company whose stock is mentioned in this article.
Additional disclosure: Other than HLF, I am not invested in any stocks mentioned in this article. However, I might trade long or short in any of those stocks at any time.