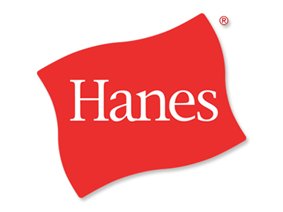 Source: Google Images
Overview
Over the past month, there have been several articles on Hanesbrands Inc. (NYSE:HBI) providing investors with mixed views. These views have primarily ranged from subdued optimism to outright aggressive negativity.
The subdued optimism has been affected by uncertain trade policies, slower growth fears as well as customer mix challenges. The most recent article was focused on shorting the company, with catalysts including declining margins, slower sales, increasing commodity prices and retailer pricing pressure.
I am a firm believer in the continued progression of e-commerce and omnichannel consumer preference and options going forward. Everyone is aware of Amazon.com's (NASDAQ:AMZN) e-commerce dominance. Wal-Mart Stores (NYSE:WMT) has acquired five e-commerce companies this past year alone.
But there will always be many consumers who will go to physical retail stores to shop and purchase goods. E-commerce has been a disruptor by growing market share at the expense of physical retail sales. As e-commerce matures, it will grow at a more moderate pace. For the time being, it will continue to grow at a faster rate than traditional retail.
I am long Amazon.com for these reasons, but I have recently added two traditional retailers to my portfolio, including V.F. Corporation (NYSE:VFC) and Hanesbrands. Both have been added for similar reasons, as they own very strong marketable global brands. And both have been beaten down over the past couple of years and pay solid dividends.
In the case of Hanesbrands, the focus of the business is on global innerwear and activewear. These are both areas which will continue to increase in sales globally over the long term as economic cycles ebb and flow.
As e-commerce and omnichannel purchase opportunities increase and adjust, a company like Hanesbrands will need to adapt, to remain in its dominant market leading position. This will involve growing with e-commerce and providing customer needs for omnichannel purchases.
From this perspective, the company is truly in the same boat as many physical retailers. Successful physical retail companies will need to go through the growing pains of finding the "sweet spot" for maintaining cash flow positive physical stores and meeting the demand for e-commerce growth.
Hanesbrands' model moving forward is to maximize these initiatives, and to continue to reduce costs and utilize acquisitions to facilitate global growth of the business. There remain tremendous opportunities for the company if they can execute on these strategies.
Business Drivers
Last year, Hanesbrands acquired 100-percent of Pacific Brands Limited (Hanes Australia) for $800 million. Thus, the international operating segment has increased from around 20 to 30 percent of net sales. As such, key business drivers will focus on the U.S. market.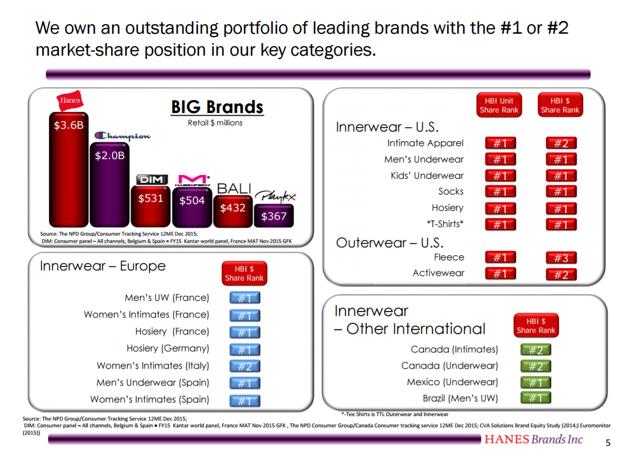 Source: Hanesbrands Investor Presentation February 2016
Hanesbrands has a very strong position in the U.S. and globally within certain geographies. As of the December 2016 fourth quarter, nearly 70 percent of all net sales were from the U.S. Management guided that this split between U.S. and global sales would be similar for 2017.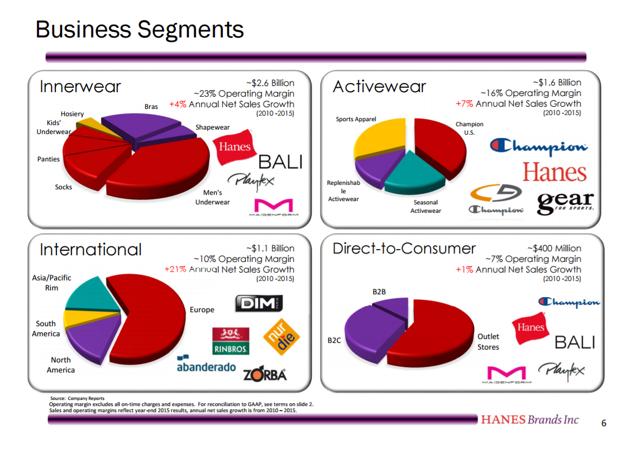 Source: Hanesbrands Investor Presentation February 2016
Overall, Hanesbrands retail stores have performed well considering the challenging environment where many physical retailers have witnessed substantial store closures. Outlet stores have not fared as well, but growth for online sales have been robust, tracking overall e-commerce sales growth. Online sales across all channels reflected 11 percent for the U.S. International sales were buoyed by last year's Hanes Australia deal.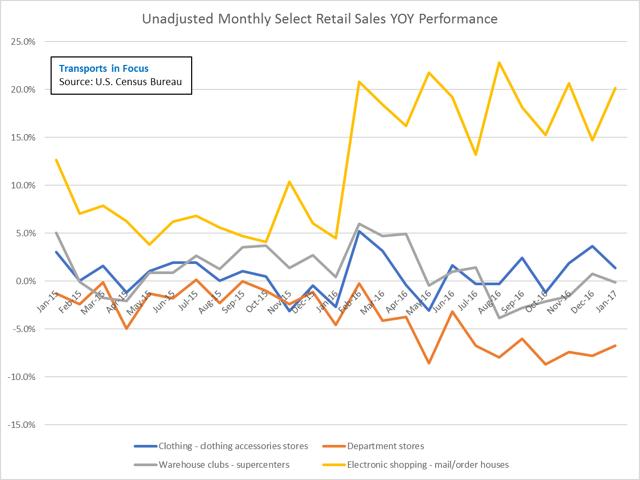 To highlight this, not all retail sales numbers have been equal. Department stores have witnessed the most severe impacts, with year-over-year sales performance being negative over the past two years. This trend intensified during 2016. Macy's Inc. (NYSE:M) was a prime example of integrating a major restructuring to focus more on e-commerce sales.
Similarly, warehouse clubs, Wal-Mart being the largest, have also witnessed a declining performance trend for 2016. Recently, this has dipped below the performance of clothing and clothing accessories stores. Companies like V.F. Corporation and Hanesbrands have still struggled to generate positive net sales growth in the U.S. ULTA Beauty (NASDAQ:ULTA) and other newer physical stores have carried the weight for sales growth.
The clear leader has continued to be e-commerce sales as evidenced by the electronic shipping and mail/order house performance. 2015's performance was moderately higher and growth for 2016 has accelerated, partly due to physical retailers shifting focus.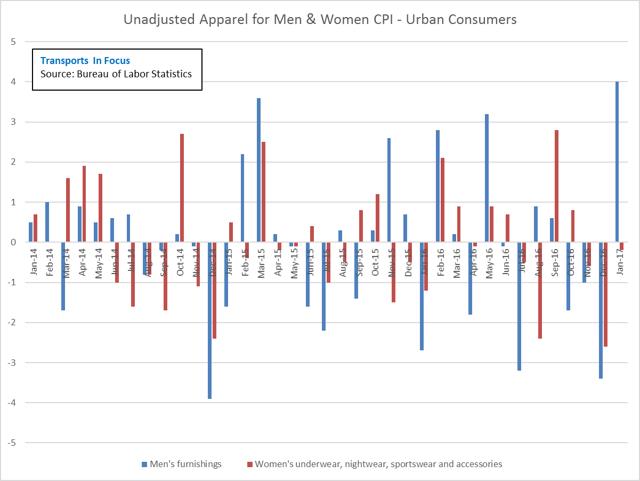 Another primary factor for investors to consider is inflation as evidenced by the Consumer Price Index (CPI). There are two categories for men, women, boys and girls which focus on many of Hanesbrands products. The boys and girls sections are at a substantially smaller market versus men and women.
Men's furnishings include underwear, hosiery and nightwear, accessories and active sportswear. From 2014 through 2016, the CPI for men's furnishings grew by -3.2, 3 and -6.2 percent, respectively. For the women's side, growth was much more stable at 0, 1.2 and 0.8 percent, respectively.
For the first month of January 2017, the CPI jumped for both, with a much stronger improvement for men's furnishings. Over the previous three years, the January number for men displayed the strongest monthly performance. For women, the marginal decline was a strong improvement from the previous year.
Investors should recognize that the CPI, like gross domestic product (NYSEMKT:GDP), is an indication of the health of the economy. While inflation is often viewed as negative for consumers, it is positive to have inflation in a growing economy. Similarly, deflation tends to signal a weaker economy.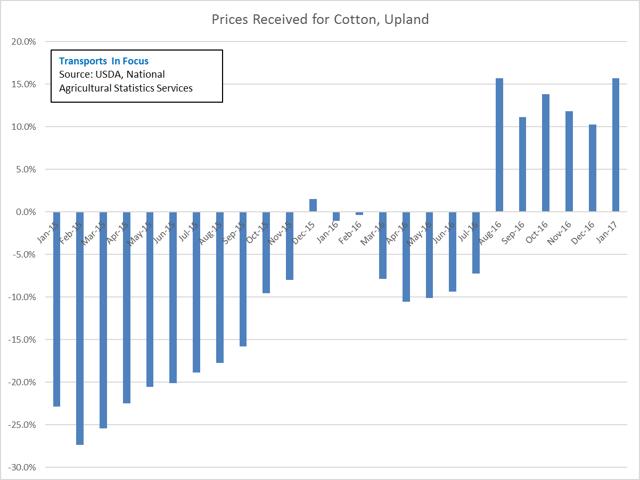 As most are aware, one of the primary raw materials used to make clothing is cotton. Like many other commodities, cotton has suffered of late from extreme declines in prices received for growers. This was highly pronounced from 2014 and 2015, and to an extent during part of 2016.
The price of cotton in the U.S. has begun to increase, displaying six consecutive months with increases greater than 10 percent from the previous year. While Hanesbrands sources its cotton globally, the U.S. market is a gauge for prices as it ranks third in the world by production. Like the counter-intuitive nature of inflation being healthy for a growing economy, increasing prices in cotton are positive for Hanesbrands.
This is explicitly stated in the most recent 10-K filing:
"The principal raw materials in our product categories are cotton and synthetics. Cotton and synthetic materials are typically spun into yarn, which is then knitted into cotton, synthetic and blended fabrics."

"Increases in the cost of cotton can result in higher costs in the price we pay for yarn from our large-scale yarn suppliers and may result in the need to implement future price increases in order to maintain our margins."

"Decreases in cotton prices can lead to lower margins for inventory and products produced from cotton we have already purchased, particularly if there is downward price pressure as a result of consumer demand, competition or other factors."

"When we elect to fix the cotton cost component under these agreements, interim fluctuations in the price of cotton do not impact the price we pay for the specified volume of yarn. The yarn suppliers bear the risk of cotton fluctuations for the yarn volume specified and it is their responsibility to procure the cotton at the agreed upon pricing through arrangements they make with their cotton suppliers."
But only in the risks section is the following highlighted:
"Sudden decreases in the costs for materials, including cotton, may result in the cost of inventory exceeding the cost of new production, which could result in lower profitability, particularly if these decreases result in downward price pressure."
This is because during inflation and economic market expansion cycles, the increasing costs of raw materials like cotton are passed on to the consumer. During 2016, the cost of cotton only reflected four percent of the cost of sales. Clearly, cotton is not the biggest concern in the event inflation were to remain for a longer period or increase dramatically.
Hanesbrands, like many other peers, is exposed to oil-related commodities and other raw materials like dyes and chemicals, and other costs such as fuel, energy and utility costs. Labor also is a major cost of the equation. So, from a material perspective, keeping an eye on the Producer Price Index (PPI) as a holistic gauge is more prudent.
Fundamentals & Valuation
Fundamentally, Hanesbrands is severely discounted. During these types of occurrences, there usually are risks or uncertainties associated with the near term. Sometimes, these risks work against the company and the discount is affirmed as fair value, and/or an even lower valuation level is merited.
In the case of Hanesbrands, the margin of safety at today's price appears to be positioned well for investors looking for capital appreciation. Hanesbrands has tended to trade with a P/E ratio above 20 times earnings and at over 15 times EBITDA.
Today, the company trades 14.5 times earnings and 13 times EBITDA. Taking to future earnings estimates, and Hanesbrands is trading below 10.5 and at 9.5 times future earnings. The company's free cash flow and dividend yields have increased to eight and three percent respectively.
The company has drastically increased its dividend per share by 300 percent since 2013. The company has been on a buying spree over the previous four years investing over $2 billion, with most of it coming this past year.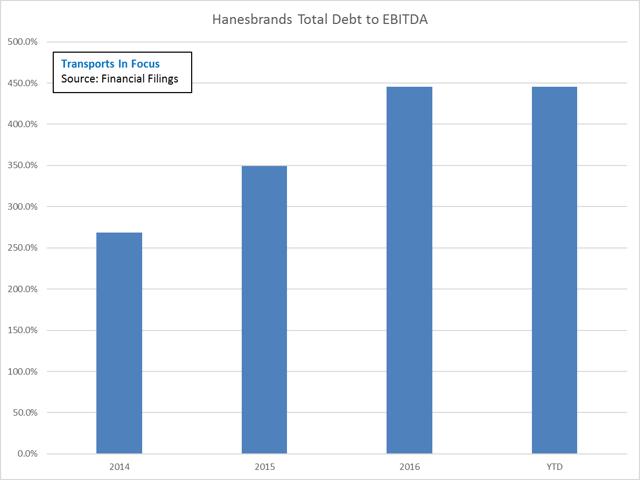 This has led to a substantial increase in the company's total debt, which now totals $3.7 billion. Total debt to EBITA has increased by nearly 70 percent since 2014. Some investors may be concerned that this may place Hanesbrands' financial covenants at risk.
However, both the EBITA to interest coverage and senior secured credit facility ratios are both easily covered by the company. The most extreme case for the debt to EBITDA is at 4.5 times in the event an acquisition has occurred. However, this is strictly related to the senior secured credit facility, which totaled $1.3 billion as of 2016.
Based on 2016 EBITDA of $830 million, the current ratio was at 1.6 times EBITDA. At the same time, the EBITDA to interest coverage ratio was at 5.1 times, well above the 3 to 1 requirement. Only $800 million will come due in 2019/2020. I do not see Hanesbrands reducing debt substantially this year based upon operating cash flow and share buyback guidance.
The debt level may be a little high for some, but Hanesbrands' ability to convert cash from its receivables and inventory versus the company's current liabilities is strong. Currently, receivables and inventory are greater than total current liabilities and the company sports a quick ratio at nearly one time current liabilities.
Debt has essentially been used to grow the business model via acquisitions, while operating cash flows have been more than capable of growing capital expenditures, paying dividends and repurchasing stock. This aligns well as over 60 percent of the company's total debt is not due until after 2024.
At year-end 2015, Hanesbrands was trading 27 times earnings. This level may have been a bit too high of a premium, but today's valuation has the company approaching a level at nearly half the company's valuation in 2013.
If the company can get close to future revenue estimates, net sales will have grown by approximately 40 percent by 2018, or by over seven percent per year. For diluted earnings per share (EPS) estimates out to 2018, performance will have grown by approximately 120 percent, or by 17 percent per year.
These numbers obviously assume meeting today's targets. But even if the company does not hit them, there is still a strong chance that performance will equate to mid-level net sales growth, and near double-digit earnings growth.
For a strong leader within global markets, trading below 10 times earnings over the long term will not likely continue to be the case.
Technical Chart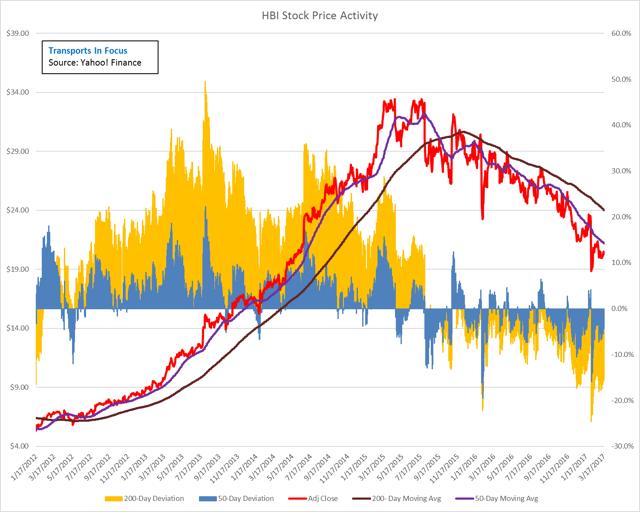 The technical chart has provided very strong and weak performance since 2012. The company's stock price peaked in April of 2015 at around $33.40 per share. From this level, the stock price is down 39 percent today. This has reflected a long and steady decline of 480 days.
The 50-day moving average crossed below the 200-day moving average during late-September of 2015. This has remained the case over the past 375 days. Today, the stock price remains greater than 15 percent below the 200-day moving average.
As the company's valuation has fallen to today's lower levels, the market has not yet recognized any bargains. Just by looking at this chart, one could easily posture that the "bottom" has not yet been confirmed. There is a chance that the bottom has hit and that the market is just waiting to move once the first-quarter earnings are in.
Then again, the company could still test lows in the event management's guidance targets are revised lower. The current level is prime for a tipping point though as the valuation level has become extremely discounted, even if estimates are not met. Either way, the market is in a process of figuring out the near-term direction.
Summary
Hanesbrands is a leader for global brands in innerwear and activewear. The stock price has been punished, like other retailers. I view these dynamics as growing pains for the sector. Companies with strong global brands will continue to be successful, the need to find the balance between the optimal cash generating physical stores and e-commerce growth may take a little time to shake out.
There are legitimate concerns for the business including competition, pricing pressure from major retailers, uncertainties surrounding trade policies and the company's levered position. As the shift towards e-commerce continues, strategy and execution will be a key focal point. Hanesbrands is focused on growing the e-commerce business in line with major retailers.
The competitive landscape will remain a threat. With e-commerce opportunities, the chances that a smaller player emerges as a sole online/mobile option is a reality. Many leading physical retailers have witnessed strong growth from the e-commerce sales channel. Some have begun to more aggressively acquire e-commerce platforms. The e-commerce battle is not the same as physical retail, where a brand was best suited to be located at a variety of retail stores and outlets.
The Internet world offers the opportunity for any company to directly distribute to its customers. But the challenge is that Amazon has emerged as the strongest e-commerce brand that there is today. The two words are synonymous with one another. So, the third consideration that Hanesbrands must consider is working directly with Internet pure-plays. These dynamics can lead to increased fragmentation and less visibility into the competition as it scales.
The argument regarding pricing pressure from major retailers like Wal-Mart and Target Corporation (NYSE:TGT) is a threat. But I see this more as the growing pains of the entire sector. Wal-Mart and Target are much further behind Amazon, so their ability to manage a growing number of brands wanting to use their customer network is limited.
For the near term, this works in favor for Hanesbrands as it can continue to ingrain its brand into the growth of its traditional retail partners' e-commerce and omnichannel components. Over time, the market will consolidate due to acquisitions and bankruptcies as companies shift their business models.
The potential tailwind for Hanesbrands is inflation. If the economy can begin to grow at a faster pace and both the PPI and CPI increase, major retailers will get some breathing room as costs are passed on to consumers. Early signs for 2017 have displayed this type of result, but it is much too early to make any assumptions.
The uncertainty surrounding the near term for U.S. trade policies has ramifications for almost every major business industry. It is not worth speculating on whether a border adjustment tax will occur or to what extent the levy could be. This is a crossroads that will be crossed once the time is at hand.
For some investors, this is too risky. But I find it very hard to believe that a policy will be undertaken by Congress to negatively impact a wide variety of U.S. businesses. I also find it hard to think that even if a tax or tariff increase is levied, that there won't be strong opportunities afterward for growth.
Lastly, Hanesbrands' leverage is high, especially when compared to a company like V.F. Corporation. The company's operating cash flow expectations over the next couple of years could lead to paying debt down by $200 million. This would bring the company's valuation closer to four times EBITDA or 3.6 times net debt to EBITDA. The company's target range for net debt to EBITDA is from three to two times.
There is still sufficient borrowing capacity for acquisitions in the billions of dollars. With acquisitions being one of the company's core strategies, investors will likely not see any substantial pay-down of debt in the near term. Improvement for leverage ratios will be solely dependent upon synergies of deals and EBITDA growth.
Upon consideration of these opportunities and risks, Hanesbrands offers investors a discounted stock price. Investors should continue to monitor key inflation indices, as well as foreign currency impacts to the business. The most important factor will be the transition for Hanesbrands and traditional retailers in general, to how their strategies pan out for growing e-commerce through Internet pure-plays, traditional retail partners and personal websites.
Disclosure: I am/we are long AMZN, HBI, ULTA, VFC.
I wrote this article myself, and it expresses my own opinions. I am not receiving compensation for it (other than from Seeking Alpha). I have no business relationship with any company whose stock is mentioned in this article.