Analysis on the breadth of the US stock market: In April 2016, we wrote:
"The seven+ year bull market in US equities, which was mostly propelled by the high, Fed induced, equity risk premium, massive financial engineering, and innovation in fracking, is beginning to show signs of cracking."
We followed up in June 2016:
"While the picture still looks muddy the point of inflection, the moment of truth, seems to be very close. It will soon be clear if the 1 year EMA of the new lows (depicted in red in charts above) will cross over the 1 year EMA of the new highs (depicted in green in charts above) invalidating our hypothesis that the previous cross over was a signal to sell short equities."
In our last post in this series, in July 2016, we wrote:
"The 1 year EMA of new lows has clearly crossed over the 1 year EMA of new highs and this invalidates our hypothesis that the US stock market is weak, that the previous cross over was a signal to go short US equities. We see this as a bullish signal for US equities, and will continue to be positioned long, at least until the two EMAs cross each other again. In this Battle Royale, between earnings and earning's yield premium, the breadth of the US equity market is telling us that, the latter is kicking the former's derrière...A rising long term yield will be the nemesis of this bull market."
If you have followed along this series of articles, here's an update on it: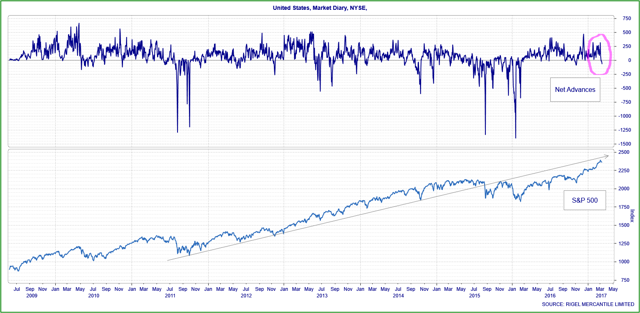 As much as we prefer to look at the long-term behavior of the advance/decline indicator, how can you not focus on its shorter-term behavior when you are long a market that's making new highs? The health of the S&P 500 index looks terrible as measured by net advances (advances minus declines) on a daily basis. This is not a typical bull market behavior. The fact that we are witnessing negative net advances when the market is supposedly the strongest it has ever been is a screaming anomaly.
The Divergence - Under The Microscope
As Joseph Granville used to say, it is normal for the breadth of a stock market to decline and go into negative territory when the stock market is going down with it, but it isn't normal for the breadth to decline and go negative when the stock market is making new highs.
Something ain't right with the market's breadth:
Another Divergence - Earnings Per Share Growth
Take a look at the chart below, which plots Shiller EPS index (as reported earnings) and the 12-month forward EPS index. This divergence too isn't normal.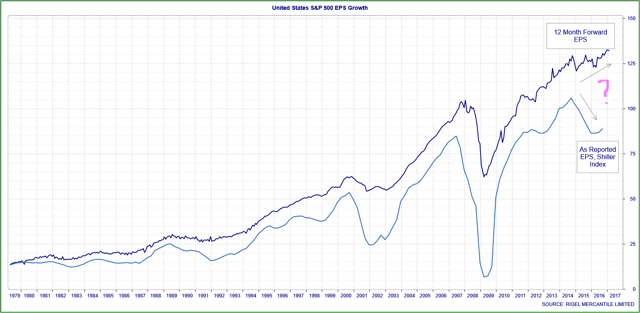 Earnings Yield Premium - The Narrative That's breaking Down
Post the great financial crisis of 2008 when the Federal Reserve indulged in QE, one of the many things it accomplished, as a byproduct of lowering long-term rates, was that it also artificially increased the earnings yield premium on equities. This premium has been the bedrock of a compelling argument in favor of equities over bonds. Well, here's the bad news: This premium is no longer at levels that make relative equity valuation seem like peanuts. In fact, the yield premium on the S&P 500 stock index, relative to 10-year US TIPS yield, is around levels it was pre-2008 crisis.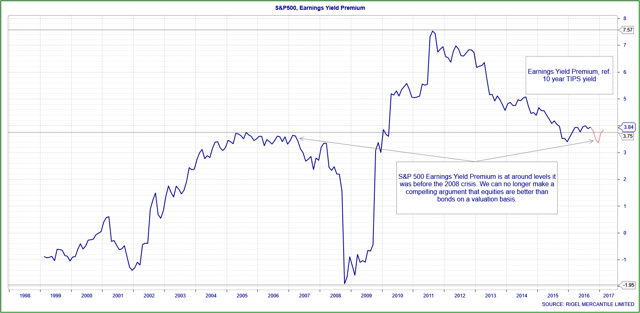 In our discretionary analysis, it is time to throw in the towel on this market (SPDR S&P 500 Trust ETF - SPY).
Disclosure: Rigel Mercantile Limited specializes in Macro Research and Systematic Trading. The views expressed above are our discretionary ideas that we have arrived at using discretionary analysis and therefore are limited to our discretionary portfolios only. Our systematic strategies may or may not have a position (long or short) in the securities mentioned above. Under no circumstances should the information contained herein be used or considered as an offer to sell, or a solicitation of an offer to purchase, any security or investment service. The information presented herein is presented in summary form and is, therefore, subject to qualification and further explanation.
Disclosure: I/we have no positions in any stocks mentioned, and no plans to initiate any positions within the next 72 hours.
I wrote this article myself, and it expresses my own opinions. I am not receiving compensation for it (other than from Seeking Alpha). I have no business relationship with any company whose stock is mentioned in this article.