From the looks of my March Madness bracket this year, my "Cinderella" picks are likely not going to make it to the big ball (sweet 16). It's true, upsets are common in the NCAA Tournament, but my "up and coming picks" – Winthrop University and Middle Tennessee - are on their way back home.
I'm sure many of you know that I am forecasting the UNC Tar Heels to make it all the way. Don't forget I picked Trump, and then Clemson (to win NCAA football), and if my tar heels win, I may have to launch a new career.
Seriously, I like picking REITs, much better than picking presidents or basketball teams, and that's the reason I decided to get back to business with my 2nd Annual March Madness series.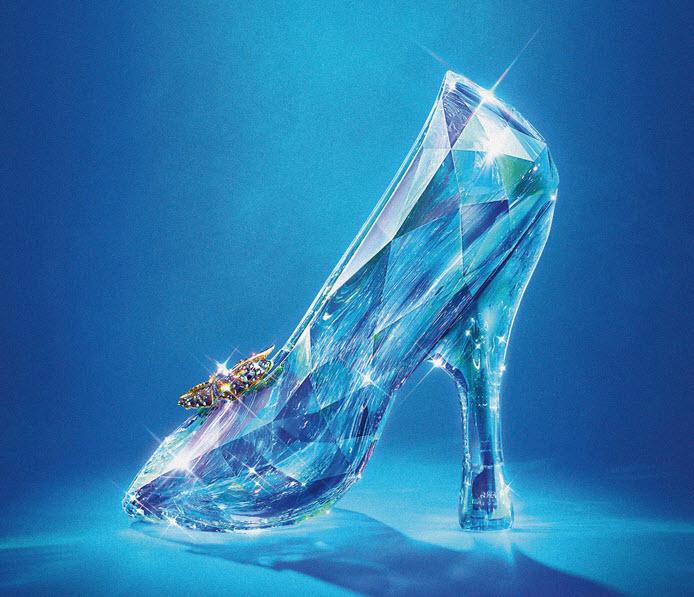 But before the tipoff, I wanted to do a quick scouting report on this small-cap REIT known as CareTrust REIT (CTRE). My insider sources inform me that CTRE could become the "Cinderella" story and I want to make sure that I am well-prepared before the tournament begins. Back in November 2015, I explained that CTRE had the following catalysts,
Catalyst 1: Improved diversification.
Catalyst 2: Small-cap REIT can move the needle.
Catalyst 3: Improved balance sheet.
Catalyst 4: Conservative dividend payout.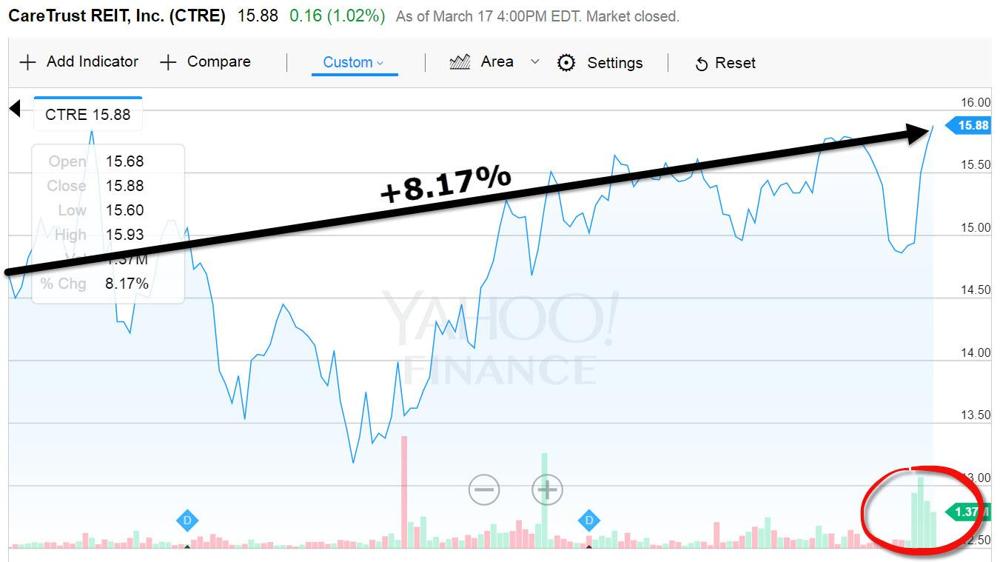 It Started With a Spin
CareTrust completed its spinoff from The Ensign Group Inc. (NASDAQ:ENSG) in June 2014 when the Mission Viejo-based company became a separate publicly traded REIT.
Ensign Group split into two publicly traded companies through a tax-free spin-off transaction (on June 2014) and the resulting real estate company, CareTrust, is one of the smallest REITs in the healthcare sector.

The spinoff enabled The Ensign Group to separate its healthcare business from the remainder of its real estate business and resulted in the creation of a $310 million-market-cap healthcare REIT with a portfolio of 122 healthcare properties in 15 states. The portfolio now includes 161 properties (15,726 beds) in 21 states.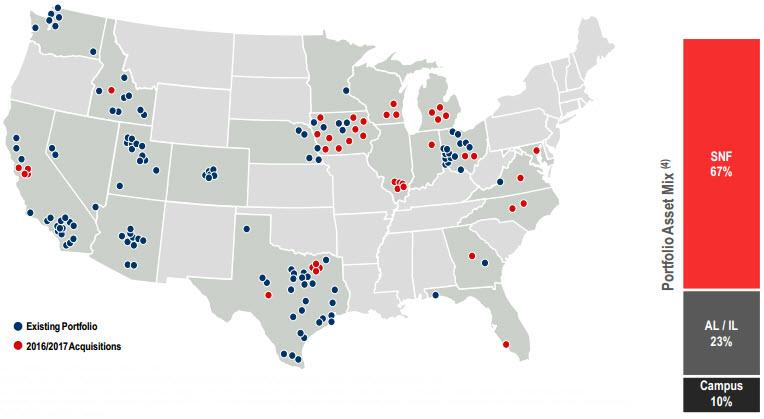 CareTrust's performance has been differentiated through its partnerships with well-capitalized regional operators and operationally-focused underwriting. The company consistently outperformed throughout 2016 despite industry headwinds
• In February 2016, several SNF operators announced worse-than-expected 4Q15 operating results
• Since then, CareTrust's operationally-focused underwriting and ability to identify and work with strong regional operators has separated CTRE from the pack, and continues to widen the alpha over the industry.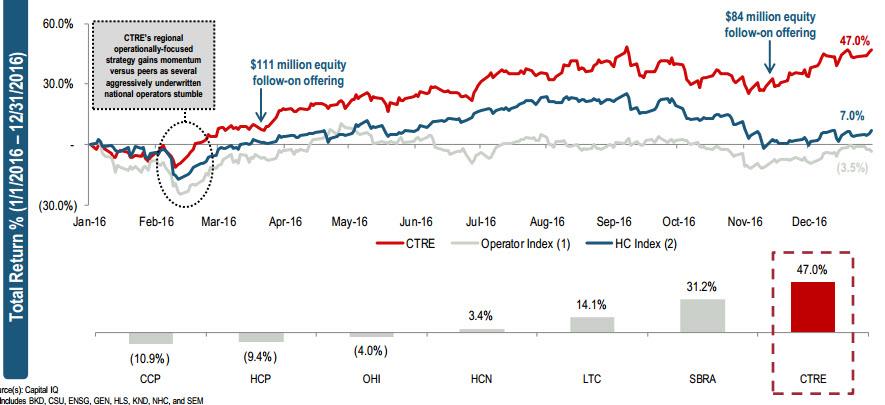 Catalyst 1: Improved Diversification
As noted above, CTRE was born as a spinoff (never really had an IPO) and over the last ~two years, the company has begun to diversify the portfolio. Here's a snapshot of Ensign's pre-spin growth and CTRE's post-spin growth: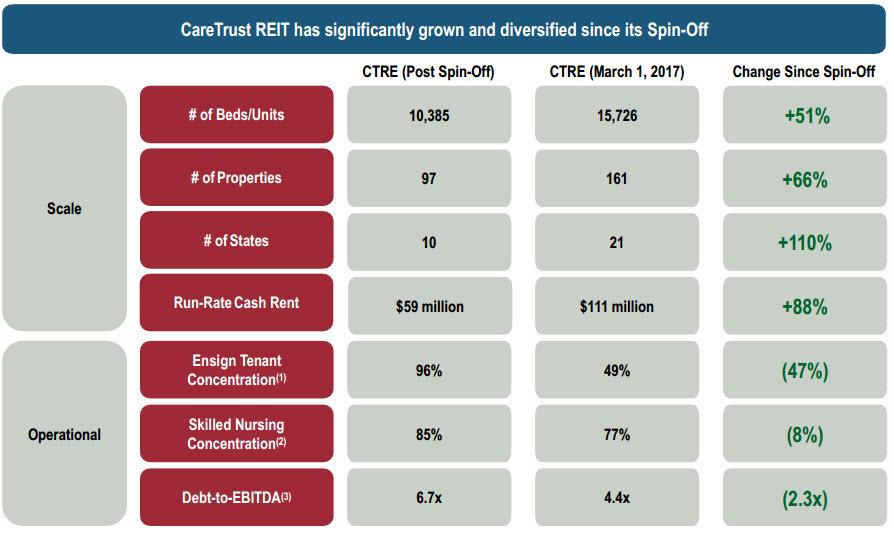 CareTrust closed on $96 million in new investments in December. The new operator is Priority Management Group and according to CTRE the company "has everything we look for in a partner, big company sophistication, combined with small operator agility and emission driven culture."
The effective age of these Dallas area assets is around five years and all are well-located with two of the facilities within walking distance of the major hospital campus. The going in cash yield on these was almost 9%.
In February CTRE also announced the two property $26 million senior housing acquisition in the Milwaukee metro area. These are also newer buildings and CTRE bought them as a tack-on of its existing tenant, Premier Senior Living at an initial cash yield of 8.3%.
Catalyst 2: Small-Cap REIT Can Move the Needle
Small-cap REITs lack the same Wall Street coverage and investor interest can result in shares remaining undervalued - especially in down markets - for extended periods of time.
Accordingly, under-analyzed small-cap REITs flying under the radar can offer better potential for growth over the long term. Due to decreased institutional support, there's a better chance that small-cap REITs will have lower valuations that result in an underestimation of a company's operational health and prospects for growth.
Also, because CTRE is small (~$1 B market cap) the company does not need to invest as much on new deals to grow. That means that CTRE can focus on small transactions, therefore gaining a competitive advantage in terms of sourcing new transactions.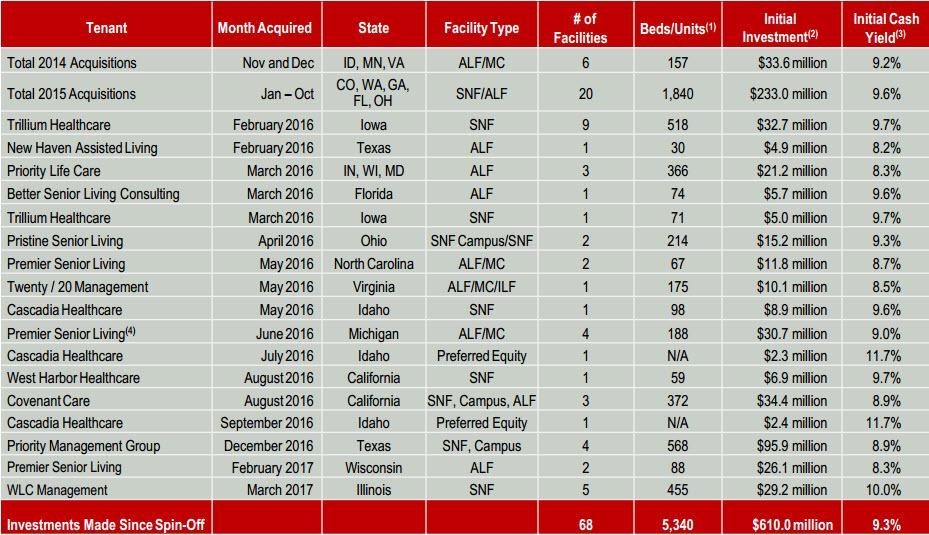 CareTrust operates in a fragmented market that is largely underserved by other capital providers. The company focuses on higher-yielding pools of opportunities versus larger competitors, with smaller deals continuing to "move the needle". There is limited competition for SNFs, mid-market senior housing assets and one-off deals - large competitors chasing larger portfolios with compressed cap rates.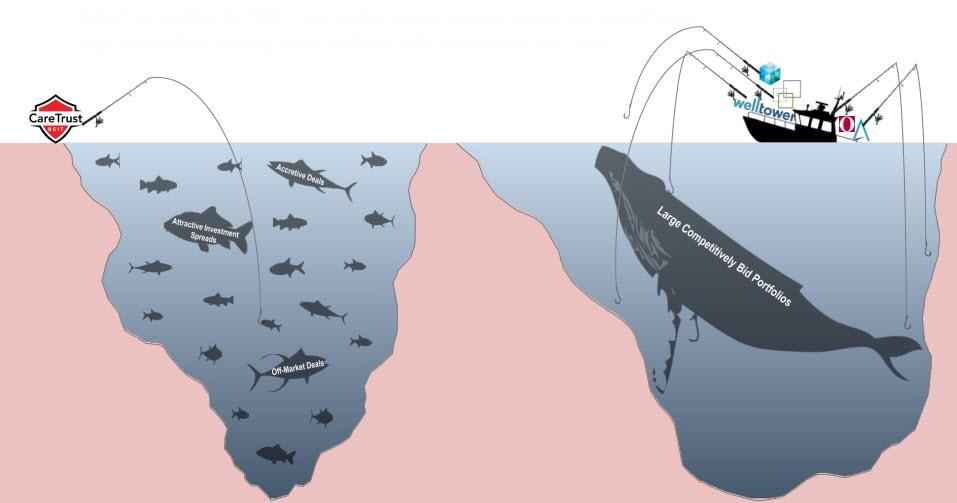 CTRE focuses primarily on Senior Housing and Skilled Nursing properties, and all Net Leased: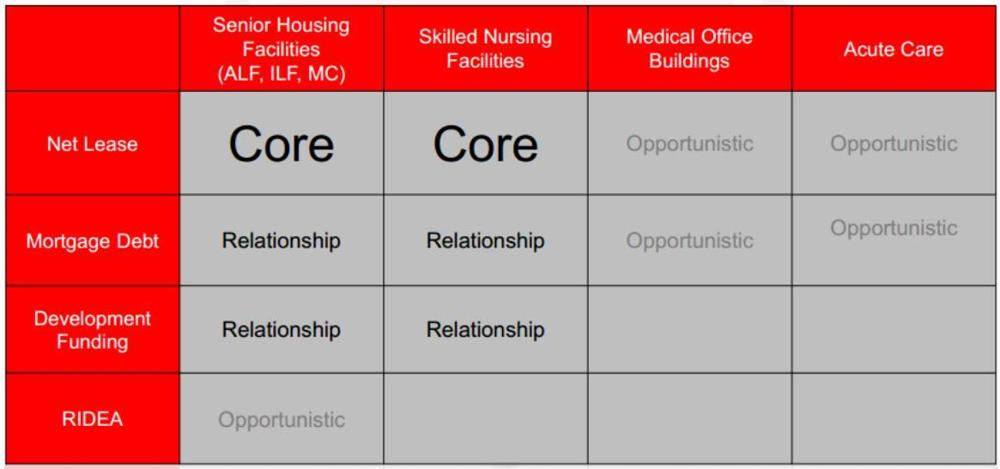 By taking a more tactical approach CTRE can tap into bite-sized opportunities in the massive $1 trillion healthcare universe. There are attractive supply dynamics for SNF operators: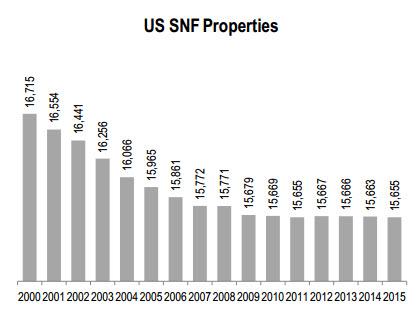 There are attractive demand dynamics for SNF operators: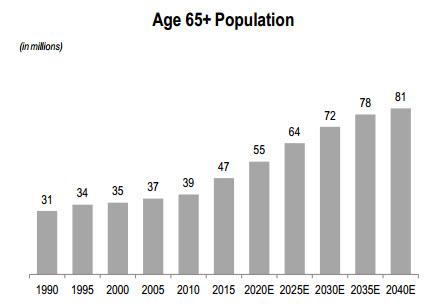 There are attractive dynamics for costs of treatment across care providers:

Skilled nursing reimbursement rats appear stable and increasing over time. On October 1, 2016 skilled nursing providers received a 2.4$ increase to overall Medicare rates for FY2017.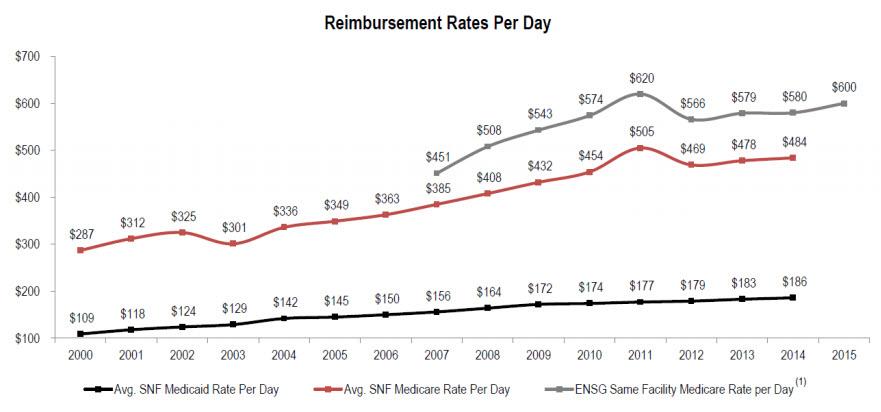 Catalyst 3: Improved Balance Sheet
In November CTRE executed an overnight offering that was essentially match funded to the December 1st Texas acquisitions, netting the company about $81 million.
CTRE seeks skilled nursing assets in the mid-9% (cap rate) range with lease coverage starting at 1.4x with adjustments up or down depending on operator, age, location, skilled mix, reimbursement and other metrics. On the senior housing side, CTRE continues to look for assets that target a mid-market consumer in secondary and tertiary markets that render lease yields in the mid-8% range with target lease coverage of at least 1.2x.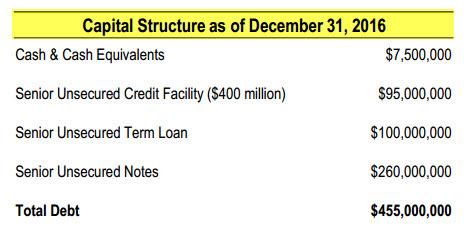 For the full year 2016 CTRE's total capital deployment was a record $288 million. The company pushed past the $100 million run-rate revenue milestone and cut the outstanding borrowings on its $400 million revolver to $95 million at year-end.
On a run rate basis, the company's debt to enterprise value was a record low 32% and the debt to EBITDA was 4.6x. Also during the year, CTRE's credit ratings were upgraded by both Moody's (B1) and S&P (B+) and the company crossed the critical $1 billion market cap milestone for the first time.
CTRE used retained capital from 62% 2016 FFO payout ratio to fund accretive acquisitions, driving per-share growth and enhancing credit stats.
Finally, CTRE's Tenant Rent Coverage is 1.78x.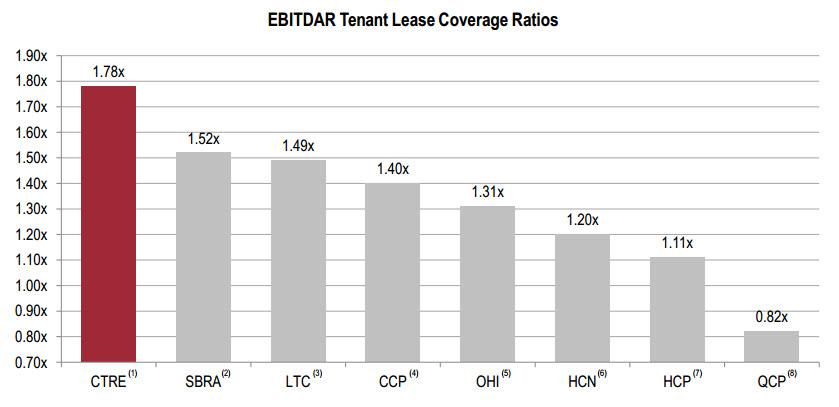 Catalyst 4: Conservative Dividend Payout
In 2016 CTRE's normalized FFO grew by 43% over the prior year quarter to $17.2 million and normalized FAD grew by 38% to $18 million. Normalized FFO per share grew by 12% over the prior year quarter to $0.28 and normalized FAD per share grew by 7.4% to $0.29.
Given the most recent dividend at $0.17 per share, this equates to a payout ratio of 61% on FFO and 59% on FAD, which represents one of the best covered dividends in the healthcare REIT sector.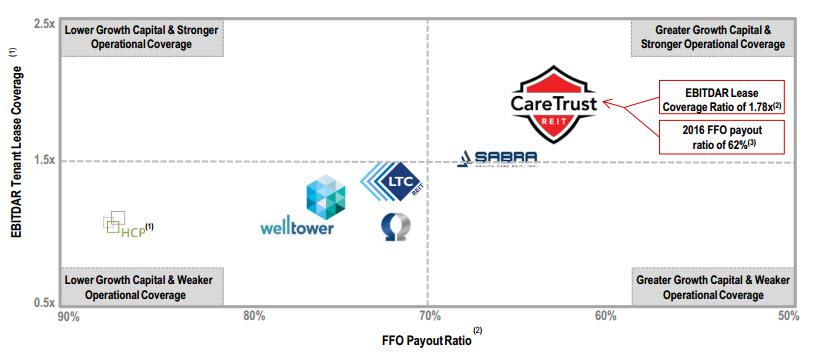 Over the coming years CTRE expects to grow the dividend as the company grows FFO and FAD, but changing the payout ratio for the short-term will probably keep it around where it is which is most conservative in the sector. CTRE believes it can redeploy capital and create greater shareholder value overtime by investing in its pipeline.
Catalyst #5: Ensign Group
As noted above, CTRE is reducing reliance to Ensign; however, it is good that CTRE's largest tenant is a leading post-acute operator that is conservatively capitalized and has significant rent coverage.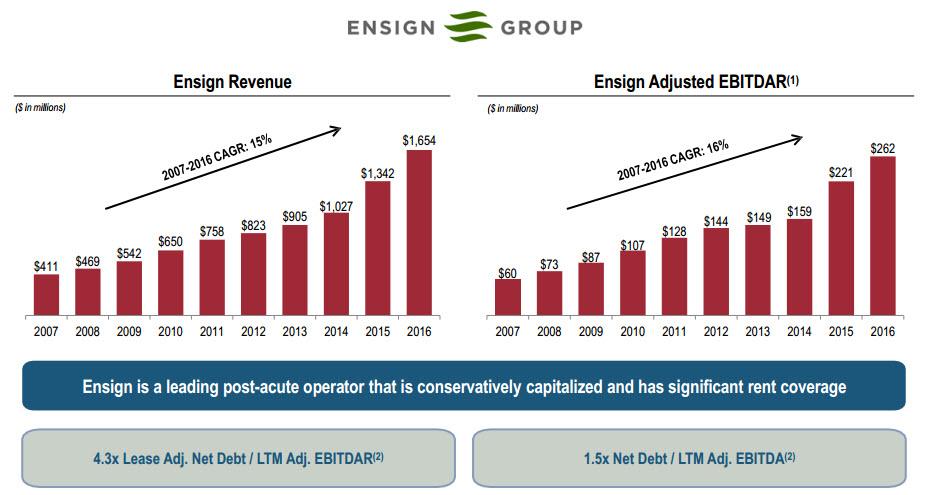 Also the Ensign leases started with a 15-year term along with some extension options. They're very-very long-term leases and they have CPI- based escalators with zero floor.
Sum Up All Of The Parts
Upon review of CTRE's latest results, I am convinced that the company is well-positioned for March Madness. It appears that CTRE's management team is working hard to create shareholder value. Here's a snapshot of the management team: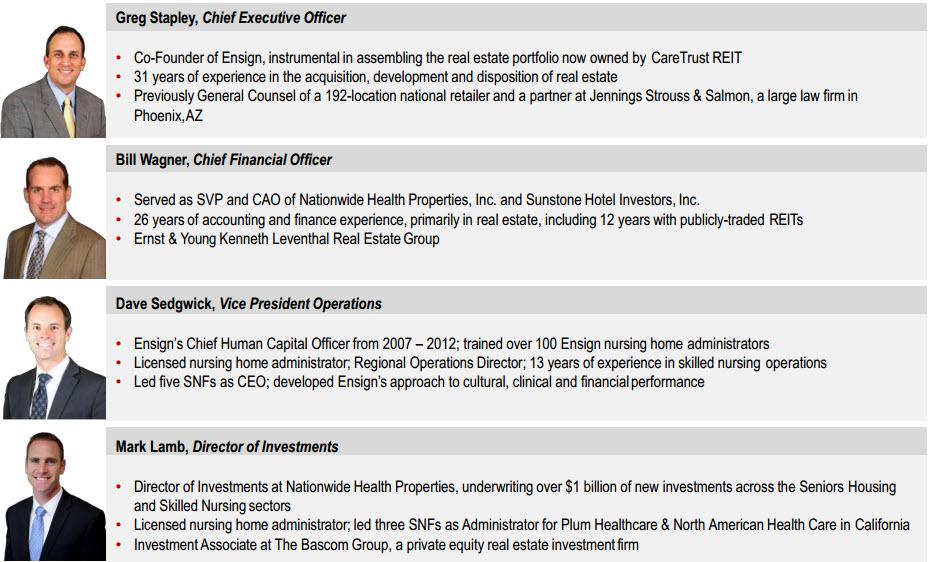 Here's how CTRE's dividend yield compares:

Here's how CTRE's P/FFO multiple compares:

I view the share price as fair value since the tenant concentration and above-average leverage are constricting to multiple expansion. However, the dividend payout is where I find the most value, so when I view the current dividend yield in relation to the payout ratio, I am encouraged that this REIT may be a true "Cinderella Story".
The catalysts (noted above) provide strong evidence that the shares are attractive. CTRE has continued to transform its balance sheet, reducing risk in every quarter, and I continue to maintain a BUY rating. Since my last article on CTRE, shares have returned over 52%.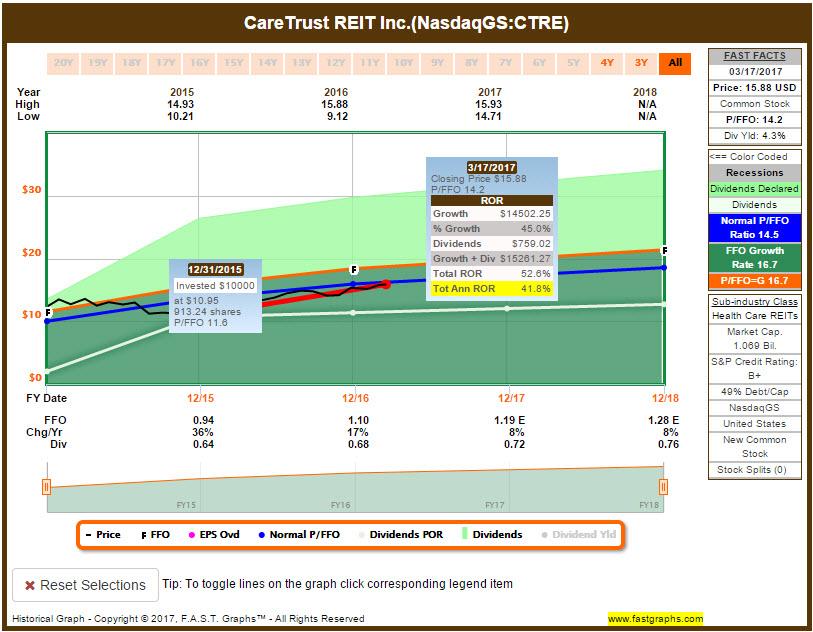 As illustrated below, I believe there's more "room to run".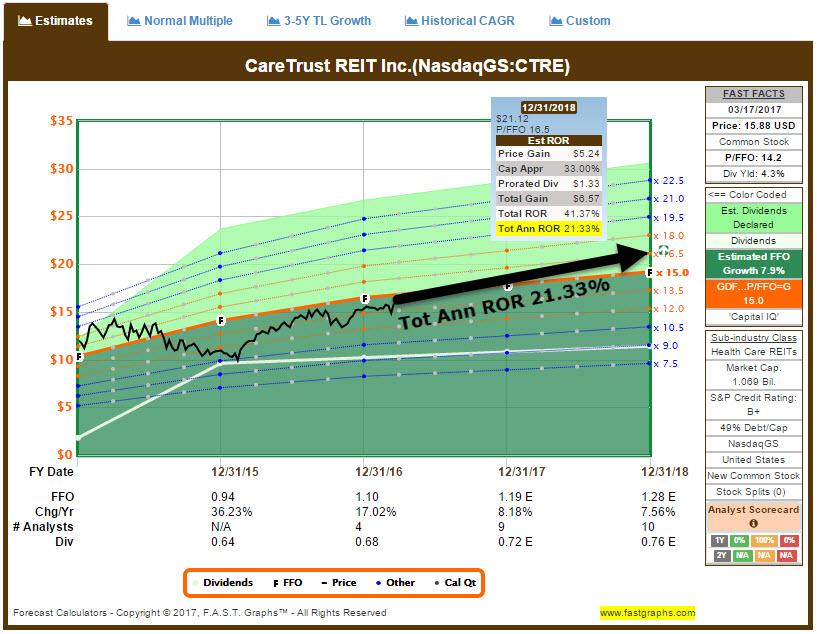 Special thanks to Jussi Askola (follow him HERE) who prepared the Rhino REIT scoring system for determining the overall durability for all of the REITs in the bracketology series. We will be including the Rhino ratings for all iREIT premium members (including spreadsheets) within our enhanced REIT research library. For more information, CLICK HERE.
RHINO RATING FOR CARETRUST REIT:

Author Note: Brad Thomas is a Wall Street writer, and that means he is not always right with his predictions or recommendations. That also applies to his grammar. Please excuse any typos, and be assured that he will do his best to correct any errors, if they are overlooked.
Finally, this article is free, and the sole purpose for writing it is to assist with research, while also providing a forum for second-level thinking. If you have not followed him, please take five seconds and click his name above (top of the page).
Sources: FAST Graph and CTRE Investor Presentation.
Other REITs mentioned: (LTC), (HTA), (VTR), (HCN), (HR), (NHI), (UHT), (SBRA), (DOC), (HCP), (OHI), (MPW), (SNH), (SNR), (CHCT), (CCP), and )(QCP).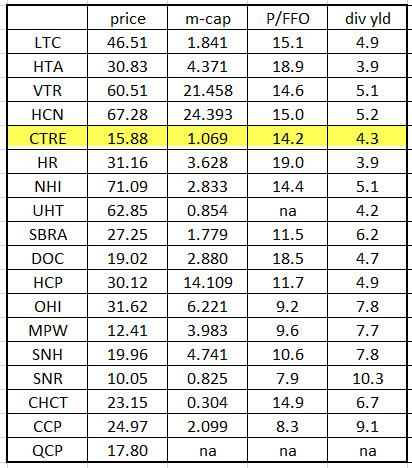 Disclosure: I am/we are long APTS, ARI, BXMT, CONE, CORR, CCP, CCI, CHCT, CLDT, CUBE, DLR, DOC, EXR, FPI, GPT, HTA, HASI, KIM, LADR, LTC, LXP, O, OHI, QTS, ROIC, STWD, SNR, WPC,.
I wrote this article myself, and it expresses my own opinions. I am not receiving compensation for it (other than from Seeking Alpha). I have no business relationship with any company whose stock is mentioned in this article.