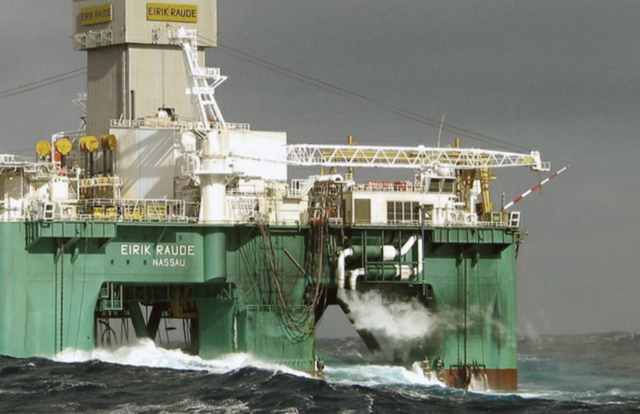 Semisubmersible Eirik Raude - Courtesy Petro.no
This article is an update of my previous article on Ocean Rig UDW (NASDAQ:ORIG) published on February 26, 2017.
ORIG is an offshore drilling company providing oilfield services for offshore oil and gas exploration, development and production drilling.
Ownership relationships between ORIG, DRYS, and CEO George Economou.
Effective Date

ORIG Shares Outstanding

Ocean Rig Shares Owned by DryShips

Ocean Rig Shares Owned by CEO George Economou

Number of Shares
Percentage of Shares Outstanding
Number of Shares
Percentage of Shares Outstanding
Feb. 26, 2017
82,586,851
0
0
7,421,860
8.99%
The company is keeping 78,301,755 shares as treasury stock, which is not used to calculate net income per share.
Fleet Analysis as of February 8, 2017 (updated in March 20 by Fun Trading using Project Olympus - Courtesy Highland Capital)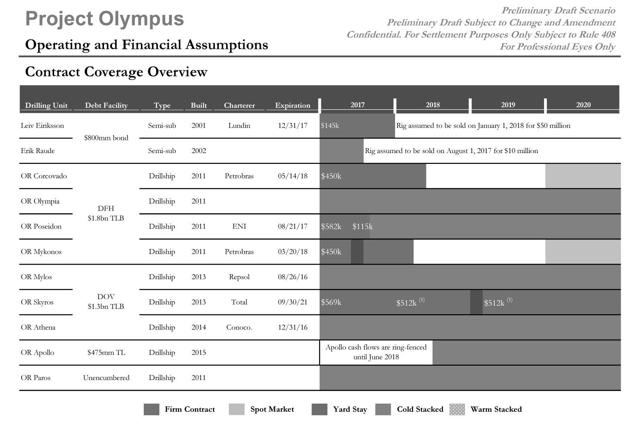 1 - Ultradeepwater Drillships
#

Name

Year

Built

Generation

Day-rate $K

Contract

End

Location

Client

1

2011

6-DP class 3

Cold Stacked

Greece

2

2011

("2")

6-DP class 3

582

(Price linked to oil price)

Q2/17

2 x 1Y option

+ 81-days at $115k/d operating rate.

Angola

ENI (NYSE:E)

3

2011

6-DP class 3

450

Q1/18

5 year SPS ~2 months 5/17-7/17

Brazil

Petrobras (NYSE:PBR)

4

2011

6-DP class 3

450/512

Q2/18

Brazil

Petrobras

5

2013

7-DP class 3

Cold Stacked

Greece
6

2014

7-DP class 3

569/512

Q3/21

5 year SPS ~2 months 1/19-2/19

10% discount on day rate after 1/1/2018

Total (NYSE:TOT)

Angola

7

2014

7-DP class 3

Stacked

ConocoPhillips (NYSE:COP)

en route to Greece

8

2015

7-DP class 3

Cold Stacked

Greece

9

2011

6-DP class

Cold stacked

Greece

10

Q2 2017("1")

7-DP class 3
Available
11

Ocean Rig Crete

Q1 2018
("1")

7-DP class 3 - 12k'
Available
11

Ocean Rig Amorgos

Q1 2019
("1")

7-DP class 3 - 12k'
Available
("1") On August 11, 2016, ORIG reached an agreement with Samsung Heavy Industries (OTC:SMSHF) ("SHI") related to the construction of ORIG three drillships which provides for the rescheduling of certain installments, the postponement of the delivery of the first two of these drillships currently under construction and the amendment of certain other terms (including the contract price).
2 - UDW Semi-Submersible Rigs
#

Name

Year

Built

Generation

Day-rate $K

Contract

End

Location
Info.
1

2002

5-DP class 3

Cold Stacked

Rig assumed to be sold on August 1, 2017 for $10 million

Greece
2

2001

5-DP class 3 or anchor

145

Drilling

12/31/2017

Rig assumed to be sold on January 1, 2018 for $50 million

Norway

Lundin (OTCPK:LNDNF)
Note: ORIG bought through its subsidiary UDW Drillship Cerrado at auction for a whooping total of $65 million. I commented on the acquisition on April 29, 2016. The ship has been renamed the Ocean Rig Paros.
On February 10, 2017, the Company reached an agreement with ConocoPhillips to terminate the contract of the Ocean Rig Athena. As part of the agreement, ConocoPhillips will pay a termination fee. The Ocean Rig Athena is presently en-route to its final lay-up location in Greece where the unit will be cold stacked.
Backlog as of March 20, 2017 is estimated at $1.4 billion.


Restructuring Update
The Company continues to explore and consider various strategic alternatives with its financial and legal advisors, which may include a possible restructuring of the Company's debt. The Company expects that any comprehensive deleveraging plan is likely to result in significant dilution to current shareholders and potential losses for other financial stakeholders. If a consensual solution cannot be reached among all stakeholders, the Company will consider all available options including implementation of a restructuring plan through schemes of arrangement or under Chapter 11.
Project Olympus:
On February 18, 2017, Ocean Rig provided a Presentation, now available on-line, to Highland Capital Management LP who is an holder of the debt of the Company.
I will not enter the details of the relationship between ORIG and Highland Capital Management, because obviously it is not really relevant for common shareholders.
However, in this presentation we can gather a lot of information about the Fleet status and thus refine our trading strategy. After all, it is what is the most important for us all, not really waste our time understanding how the company will die, if it is by poisoning or by stabbing.
What important new material information can we gather in this new presentation?
A lot of valuable information and new developments in fact.
The Semisubmersible Leif Eiriksson (2001) is contracted until the end of 2017 @$145k/d and will be "assumed to be sold" for $50 million on 1/1/2018. Unfortunately, we do not know if it is only an estimate or if ORIG has already signed an agreement?
The Semisubmersible Eirik Raude (2002) actually cold stacked in Greece, will be "assumed to be sold" for $10 million on August 1, 2017. Unfortunately, we do not know if it is only an estimate or if ORIG has already signed an agreement?
The drillship Ocean Rig Skyros day rate will be 10% lower starting 1/1/2018. Day rate will go from $569k/d to $512k/d which is a backlog reduction of nearly $80 million.
The Drillships OR Mykonos and OR Skyros 5-year SPS (2 months) has been scheduled.
Conclusion:
Ocean Rig UDW is now about to unveiled publicly a restructuring plan filed under bankruptcy protection, in my opinion. In this situation common shareholders will experience a large dilution, because the debt will be essentially transformed into equity. In general, "old" common shareholders will keep a tiny percentage -- between 2% to 4% -- of the "new" ORIG that will emerge later from bankruptcy a few months later (with a probable reverse split 1:10).
The question is to trade the volatility that will ensue from this unsettled situation?
It is difficult to know what value can be assigned to ORIG now and still more difficult to decide if the today's price per share has totally factored in, a bankruptcy scenario?
The only element we can use safely is the chart, which offers enough light to navigate in these murky waters.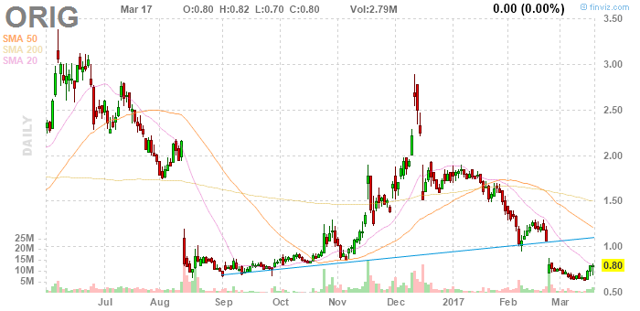 My opinion is that ORIG has been showing a sharp falling wedge since December. Use an upper trend line from $2.80 to $0.80 confirmed in March at around $1.30~ and lower trend line at $1.50 in mid-December to $0.65 recently.
The falling wedge is a generally bullish pattern, which means the stock will probably break out on the positive side (~70%) with a first resistance at about $1.10.
I recommend to buy any sharp weakness at or below 0.60 with a "sell" target between $1-$1.30 (blue line).
Warning: It is very important to adapt your strategy to the news as well. Technical analysis is only one tool and you need a few to build up the right trading strategy.
Important note: Do not forget to follow me on ORIG and other offshore drillers. Thank you for your support.
Disclosure: I/we have no positions in any stocks mentioned, and no plans to initiate any positions within the next 72 hours.
I wrote this article myself, and it expresses my own opinions. I am not receiving compensation for it (other than from Seeking Alpha). I have no business relationship with any company whose stock is mentioned in this article.
Additional disclosure: I trade/day trade ORIG often and I do not own any share now.
Editor's Note: This article covers one or more stocks trading at less than $1 per share and/or with less than a $100 million market cap. Please be aware of the risks associated with these stocks.