A new word was coined shortly after the election, "Trumpflation." Investing in the market rally after the election was called the "Trumpflation trade." And yet, few actually know what "Trumpflation" is. Here's the definition, according to Investopedia.
Trumpflation: "Trumpflation is the inflation that might appear during Donald J. Trump's U.S. presidential administration. Though Trumpflation is still only speculative, markets have already signaled they believe Trump will spur inflation in the U.S. dollar."
It's true that markets have signaled they are expecting inflation, but more on that in a moment. More importantly, it's a well-known fact that inflation, when coupled with shrinking credit, has historically been responsible for ending bull markets and causing recessions. Or, at the very least, inflation, shrinking credit, and decreased consumption have caused some of the largest asset bubbles and subsequently, bubble explosions in history. So let's examine Trumpflation and see if it, for one, exists, and two, see its impact on the economy right now.
Market Expectations - Expected Inflation
This is a quick and easy calculation. Just take a Treasury Inflation Protected Security's yield and subtract it from its equivalent-maturity Treasury Bill yield. Here's expected 5-year inflation below using that method. You can see that expected inflation has been picking up and is at its highest level since summer 2014. Also, you can see that the several-year downtrend in expected inflation reversed itself around February 2016. And, the most recent spike began just after the election. So yes, the market is expecting Trumpflation to continue for the foreseeable future.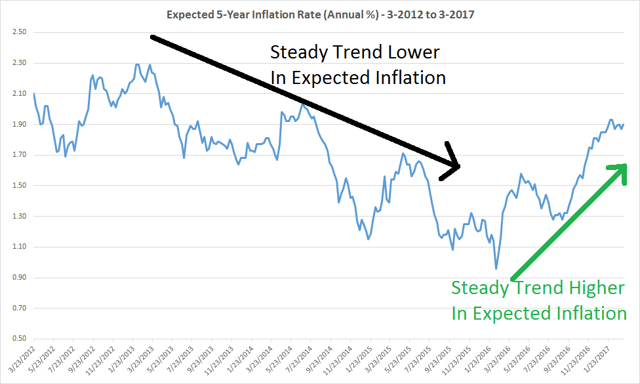 While expectations are useful as a gauge of investor sentiment, it will most likely prove more useful to actually look at "hard data" to see if Trumpflation is a real thing.
Consumer Price Index
The Consumer Price Index (CPI) is most likely the best known measure of inflation. This index tracks the price of a basket of goods and services which a typical consumer would purchase. Its best measure is as an indicator of inflation, and generally purchasing power for consumers. The most recent release of the CPI indicated the highest year-over-year increase in consumer inflation since 2011.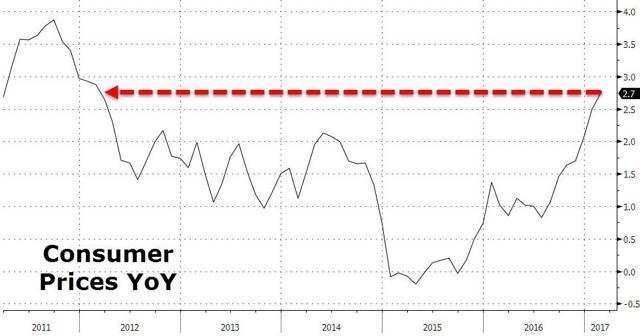 The YoY rate of change was higher in 2011, so why worry now? Remember, in 2011, we were still recovering from the deflationary bust in 2008 and 2009. Inflation was simply recovering from that condition and, in an early economic expansion, that inflation should be viewed as healthy. But, in 2017, we are in a late-stage expansion (accompanied by the almost 2nd longest bull market in 100 years), so the change in CPI should be viewed through a different lens.
Furthermore, the CPI only tracks inflation for consumers, which are an integral part of our economy, but still at the very end of the supply chain. To really see what inflation may be lurking around the corner, one must also examine what input inflation producers are experiencing.
ISM Input Price Inflation
At the top of the supply chain, and arguably extremely sensitive to inflation, are manufacturing companies. The ISM Report On Business, released each month, displays if manufacturing input prices are increasing or decreasing. A reading above 50 indicates rising prices while the distance away from 50 indicates the rate at which prices are increasing/decreasing. See below for ISM input prices. Note the sharp trend higher which began after the election and where the index stands today. This indicates manufacturers are having to deal with higher costs of production. Higher costs, unless credit is expanding to fund additional new purchases (which it isn't right now), generally results in reduced corporate profits. And, falling corporate profits are never good for an economy.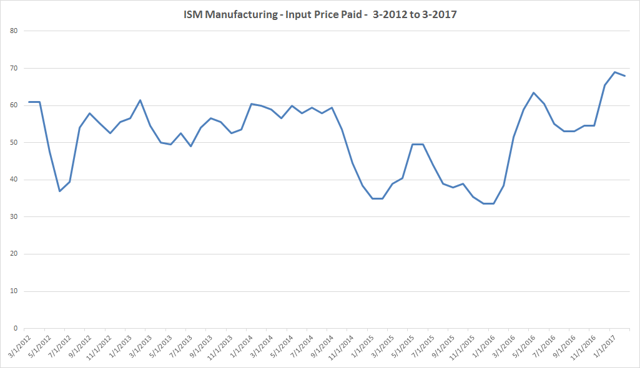 Trumpflation Is Real, And Will Most Likely Cause The Next Recession. How Will We Know When It's About To Start?
If corporate profits are to shrink, credit risk should also start to increase in the months ahead. Historically, rising spreads between high-yield and investment grade bonds have been a good predictor of recessions. Another tool to use could be the TED spread. Finally, even though it occasionally gives false alarms, using a leading economic indicator index can predicted major recessions months before they occurred.
Disclosure: I/we have no positions in any stocks mentioned, and no plans to initiate any positions within the next 72 hours.
I wrote this article myself, and it expresses my own opinions. I am not receiving compensation for it (other than from Seeking Alpha). I have no business relationship with any company whose stock is mentioned in this article.