My last article on homebuilders was in December 23, 2016, saying that Now Is The Right Time To Buy Housing Stocks.
Since then, the most stock have performed very nicely.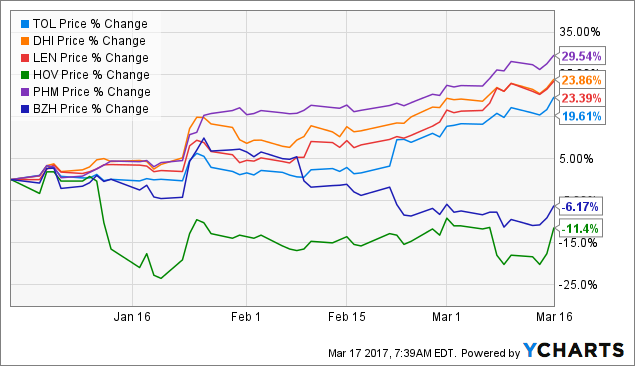 Year to date Pulte (NYSE:PHM) is up by 29%, Lennar (NYSE:LEN) and D.R. Horton (NYSE:DHI) almost 24%, Toll Brothers (NYSE:TOL) 23%, with Beazer (NYSE:BZH) and Hovnanian (NYSE:HOV) down by 6% and 11% respectively.
At the ETF level, YTD the SPDR Homebuilders ETF (NYSEARCA:XHB) returned almost 11%, and the iShares U.S. Home Construction ETF (BATS:ITB) almost 18%. And if you had the guts to go with the Direxion Daily Homebuilders & Supplies Bull 3x Shares ETF (NYSEARCA:NAIL), you would have made almost 60%.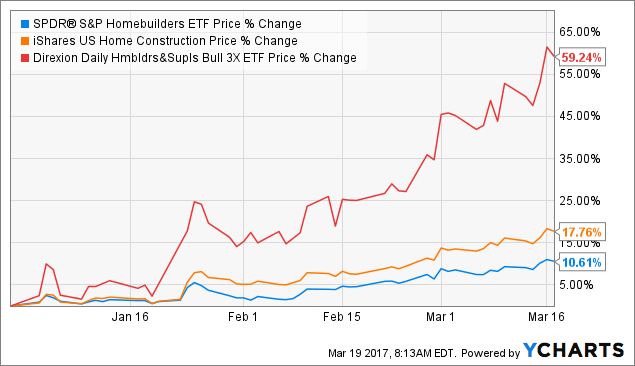 So the question is, with homebuilders up so much this year, is the sector and selected stocks still worth buying? I would have to say yes.
Housing supplies are still low

The current supply of houses for sales in the U.S. is relatively low. In fact at about where it was over a decade ago, just before the last mile of the housing boom.
Now while I do not expect supply to ever reach the highs of 2009 again, at current levels builders should have no problem selling everything they make indefinitely.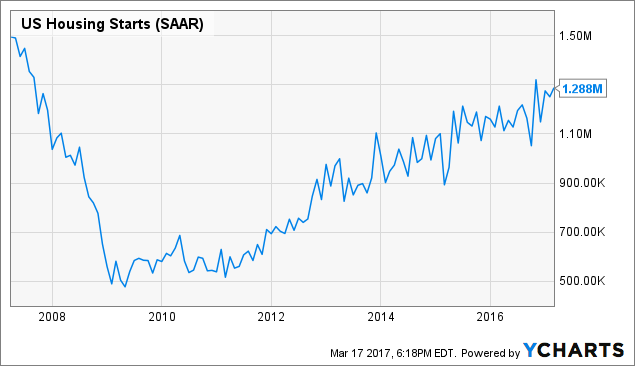 US Housing Starts data by YCharts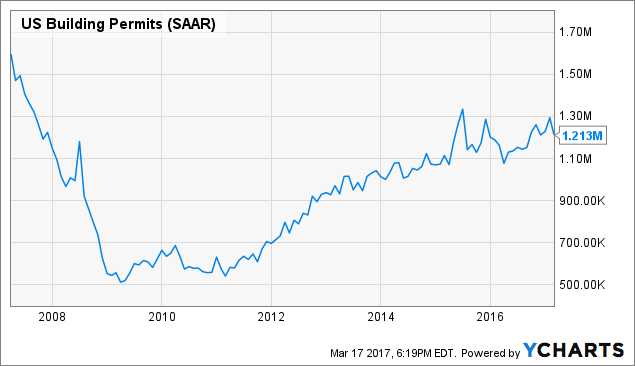 US Building Permits data by YCharts
Both housing starts and permits are at multi-year highs. And the question is, can permits and housing-starts continue upwards, in order for builders to continue to grow?
The answer is yes, but there are headwinds
First of all homebuilding activity was helped in February as unseasonably warm weather boosted construction of single-family houses to near a 9 year high.
The economy's fundamentals continue very strong, as suggested by the low unemployment figures. Both factory activity and new orders continue strong. And the Fed states "we have confidence in the robustness of the economy and its resilience to shocks".
Also, there is a huge shortage of housing in the U.S., especially low-end housing. According to constructiondive.com:
Low-income families face a more pronounced shortage of affordable homes and rental properties, according to CityLab, citing a report by the National Low Income Housing Coalition. The report includes revising the Low-Income Housing Tax Credit and the Mortgage Interest Deduction among its potential solutions.

For the 11.4 million U.S. residents who earn less than 30% of the median income in their market and don't spend more than 30% of that income on housing, there is a 7.4 million-unit shortage of affordable and available rental homes.

Every state and metro area in the U.S. is under-supplied. Las Vegas, Los Angeles, Houston, Orlando, FL, and San Diego face the most acute shortages among major metros. State-wise, Nevada has the greatest shortage of affordable rental housing at 15 units per 100 renters in this income group while Alabama has the least at 61 units.
So overall, there are Amman reasons why strong housing demand might continue.
However one headwind is that the sector is plagued by labor shortages. With the housing crisis several years ago, many qualified people left the sector never to return. And for the past 106 weeks, claims have been below 300,000, something that has not happened since 1970. While this is a sign of a very healthy labor market, at the same time finding qualified construction labor is a challenge.
Another headwind might be mortgage rates.

As you can see from the above chart, rates have been moving up during the past several months, that might be a deterrent for housing. However there are also other data points that conclude the opposite.

For example, debt service payments as a percentage of disposable income is the lowest on record. This means households could probably afford to pay more for interest, but also for higher home prices.
So while many people at the low end are struggling to find affordable housing, the data clearly shows that builders will have no problem selling houses at a higher price going forward.
This despite the fact home ownership is not that affordable (chart below - data since 2013).


However, with the homeownership rate at the lowest since the 1960s, I think there is plenty of room for home ownership to grow from these levels. This probably means many more years of strong housing demand.
And just to understand how strong housing demand is, CNBC reported that houses are getting multiple bids.
Builders are still a bargain
Most housing stocks - despite their increase over the past several months - are still a bargain relevant to the overall market. As you can see from the chart below, they still trade at a very deep discount to earnings, when compared to the S&P 500 Index (NYSEARCA:SPY). As reminder, the current P/E of the S&P 500 Index is almost 25.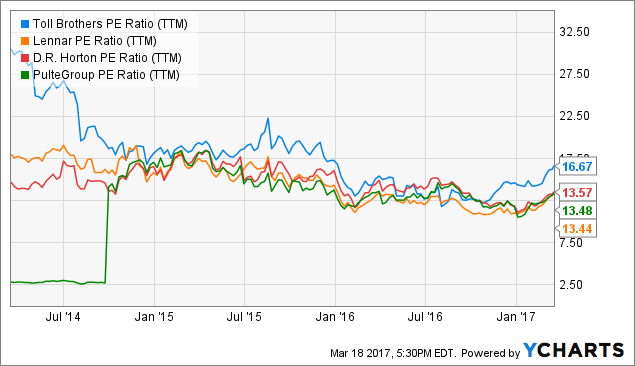 TOL PE Ratio (NYSE:TTM) data by YCharts
Granted cyclical stocks are bought when the P/E is high, and sold when the P/E is low, however that depends on how long you think the economic cycle of the sector might last.
Personally, while I think the market can correct at anytime, I think housing has a long way to go before we can say these stocks are expensive or a sell.
Bottom line
The bottom line is that demand for housing remains strong. Both the resilient U.S. economy, and low unemployment should keep homebuilders busy for a several more years.
This despite labor shortage issues that have been reported in the news. Reason being, builders will simply find the skilled labor (sooner or later) by increasing wages.
I also think home ownership could increase at least 5% before the cycle is over, which might mean several more hears of strong demand.
With housing supplies relatively low, builders should have no problem selling everything they make, especially given the strong demand.
Finally, while mortgage rates have gone up, debt service payments as a percentage of disposable income is the lowest on record, which might mean buyers still have a way to go before becoming discouraged by the cost of home ownership.
Disclosure: I/we have no positions in any stocks mentioned, and no plans to initiate any positions within the next 72 hours.
I wrote this article myself, and it expresses my own opinions. I am not receiving compensation for it (other than from Seeking Alpha). I have no business relationship with any company whose stock is mentioned in this article.