Unlike the other aircraft lessors I've written about thus far, FLY Leasing (NYSE:FLY) is a relatively small publicly traded aircraft lessor, with a focus on midage aircraft. Scale aside, FLY operates a similar business model to its peers - acquiring and leasing modern, high-demand and fuel-efficient commercial jet aircraft under multi-year operating lease contracts to a diverse group of airlines throughout the world. FLY is managed and serviced by BBAM LP.
FLY and the sector as a whole are poised for meaningful asset growth ahead - lessor share of the market is anticipated to grow to 50% by 2020 (vs. 40% at present) while ~$126B of 2017E annual aircraft financing needs are expected to grow 8%+ YoY.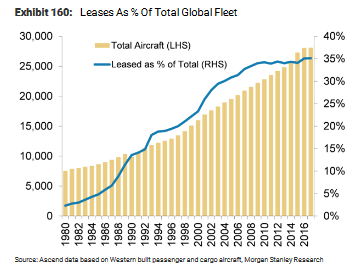 There are some notable headwinds still - lease rates have come down as capital remains cheap and new lessors continue to enter the market searching for higher yielding investments. With the additional money and less experienced leasing teams, there have been decreasing credit standards in the purchase leaseback market.
Impairment Weighs on 4Q Earnings
Much like its peers, FLY's 4Q results beat consensus expectations, reporting GAAP EPS of -$1.98. FLY was the only lessor to have made a loss this quarter, but stripping out impairments, EPS came in at $0.77 (inclusive of gain on sale), above consensus estimates of $0.60. Its 4Q loss was driven primarily by impairments on older widebody aircraft while lower than expected lease revenue and higher expenses also drove the GAAP loss. Taking other developments into account - amortization from purchase accounting ($0.3M), and loss on extinguishment/modification of debt ($2.2M), core EPS came in at $0.27
The most disappointing aspect of the results announcement was the magnitude of the impairment - $92M. The heavy impairment stems from the last of FLY's older/ out of favor fleet components (older A330-200/A340-600s). At final disposition, the impairment this quarter may actually result in linked debt financing gains as a partial offset.
Overall fleet value declined 8.6% QoQ to $2.69B (76 aircraft), down from $2.95B (81 aircraft) in 3Q16. Two aircraft were purchased for $46M, while eight were sold for a $14.8M gain. Meanwhile, fleet age stands at a relatively young 6.2 years.
1Q17 guidance seemed bearish on the surface, reflecting slower acquisitions, but fleet growth and improved quality should be supportive to longer-term performance.
FLY is likely to miss its purchase target
Fleet expansion is a key concern for FLY given its aim to purchase another $750M of aircraft during the year. This target is the same level set for 2016, which the company's $559 mm in acquisitions fell shy of as management could not find enough transactions that met their return targets.
Now, management has admitted no aircraft purchases in 1Q17 to date (which is seasonally a slower time anyway), which means things will start to pick up in 2Q or even later in the year, depending on market conditions. FLY purchased 2 aircraft for $46M in 4Q16, while selling eight aircraft in the quarter for a $14.8M gain. Purchases slowed in the quarter as a result of unfavorable aircraft valuations.

FLY currently sits on a big cash balance of $612M ($518M unrestricted), giving it the capacity to acquire up to $3B worth of aircraft. Management noted it was "still very competitive for buyers" but fleet restructurings at emerging market, low cost carriers under pressure from the strong USD and controls on Chinese capital may help conditions somewhat.
Either way, opportunities will probably only arise "one or two quarters away". But even if acquisitions near-term fail to materialize due to valuations, 1Q17 should offer greater capacity to repurchase shares, which will benefit investors anyway.
But Share Buybacks Will Help
Considering the adverse buying conditions, particularly in the purchase leaseback market, FLY is unlikely to meet its acquisition target. And they shouldn't as the risk reward is not properly priced. Instead, management is best served repurchasing shares in the current environment. Given current valuations, it makes sense for management to continue to buy back shares aggressively, which should support meaningful book value/EPS accretion ahead.
As at 4Q16, FLY has ~$67M remaining under its $75M repurchase program. This means FLY has capacity to repurchase an additional ~16% of current market cap near-term. Right now, FLY still has several older, less in demand aircraft but these have been written down, with a big impairment charge in 4Q16. As FLY continues on its path toward improving its fleet, shares should trade up towards book value. In the meantime, FLY can repurchase their fleet for well below book value while aircraft on the private market are trading well above book value.
The Privatization Option
If shares continue to trade at levels which do not reflect the fair value of the fleet (and valuations certainly are pretty cheap ~0.7x book), privatization by BBAM is an attractive option on the table.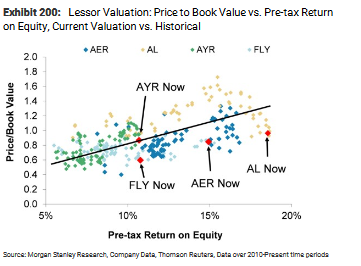 Thus far, BBAM has maintained its ownership in the company at over 13% of FLY. But given the trade off - FLY can repurchase their fleet for well below book value while aircraft on the private market are trading well above book, management will be considering privatization.
If BBAM does acquire the FLY portfolio, it could grow its fleet far less expensively than anything else on the market given valuations below book. Currently new purchase leaseback transactions are pricing as low as 3%-4%. Instead of growing with these low yielding aircraft, BBAM could buy all of FLY at a discount to book value. Expect this to gain more traction if the market remains competitive and FLY's discount to book persists.
All Roads Lead to Higher Valuations - Buy FLY
Given FLY management's options at hand, there seem to be two paths ahead for shares: 1) Management continues buybacks and shares rise to above book value (where we see the economic value of the business), or 2) FLY's external manager BBAM acquires the business for roughly book value. Either path offers substantial upside from current valuations.
Even if either path takes some time to materialize, FLY is poised to earn in the region of 10%+ tax adjusted ROE.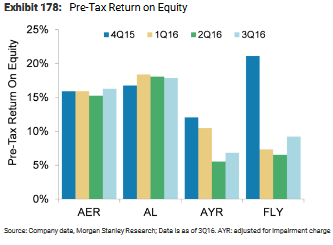 This, coupled with the largely completed fleet transition, commitment to meeting return thresholds for future acquisitions, and share repo program should drive core lease revenue growth. Relative to most financial-oriented businesses, the potential upside for FLY shares is very attractive.
Disclosure: I/we have no positions in any stocks mentioned, and no plans to initiate any positions within the next 72 hours.
I wrote this article myself, and it expresses my own opinions. I am not receiving compensation for it (other than from Seeking Alpha). I have no business relationship with any company whose stock is mentioned in this article.