MannKind (NASDAQ:MNKD) conducted its Q4 and full-year conference call on March 16th. The headline of the event was that MannKind showed a profit, but the devil is in the details. The company posted positive earnings of $0.56 per share thanks to a settlement with Sanofi. Having a positive one-time event or a few positive one-time events is good, but savvy investors remove such happenings (be they positive or negative) to assess what the company is really doing. In this case the positive events extended the runway of available cash to about Q3 of 2017.
MannKind spent a good portion of the conference call trying to ease various concerns of investors and laying out its latest plans that it feels give the company a chance at success. Some investors will take these initiatives as a glass half full, while others will see the glass as half empty. Here is what I know. When a company is trying to parse details of script counts, it is reaching for something that it can present in a positive light.
MannKind did shed some light on a television ad campaign, and in many ways confirmed what I have been trying to tell readers here. Television ad campaigns are very expensive. MannKind themselves stated that a "real" campaign will require $40 million. The company also spoke of reach and timing of ads, which is another point I have been trying to relay to readers. Consumers need to see ads several times for them to be effective, and in a perfect world see them enough prior to going to their doctor that they remember to inquire about a product.
The company has indicated that it is contemplating a "targeted" television ad. This typically means that it will not spend as much money on the campaign. Management indicated that it started the process of developing an ad in December 2016, and that getting it finalized would take between 4 and 6 months. Because the ads are involving a prescription drug, there will be an FDA review and comment. The bottom line is that television ads remain months away, and the company has given itself a loophole to not even run them at all.
The bottom line is the opportunity to show a profit has seen the stock up to over $2.30 per share. This is still shy of $2.50 that the stock was after the reverse split. In my opinion we have some exuberance based on the call. How long that exuberance will last is the big question. The high of the day may well have happened early in the trading session. Script numbers need to increase substantially to show the type of traction that can hold up this stock. With the fundamental story on MannKind still showing the same weakness as it has, the thesis of the bears remains intact, and we could see yet another take-down in the days ahead.
Cash Situation
MannKind finished the year with $22.9 million in cash, but had quite a bit in the pending pile. All in all, the company indicated that it started 2017 with "over $70 million in cash". This number coincides pretty well with the cash tracking I have been doing. My estimates had the company starting 2017 with about $68 million in cash. Perhaps more important than what MannKind started the years with is where the company is now, and what is coming up that could change the cash situation.
As of March 10, 2017, I estimate that the company has about $47.5 million in cash and a credit facility with $30.1 million. The company has a $5 million debt payment due in May, and a $15 million debt payment due in July. My weekly cash burn estimates will reflect those numbers when they happen. The $2.08 million in weekly cash burn includes normal carrying costs of debt, but not lump sum payments. MannKind can shift its cash situation in a few ways. The company could refinance the debt and extend it out. MannKind does not have much leverage, so terms in such a deal may not be pretty. The company could dilute, which means issuance of more shares, thus diluting the value of existing shares. The company could combine a dilution with a refinancing as well. Lastly, the company could land some form of partnership deal that brings up-front cash to the table. MannKind has had worldwide control of Afrezza for quite some time, and it does not appear that partners are clamoring to sign up.

Chart Source: Spencer Osborne.
Afrezza Scripts For Week Ending March 10
A quarterly conference call is the opportunity for management to lay out its case, but the reality with MannKind is that company success hinges on its ability to sell Afrezza. For the week ending March 10th, sales of Afrezza were just 248 scripts. At this point the street has pretty much grown tired of excuses. The street has grown tired of changes. The street has grown tired of an ever evolving narrative. The street simply wants to see Afreezza scripts selling at number much higher than 250. Every week that passes with lackluster sales is lost leverage, diminished cash, and weaker opportunity to attract a potential partner.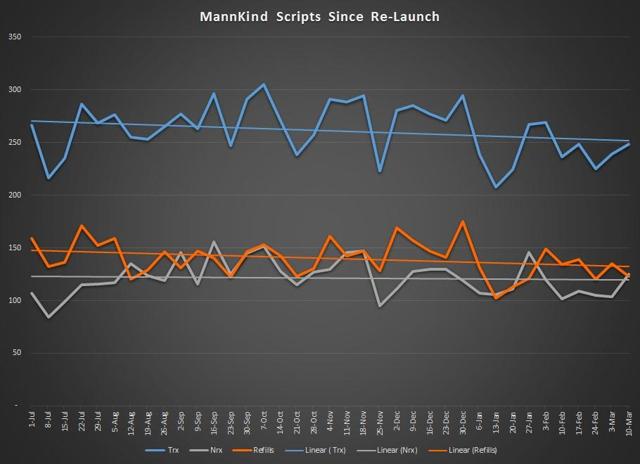 Chart Source: Spencer Osborne.
On a quarter over quarter basis things remain challenging. With just three weeks left in Q1, sales are trailing Q4 by 12.05%. The beginning of a new direct hire sales force that was larger in size than the contract sales force was supposed to deliver results that were positive. Thus far, the sales story in Q1 of 2017 is not inspiring. The fact of the matter is that Q1 of 2017 is shaping up to be the worst full sales quarter since Afrezza launched over 2 years ago. That is the raw reality.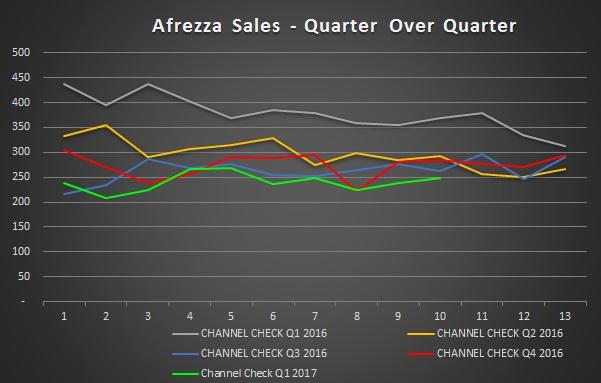 Chart Source: Spencer Osborne.
On a year over year basis the numbers are still lower than desired. Afrezza sales are tracking 38.35% lower than they were a year ago. This percentage gap is lower than it has been in the past, but the reality is that any decline is not good when you are trying to sell a growth story. Compounding the issue is the fact that we may be just a couple of weeks away from the sales being worse than the past two years.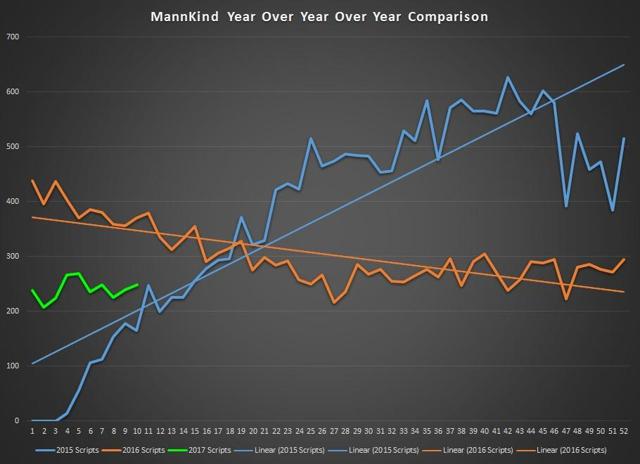 Chart Source: Spencer Osborne.
In terms of sales projections, I am still not impressed. I modified my first half of the year projections back in early February by reducing expectations. Just 4 weeks into my new projections MannKind is already underperforming what I characterize as very modest sales growth. At this point I have script sales at less than 400 per week at the end of Q2. If MannKind does not beat my projections by a wide margin, then the company will have severe trouble ramping up any excitement among investors.
This past week I had a reader suggest that I give the new sales force until the end of May before judging. My answer was simple. Investing is all about judging and predicting. At the end of May this company will have about 6 to 8 weeks of cash left, and will already be in a cash crunch. I pointed this reader to my projections over the past year, and how accurate they have been, and how they were even a bit high vs. the final numbers. That same reader acknowledged what I said, and then sent a communication celebrating the latest quarterly call. My response to that was simple. There is nothing in the MannKind story that really changed with that call. The challenges all remain. The challenges are all very real. The data and probabilities do not support being bullish.
Afrezza may well be a great product for some users. The problem is that it is not so good that people are flocking to it, or staying on it. The refill rate is not good. New scripts are highly subsidized, and simply stated, the company is having a difficult time selling this product. MannKind stock may have seen a nice bounce on the conference call, but the real story will once again take center stage in the days and weeks ahead. This remains a highly speculative play that will be dominated by active traders that hop in and out of this stock on mild swings. Stay tuned.
Disclosure: I/we have no positions in any stocks mentioned, and no plans to initiate any positions within the next 72 hours.
I wrote this article myself, and it expresses my own opinions. I am not receiving compensation for it (other than from Seeking Alpha). I have no business relationship with any company whose stock is mentioned in this article.