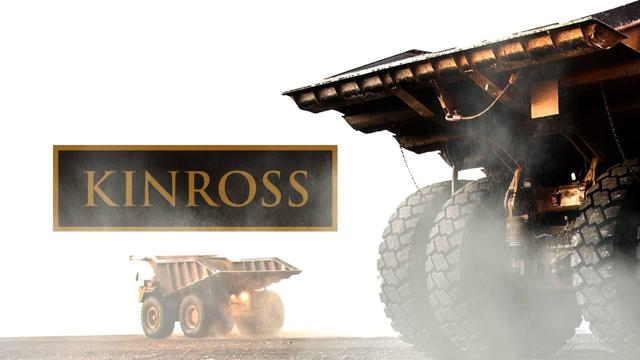 Kinross Gold Corporation (NYSE: KGC) is a Canadian-based gold producer with nine operating mines located in four regions throughout the world. The operating mines are located in South and North America, West Africa and Russia.
Investment Thesis
Company's decision to go forward with the Phase One expansion at Tasiast and its acquisition of Bald Mountain from ABX have improved the company's growth profile in the medium term. In addition, at the end of 2016 KGC improved credit metrics. The combination of these two items has helped improve the valuation of the company.
While its mid-term free cash flow generating ability and balance sheet are strong, I expect production to trail off significantly by 2020. With few internal options to improve its production profile, I believe Kinross' ability to effectively deploy capital to achieve growth will be critical to its longer-term success.
I am maintaining target price to $4.1. The shares currently trade at 1.25x NAV and 6.3x CF, discounted multiples that properly reflect the production declines that are still looming, the high cost structure of the asset base and the execution risk associated with the Tasiast expansion.
Development Highlights
Tasiast Phase Two expansion feasibility expected in Q3/17. Phase One is progressing well, with engineering 80% complete and most of the procurement of long-lead-time items now concluded. Major earthworks have started and substantial construction has begun on the crusher and the SAG mill foundations. Major contracts for the construction of the tailings storage facility have also been awarded and the haul road is now about 65% complete. Full commercial production of the Phase One expansion is expected in Q2/18. The Phase Two expansion feasibility study is expected in Q3/17 (bringing combined Phase One and Phase Two throughput up to 30 ktpd).
KGC received the Record of Decision from the U.S. Bureau of Land Management in late August, which allows for the increase in exploration activities and expansion of existing mine operations at Bald Mountain. Seven drill rigs have been mobilized and have completed metallurgical and geological drilling at the Vantage Complex in the south area of the property. About 18km of drilling has been completed to support the Vantage pre-feasibility study with a plan to complete 30km by year-end. It is expected that a portion of Bald Mountain's current resources will be converted to reserves. The pre-feasibility study is expected to be completed by Q2/17 and will contemplate a carbon adsorption plant, additional heap leach capacity, and infrastructure.
I expect KGC production to double with significantly lower costs in 2018.
KGC estimates production will be in the lower half of its previous range of 2.7-2.9 Moz (equiv.) at a cost of sales and AISC in the upper half of its guidance ranges of $675-$735 per oz and $890-$990 per oz, respectively. Company also adjusted its capex guidance for the timing of development spending at Tasiast given the delay in start-up due to the strike and labor issues. Capital costs are now expected to be $650M-$675M, down from $755M, with the difference moved into 2017 (~$80M-$100M capital from the 2016 Tasiast budget will be pushed into 2017, which may, in turn, have a knock-on effect into capital spend into 2018). Depreciation guidance was reduced to $325 per oz (from $350 per oz) and other operating cost guidance was tweaked higher to an amount in excess of $110M from $95M.
Reserves and resources
Reserves were down 8% to 31.0 Moz (1,364 Mt, with 0.68 g/t) from 33.486 Moz (1,460 Mt, with 0.69 g/t) in 2015 with reserve grade down 1% despite a flat $1,200 per oz gold price. Total resources were up 2% from 66.714 Moz to 67.718 Moz YOY. Gold price for resource calculation remained $1,400 per oz. The lone mine with reserve additions was Bald Mountain, which doubled reserves, in line with management's prior guidance. I expect the portion coming from the Vantage deposit (about half) to be added at the end of Q1/17, so this addition was slightly ahead of schedule.
The company plans to continue to build on the positive momentum with advancing organic growth projects in 2017. Development of Tasiast Phase 1 remains on schedule (commercial production expected Q2/18) and on budget while Tasiast Phase 2 has been advancing the feasibility study, which remains expected for completion in Q3/17. Kinross saw success at the drill bit with Round Mountain Phase W, having upgraded 1.3 MMoz to M&I and adding 1.7 MMoz to Inferred in 2016 and is expected to complete a feasibility study in Q3/17. Lastly, stripping at September Northeast (Russia) has begun and development at Moroshka remains on schedule for mining to begin H1/18.
Financial Balance sheet continues to be de-levered. As at December 31, 2016, the cash balance was $756M with total debt of $1.7B. Net debt / EBITDA was reported at 0.9x at quarter-end. I estimate that KGC will generate FCF of ~$107M in Q1, after interest costs. On September 1, the company announced that it had repaid $250M of its senior notes that were due. Its next major debt repayment is in 2020. Just before quarter-end, K announced that it had sold 5.5M common shares of Lundin Gold it held for gross proceeds of C$30.8M (Q4 closing). It also announced a ~C$10M investment in Nighthawk Gold (junior with primary project in NWT) during the quarter. KGC mentioned in a Bloomberg interview that it is not looking to reinstate the dividend at this time. Investing in the internal pipeline is a priority.
Key risks
Commodity Price Risk - Fluctuations in gold and other commodity prices could significantly impact KGC's revenues/costs.
Foreign Exchange Risk - Virtually all of KGC's revenues are denominated in USD while a substantial portion of its operating and capital costs are denominated in local currencies for its foreign operations (in particular, Ruble and Real).
Operational Risk - Geotechnical, labor-related, social, environmental, or other operational issues could cause lower-than expected production and/or higher-than-expected operating or capital costs.
Development Risk - Major delays, capital cost overruns, or other issues at its various development projects could materially impact KGC's share price. KGC's main development is the expansion of Tasiast, which sees throughput increasing to 12 ktpd from 8ktpd. A decision as to whether to move forward on Phase 2, which increases throughput to 30 ktpd is expected later in 2017.
Geopolitical Risk - KGC has significant assets in jurisdictions that are less mining-friendly or have less predictable political climates. KGC has significant interests in assets in Russia (Kupol and Dvoinoye), Brazil (Paracatu), Mauritania (Tasiast), Chile (Maricunga, La Coipa, Cerro Casale, Lobo Marte), and Ghana (Chirano). Negative outcomes in KGC's dealings with local governments and authorities in these countries could significantly impact the share price.
Disclosure: I/we have no positions in any stocks mentioned, and no plans to initiate any positions within the next 72 hours.
I wrote this article myself, and it expresses my own opinions. I am not receiving compensation for it (other than from Seeking Alpha). I have no business relationship with any company whose stock is mentioned in this article.