In last week's article, I wrote that Treasury inflation-protected securities became attractive. Our model made this recommendation based on the level of 10-year real yield (60 basis points at the time) and its recent trend. Today, I will compare the securities that give investors exposure to the TIPS market. But first, let me step back and describe what we are doing with our Tactical Income strategy.
A Tactical Approach to Fixed Income
First, the big picture. The theory says that passive investors are supposed to hold a "market portfolio," which means holding one or more indexes. There's nothing wrong with it - it's a low-cost, low-maintenance strategy that works for many investors. Applied to fixed income, a passive approach might mean buying a popular bond index such as the Barclays U.S. Aggregate (AGG, BND). An investor who bought it in the past 5 years locked-in a yield below 2% on the original investment. If market yield rises to 3% or 4%, it's not (yet) a problem for the buy-and-hold investor. The problem begins when he wants the higher yield. He can't get it - he is "stuck" with 2% until maturity. If the investor wants the higher yield, he has to sell, realize a capital loss, then earn the higher yield on the lower amount - which will give him roughly the same IRR in the end. (It's a bit different for funds vs. individual bonds, but that's the idea.)
Active investors attempt to do better than passive. Let me be clear - I don't want to contribute to the lively debate about active vs. passive investing. I personally think it's meaningless - what matters is what works for each individual investor. Both approaches have pros and cons. But I do think that it helps to be clear on your approach (and since you're reading this article, you're likely an active investor).
A version of active investing, tactical management (or "tactical asset allocation") means altering allocations periodically to maximize expected return. Our Tactical Income strategy applies it to fixed income. We scan the universe of fixed-income asset classes - short-term (such as VCSH), Treasuries (NYSEARCA:IEF), corporate bonds (NYSEARCA:LQD), high-yield bonds (HYG, JNK), loans (NYSEARCA:BKLN), TIPS and others - to find those with the best combination of expected return and risk. Lastly, risks are managed carefully: volatility is managed to be in line with the Barclays Agg benchmark, HY exposure is limited to a maximum of 40%, and many risks are excluded, such as commodity risk - so risky products such as MLPs, REITs and leveraged loan products are not allowed in this strategy.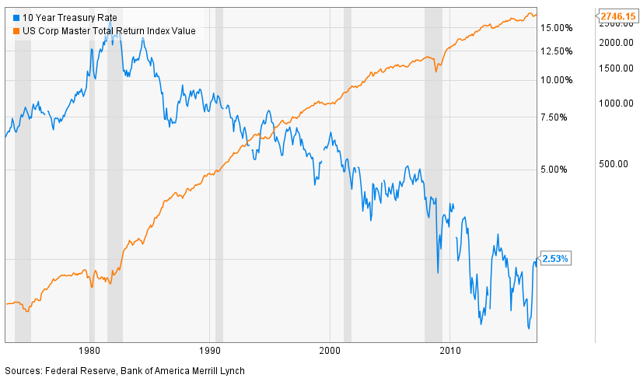 This long-term chart shows the 30-plus year bull market in bonds as interest rates fell since 1982. Bond investors "had it easy" during these decades, with high interest rates and price gains from falling rates. With the double bottom in 2012 and 2016 around 1.5% for the 10-year Treasury, the bull market has probably ended. My point here isn't one of gloom, rather, it's that periods of gains/higher returns will likely be mixed with periods of low or negative returns in the coming years. In such an environment, tactical approach to fixed income investing may be more relevant than ever.
TIPS Recommendation
February CPI inflation, reported last week, rose to 2.7% from 2.5% last month: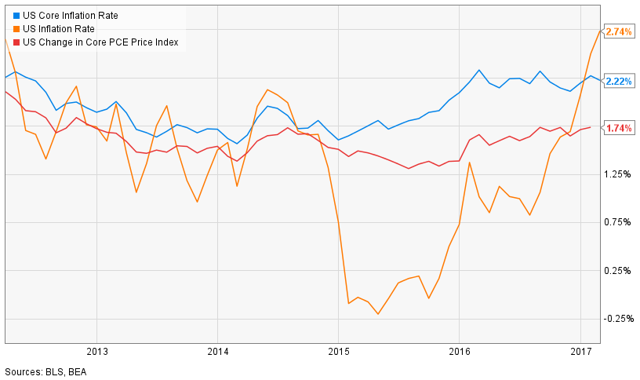 The Fed announced their decision to raise the funds rate on Wednesday. The market reaction was counterintuitive but perhaps not unexpected: longer rates dropped and bond prices jumped on that day, including TIPS: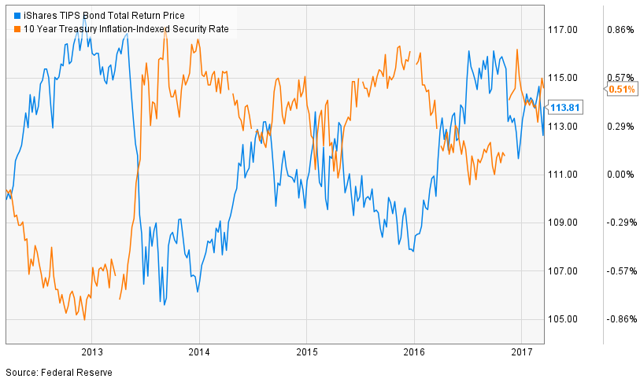 TIPS pay interest adjusted for CPI inflation - for more on their "mechanics" please see my December article. With inflation now at 2.7% and 0.5% TIPS real yield, investors expect to earn 3.2% (2.7% + 0.5%) gross nominal yield on TIPS in the near term. This far exceeds 2.5% on nominal 10-year Treasury notes; and again, TIPS offer inflation protection, which fixed-rate bonds don't.
The caveat "in the near term" is important - it will vary with changing TIPS prices and inflation. With core inflation at 2.2%, total inflation may not persist as high as it is now at 2.7% - more on this in another article, so stay tuned.
Which TIPS?
There are only two ETFs which will give you exposure to the broad TIPS market: iShares (NYSEARCA:TIP), and Schwab's (NYSEARCA:SCHP). PIMCO's 1-5 year TIPS product has shorter duration, is less liquid and offers much lower real yield, so I'm leaving it out of this discussion.

SCHP is smaller of the two, but has grown in the past couple of years, partly due to its lower expense ratio, only 7 bps compared to TIP's 20 bps. SCHP is included in Schwab's One-Source ETF list that trade commission-free on Schwab. But it comes at a cost of wider bid-ask spread of 5-10 bps in a normal market - and I saw it wider than 20 bps in the "fast" market on Wednesday (after the Fed meeting). So, liquidity may not be there when you most need it.
All things considered, I would give preference to SCHP, especially if you hold your account at Schwab, so you can trade it commission-free. However, if your holding period is short or you manage significant assets, I would go with TIP for liquidity reasons.
Disclosure: I am/we are long TIP, SCHP.
I wrote this article myself, and it expresses my own opinions. I am not receiving compensation for it. I have no business relationship with any company whose stock is mentioned in this article.
Additional disclosure: Roman Chuyan is the president and general partner of Model Capital Management LLC, a Registered Investment Adviser. This article is for informational purposes only. There are risks involved in investing, including loss of principal. Roman Chuyan makes no explicit or implicit guarantee with respect to performance or the outcome of any investment or projections made by him or Model Capital Management LLC. There is no guarantee that the goals of the strategies discussed in this article will be met. Information or opinions expressed may change without notice, and should not be considered recommendations to buy or sell any security.