Gold (GLD, GDX) has seen quite the eventful 2017, undoubtedly. After going against the grain and seeing a sizable uptrend as major investors took on more long positions to hedge against political uncertainty, we've seen gold make up around half of its post-election losses, so there is still short-term ground to make up for those who have been long gold over five months. However, in the interest of thinking more long-term, I'm taking a step back and looking at historical charts, as well as their relationship to volatility, in order to see if there's a longer-term trend forming right now.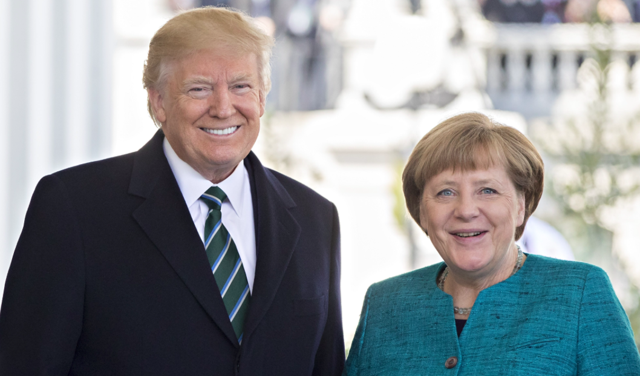 Source: Time
Adding Perspective
To provide a different take on gold, let's start by taking a look at a 5Y chart. In early 2012, gold was trading around $1,600/oz for a majority of the year until we started to see rapid outflows at the beginning of 2013. The equity bull market was in full swing and gold quickly dropped a few hundred dollars per oz before settling down. We then saw slow, slow outflows from 2H 2013 through the end of 2015. After that point, the global markets received a few binary risk events, as well as a few events that caught the market completely off guard, like an extension in the crude oil slide and China's unappealing GDP reports, and caused gold to spike back up above $1200/oz. Gold remained elevated for much of 2016 before seeing significant outflows after the Presidential Election on renewed optimism for inflation. You know this, I know this - it's quite easy to see just looking at the chart below.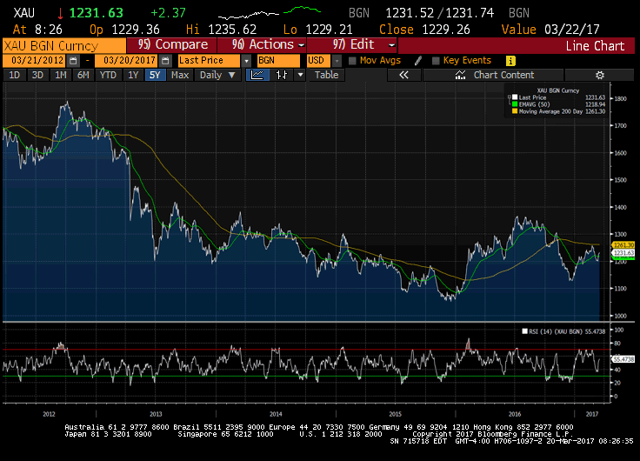 Source: Bloomberg
So, what does the last five years of gold trading tell us? The trend has changed, first and foremost. After entering 2013 rather flat, the 200 DMA shifted down through the start of Q1 2016 and then ticked up as gold spiked. However, this positive sloping 200 DMA was short-lived and lasted only a little over two quarters before switching to a negative slope. Trends in the 200 DMA are often long in gold and have not switched much, historically. This can be confirmed by a longer-term chart of gold. Some trends in the 200 DMA last for several years, such as the uptrend in gold we saw from mid-2009 through mid-2012.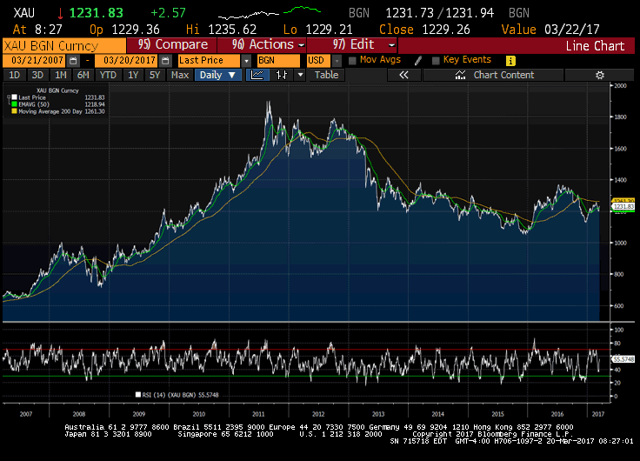 Source: Bloomberg
A lot of what I've been hearing and reading revolves around the lack of volatility in the markets. News outlets, in particular, have been preaching that this is a time of low volatility and that stock picking has been ineffective. Yes, volatility is low if you're looking at the VIX. At the beginning of last year, the VIX spiked up past 26 and it wasn't until Brexit when we saw another spike, albeit of a lesser gravity. The Presidential Election formed the last true spike in the VIX, with the indicator intraday reaching close to 24.
Historically, yes the VIX has been rolling off and this is nothing new because the 2008 financial crisis represented one of the largest, most volatile events in the history of the financial markets. Since 2013, any breach above 15 on the VIX is deemed as a large shift in risk and any breach above 20 is considered significant and likely in the same category of weight as the Presidential Election or Brexit.
I will say that watching the twelve months of volatility has been rather interesting because despite a downtrend in the VIX, there were multiple significant breaches in this period more so than there has been in any other year since 2012. That tells me quite the opposite that volatility is rolling off, but rather the number of "risky" events has increased in the face of volatility being elevated above a historical mean.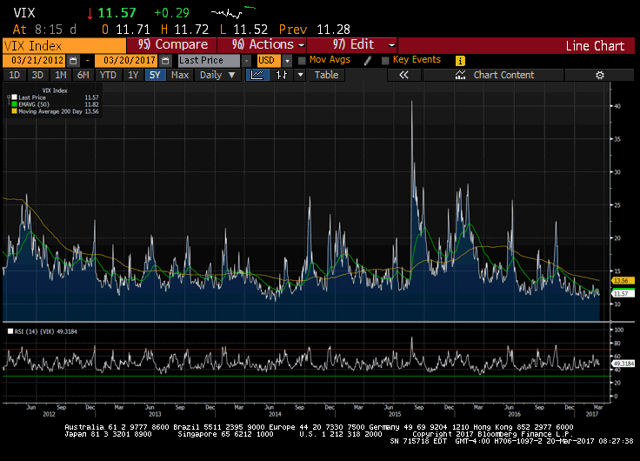 Source: Bloomberg
Learning From History
Taking those small pointers and looking forward to the remaining three quarters of 2017 and beyond, we may either see a small slide here or a continued downtrend towards $1,000/oz, as the lowest retracement right now, on a six month time frame, is showing $1,128/oz. I would only expect that target to be hit in the medium to long-term. In order to gauge which direction gold might trend, we're really going to have to take a look at what traders have thought the last three months. I sum it up as follows: Traders, despite fully aware of and expecting a pro-inflationary change in policy and Federal Reserve, remain not fully convinced of a renewed bull market.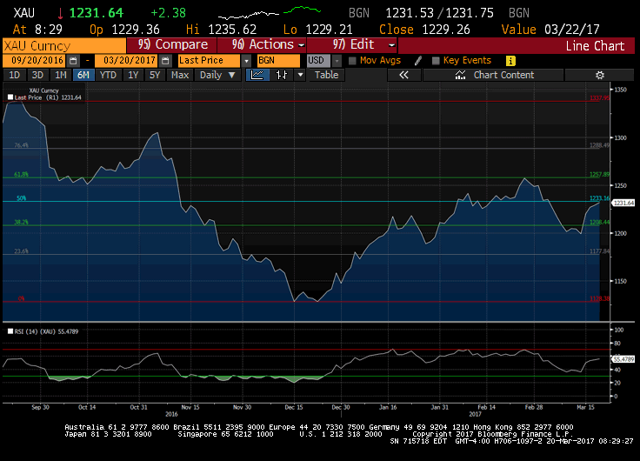 Source: Bloomberg
Item #1: Trump Political Uncertainty Is Hedged
If we've learned anything from gold trading in this first quarter, it's that traders are hedging against political uncertainty from the Trump Administration. Individuals have been asking, "How is gold not skyrocketing?" considering that some of Trump's initiatives have been met with strong backlash. Executive orders like the approval of Dakota Access or the delayed implementation of any parts of the Affordable Care Act or the reduced regulation and controlling costs should have come as surprises to any normal market, but investors prepared their portfolios just before the close of 2016 with the expectation that President Trump would take unprecedented action to achieve his agenda. So, while there is a lot of uncertainty present, investors expected it to be this way.
Below is the current level of gold net long positions, which are down substantially from mid-2016. However, we did see Q1 2017 rally back in terms of net longs, but the recent CFTC report shows that gold net longs have reversed their progress to 49,835 contracts.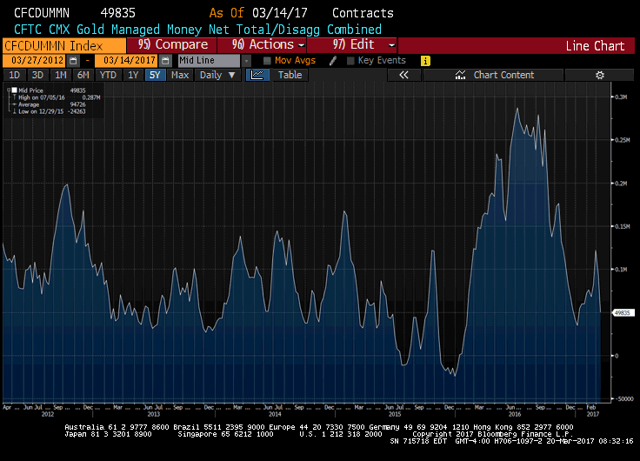 Source: Bloomberg
Item #2: Federal Reserve Interest Rate Hike Pacing Is Defined
The market is expecting two more hikes this year, plain and simple. The larger trends you'll see form are going to be based on pacing of these hikes, i.e. how soon or late the hikes come in the year. Right now, if there is no hike at the June meeting, that would go against market expectations and likely support the price of gold. If a rate hike happens at the May meeting, that goes against expectations but in a hawkish manner, and should spur the sell-off of gold. Thus, the key here is to recognize investor expectations and the strength of economic reports between meetings to determine whether or not the Federal Reserve will hike short-term interest rates.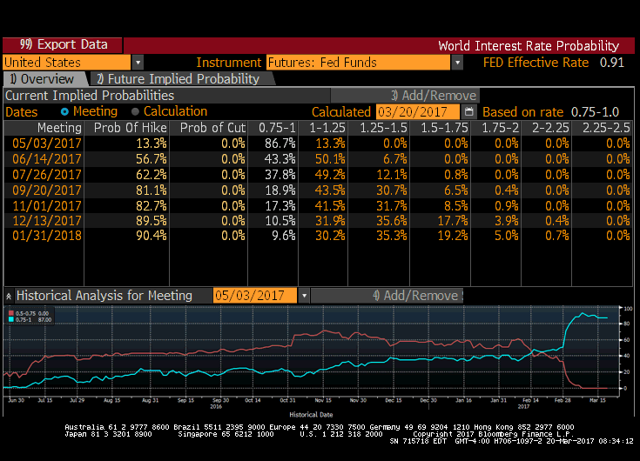 Source: Bloomberg
Item #3: European Uncertainty Should Be Of Core Focus
Rising tensions between the Netherlands and Turkey, as well as actions related to the ECB's quantitative easing program and their relationship with Greece, on top of Brexit negotiations and the potential for another Scottish referendum vote, make Europe riddled with uncertainty. Over the weekend, it was announced that the Article 50 will be triggered on March 29 and that Greece will likely not complete its bailout review by the end of today. These are core factors that are taking an effect on the price of gold, even if their impact comes on the Euro and Pound first.
Going forward, Europe has to be focused on by investors in order to accurately gauge gold's direction. Right now, the events in Europe warrant taking on gold as a hedge, which comes as a contrast to the previous item. Below are the Pound and the Euro versus the dollar over the last year, just for reference.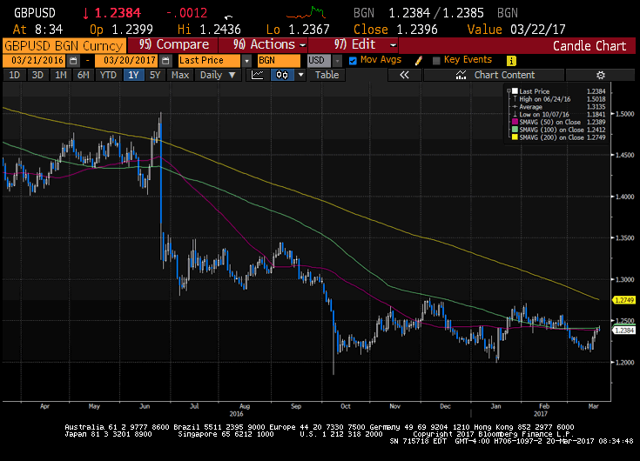 Source: Bloomberg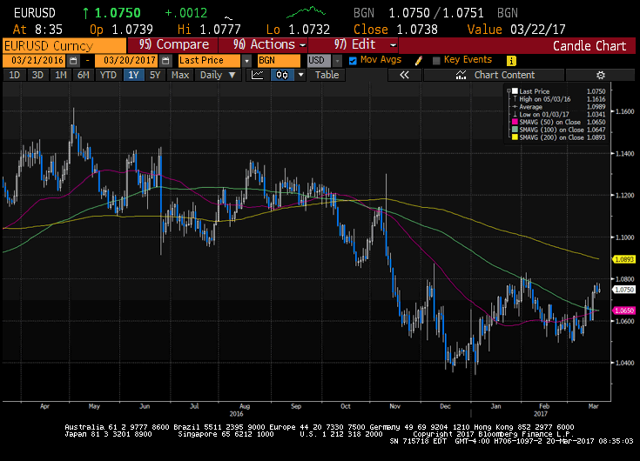 Source: Bloomberg
Conclusion
The three core items listed above don't encompass everything investors need in order to effectively trade gold going forward, as there are a multitude of factors that investors weight when trading this precious metal. However, these are the main items and using history as a guide, it's likely that gold starts to develop a longer trend within the next couple of weeks. This is something investors will not want to miss, but market expectations must be accurately assessed or investors could end up on the wrong side of the trade.
Disclosure: I/we have no positions in any stocks mentioned, but may initiate a long position in GLD, GDX over the next 72 hours.
I wrote this article myself, and it expresses my own opinions. I am not receiving compensation for it (other than from Seeking Alpha). I have no business relationship with any company whose stock is mentioned in this article.