In a rare break with precedent, I bought some tomatoes at the store this morning. The store that's on the same lot as the sub-par seafood joint and the half-decent gelato shop.
As the Heisenberg faithful knows, I usually get my produce from the locals, but after a couple of chilly days the weather here finally mean reverted and I couldn't bring myself to fight the crowd that I (rightly) assumed would descend on the farmer's market.
Well, while I was in line at the store, two vacationers were ahead of me and both were buying the Wall Street Journal. Nothing else.
Which made me think about the same thing I've been thinking about a lot over the past several weeks. Namely, that both flows data and anecdotal evidence gathered from inadvertently eavesdropping on my neighbor's Bluetooth calls and observing what the people in front of me at the grocery store are purchasing, seem to suggest that the retail crowd is getting really, really excited about stocks (NYSEARCA:SPY).
I've talked about this ad nauseam of late and as the Heisenberg crowd is acutely aware, I value your time. So I'm not going to try and rehash the whole "Sharon" narrative here or otherwise subject you to a (possibly) condescending post about how the home gamers don't really understand the extent to which $400 billion/quarter in central bank liquidity flow is buoying asset prices.
Rather, my point here is simply to illustrate with a few simple charts and some brief commentary, the extent to which stock prices have become more myth than reality.
First, note that some 71% of the post-debt-ceiling-crisis gains for stocks are attributable to multiple expansion. To wit, from Goldman:
Since the market low of 1099 in 2011, the S&P 500 has climbed by 115%. This second phase of the bull market has lasted more than five years and has been driven mostly by an increase in valuation rather than the level of profits. The adjusted P/E multiple climbed to 18x from 10x, explaining 71% of the rise in the index. Higher earnings accounted for just 28% of the rise.
In other words, this is (almost) three quarters "you" and only one quarter "them" - where "them" is the companies you're invested in. 71% of the S&P's return since the 2011 lows is attributable to you paying more for a dollar of earnings, not to companies actually earning more money. The "you" factor has forward P/Es at their highest level since 1976 (ex-tech bubble).

(Goldman)
In short: stock prices are an illusion created by you.
Now let me take the "this isn't real" contention a step further - and I'm going to oversimplify this on purpose in the interest of conciseness.
As you may or may not be aware, corporate buybacks are pretty much the only source of equity demand outside of ETFs. Here's the breakdown: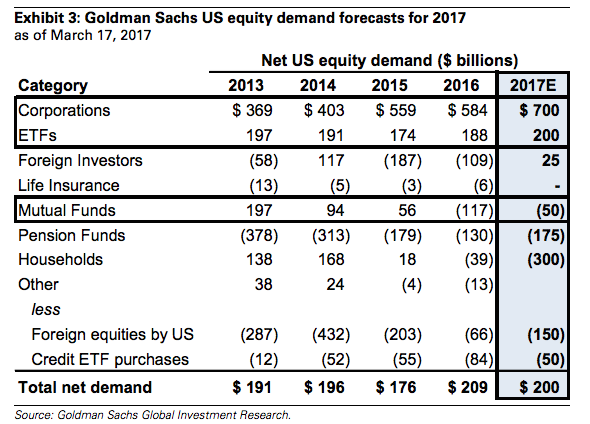 (Goldman)
And here's a bit of color from Goldman:
Corporations and ETFs were the key drivers of US equity demand last year [and] corporations will remain the primary source of US equity demand this year. Net equity purchases by corporations and ETFs equaled $584 billion and $188 billion, respectively, which offset net selling by mutual funds, households, and pension funds. Foreign investors also fled US equities during 2016, including $60 billion of net selling post-election amidst concerns of potential protectionist policies proposed by the Trump Administration.
So what they're doing (US corporates) is leveraging the balance sheet to artificially inflate the bottom line. Have another look at those numbers above for corporate equity demand and then have a look at the following chart showing the trajectory of investment grade supply: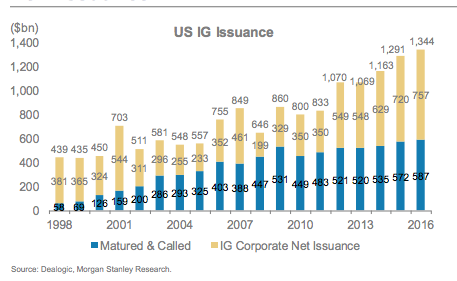 (Morgan Stanley)
Now have a look at two more charts showing share count change for S&P 500 companies as well as net buybacks:

(Barclays)
Do you see the problem here?
When I say "none of this is real," I mean that almost literally. Companies are borrowing to fund buybacks, those buybacks artificially boost EPS, and retail investors then pay more for a dollar of those increasingly fake earnings.
Meanwhile, corporate leverage rises and so do equity multiples.
Again, it isn't real. It's a castle in the sky.
For my money, I'd rather move to cash and build castles in the sand. Which is exactly what I did.
Happy trading.
Disclosure: I/we have no positions in any stocks mentioned, and no plans to initiate any positions within the next 72 hours.
I wrote this article myself, and it expresses my own opinions. I am not receiving compensation for it (other than from Seeking Alpha). I have no business relationship with any company whose stock is mentioned in this article.