If all goes as planned, there will not be a Threshold Pharmaceuticals Inc. (NASDAQ:THLD) for much longer. On March 16, Threshold announced that it will be joining in an all stock merger with privately held Molecular Templates, and the new company will be called Molecular Templates Inc. (NASDAQ:MTEM) going forward assuming the deal closes by Q3 2017 as both management teams expect. This deal breathes some new life into Threshold which has faced some significant setbacks the past few years, and creates a well capitalized new biotech firm with some early stage candidates with potential. This article will focus primarily on the details of the deal and what each company brings to the table, for a detailed background on Threshold and its history up to this deal's announcement, please see my article from late 2016 here.
The Deal
Threshold shareholders will own 34.4% of the new company Molecular Templates Inc, while original shareholders of the privately held Molecular Templates will own 65.6% of the new company. The CEO of the combined company will be Eric Poma from Molecular Templates, and Threshold's CEO Harold Selick will be the chairman of the new board. The ownership split was deciding by independent advising bodies and took into consideration the portfolio of drug candidates and potential each company brought with them to the deal. Based on the analysis, it was decided that Molecular Templates had the greater prospects as an individual company, and was assigned roughly 2/3rds of the combined entity. Although this may be discouraging to hear for Threshold investors, I see it as a good sign since Threshold has not had great success on its own to date.
In terms of capital, Molecular Templates has ~$18.3 million in cash and equivalents on hand that it will be bringing, most of which is from cancer research grants awarded to its early stage candidate MT-3724. Threshold, based on the recent conference call, will be bringing ~$12.5-14 million in cash and equivalents. This combined capital base will be awarded with an additional potential $20 million in venture capital investment from Longitude Venture Partners, but is conditional on the need for management to secure an additional $20 million in outside funding before Longitude puts its money in. If management can secure that additional $20 million in funding, then the combined capitalization of Molecular Templates Inc starting out will be around $70 million. That amount, if it becomes realized, would be enough to last the company into 2019 according to their predicted burn rate and planned trial expenses. In sum, it appears money will not be a major issue from the start and MTEM should get off to a smooth start rolling out its planned trials.
Prior to the deal finalizing however, there have been some key pieces of information that came out of Threshold. First, the discussions with Japanese regulators (PMDA), which were aimed at seeking regulatory approval to market evofosfamide in Japan have not resulted in approval. The PMDA has rejected the idea of an NDA submission based on the failed MAESTRO phase 3 trial which showed a strong subgroup response in Japanese patients. However, regulators have continued discussions in the direction of potential supplementary clinical trials to support the data from the MAESTRO trial, which gives management some hope that it can potentially run a smaller trial focused on Japanese approval and get evofosfamide to market faster than going through the entire process from phase 1 again. That being said, phase 1 trials for evofosfamide will continue as planned to try and salvage the drug after the MAESTRO failure and FDA rejection, management aims to start the new phase 1 trial within 2017. Next, as I mentioned in my last article, Threshold does not meet the listing requirements for the NASDAQ exchange due to its sub $1 share price, and will be doing a reverse split in the near term in order to stay listed.
Molecular Templates Background
Like Threshold, Molecular Templates is also a very early stage cancer therapy development company. Its lead drug candidate, MT-3724, targets the CD20 antibody expressed on a patient's tumor cells, becomes internalized by the cell, and goes on to stop the function of ribosomes within thereby killing the tumor cell.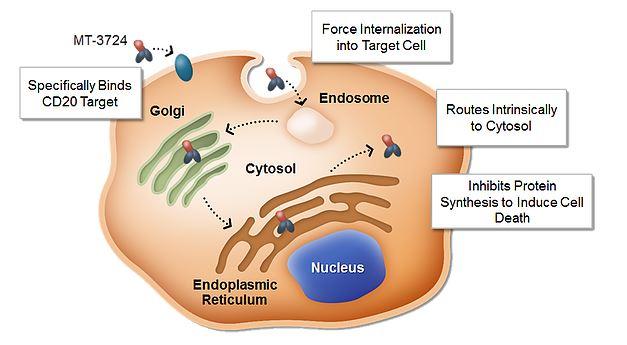 (Source: Molecular Templates)
MT-3724 is currently in the final stages of a phase 1 study, which according to management has been showing some promising safety and efficacy results in elderly, heavily treated, non-Hodgkin's lymphoma patients. Study completion is stated as May 2017, which gives a potential near term catalyst for what should be a combined around that time (the merger deal should close by May 31st, 2017).
Other than MT-3724, Molecular Templates has several very early stage candidates it is selecting for further development shown below.

(Source: Molecular Templates)
Each of these candidates, along with MT-3724, work via a similar concept that Molecular Templates believes is a preferred method to kill off tumor cells. Engineered Bio Toxins (ETBs) are molecules that force internalization of themselves into a tumor cell, and then go on to kill off the protein synthesis process within the cell by shutting down ribosome activity. These molecules can be designed to target specific cell surface antibodies, and their effect on protein synthesis has so far been shown to be permanent in nature, making them quite efficacious.
Taking a Look At Threshold Today
After the deal was announced, Threshold shares saw a quick run up in price followed by an equally quick drop down to normal levels once again. At closing on March 17th, the market cap of the company was just under $50 million. Taking into account the potential ~$70 million market cap of the combined Molecular Templates Inc, and the 34.4% ownership Threshold shareholders will have in the new company, that equates to a cash value of ~$24 million that Threshold shareholders will own in the new company. This cash amount is about half the current market cap of Threshold, so investors are paying about $24 million for the combined prospects of Threshold and Molecular Templates' pipelines once the deal closes. Although this is a much better position for current shareholders than a week ago when the market cap was similar but cash on hand and prospects were much slimmer, there is still much uncertainty in regards to PMDA trial discussions, the deal closing, and securing the venture capital funding which is needed to truly bolster the balance sheet. Share price is likely to also remain quite volatile as observers await full data from Molecular Templates phase 1 trial, and of news that funding is being secured. For now, the situation is much improved for Threshold, and the combined company Molecular Templates Inc will have a well capitalized fresh start to develop its drug candidates going forward.
Disclosure: I/we have no positions in any stocks mentioned, and no plans to initiate any positions within the next 72 hours.
I wrote this article myself, and it expresses my own opinions. I am not receiving compensation for it (other than from Seeking Alpha). I have no business relationship with any company whose stock is mentioned in this article.
Editor's Note: This article covers one or more stocks trading at less than $1 per share and/or with less than a $100 million market cap. Please be aware of the risks associated with these stocks.