Investment Thesis
Tillerson's Korea War & Short Squeeze
Kratos (NASDAQ:KTOS), the U.S. Defense and National Security Company, is submerged in debt but enough investors are betting the Trump administration will take military action against the North Korea regime, which Secretary of State Rex Tillerson promised during his Asia trip, 'Military action is on the table.' This optimism drives KTOS high; as of March-17's closing, KTOS was up 4.69% trading at $8.26.
Now that short sellers have shorted 12.59% of KTOS - the stock has climbed out of its November bottom of $5.77, a 43% gain - a short squeeze could be imminent.
Long-Term Catalyst: Sino-U.S. Geopolitical Hegemony Competition In Asia
Kratos's primary products and offerings are High Performance Unmanned Aerial Systems, Satellite Communication Equipment, Microwave Electronics and Cyber Security Solutions. Its products are perfect for the kind of semi-military action the U.S. played around China's coast since the inception of PRC. Therefore, even if the U.S. will not invade North Korea the two superpowers continuing to flex their muscles in the region will be a boom for KTOS.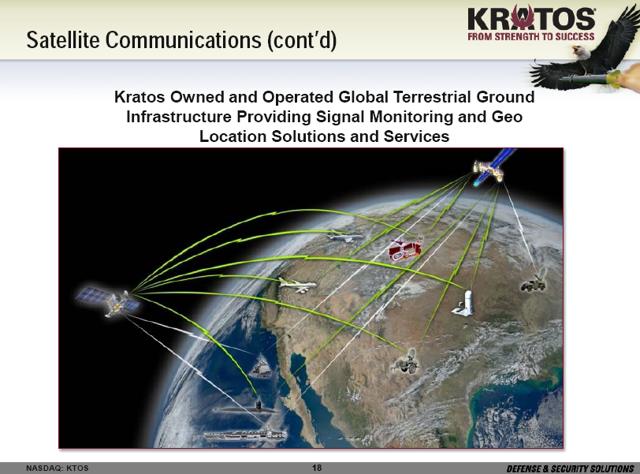 Source: Company Presentation
On April 1, 2001, the Hainan Island incident occurred when a mid-air collision between a United States Navy EP-3E ARIES II signals intelligence aircraft and a People's Liberation Army Navy J-8II interceptor fighter jet resulted in an international dispute between the United States of America and the People's Republic of China. The death of PRC J-8's pilot triggered a national rally against the U.S. in China and the EP-3 that was forced to land on Hainan was a humiliation to the Pentagon.
If the incident happened in 2017, the outcome could be the 21st-century version of the Cuban Missile Crisis. The past decade has upgraded Asia profoundly; China is now a superpower to be respected, not a poor communist state to be bullied.
Drones will replace manned surveillance aircraft. The demand for surveillance drone systems will increase. Imagine if the U.S. stops snooping around China's coast, particularly the South China Sea. This is as good a policy as accepting China's dominance of the region.
A piece of that pie will boost KTOS's revenue. Last Thursday (March-16), the Trump administration released a preliminary 2018 budget proposal with defense spending increase by $54 billion.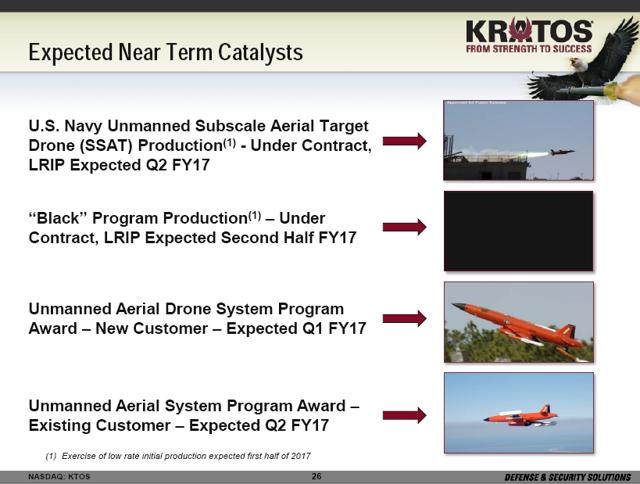 Source: Company Presentation
Business Hitting An Inflection Point
KTOS suffered several years of declining sales in its defense and public safety markets, due largely to declining defense budgets, excessive leverage and inconsistent execution. Now it is hitting a bonanza. Below is part of the list of its recently announced award Orders & Developments (Source: Briefing.com):
16-Mar-17: KTOS was selected for award on Phase II of the Defense Advanced Research Projects Agency Gremlins program. Under the Phase II contract, Kratos subsidiary Composite Engineering (CEI) will be a critical team member and will support Dynetics by designing, developing and building prototype Gremlin Unmanned Aerial Vehicles (Pending:UAVS), tooling and support equipment, as well as developing performance analyses, supporting subsystem testing and planning for potential future phases.
15-Mar-17: KTOS received an initial $1.6-million single award contract related to a new, in development, High Performance Jet Powered Unmanned Aerial Drone System.
13-Mar-17: KTOS received Lot 13 production option exercise, valued at $22.3-million on the previously awarded Air Force Subscale Aerial Target Lots 11-13 production contract.
10-Mar-17: KTOS announced its Microwave Electronics Division recently received $13.7-million in contract awards related to specialized communication systems.
09-Mar-17: KTOS announced its Unmanned Systems Division recently received a $5.6-million contract award from a U.S. Government Agency for High Performance Unmanned Aerial Target Drone Systems.
22-Dec-16: KTOS announced its Defense & Rocket Support Services Division's Madison Research Corporation Business Unit has received a $23.4-million single award contract with the United States Army Aviation and Missile Command.
30-Nov-16: KTOS recently received a contract award for multiple high performance jet powered unmanned aerial drone target systems; financial details not disclosed. Company states, "Over the next 24 months we are expecting Kratos Unmanned Systems Business to approximately double in size as a result of target drone programs we currently have under contract, certain of which are expected to begin initial production in the first half of 2017. Additionally, if we are successful with our tactical unmanned combat aerial system programs also currently under contract, we believe that we could significantly exceed this growth expectation for our Unmanned Systems Business." Due to customer related and other considerations, no additional information will be provided related to this contract award.
22-Nov-16: KTOS announced that it has received a $9.5-million contract award from a United States Government Agency for specialized satellite communications signal processing, monitoring and communications equipment.
16-Nov-16: KTOS received a $17.75-million contract award from a new International customer to provide full operational capability for the BQM-167i high performance unmanned aerial target drone system.
24-Oct-16: KTOS announced that it received a Joint Functional Component Command for Space contract modification to expand RF monitoring, interference detection and geolocation services to now include all Department of Defense (DOD) leased Ku and C-band commercial bandwidth worldwide, and X-band geolocation in select locations. DoD relies on commercial bandwidth to support critical mission needs, including reconnaissance, surveillance and broadband communications between commanders and field units. The contract modification is valued at $6.2 million.
17-Oct-16: KTOS announced that it had been awarded a $12.6-million contract with Defense Innovation Unit Experimental (DIUx), in coordination with STRATCOM and the Strategic Capabilities Office, to explore the use of high-speed drones in either fully autonomous or semi-autonomous roles to support fourth and fifth generation fighter aircraft. To enable this concept development, the U.S. Department of Defense needs to rapidly integrate and test both DoD and commercial capabilities onto a high-speed drone test bed. Under this effort, the DIUx has contracted with Kratos for the integration of certain sensors into the UTAP-22, flight services and for Kratos UTAP-22 to demonstrate in a large, complex exercise.
26-Sep-16: KTOS received $17.0 million in cyber security and command, control, communications, computers, combat systems, intelligence, surveillance and reconnaissance (C5ISR) program related contract awards.
12-Sep-16: KTOS was awarded $54 million contract to provide five Marine Common Aircrew Trainers to the United States Marine Corps.
24-Aug-16: KTOS announced that it was selected to develop and deliver KC-46 Pegasus tanker high-fidelity maintenance training systems to The Boeing Company (NYSE:BA) valued in excess of $20 million.
17-Aug-16: KTOS announced CALNET received an IDIQ contract with the Networks Division at Space and Naval Warfare Systems Center, Pacific. The five-year multiple award contract has a total value of over $33 million if all options are exercised.
Conclusion: Between 17-Aug-16 and 16-Mar-17, KTOS publicly announced it received orders amounting to over $236.65 million. Once The Trump administration's $54 billion defense budget increase takes effect and the shift to unmanned surveillance continues, KTOS's revenue will continue to grow.
Risk
I) KTOS still loses money
KTOS Reports a Q4 (Dec) loss of $0.07 per share, excluding non-recurring items; revenues rose 2.6% year/year to $182.1 million. Its revenue from 2012- 2015 was declining, although per share loss has narrowed over time (Below Chart).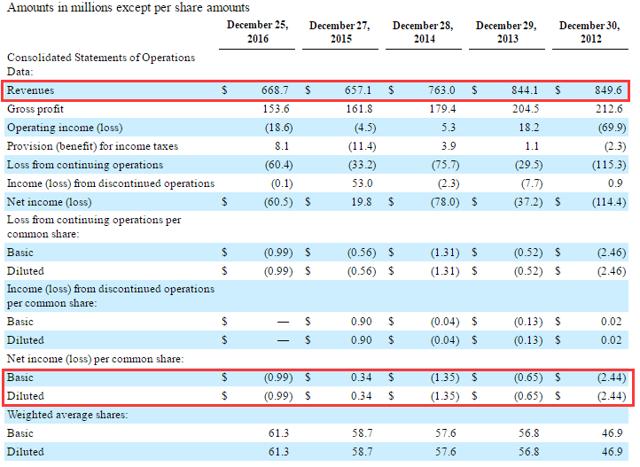 Source: 10-K Filing
Its total backlog at the end of the fourth quarter of 2016 was approximately $900 million, including funded and unfunded backlog of approximately $626 million and $274 million, respectively. Kratos's bid and proposal pipeline at December 25, 2016, was $5.7 billion. For the fourth quarter ended December 25, 2016, approximately 57% of Kratos's revenue was derived from U.S. Federal Government related customers, approximately 29% from commercial, state and local government customers and approximately 14% from international customers. It reaffirmed guidance for FY17, sees Adjusted EBITDA of $52-54 million, FY17 revs of $700-720 million. (Source: Briefing.com) This is a forecast of 4.8-7.8% YoY revenue growth compared to $668 million of FY16.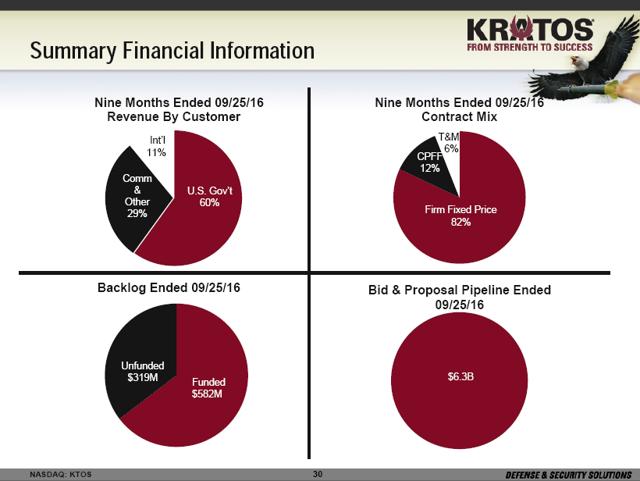 Source: Company Presentation
II) Equity Offering
02-Mar-17: KTOS priced an underwritten public offering of 10.35 million shares of its common stock at $7.25/share.
18-Nov-16: KTOS priced public offering of 11.67 million shares of its common stock at $6.00/share.
Investors are willing to trade high of KTOS despite its continued share dilution through equity offering, but if some of KTOS's defense orders were canceled, this could backfire.

Source: SEC Filing
III) Its Debt
As of December 25, 2016, KTOS still has $431 million long-term debt; this was down from $610.8 million of December 30, 2012, with its market cap of $615.64 million and EBITDA of $16.20 million (Source: Seeking Alpha). This is the primary reason short sellers are short this stock. Its current Debt/ EBITDA ratio is 26.6.

Source: 10-K Filing
Conclusion:
Short Term: A U.S.-led unmanned drone attack on North Korea's nuclear facility or missile testing facility (with China acquiescing to look the other way) could boost KTOS. Even if this did not happen, the Trump Administration's $58 billion defense budget increase with a significant part of this budget spent on spying on China will benefit KTOS. Given KTOS has gained 43% from its November low, any uptick could trick a short squeeze. It is hard to speculate how high up KTOS can go, sell-side analysts are predicting $10, this is a 21% gain. My conservative estimation puts it at up 10% to $9.
Disclosure: I/we have no positions in any stocks mentioned, and no plans to initiate any positions within the next 72 hours.
I wrote this article myself, and it expresses my own opinions. I am not receiving compensation for it (other than from Seeking Alpha). I have no business relationship with any company whose stock is mentioned in this article.