By Yingjing Lu, Xinhui Guo, Zichen Liu, and Xingjian Yu
Company Overview
Autodesk (NASDAQ:ADSK) is a company that makes software for the architecture, engineering, construction, manufacturing, media and entertainment industries. In 2016, Autodesk had over 9000 employees and generated $2.512 billion revenue with $228.8 net income. Autodesk has three collections of software products: architecture, engineering and construction; product design; media and entertainment. Each collection has multiple software products. Architecture, engineering and construction collection includes products such as Revit, AutoCAD, InfraWorks 360. Product design collection includes Inventor Professional and others. Media and entertainment collection includes, for example, Maya and 3ds Max. Autodesk's products are widely used in industries. Major industry-leading companies such as Airbus, Disney, deploy Autodesk's products in their business.
In February 2015, Autodesk announced the transition from perpetual licensing to pay-as-you-go subscription plans. Under perpetual licensing, users pay one-time upfront fee to purchase legal license to the software. Under subscription plans, users pay for licensing of monthly, quarterly, annual, or multi-year term lengths, depending on users' needs. Subscription plans allow users to have the most up-to-date software without paying extra for updates. Under the subscription plan, users can also take advantage of the Autodesk cloud service that allows them to access software and files from any device they choose to use. In addition to providing payment and location flexibility, subscription plans prevent unlicensed usage of software better than perpetual licensing. The consequential financial benefits of this change of licensing model will be discussed further in later sections.
Autodesk has huge growth potentials. Virtual reality has been a growing trend in technology, and Autodesk, having its visual, 3-dimensional design software, will be able to capture large percentage of the market share. We shall also consider the potential sales growth in industrial software. There has been rapid growth in property construction and public infrastructure in developing countries, such as China and India. Autodesk's construction and engineering software will be widely used in those countries to design buildings and transportation systems. The long-term construction growth in developing countries is great opportunity for Autodesk to generate sales revenue for the next decades.
The key of Autodesk's success is whether Autodesk will be able to capture the profits from sales of software products in the developing countries. Licensing laws in such countries are incomplete and loosely executed. Many companies may use unlicensed software, which do not generate revenue for Autodesk. However, as we mentioned before, the new subscription plan model can largely prevent unlicensed usage of software. We believe Autodesk's software will be widely used in developing regions and generated increased sales revenue.
The risk of Autodesk's future is whether it will be able to maintain its lead in the quickly-changing and highly competitive software industry. Although Autodesk currently has significant advantage, the fast pace of new software development and merger/acquisitions among existing companies and products can change the competitive landscape in a few years. Many leaders in the software industries have lost their advantages in a short period of time. However, we see Autodesk's strong initiative and commitment to stay ahead in the competition, to maintain its advantages and to advance further. With its current physical and intellectual assets, and its commitment to continuing research and development, we think Autodesk will advance faster than its competitors and widen the lead.
Financial Analysis
Income Statement from Yahoo Finance
Gross profit had a 24.3% drop (from $648M to $512M) at the first quarter of 2016. It was mainly because the transition from license sale to subscription in the business model together with a big price decline (Yahoo Finance). However, strong subscription numbers increased its gross profit by 11% ($419M to $465M) from Q3 2016 to Q4 2016, and cutting in operating expenses decrease total loss from -$173M to -$93M.
| | | | | |
| --- | --- | --- | --- | --- |
| Revenue | 7/31/2016 | 4/30/2016 | 1/31/2016 | 10/31/2015 |
| Total Revenue | 550,700 | 511,900 | 648,300 | 599,800 |
| Cost of Revenue | 85,000 | 92,500 | 94,900 | 91,000 |
| Gross Profit | 465,700 | 419,400 | 553,400 | 508,800 |
Operating Expenses

Research Development

191,000

195,500

204,500

197,900

Selling General and Administrative

308,500

318,700

350,600

317,600

Non Recurring

16,000

52,300

52,300

52,300

Others

7,800

7,900

8,000

8,100

Total Operating Expenses

523,300

574,400

-

-

Operating Income or Loss

-57,600

-155,000

-9,700

-14,800
Income from Continuing Operations

Total Other Income/Expenses Net

-

-

-

-

Earnings Before Interest and Taxes

-54,000

-158,600

-9,700

-14,800

Interest Expense

13,700

13,700

10,800

7,700

Income Before Tax

-67,700

-158,600

-20,500

-22,500

Income Tax Expense

25,200

14,400

16,700

21,300

Net Income From Continuing Ops

-92,900

-173,000

-37,200

-43,800
| | | | | |
| --- | --- | --- | --- | --- |
| Net Income | -92,900 | -173,000 | -37,200 | -43,800 |
| Net Income Applicable To Common Shares | -92,900 | -173,000 | -37,200 | -43,800 |
Cash Flow from Yahoo Finance
Cash flow from operating activities had a 110% drop ($164M to -$18M) in the second quarter of 2016, mainly because the loss in Account Receivables ($397M to -$50.5M). Total investment in cash flow went from negative to positive ($430.8M) in the third quarter of 2016 for the first time within a year. However, capital expenditures remains steady from the fourth quarter of 2015 to the third quarter of 2016.
| | | | | |
| --- | --- | --- | --- | --- |
| Period Ending | 7/31/2016 | 4/30/2016 | 1/31/2016 | 10/31/2015 |
| Net Income | -92,900 | -173,000 | -37,200 | -43,800 |
Operating Activities, Cash Flows Provided By or Used In

Depreciation

33,000

37,400

36,100

35,700

Adjustments To Net Income

35,100

123,700

55,700

53,800

Changes In Accounts Receivables

-50,500

397,400

-292,900

33,000

Changes In Liabilities

65,700

-206,200

406,000

-16,200

Changes In Other Operating Activities

-8,400

-14,900

2,200

17,900

Total Cash Flow From Operating Activities

-18,000

164,400

169,900

80,400
Investing Activities, Cash Flows Provided By or Used In

Capital Expenditures

-20,300

-22,300

-30,600

-12,000

Investments

482,400

-147,300

50,100

-8,000

Other Cash flows from Investing Activities

-31,300

-60,600

-72,900

-69,500

Total Cash Flows From Investing Activities

430,800

-230,200

-53,400

-89,500
Financing Activities, Cash Flows Provided By or Used In

Sale Purchase of Stock

-166,900

-48,900

-46,500

-154,900

Other Cash Flows from Financing Activities

-1,600

-18,300

-51,600

28,700

Total Cash Flows From Financing Activities

-168,500

-67,200

-98,100

-126,200
| | | | | |
| --- | --- | --- | --- | --- |
| Effect Of Exchange Rate Changes | -400 | 3,400 | -2,900 | -300 |
| Change In Cash and Cash Equivalents | 243,900 | -129,600 | 15,500 | -135,600 |
Balance Sheet from Yahoo Finance
Cash flow and equivalents had a 20% increase ($1.2M to $1.5M) during the second quarter of 2016. But short investments had a 43% decrease ($1.0M to $0.6M). So overall, total assets decreased in the second quarter, continuing from the first quarter. Total liabilities remains steady across fiscal 2016 (around $3.8M to $3.7M).
Period Ending

7/31/2016

4/30/2016

1/31/2016

10/31/2015

Current Assets

Cash And Cash Equivalents

1,467,300

1,223,400

1,353,000

1,337,500

Short Term Investments

597,600

1,043,900

897,900

946,800

Net Receivables

306,900

256,400

653,600

372,500

Other Current Assets

114,700

105,300

88,600

90,700

Total Current Assets

2,486,500

2,629,000

2,993,100

2,747,500

Long Term Investments

505,600

538,900

532,300

540,100

Property Plant and Equipment

173,000

174,900

169,300

155,300

Goodwill

1,597,400

1,580,500

1,535,000

1,515,000

Intangible Assets

66,600

70,000

70,800

76,100

Other Assets

208,500

202,500

205,600

181,600

Deferred Long Term Asset Charges

9,800

9,800

9,200

4,400

Total Assets

5,047,400

5,205,600

5,515,300

5,220,000
Current Liabilities

Accounts Payable

452,500

382,700

522,100

434,200

Other Current Liabilities

1,107,100

1,091,800

1,068,900

877,000

Total Current Liabilities

1,559,600

1,474,500

1,591,000

1,311,200

Long Term Debt

1,489,200

1,488,400

1,487,700

1,486,900

Other Liabilities

187,400

296,800

299,000

298,600

Deferred Long Term Liability Charges

479,500

510,000

518,000

390,200

Total Liabilities

3,715,700

3,769,700

3,895,700

3,486,900
Competitive Analysis:
AutoCAD and its related product line serving artitecture, manufacturing and construction industries has been the flagship and most profitable product line. Compared to its competitors, AutoCAD is more affordable, easy to learn and competently functional. According to Forbes, Autodesk has achieved more than 85% market share in major areas in Europe and America with its CAD product line in 2015. The stable market share has made AutoCAD series an universal industrial standard which greatly improves user fidelity.
Architecture, Engineering and Construction Product Line:
AutoCAD
AutoCAD LT
Autodesk Inventor
Autodesk Revit
Autodesk Vault
Autodesk Fusion 360
Competitors:
ANSYS. ANSYS is a company that provides solutions for CAD and simulation for construction and manufacturing. However, ANSYS puts more emphasis on its simulation algorithm instead of its CAD part. On the other hand, Autodesk puts more emphasis on the ease of use of CAD drawing process. As a result, many professional users usually use AutoCAD to brainstorm and to draw the models and them import their model into ANSYS to run simulation. In this most commonly used scenario, ANSYS's and Autodesk's product line are identified as complements than direct competing substitutes.
Bentley & AVEVA Systems. The above two companies are both identified as competitors in the manufacturing CAD area with Autodesk. Compared with Autodesk, those two companies are focus more on the users in highly sophisticated industries such as aero plane design, ship design and energy plant design. As a result, they usually deliver more integrated solutions from design software to simulation to visualization. For example, AVEVA's solution for chemical engineer industries delivers CAD software for the design of the plant, thermodynamic simulation of plant, stress test and visualization of plant operation. The holistic solution that those companies deliver make the two competitors occupies a lot of market shares in those industries where they are targeting at. But at the same time, because their solutions are really focused, the pricing of their product is unaffordable for middle scale and small scale design companies. Even in large industrial design institutions, AutoCAD is still the competent one to accomplish regular design work. As a result, Autodesk's product line is more competitive in occupying the mainstream industries and market share.
Media and Entertainment Product Line:
Autodesk Maya
Autodesk 3ds Max
Autodesk Motion Builder
Autodesk Mudbox
In the media and entertain 3D software market, Autodesk Maya and Autodesk 3ds Max are unquestionably dominating products in those market. Both of those software delivers fast and easy workflow for animators and modelers. Through third party collaborators such asV-Ray, I-Ray and lighthouse, Autodesk's software can deliver more realistic simulation and more efficient rendering flow (which is one of the most important part for animation industries to optimize their workflow). Also, most peripheral products such as game engines and motion tracking software all natively support models created from Maya and 3ds Max. Furthermore, Autodesk works closely with hardware developers such as NVIDIA and AMD to make sure their newest hardware acceleration features such as AMD OpenCL and NVIDIA CUDA can optimize Autodesk products. All of those aspects make Autodesk M&E software the fastest, most widely used, and most compatible software in the mainstream market.
Competitors:
Cinema 4D is considered as a substitute product for Autodesk Maya, but not as powerful as Maya. Both of these products provides modeling, animating and rendering features. However, Cinema 4D is not optimized for hardware acceleration. As a result, Cinema 4D right now is only limited in small scale animation production. Furthermore, Cinema 4D does not have a great community of developers to provide motion tracking support and real time rendering such as I-Ray.
Another example is Zbrush which can be a great complement for Autodesk 3ds Max in the rapid modeling field. Zbrush provide more intuitive brushing interface that allows creators to sculpt models in a faster way. However, 3Ds Max is stronger in rendering textures. As a result, modelers usually use Zbrush to create models and put them into 3Ds Max for rendering. As a result, the two competing software can work as complement to each other's weakness and thus make their competition in the market less intrusive.
Emerging Area (AR; VR; 3D Printing; Photogrammetry) Product Line:
Autodesk Maya
Autodesk 3ds Max
Autodesk Remake
Autodesk Recap
Autodesk 123D Catch
Autodesk, compared with other startup companies, have more competitive advantage in the emerging areas such as VR AR, 3D printing, and photogrammetry. For VR and AR development, Autodesk's Maya and 3Ds Max are already the industrial standard for development. Most of the VR and AR engines such as Unity3D, Vuforia, and Cry Engine have innate support to Autodesk's interface. In terms of 3D printing and Photogrammetry, Autodesk's dominating CAD product line and its rapidly developing new products 123D Catch, Remake and Recap are competitively powerful tools for current workflow in those areas. Even though there are more new companies such as 3D Systems, Rhino, and 3D Flow provide more affordable options, we still think that Autodesk, with its already well-rounded design product ecosystem and its industry standard that results in its dominating market share, will be the flagship in the emerging market as well.
Investment Theme:
The major investment theme of going long for Autodesk is that we regard Autodesk as the leading CAD software company and as its business model changed from licensing to subscription, it will face a short term drawback, which is the situation right now, but will gain more sustainable growth in the future.
Advantages of Subscription Model:
More consistent cash flow: The returning users will offer Autodesk consistent revenue every month after they complete their subscription payment. The more stable cash flow will offer Autodesk more predictable revenue to manage its capital and to make its spending more efficiently optimized under predictable revenue.
More affordable to larger user group: The subscription will result in much less short term cost to use the software. This is especially friendly for small scale companies which are not able to purchase multiple copies of thousands dollars software. The subscription will be more widely accepted by those users and thus further expand Autodesk's market share.
Less risk of piracy: As the software is subscription based, the software will renew its licence every time user go online. This means that for those who pirate the software have to renew their fake licence every time they use it. Further, the subscription will make software more accessible to the anti piracy updates Autodesk releases. The subscription will make piracy of the software less feasible and thus guarantee more revenue to Autodesk. We regard this crucial as Autodesk is rapidly expanding to emerging markets where piracy is prevalent. The subscription will help to guarantee more return from piracy in those regions.
Easier to expanding cloud services: Because of the subscription, users can install copies of software into multiple devices at home or at the office. It will be more natural for users to complete their work at one place and sync it to other devices when they log in to their subscriptions on other devices. Enterprise license subscription also allows cloud file sharing across multiple users, making online collaboration through Autodesk cloud more crucial to the design teams. In this way, the cloud service Autodesk 360 will be easily accepted by the users and thus will be another crucial source of income in the future as user fidelity become firm.
Autodesk's current stock price drop mainly results from its change of business model. As its major CAD software switch from one time licensing to subscription, Autodesk is facing the issue of lack of subscribers and the short term defer of its revenue.
Lack of subscribers is the current issue that Autodesk is facing.

From the graph one can observe that Autodesk's revenue peaks at mid 2015 and dramatically decreased after mid 2016. We interpret the trend as a result of its switching to subscription model. Autodesk receives nearly constant revenue before 2014 because if its stable sales performance. However, after it first announced the plan for subscription during mid 2014, more perspective users crowded to buy one time licence which result in its growth from mid 2014 to 2015. After the mania of licence starts to discharge, the future users who Autodesk foresees going to buy its subscriptions already has life long license. As a result, Autodesk receives less initial subscribers and did not get stable revenue after switching.
The short term deferral of its revenue is because of the nature of subscription which is the payment of the licence will be spread out and result in less one time revenue within a quarter. Traditionally, when a user is buying the software one time, he or she will have to pay more than thousand dollars at one time to gain the licence. These one time payments offers huge revenue and cash flow for the Autodesk. When it comes to subscription, users only pays half hundred a month, as a result, with the price of the software spread out, the short term revenue is diluted.
Our counter argument for lack of subscribers is that Autodesk is gaining a subscription growth. Autodesk reports that there are 24% subscription growth during Q4 of 2016 compared with other quarters. And the subscription growth is getting stronger in the first quarter of 2017. Even though Autodesk projects the revenue loss contributed by subscription is not expecting to recover due to the promotional discount of the subscription, it is highly expectable for future strong revenue growth after gaining a huge amount of subscribers.
The deferred revenue due to the nature of subscription will also be compensated in the long run. Furthermore, The advantage of subscription brings more steady monthly income and less possibility for pirating.

A comparable example is Adobe. Both Adobe and Autodesk are software companies which dominate its field. As Adobe switched its model from one time licensing to subscription during mid 2013, one can see similar trend of short term revenue losses in the graph. However, After Adobe's subscribers increases, its gains huge improvement of revenue afterwards. And we project Autodesk will have similar success as Adobe.
Evaluation and Projected Growth
The way we model Autodesk's projected growth is by comparing its predecessor Adobe.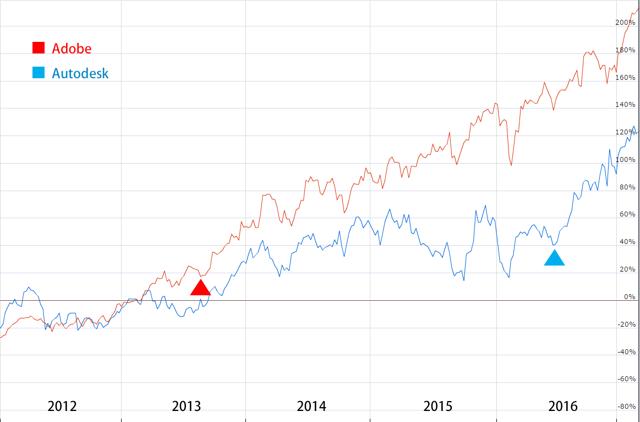 The graph shows the stock price of the two companies in the five year period. The two triangles mark the time two companies switch to their subscription model as they are today.
As claimed in the previous part, Adobe is comparable with Autodesk in its company profile side because both of these companies are industrial standard professional software developer. They all have market dominating products (Adobe's Creative Cloud Product line VS Autodesk's Engineering and Manufacturing product line). Further, Both of those companies switched their business model from lifetime licensing to subscription.
From the graph, in the technical side, both of those companies' stock price experienced drop during the switch period and then recovered.
As Adobe projected about 4 times growth after switching to subscription in 3-year-period, we offer a relatively similar projection of Autodesk's growth of about 3.5 times achieving projected price of $140 per share counting for dividends in 3 years.
As Autodesk's current price stays around $86 per share, we can still expect 63% growth in three years.
Investment Summary Highlights
We recommend to take a long position of Autodesk for a 3 year period for about 63% growth. The major theme of the investment is that Autodesk is the leading software developer in CAD and media entertainment area with its industrial standard software. As Autodesk have just changed its operation business model to subscription licensing from lifetime licensing of its major products. This new model will offer Autodesk more consistent long term revenue and will secure its growth in the emerging market.