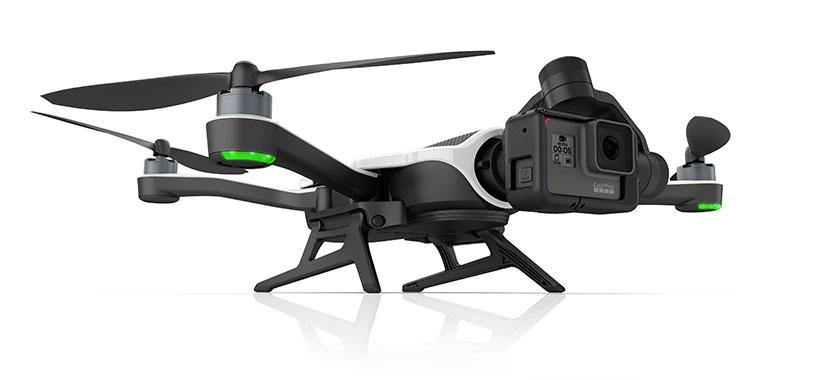 On Wednesday, GoPro's (NASDAQ: GPRO) stock surged by about 18% after the company announced a second round of job cuts. The company also updated its Q1'17 revenue to be at the upper of its guidance of between $190 million and $210 million. Under these conditions, the company intends to turn a profit this year. Although these are good news, in this article, I will give reasons why long-term investors should ignore GoPro and instead invest in Garmin (NYSE: GRMN).
Why Investors Buy GoPro
Investors have a number of reasons to be bullish on GoPro. First, they believe the company is undervalued. GoPro has a market capitalization of $1.12 billion which is significantly lower than the $14 billion it reached two years ago. Second, they invest in the company's brand. In this, they believe that GoPro's loyal user will continue supporting the company even when it releases products that lag those from its competitors. A good example is the recently released GoPro Karma drone that lacked basic features. Ben Popper from The Verge provided a good summary about the drone:
This is the first drone released by GoPro. When it is functioning perfectly, the following things are still true: the Karma can't autonomously follow you around. Its battery life is on the low end, and its range is much shorter than its main competitors. It doesn't have fancy sensors to help it stabilize indoors or avoid obstacles. It's akin to releasing a flagship smartphone in 2016 that didn't have a fingerprint sensor or front-facing camera.
Third, they believe the company's recent cost cutting measures and revenue growth will be sustainable and the company will soon get to profitability. Finally, they believe in the GoPro ecosystem which is made up of the hardware, cloud, and mobile.
While some of these reasons make sense, I believe that GoPro is not an ideal investment for the long term.
Why Garmin?
Diversified company
Garmin is a designer and manufacturer of a number of products in the auto, marine, aviation, outdoor, and aviation sectors. In these segments, the company targets consumers, corporations, and OEMs. As shown below, GRMN is a diversified company whose segments contribute significantly to the total net sales.

Source: 10K
Frankly, this is one of the most important reasons why investors should consider buying Garmin instead of GoPro. GoPro reports just one segment because it generates revenue from device sales. Recently, it started a cloud subscription service called GoPro Plus. I believe the revenue in the subscription model will be negligible. In the past, GoPro's efforts to become a media company have failed.
Garmin's diversified nature allows the company's segments to support one another. A good example is what happened in 2016 when the auto segment's sales declined from $1 billion to $882 million. The decline was offset by the growth in the other four segments.
GoPro's main product is the Hero line of action cameras. The company's products continue to have the biggest market share in the industry which is expected to grow by 22% CAGR in the next five years. In 2016- which was expected to be a good year for GoPro- the number of total units shipped declined to 4.7 million from 6.5 million in 2015.
Going forward, I believe that GoPro's reign in the action camera market will continue although growth will be limited. Late last year, Garmin released Garmin Virb, an action camera has more features than the Hero4 line of GoPro's cameras. It has also received good reviews by critics and customers.
Dividend
GoPro does not pay a dividend and it does not intend to do so in the foreseeable future. As a growth company, this is understandable as the company reinvests in growth.
Garmin on the other hand has consistently paid dividends in the past 10 years. The company has a dividend yield of 3.9%. When investing in dividend paying companies, I look at the company's source of dividends. I dislike companies that borrow to pay dividends and those that have a payout ratio of above 100%. Garmin has a dividend payout ratio of 79%. While this is higher than what I love, the payout ratio has been declining from a high of 193% in 2015.
At the same time, the company's free cash flow has increased from $574 million in 2013 to $614 million in 2016. This means that the company's investors can expect a dividend in the next couple of years.
Garmin is also investing in share repurchases. In the last quarter, the company repurchased shares worth $28 million. It has $75 million to go to the current program which is expected to end this December.
Valuation
Garmin is not cheap. It has a market capitalization of $9.8 billion and an enterprise value of $8.75 billion. It has no long-term debt and has a book value per share of 18.13. GoPro on the other hand has a market capitalization of $1.2 billion, an enterprise value of $991 million, and a book value per share of 3.16.
In terms of earnings, it has a trailing PE ratio of 19.1 This PE ratio is slightly lower than the industrial average of 22.98 and the S&P 500 average of 26.1. This PE is however slightly lower than the company's 2016 peak of $21. The company has a forward PE ratio of 17.9. The forward ratio is also slightly lower than the company's peak in 2016.
Final Thoughts
While Garmin is not cheap, I believe it makes a better investment than GoPro. As explained, Garmin is a diversified company with five major revenue sources. The segments complement one another. This is demonstrated clearly by the decline in auto revenue which was offset by the gain in the other four categories. GoPro on the other hand is basically a two-product company. Apart from its diversified nature, Garmin has a record of paying dividends which GoPro does not plan to pay in a foreseeable future. For a long-term investment therefore, I believe Garmin makes a better investment.
Disclosure: I am/we are long GRMN.
I wrote this article myself, and it expresses my own opinions. I am not receiving compensation for it (other than from Seeking Alpha). I have no business relationship with any company whose stock is mentioned in this article.