I've really struggled writing this article. I've been working on it periodically since my last article on Integra Gold (OTCQX:ICGQF), which I finished just before the Tucson Gem and Mineral Show in February. My selection of Integra as a topic was purely coincidental with the timing of the show, and completely different than anything else I've written about.
I thought about moving to a different subject when I had a conversation with a friend of my son, who works for a major brokerage firm. He complimented me on my previous articles, and specifically mentioned the article I wrote last fall, "Fake Dividends, Real Money - Using Options In An IRA."
One reason I write is to help clarify my own thought processes. If I can't explain what I'm doing to someone else, I may need to rethink what I'm doing and try something else. I've made some modifications from a buy and hold dividend investor to something less doctrinaire, and I've had to work hard to see if I can explain this in a way that makes sense.
Another is to see what other Seeking Alpha readers have to say. It's like Christmas for days after an article gets published. I have access to an incredible amount of free investment analysis from professionals and talented amateurs. So I figured I'd finish this article and see what the Seeking Alpha community has to say.
Before we leave the Tucson Gem and Mineral Show, I'd like to offer a plug. It was my first show, and it's like nothing I've ever seen. I'm pretty sure it's not possible to visit all of the ~45 venues during the two-week show period. I only went to a couple of smaller events, and it took hours. I almost got out without buying anything, but the last vendor before the exit got me with this small piece of Marramamba Tiger Eye. It's certainly not the coolest thing there, but I liked it, could afford it, and knew exactly where I'd display it, so home it came.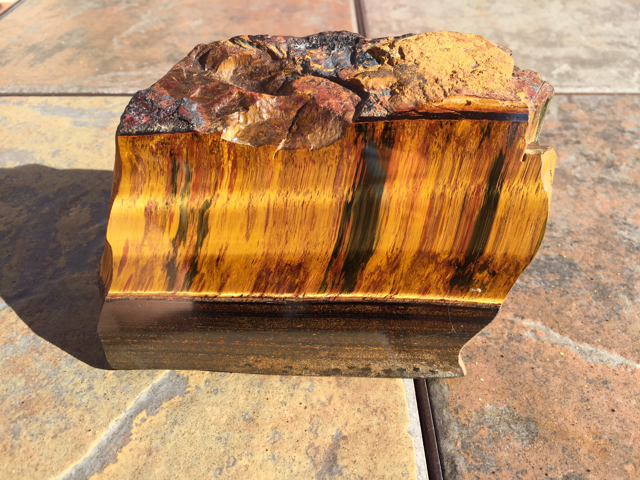 Image: Author
So Who Am I, Anyway?
I consider myself a dividend investor, mostly. Buying a small cap junior gold explorer certainly cuts against that model, but we all have our vices, and miners are one of mine. I'm sure Integra won't be the last miner I write about.
As always I enjoy the comments and I got this one:

To which I replied: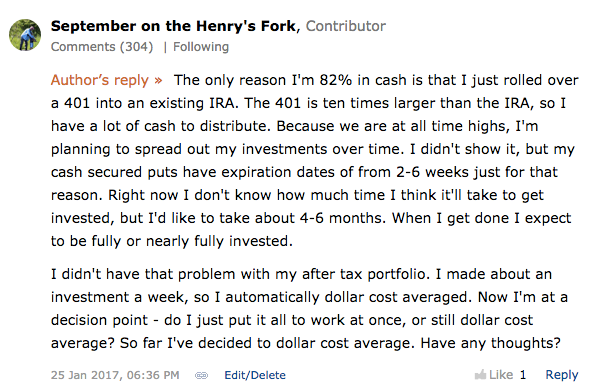 And I got this nice response:

This is just an example of the comments I get, which are much appreciated, free and usually have something actionable.
What To Do With New Cash
So now I have a large infusion of cash into my IRA and need to figure out how to best deploy it. When I cashed out my 401, I sold at the current market, which is pretty close to the "all-time highs" I mentioned in my comment. If I turned around and immediately reinvested my cash, I'd be buying at the same all-time highs, so it would be a wash. So did I do that?
No, I Didn't
Selling at record highs doesn't obligate me to buy back in at record highs. Instead, I decided to evaluate each position on its own merits, see if the valuation was acceptable, and then make a decision on each position. I decided I'm not in that big of a hurry, so if it took a few months that was OK.
Could the market go higher? Sure. So far it has and it looks like I got it wrong. This all-time record high could be a bottom leading to an even higher all-time record high. But I'd like to take the time to make good decisions, not just to ride the wave up. So I'm taking Fast Track to Financial Independence's advice and I'm taking my time.
In the meantime, I'm looking for ways to get into positions a little cheaper while generating cash flow.
Can Options Help?
Perhaps so. I have lots of favorite authors on SA, and one is PendragonY. The heading I used for this section is lifted directly from many of his articles, and is used as a tribute to the idea that options can provide extra income while setting up buy or sell positions.
As I've tried to make clear in previous articles, what I want from my investments is durable cash flow. Valuations can go up and down, but a good company with reliable and rising dividends means I can tune out some of the headlines while still collecting checks.
I started out with buying and holding dividend stocks while collecting the dividend check every quarter, or month in a few cases. That's how I built my entire after tax portfolio. Here's what that portfolio looks like now.
Image: Simply Wall Street
Every position pays a dividend, or distribution in the case of a Partnership. So far, I've written no options on this portfolio, and it's not on my to do list. Right now, I'm using it as a control to measure a pure buy and hold portfolio against the Dark Side of the Moon (DSOTM) IRA portfolio. I started out thinking the control period could be a year, but will evaluate that in six months or so.
Dividend stocks are still the base I'm using to build that durable cash flow for my DSOTM portfolio. I'm just using options to generate extra cash flow.
Keven Steps In
I was trying to explain this process to my friend Keven. Usually, when I'm stuck, I go to him, and most of the time, we can work out something that makes sense. To me at least.
I was trying to explain how I'm using options to Keven, who is a very smart guy. I realized my verbal skills just weren't up to the task. Keven suggested a flowchart, an approach I'm fond of and have used before. So here's a flowchart of the options process I'm using.
For experienced optioneers, I realize this is a simplified process. But I'm trying to keep it that way, while moving further down the road than what I previously described.

Source: Author
I'll go through the flowchart to explain.
Are options available? Well, if not, then just buying the stock is the only available choice.
Most of the big name, traditional dividend stocks do have options, but there are lots of dividend payers that don't. Jernigan Capital (NYSE:JCAP) is an example of a relatively new, small company that pays a nice dividend (6.25%), but doesn't have options, so I just bought it.
Are options liquid? If options are available but there's little demand, they probably aren't going to be easy to fill, and the delta between the bid and ask can be pretty wide. For example, here's the April options choices for Brookfield Infrastructure Partners (NYSE:BIP), one of my favorite holdings:

Source: TD Ameritrade
TD only shows 9 open positions for the April 21 $35 call, not exactly what I'd call liquid. The strikes are $5 wide, and you can see that to get filled, you'll have to try and split the difference between the bid and ask. It's certainly doable, but I just bought the stock.
Do Premiums Provide Adequate Upside or Downside? I don't have a hard and fast definition of "adequate." I ask myself the following questions if, for example, I sell a cash secured put looking to enter a position:
Would I be willing to pay today's price for the stock?
Would I like it better if it was cheaper by a quarterly dividend or two?
Would I be OK if the stock price went up instead of down and I had to buy it at a higher price, offset by the option premium collected?
If the answer to all these is "yes" then I keep moving forward.
Do Premiums More Than Replace Dividends? It doesn't make sense to me to use options if the premiums aren't higher than the dividends they replace.
Are Weeklys Available? Options expire on the third Friday of the month. Strikes on these options are often spaced $2.50 or $5 apart, which provide fewer premium options. Many stocks have options that expire every week (hence the term "weeklys"). The strikes on these are often only $.50 to $1 apart. That gives me more choices, and I like that. Weeklys aren't a need to have, they're a nice to have.
Implementing The Flowchart
If I get this far on the flowchart, I have several things I can do, and I've done them all, as I'll show in a bit.
Cash Secured Put
Covered Call
Hybrid option vehicle
I'll use Dominion Resources (NYSE:D) as my example on how all three worked for me. Here's a spreadsheet I created that shows my transactions in D. I'll provide some further explanation afterward.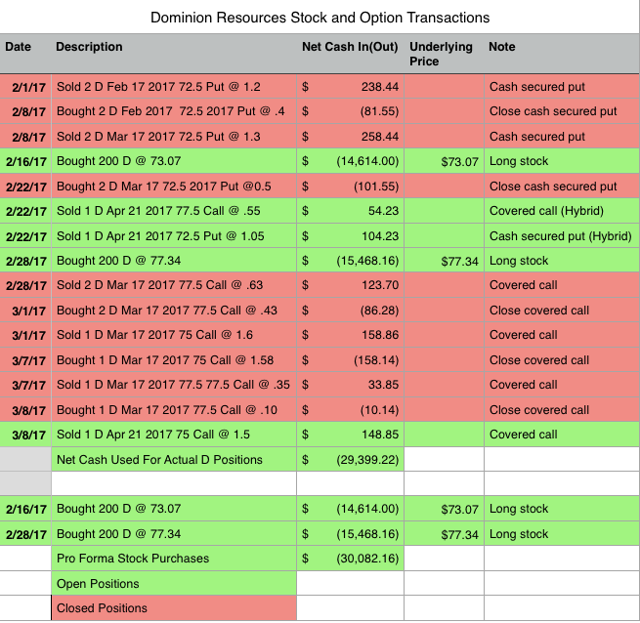 Source: Author
Looking at the first 2 transactions on the spreadsheet, I sold a cash secured put, then bought it back at a profit. That means D's stock price was going up, a point I'll come back to later.
The transactions on 2/22/17 closed the second cash secured put, and I opened what I'd call a hybrid strangle. Since this is an IRA, I had to have a long position against the call. What I was hoping for was that D would trade in a range between $72.50 and $77.50 until April 21, 2017. Then both options would expire worthless and I'd keep the premium and the stock without further obligation.
Finally, I bought 200 more shares and sold 2 call options with a short-term expiration of March 17, 2017. Frankly, I should have let it go right there, but I didn't. The rest of the spreadsheet shows a bunch of transactions rolling out a one option position to April with the expectation that the next interest rate hike would take down utilities in general. I think I got a bit too cute with these.
Summarizing the top part of the spreadsheet, I currently own 400 shares of D. The open options positions mean:
I'm obligated to buy 100 shares of D if the price drops to $72.50 or below by April 21.
If the price of D is above $75 by April 21, I'll have to sell 100 shares.
If the price of D is above $77.50 by April 21, I'll have to sell another 100 shares.
There are a lot of transactions on the spreadsheet, but it's pretty straightforward. I'm buying low and selling high. I'm just reversing the order by selling first then buying.
I'm keeping at least 200 shares. If I have to sell the other 200, that's fine. I can always buy them back, either directly or using more cash secured puts.
If I make no further transactions and the options expire worthless, I keep all 400 shares. My cost will effectively be $73.50 instead of $75.21. And I want Dominion Resources as a long-term holding for the 4% dividend.
Tell Them What They've Won, Don Pardo!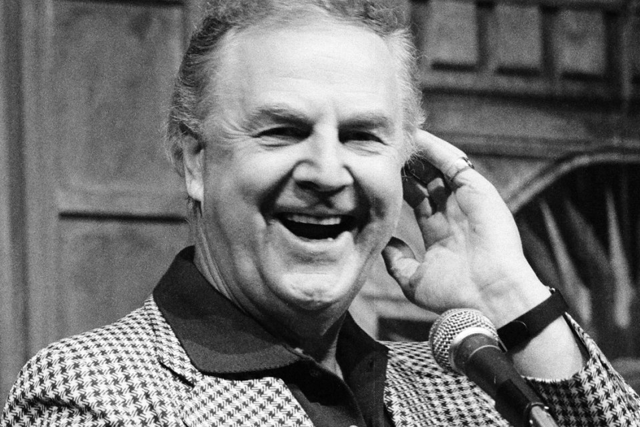 Source: Vanity Fair
I've collected $682.94 in 5 weeks in option premiums. Since I bought all 400 shares before the ex-dividend date of 3/1/17, I get a quarter's worth of dividends even if 200 shares get called in April. That's another $302 I can add for a total of $984.94.
Compare that to just buying and holding D. Dividends for 6 months on 400 shares are $604 (400*$1.51 = $604).
My goal is to generate cash flow from my portfolio, and I've done that.
Risks
Underlying Stock Price Drops: The most obvious risk I see is that the price of D plunges before April 21, and I have to buy 100 more shares above the market on that date.
Let's say the price is $50 on April 21. I'd pay $7,250 for a stock worth $5,000. Sounds bad. But I did get paid $104.23, so my net out of pocket is really $7,145.77.
If I'd just bought those extra 100 shares of D at $73.07, I'd have paid $7,307 for a stock worth $5,000. Both situations aren't great, but I'd be mitigating my loss by about 6 weeks of dividends.
Underlying Stock Price Rises: Dominion's stock price on 2/1/17 closed at $71.85. Selling the puts netted $415.33, or $2.08 per share. As mentioned earlier, the stock price was rising so I bought my first 200 shares for $73.07. The net is a purchase cost of $70.99, $.86 less than $71.85, so it worked out.
If I had to do it over again, I'd have just bought the first 200 shares and sold one call against the long position. Then I'd have sold cash secured puts for the other 200 shares, but that's part of the learning process.
What About Transaction Costs?
The astute reader will notice there are few transaction costs shown on the spreadsheet. That's because when I rolled over my 401(k), I got free trades for 60 days. Halfway through the transaction list, I opened an account with another brokerage firm. I'd rather leave the names out, but when it costs $1 to open an options position and nothing, zero dollars, to close a position, you have to consider the cost. I have money in both firms, and will continue to evaluate the services rendered vs. the costs.
Using a brokerage firm that charges standard commission fees for options may not be worth it. When the transaction costs are high, it's important to watch commissions so you don't end up enriching the broker.
In my previous options article, I got repeated comments that my fee costs were too high, and the commenters suggested the firm I'm now using. As I've already said, comments are a great way to crowdsource usable data. Those comments have saved me real fees and go directly to the bottom line. Thanks very much.
Where To From Here?
Sometimes you start down the road with a clear goal in mind, only to find there might be another way to get to the destination. I started down the road looking only for dividends. As I've progressed, I've discovered options and are using them to enter positions and boost my dividend yield. So far, I like the results, plan to continue down the path, and hope to write more about this in the future.
I've not exposed myself to any option position that could lead me to holding a non-dividend payer. I've attached a current view of my DSOTM portfolio to illustrate my current holdings. Best of luck in your investing efforts, and feel free to provide comments.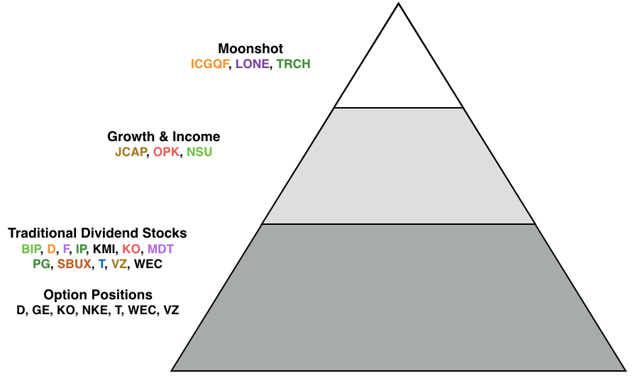 Source: Author
Disclosure: I am/we are long ALL STOCKS MENTIONED IN THIS ARTICLE.
I wrote this article myself, and it expresses my own opinions. I am not receiving compensation for it (other than from Seeking Alpha). I have no business relationship with any company whose stock is mentioned in this article.
Additional disclosure: I also have short options positions in AT&T (T), Dominion Resources (D) Starbucks (SBUX), and Verizon (VZ).