It's about that time of the year when a lot of the classic dividend growers increase their dividends. One of those is a favorite of mine that I've been following for awhile, Johnson & Johnson (NYSE:JNJ). J&J is expected to increase its dividend at or before its annual meeting of shareholders in April. This article takes a look at J&J and what kind of dividend increase shareholders can expect this year. This article also looks at the company's preliminary 2017 guidance, and whether J&J can be picked up by income investors at this time.
A steady dividend grower
Since the year 2000 J&J has averaged 10+% dividend growth per year. Since 2007 J&J has averaged 8% dividend growth. The big question is 'will this trend continue?' To find out, we must look at several factors, and I'd like to start by looking earnings and sales growth expectations for 2017.
These results are preliminary, and could be a little different on investor day in April, but J&J expects reported sales to grow by 3%-4% this year, and earnings per share growth of between 3% and 5.2%. This expected growth is based almost entirely off pharmaceuticals. These numbers are reported numbers, and currency headwinds from a strong dollar are factored in. Management expects operating numbers to be stronger, but I expect the dividend growth decision to be based off reported numbers, not operating numbers.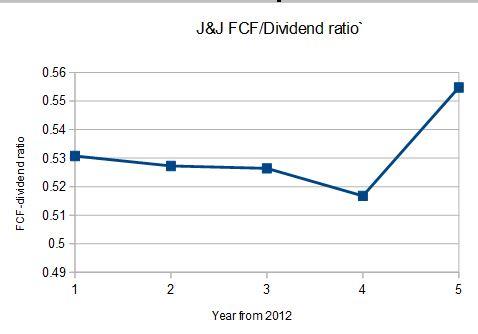 With that in mind, let's look where the dividend has gone in relation to cash flow. I use free cash flow as my metric here, and not earnings, because I believe free cash flow is the better way to measure ability for a mature company to pay its dividend. Earnings can be tweaked by a number of factors including non-cash write offs, non-cash gains and depreciation. Looking at the chart, we see that the dividend has remained in the low-to-mid 50% range of free cash flow for the last five years. I expect that trend to continue. It looks as if management wants to keep the dividend-to-FCF ratio the same.
If we make the assumption that 5% earnings growth will translate into 5% growth in free cash flow, an assumption which I think is warranted in the case of J&J, then we should also expect roughly 5% dividend growth. That means a 4 cent increase by analyst day, from 80 cents per quarter to 84 cents per share, per quarter. Over each of the last couple years J&J managed 7% dividend growth, so this will be a bit of a slowdown. I wouldn't be too surprised to see a 5 cent increase just so management keeps the momentum going, but for now I expect a more conservative 4 cent dividend increase.
Time to buy? Not so fast.
Not too long ago there was a popular article about several dividend payers, and it included an argument that J&J was 'undervalued,' and included a chart from FAST Graphs by which to demonstrate that point. I have to disagree with that conclusion. J&J is definitely not undervalued, in fact I believe it is significantly overvalued, and has been for over a year.
Right now J&J trades at 18.8 times trailing, operating earnings. And yes, when you go all the way back to the late 90s, J&J does still trade significantly below its average price to earnings ratio of 19.9 times, according to data from FAST Graphs.
However, I ask investors to take a step back and ask themselves whether a comparison to J&J in the 90s is at all relevant to what we have today. The fact is, J&J was a very different company back then, which was a time when pharmaceutical companies, including J&J, were coming out with a plethora of new, blockbuster drugs which shape the world we are in today. While pharmaceuticals are still an important part of J&J's business, perhaps even the most important part, the relative growth back then would be unheard of today. Since then, J&J has also become a much larger company, due in no small part to the successes of the 90s, and as such blockbuster new drugs have less of a relative effect on earnings. This FAST Graphs chart illustrates all that, but only if you look closely.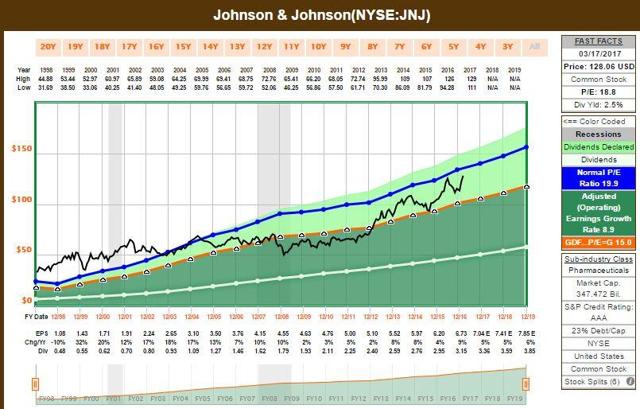 Courtesy of FAST Graphs. Solid blue line represents average valuation since 1998.
Have a look at the above chart and notice particularly the relationship between the stock price (the black line) and the average valuation since 1998 (the blue line). You'll see that back in the late 90s J&J was trading at some very lofty valuations, and that was to price in the growth expectations back then. Those valuations have skewed the average valuation higher, and make J&J look more undervalued than it really is today. Furthermore, J&J isn't the company it was back then, and so I don't even think this chart is an accurate depiction of J&J's valuation.
Things like this are exactly why I prefer to limit the data to the previous business cycle; ten years. I believe this usually gives us a more relevant look at relative valuation, and in this case it most certainly does.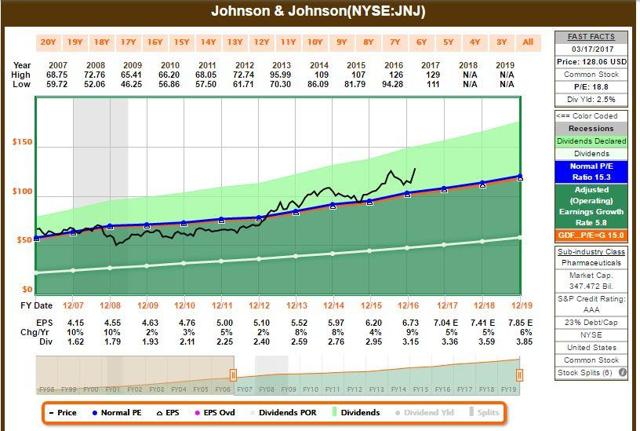 Courtesy of FAST Graphs.
Things look quite a bit different now, don't they? J&J is now at a substantial premium to its average valuation, almost 20% overvalued. This goes to show there are many ways of looking at value, but right now I think J&J trading at nearly 19 times earnings is quite pricey.
That shouldn't come as much of a surprise. As far as bull markets go, this one is in its later stages, if history is any guide. In this stage of a bull market, the classic blue-chip stocks like J&J are typically well above their historic valuations. This leads me to recommend caution with J&J, and many other stocks as well. If you're long J&J and are in this for the long-term dividends, it's understandable to want to hold onto shares, but if you're considering adding more, I would caution against doing so.
If you're interested in J&J, feel free to follow me here on Seeking Alpha. I've been following this stock for quite some time, and I will continue providing update articles when doing so is both material and relevant.
Disclosure: I/we have no positions in any stocks mentioned, and no plans to initiate any positions within the next 72 hours.
I wrote this article myself, and it expresses my own opinions. I am not receiving compensation for it (other than from Seeking Alpha). I have no business relationship with any company whose stock is mentioned in this article.