Ventas (NYSE:VTR) is a yield-driven powerhouse; however, equities as surrogates for fixed income are not created equal. The strategy is well tried, but results vary greatly based on many variables; the strength of the underlying, management discretion, business sector, business cycle, interest rate outlook, and interest rates actually moving to and within specific targets and ranges.
All told, when an Investment Bank publishes a forecast, I want to know… not because of their clairvoyance, but rather for the potential dissident view. Analysts have a tendency to reveal much from the rear view mirror and are a primary cause for leeward induced technical trading. Leeward is borrowed from my nautical experiences as a kid; it is the direction downwind that uninformed investors follow. On a sailboat that's the side of the ship that is heeling under the pressure of the wind. It is also the "lower side" that gets all wet. Fun as a kid… even with my kids, but not so much as an investor!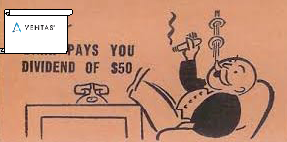 Ventas, Inc. is a real estate investment trust based in the US and specializes in senior housing and healthcare properties. While VTR is among the largest in the sector, the field remains absent dominant entities. Management, then and now, believes this runway affords meaningful growth opportunities to roll up smaller operators when values permit. Management focuses its effort on the investment, management, financing, and leasing of its 1,300+ properties comprising of senior housing communities, medical office buildings, and skilled nursing facilities in the US, Canada and UK.

10 Year Highlights (Courtesy Value Line):
Funds From Operations (FFO) up 178%
EPS up 152%
Dividend Yield up 201%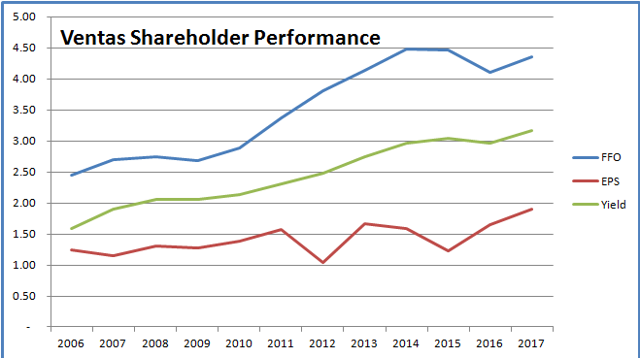 Too many investors react by reflex and fail to identify gifts fundamentally and technically. I maintain an extensive library of watch-list companies to commit new investment liquidity. I have owned VTR cheaply and sold when rich valuations justified. It is a recurring and continuous challenge to enter positions when the outlook is mired, and equally challenging to sell later when prices are higher. Investing and trading requires buy low/sell high, impossible if following the herd.
As noted above, VTR is threatened by the possibility of higher interest rates and costs. The contention is wrong and this is the opportunity at hand. It is important to note the interest rate hikes, Fed induced, are short term, currently .75%, up three-fold since the recent past of 0-.25%. Longer-term rates, the US 10 Year Treasury (NYSEARCA:TLT), are anchored by global forces. There are many factors that are contributing to lower for longer, but opportunistically few, including SA articles, address these accurately; excess global capacity from commodities to manufacturing, massive debt load everywhere, persistent currency devaluations and easy monetary policies among G20 nations. By way of example is crude oil. Both WTI and Brent fell below $50, again, in spite of coordinated supply restrictions within OPEC to reduce gluts and ramping rig counts domestically at the hint of higher prices. Extrapolate these together with technological improvements keeping efficiencies high, costs controlled, and prices in check. Simply inflation may be on the horizon, but it remains in the distance. Higher rates, when all want more growth, run against the norms of controls. Earlier I penned an article about interest rates.
Under the Hood
A confirming article of the well-established demographic trend in the US is available here. Importantly, few appreciate the difference between investing in trends (technical) and responding to fundamental trends. Concordia University published a valuable visual about how Baby Boomers will consume healthcare though 2030. Some trends, like trains approaching, are must follows: Approximately 10,000 Baby Boomers turn 65 every day, and will continue to do so for the next 14 years. By 2030, nearly 20 percent of the U.S. population will be of retirement age.
Many consumers will find themselves on the doorstep of VTR properties and services.
More Under The Hood
Fed News flashes RED (reader exercise… match the date to the chart below):
June 18-19, 2013: The FOMC announced the QE taper could begin later in 2013. Bond investors panicked, sending yields up a point.
January 27-28, 2015: The FOMC said it would raise the Fed funds rate in six months.
July 26-27, 2016: The FOMC kept the Fed funds rate at 0.5 percent. It was confident about raising them this fall, possibly in September.
Fed News Flashes Green (reader exercise… match the date to the chart below):
December 16-17, 2013: The Fed said it is prepared to raise rates only when the economy improves enough to warrant it. Most members expect this will happen sometime in the middle of 2015, although there is a wide divergence of opinions among members. It doesn't expect it to happen within the next few meetings.
March 15-16, 2016: The FOMC kept interest rates the same. It acknowledged that low oil and gas prices were keeping overall inflation below its target. Many members worried about weak exports and business spending. Therefore, the FOMC announced that it will raise rates "gradually," and that the Fed funds rate will remain below the normal 2 percent rate "for some time."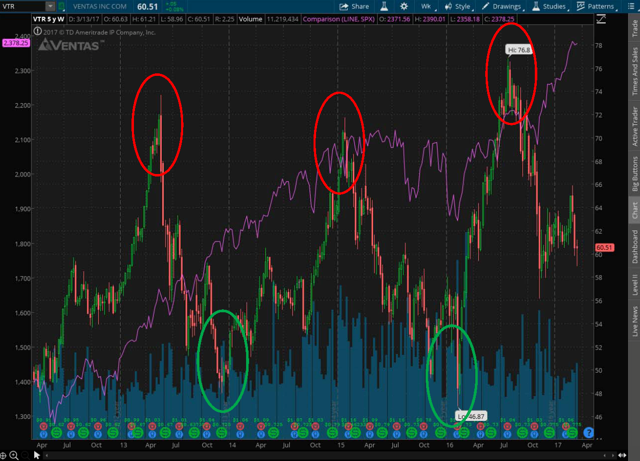 The Trade & How to Express Your Opinion
For the buy and hold among us, owning VTR is a solid choice. Earnings, growth, demographics, business sector, and management commitment to this yield are solid. The investment makes sense at Friday's close of $60.51.
As an options trader and general preference to generate return and add to my cash stockpiles, I find the Short Put (write) somewhat compelling. Note, for each contract written, we must stand by ready to buy the shares at the IF PUT price. The calculation is simple; the Strike selected Less the Premium received. Strikes at $60 mean you have got to have $6,000 (less the premium received) in cash ready to buy come expiration (or if using margin, $3,000, 50% of the equity price). There are rollover strategies to avoid assignment, so please ask in the comments section.

As of Friday's close, which was also expiration for March options, the new November series will be issued, but we'll have to wait until Monday's open to view them. Above, however, is the August contract, which I wrote back in January and remains compelling (I may add to my position and write Nov. come Monday's open). The August $60 contract shown will deposit $330 in cash into your account and lower your If Put (cost basis) to $57.70. This delivers a compelling dividend yield, IF you get put, of ~5.4% ($3.10 annual dividend/cost basis), which looks quite solid given the strong support at $60 given the seesaw in interest rates over the period.

Note: To get these and more articles on options and equity opportunities as soon as they are published, click on my profile and hit the big orange "Follow" button and choose the real-time alerts option.
Trades Made Subscription is now available; "No idea can be any better than the action taken on it"… Howard Marks, Oaktree Capital.
Disclosure: I am/we are long VTR.
I wrote this article myself, and it expresses my own opinions. I am not receiving compensation for it (other than from Seeking Alpha). I have no business relationship with any company whose stock is mentioned in this article.
Additional disclosure: May add VTR November Options