Luck is what happens when preparation meets opportunity

-Seneca
Disney (DIS) looks to have scored big with Beauty and The Beast which beat projections and set to achieve a $350 million global opening.
Deadline surveyed industry insiders who believe this indicates a $1 billion global theatrical gross. That's just theatrical gross… We aren't talking streaming, merchandising and royalty revenue yet. In addition back in 1991 when Disney released its previous version of Beauty and The Beast it didn't yet understand the power of spin-offs and sequels yet.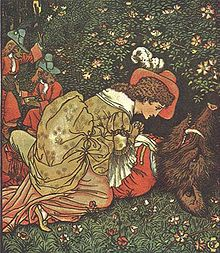 What this blockbuster does is not just prove Disney is a master among original content producers but also how every theatrical release could unexpectedly exceed all prior box office results and blow away expectations
Netflix (NFLX) understands this as evidenced by their push into originals. But how well do we understand it as investors?
Beauty and The Beast would not have opened like this without its 1991 predecessor and perhaps that release wouldn't have done so well if it wasn't based on a powerful and widely recognized fairy tale. As human beings we love what's a little novel but familiar at the same time. Thomson, author of Hit Makers: How Things Become Popular:
Ideas spread most reliably when they piggyback off an existing network of closely connected and interested people
Running The Black Swan Portfolio I'm deeply interested in hit driven businesses like content, biotechnology, energy and mining exploration and tech. Last year when our position in DreamWorks Animation got bought out by Comcast (CMCSA) we generated a 103% return in 255 days. I couldn't be happier with the result over that short time frame for subscribers but was also a little disappointed to say goodbye to the potential to generate surprise hits.
Disney is a superb company with excellent management but I'm not close to liking it as an investment. It trades at 15x cash flow, 4x book, 3x sales and 20x earnings. Even an unexpected smash hit like Beauty isn't going to have a large impact on the $55 billion of annual revenue.
That isn't to say Disney will never score a box office that propels the entire company, but that will likely require a few years of global population growth and further expansion of the global middle class as well as luck.
That's the beauty of The Black Swan, it comes both in positive and negative variety.
Disney is definitely exposed to the positive kind. Any one of its releases could go on to become the next Star Wars with only a modest amount of capital invested.
However, as investors our capital is scarce.
We have to make choices. The market systematically underestimates the impact of true outliers both positive and negative but we substantially improve odds of success by spreading bets and getting exposure to as many positive Black Swans as possible.
A competitors like Lions Gate (NYSE:LGF.A) (NYSE:LGF.B) has a further 15 releases set for 2017. Sony (SNE) has 29 further releases planned for 2017, Disney just 9, 20th Century Fox (FOX) (FOXA) comes up with 13 new releases. If we put the upcoming movie release rate in perspective of Enterprise Value it looks like this:
| | | | |
| --- | --- | --- | --- |
| Company | Upcoming releases 2017 / 2018 | Enterprise Value | Hit Driven Ratio |
| Disney | 19 | 187 billion | 9.8 |
| 20th Century Fox | 25 | 67 billion | 2.68 |
| Sony | 38 | 36 billion | 0.94 |
| Lionsgate | 17 | 3.74 billion | 0.22 |
Disney has the largest enterprise value in comparison to the number of upcoming theatrical releases.
Obviously, there are many other factors to consider but I'm fairly sure many people don't regularly consider how hit-driven businesses are and it is interesting to think about content companies that way.
It looks like Disney is the least hit driven among the four companies I compared which you could view either as a pro or a con.
Lionsgate is the most hit driven among these four and the company I happen to own a few shares of.
Disclosure: I am/we are long LGF.A.
I wrote this article myself, and it expresses my own opinions. I am not receiving compensation for it (other than from Seeking Alpha). I have no business relationship with any company whose stock is mentioned in this article.