Large pharmaceutical companies are always complex because they have several divisions with completely different products, cycles and risks. Sanofi (NYSE:SNY) does not escape this rule with its five business units. We will dive into each business unit in order to understand the outlook of each division and the overall impact for the group.
General Medicines & Emerging Markets (43% of 2016 Sales)
This is the largest unit of the group and refers to the sales of all global business units realized in emerging countries except consumer healthcare emerging market sales which are incorporated under the consumer healthcare business unit. Also the generics business belongs to this unit. The European generic business is still included in this unit, but the management made it clear that this business will be disposed by 2018 at the latest.
Sanofi has a strong presence in emerging markets with more than 30% of sales generated in these countries. These countries are characterized by a higher growth potential (low penetration rate resulting from overall weak healthcare coverage).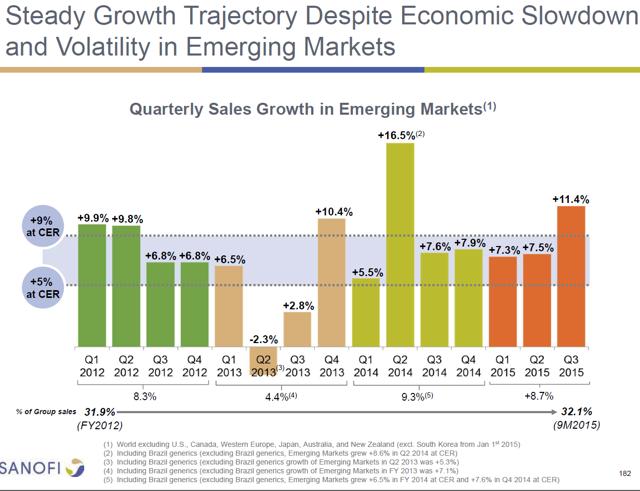 However, the largest contribution of the unit comes from the established products which are off-patents. These drugs are still prescribed because some doctors have their habits, trust the brand and there were not new revolutionary treatments in these indications. Therefore, this business is doomed to disappear slowly over time.
Diabetes and Cardiovascular (19% of 2016 Sales)
Diabetes (93% of Diabetes and Cardiovascular)
Diabetes has long been a very profitable and growing market for pharmaceuticals companies. However, recent changes have brought significant challenges for historical players (Novo Nordisk (NYSE:NVO) and Sanofi). Indeed, new competition, pricing pressure and negative headlines have become the new norm for this particular area.
In 2016, Sanofi generated 80% of its diabetes revenues from Lantus. However, Lantus is now facing direct competition from Basaglar, Merck's (NYSE:MRK) biosimilar, and the new insulin generation of Novo Nordisk called Tresiba. Tresiba is superior to Lantus and should further differentiate with a label expansion demonstrating a reduction in hypoglycemia risk. The competition will be also exacerbated by the launch of Mylan's (NASDAQ:MYL) biosimilar.
Moreover, Lantus has been excluded from CVS and UNH commercial formularies, meaning that they will not be reimbursed, negatively impacting volumes from 2017. In order to maintain its existing market share, Sanofi has implemented a $10 co-pay program (with a cap on the maximum amount of co-pay), but it does not seem to be enough to maintain market share. This strategy has also been implemented in order to prevent the PBM to redistribute volume towards competitors, thus impacting the PBM's profitability due to a lower rebate. This pressure could even intensify if Medicare Part D plans (Medicare patients managed by private insurers) start to implement the same measures (larger discount, formularies exclusion) and we see no reason as to why they should not do that.
Sanofi will try to offset part of this pressure with the launch of Toujeo and Soliqua (combination of Lantus and GLP-1 also called LixiLan). Toujeo is the "new Lantus" and the direct competitor of Tresiba.
Sanofi tries to push a maximum of patients under these two drugs. Soliqua could be a solution because >50% of people with diabetes remain uncontrolled on basal insulin, meaning that these patients need other alternatives. Unfortunately, Soliqua will immediately face competition from Novo with an identical drug called Xultophy. Sanofi has aggressively priced Soliqua at $20 a day, whereas Novo Nordisk has priced Xultophy at $30 a day. GLP-1 such as Victoza and Trulicity are priced around $20, making Sanofi's combination very attractive. Eventually, even if the launch of Soliqua is a success, it will not be able to offset the erosion of Lantus sales over the coming years. Finally, Sanofi keeps investing in its diabetes pipeline as demonstrated by the development of its SGLT2 (potential launch 2019/2020).
Cardiovascular (7% of Diabetes and Cardiovascular)
Sanofi has two drugs in its portfolio for cardiovascular diseases. One, named Multaq, is not significant, having generated low revenues so far and with muted perspectives (the drug was approved in 2009 and has never got any traction). The other one, named Praluent, developed in collaboration with Regeneron (NASDAQ:REGN) could be a blockbuster. Praluent could reach $ 4B sales. However, the risks on Praluent have never been so high.
Indeed, Amgen (NASDAQ:AMGN) sued Sanofi in a district court for patent infringement and won. The court decided that Sanofi infringed Repatha's patents and issued a permanent injunction, prohibiting Sanofi to sell Praluent in the US. Sanofi appealed immediately and the appeal court suspended the permanent injunction, meaning that Sanofi can still market its products during the legal process. The process will take years to end because of the right to appeal unless the companies manage to reach an agreement. Such agreement will probably require Sanofi to pay royalties and potentially an upfront payment.
The launch of Praluent has been sluggish as demonstrated by sales of only €105M during 2016. It is possible that doctors wait for clinical data concerning cardiovascular benefits. These data will be available in late 2017 (ODYSSEY study). However, Amgen will publish the data of the FOURIER Study on March. If data are good, meaning that Repatha reduces the risk of cardiovascular by at least 20%, we could see acceleration in the use of Repatha and Praluent, which are considered to be very similar drugs. Sanofi will release the data of the ODYSSEY study at the end of 2017 and there could be some downside if data are inferior to Repatha.
Sanofi Genzyme (15% of 2016 Sales)
This business unit focuses on specialty care and gathers rare diseases, multiple sclerosis, oncology and immunology. This unit is the growth engine of the group and also the most profitable division.
Rare disease (45% of Genzyme)
Rare disease is a highly profitable business because of the favorable regulation, high drug price and a small number of players. Sanofi markets five drugs for rare diseases: Cerezyme (Gaucher disease), Cerdelga (an oral version of Cerezyme for Gaucher disease), Myozyme (Pompe disease), Fabrazyme (Fabry disease) and Aldurazyme (MPSI disease). The group is the global leader for these four indications. The company is also developing an oral version of Fabrazyme (program GZ402671) and the future generation of Myozyme (NeoGAA). These new products are not revolutionary, but will help defend the franchise over time.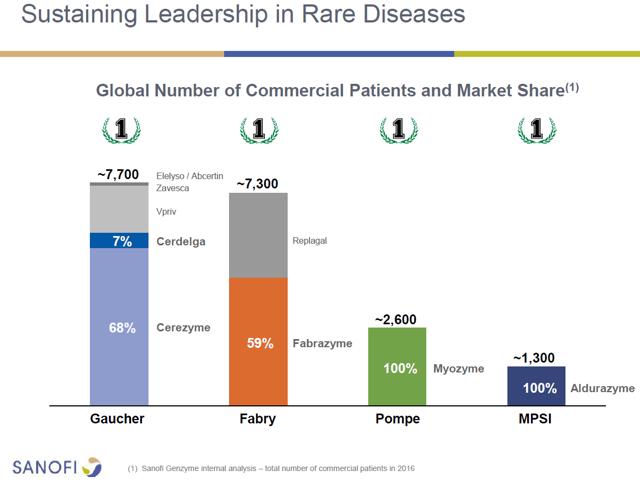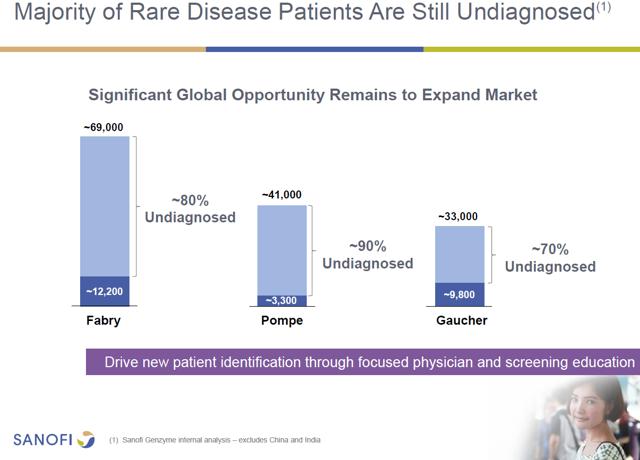 Volume growth is the main growth driver for these drugs. Indeed, the majority of rare disease patients are undiagnosed because physicians are not always fully aware of the symptoms of these diseases (due to their scarcity) and the list of symptoms is vast, making diagnostic very difficult. In order to increase the number of patients diagnosed, the group tries to further educate physicians (especially in less developed markets) and implements partnership with some hospitals and clinics. For example, hematological complications result with the Gaucher disease, therefore Sanofi signed partnerships with different hospitals specialized in hematology requiring screening patients in order to detect potential patients.
Multiple Sclerosis (33% of Genzyme)
Sanofi is present on the growing and highly competitive multiple sclerosis market with two drugs: Aubagio and Lemtrada. The competitive landscape is illustrated by the following chart: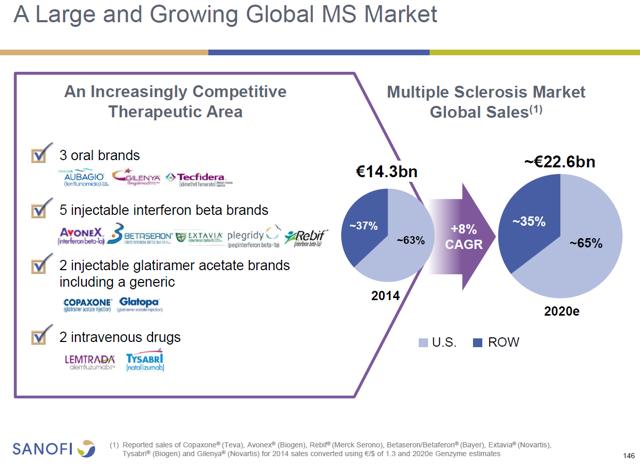 The market is characterized by patients who are not inclined to change treatments only for efficacy reasons. The still high market share of previous therapies (interferons and Copaxone) is a proof that the market is not driven only by efficacy, but also by a combination of efficacy, safety and convenience. Aubagio is an oral therapy with an efficacy more or less similar to interferons, therefore the drug is positioned in a category that will gain market share over time. Lemtrada is one of the last steps in the treatment paradigm because its efficacy is far superior to other treatments, but safety is also lower, meaning that this treatment is only adequate for advanced stage patients (patients who have had an inadequate response to two or more drugs indicated for the treatment of MS). The only direct competitor of Lemtrada is Tysabri, a drug developed by Biogen (NASDAQ:BIIB), which has a mode of administration which is less convenient than Lemtrada. Indeed, Tysabri requires a perfusion per month at the hospital (forever) while Lemtrada requires five injections during the first year (basically the patient remains one week at the hospital) and then, three injections the second year over three days. After that, no treatment is necessary unless the patient relapses. Most of patient experienced an improvement and 68% of them were relapse-free after five years.
To compare, Biogen has generated $1.9B of sales with Tysabri while Lemtrada sales were €425M. In 2016, Biogen and Novartis have generated $3.9B and $3.1B of sales with Tecfidera and Gilenya, respectively, while Aubagio has been sold for €1.3B. Therefore, the ambition to double the size of the franchise (sales >€2B) seems reachable due to a switch from old generation drugs to new ones, market share gain and the global market growth.
Oncology (22% of Genzyme)
The franchise is comprised of old generation drugs which are off-patent and should slightly decrease over the coming years. However, the group wants to rebuild its position in oncology, which could be achieved through M&A and by the development of its internal pipeline. Sanofi has demonstrated that it is active on the M&A front with a non-successful bid on Medivation (NASDAQ:MDVN). However, this strategy seems complicated because there are not a lot of good oncology companies which are for sale, and Sanofi has an M&A budget of approximately €20B. Finally, several competitors could be interested in the same assets making a successful acquisition even more difficult.
Sanofi has two programs in its pipeline: Isatuximab and REGN2810. Isatuximab is an anti-CD38 currently studied in phase 3 (initiated in December 2016) in relapsed/refractory multiple myeloma. REGN2810 is a PD-1 developed in collaboration with Regeneron. The program should start its pivotal phase 2/3 in cutaneous cell carcinoma during the first half of 2017 and a phase 2 study in non-small cell lung cancer could follow. Even if these programs are successful, it will take at least two years before they reach the market, therefore they will not be large contributors to the company's growth before the end of the decade. Moreover, the competition is already intense in oncology, reducing the potential success of these drugs.
Immunology (0% of Genzyme)
This franchise does not exist yet but should see its first sales in 2017.
Dupilumab (also known as Dupixent under its brand name) has received a breakthrough therapy designation for the atopic dermatitis indication. The FDA approval is expected on March 29, 2017. Atopic dermatitis is characterized by intense itching and recurrent eczematous lesions. However, this disease impacts not only the skin, but also the quality of life through sleep distortion, depressions, and pain. Existing treatments (topical, oral steroids, and immuno suppressants) are not as effective as Dupilumab and present higher side effects. The following photo demonstrates the drug's efficacy: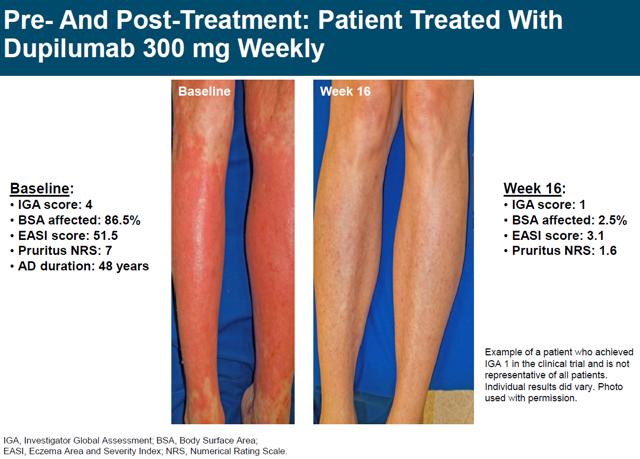 The strategy of the launch is well established: it will target patients with the greatest need, meaning patients who have failed with all the current treatments. This population represents roughly 300,000 adults in the US, only a part of the 8.5M adults affected by this disease. Sanofi is also studying Dupilumab in different indication such as pediatric atopic dermatitis, asthma and nasal polyposis. Investors expect peak sales superior to $4B. Indeed, assuming a list price of $10,000 (it compares favorably to the list price of Consentyx developed by Novartis (NYSE:NVS) of $33,000 per year for psoriasis) and a penetration rate of 75% over the 300,000 people, we already got $2.25B.
Sarilumab (also known as Kevzara under its brand name) could be approved in the second half of 2017 in the rheumatoid arthritis indication. Rheumatoid arthritis is a progressive inflammatory disease attacking joints. The number of patients affected by the disease is estimated at >6M. AbbVie (NYSE:ABBV), Johnson & Johnson (NYSE:JNJ) and Pfizer (NYSE:PFE) are the largest players in this market with their anti-TNF drugs reaching the multi blockbuster status. Indeed, Humira, Remicade and Enbrel have reached sales of $16B, $7B and $9B, respectively, in 2016.
Humira is the leader of this market because it was the first anti-TNF approved in the market. Most of the time, physicians tend to prescribe anti-TNF as a first treatment and more than 50% of the time, they prescribe another anti-TNF if the first one did not work on the patient. We think that switching from one product to another with the same mechanism of action is not really useful. Sanofi offers an alternative solution to doctors with Sarilumab and has demonstrated that the efficacy of its drug is superior to Humira (MONARCH study) for patients intolerant to methotrexate.
Sanofi could leverage this argument to become the leader of second choice treatment especially because Sarilumab has a better efficacy profile than Roche's (OTCQX:RHHBY) Actemra (anti-IL6 generating $1.7B in 2016), and Johnson & Johnson's Sirukumab (could potentially be approved in the next few weeks) has a similar efficacy profile but was not studied in a head-to=head study with the treatment of reference Humira. This product could reach peak sales of roughly $1B, which seems reasonable given the overall market size (approximately $50B). The growth driver will be market share gain over the previous generation of anti-TNF.
Sanofi Pasteur (Vaccines) (14% of 2016 Sales)
The vaccines market is concentrated with the largest four players (GSK, Merck, Pfizer and Sanofi) representing almost 80% of the total market. This concentration will probably continue because of the complexity of the business. Moreover, the demand typically exceeds the supply making the vaccine business even more attractive. The group estimates that the global market should grow by 5% per year and that Sanofi should grow even further (high single digit). This higher growth rate is supported by new production capacity (around €1B of capex over the period 2015/2018), market share gain and the launch of Dengvaxia, the first dengue vaccine ever approved.
Consumer Healthcare (10% of 2016 Sales)
This business is attractive because of the business stability and the absence of a patent cliff. The weakness of this business is the requirement to constantly invest in marketing, making size a key element of success. For that reason, we are positive on the deal with Boehringer Ingelheim (BI) which allows Sanofi to become one of the worldwide leaders in consumer healthcare and has the potential to deliver revenue and cost synergies. Indeed, Sanofi should be able to leverage its sales force to distribute BI brands and to implement cost-cutting initiatives (administrative and commercial costs). These measures should improve the operating margin towards the 30% margin level of the business unit.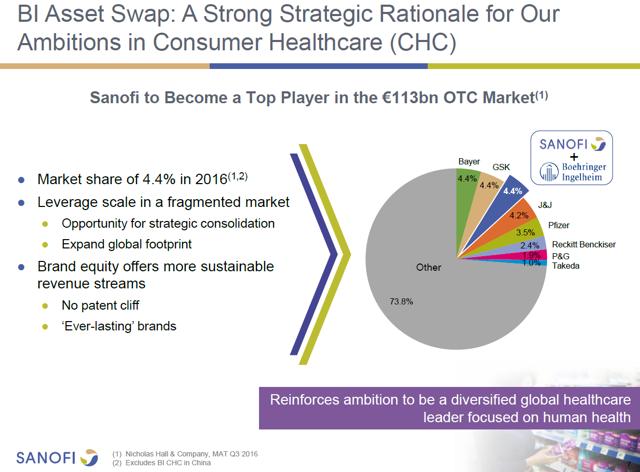 According to Nicholas Hall, an international consultant firm specialized in OTC consumer healthcare, the global consumer health market has grown at a CAGR of 4.4% over the period 2010/2015 and should grow at the same pace over the period 2015/2020, supported by demographics and GDP growth to a lesser extent.
Initial Conclusion and Valuation
Due to its diversified profile, Sanofi is facing some challenges, but has also the potential to seize opportunities. Indeed, the largest division of the group is doomed to slowly disappear, diabetes will face further competitive and pricing pressure and Praluent could be prohibited to be marketed in the US. However, Sanofi is currently launching different drugs that will offset a part of the existing pressure. The diabetes division will be helped by the launch of Toujeo and Soliqua. A new immunology franchise will emerge with two potential blockbusters, Dupilumab and Sarilumab. Vaccines are facing good prospects with an increasing production capacity and the launch of Dengvaxia. The specialty franchise and the OTC business are doing well. Overall, the growth prospect is mixed with large franchises declining (diabetes, general medicines) while smaller units (multiple sclerosis, rare diseases, OTC) or not-yet-existing (immunology) will grow strongly, implying challenging quarters ahead of the company. As a long-term investor, I think that the Sanofi case is worth a detailed valuation.
Before delving into a DCF model, a quick look at different multiples may help us to have a first impression about valuation.
Multiples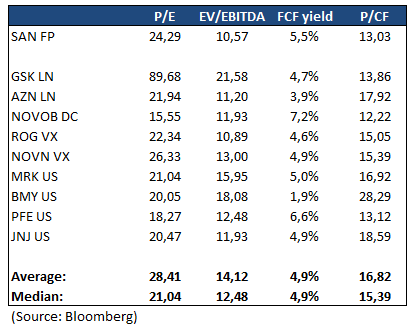 Valuation metrics show that Sanofi seems undervalued compared to peers. The valuation gap could be explained by its lower growth profile (large exposure to diabetes and Established Rx products) and higher risks (Praluent injunction, diabetes exposure and execution risks on M&A and new drug launches).
Revenue
The following table shows our sales estimates by global business unit (GBU). They are derived from the management expectations released during the capital market day of November 6 th, 2015. Most of the DCF assumptions are directly derived from company's guidance available here.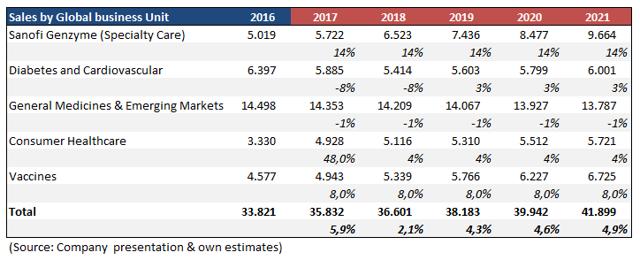 The specialty care unit is dedicated to a promising future and sales are expected to grow double digit over the period. This 14% constant average growth rate ((CAGR)) assumes a 10% CAGR for rare diseases, 15% CAGR for the multiple sclerosis franchise (implying a doubling of the franchise), -3% CAGR for oncology drugs (no contribution from the pipeline by 2020) and € 2B sales resulting from Sarilumab and Dupilumab.
The diabetes and cardiovascular business unit will decrease in 2017 and 2018 because of market share loss and pricing pressure in the diabetes market. From 2019 and onwards, the unit should start to recover thanks to new diabetes drugs (Toujeo, Lixilan) and Praluent (assuming that Praluent is not withdrawn from the US).
The general medicines & emerging markets division should decline slowly over time despite the growth in EM specialty care and EM diabetes & cardiovascular subdivision. The decline results from the large established Rx products which are off-patents.
The consumer healthcare business unit should grow strongly in 2017 thanks to the integration of Boehringer Ingelheim. Then, the unit should grow by a mid-single digit CAGR.
Finally, the vaccines business is expected to outgrow the market through new vaccine launches, market share gain and new production capacity. The company guides for a high single digit CAGR over the period.
The business mix of the company will change as demonstrated in the following table. The larger exposure to Genzyme and vaccines combined with a smaller exposure to General Medicines should support margin improvement.

DCF assumptions
Management guides for a gross margin superior or equal to 69% from 2018, thus we decide to slowly decrease the gross margin from 69.2% in 2016 to 69% in 2017 before increasing it until 70.5% in 2020.
SG&A expenses are guided between 27.5% and 28% of sales. We model 28% of sales from 2017 to 2019 before decreasing it slightly to 27.5% considering that the group has a lot of new launches over the coming years.
Sanofi expects its R&D expenses to account for 15% to 15.5% of sales over the period 2016/2018 and to increase up to € 6B by 2020. We decided to model the high range of the guidance due to the pipeline and the targeted therapeutic areas (high competition & costly clinical studies).
Depreciation & amortization are estimated at 4% of sales which is on line with historical data.
As a result, the EBIT margin is expected to decrease in 2017 from 27.5% to 25.6%. Then, margins are expected to go up and to reach 28.2% in 2021.
The tax rate is estimated at 25%, more or less in line with 2016.
Sanofi has also stated that they will increase capex between € 1.8B/1.9B over the period 2016/2018 because of new investments in biologic capabilities.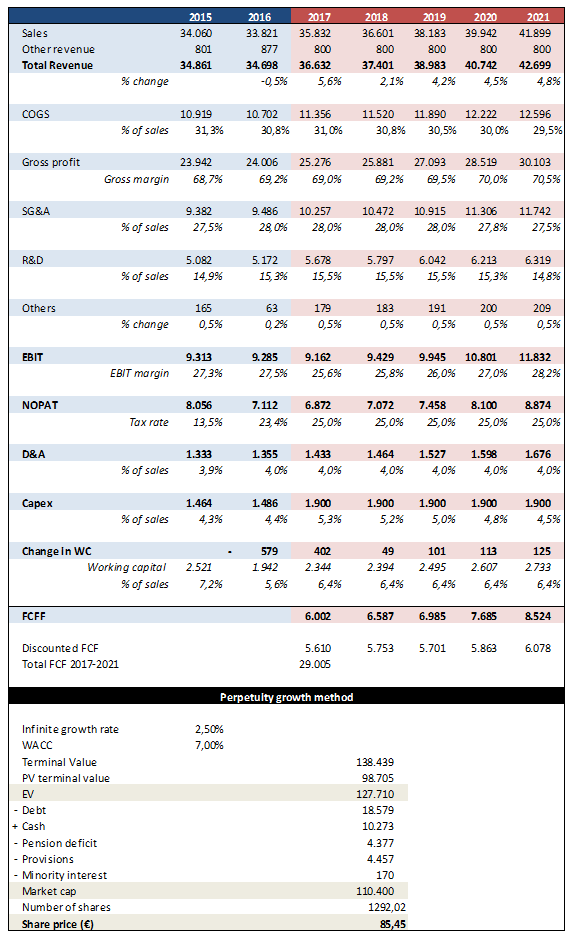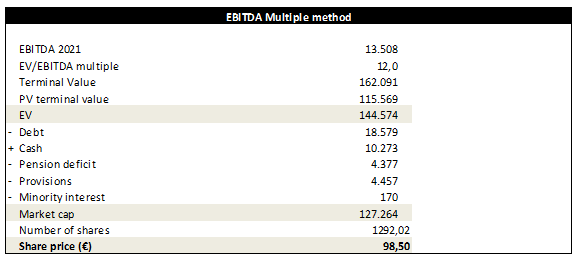 DCF results
These two different methods are averaged in order to get our target price of € 92, implying slightly more than 10% upside (based on a price of € 83.22). However, 2017 will be a difficult year for Sanofi with a challenging diabetes market, M&A risk, execution risks (new drugs launches) and Praluent risk (injunction and commercial success). Moreover, this model has been based on company guidance and should be taken with cautious as generally managers are optimistic about their business outlooks. Therefore, we consider that the risk / reward is not compelling enough and we are waiting for a better entry point.
Disclosure: I/we have no positions in any stocks mentioned, and no plans to initiate any positions within the next 72 hours.
I wrote this article myself, and it expresses my own opinions. I am not receiving compensation for it (other than from Seeking Alpha). I have no business relationship with any company whose stock is mentioned in this article.